Get the most out of your garage with a pre-fab mega garage! Browse the options on this pre-built garage with maximized storage space at Horizon Structures.
Prefab Garage with Apartment
More space. More space. And even MORE SPACE! Who doesn't want more space?
We've maxed out our pre-fab garage product line with our colossal new "Mega Garage." Absolutely the most space you can purchase in a modular, prefab garage with apartment package.
Two FULL floors of wide open space just waiting to be put to use as storage, work area, home office, garage apartment… you name it!
Did we mention you can park your car, SUV, or truck in the lower level of this modular garage with an apartment kit?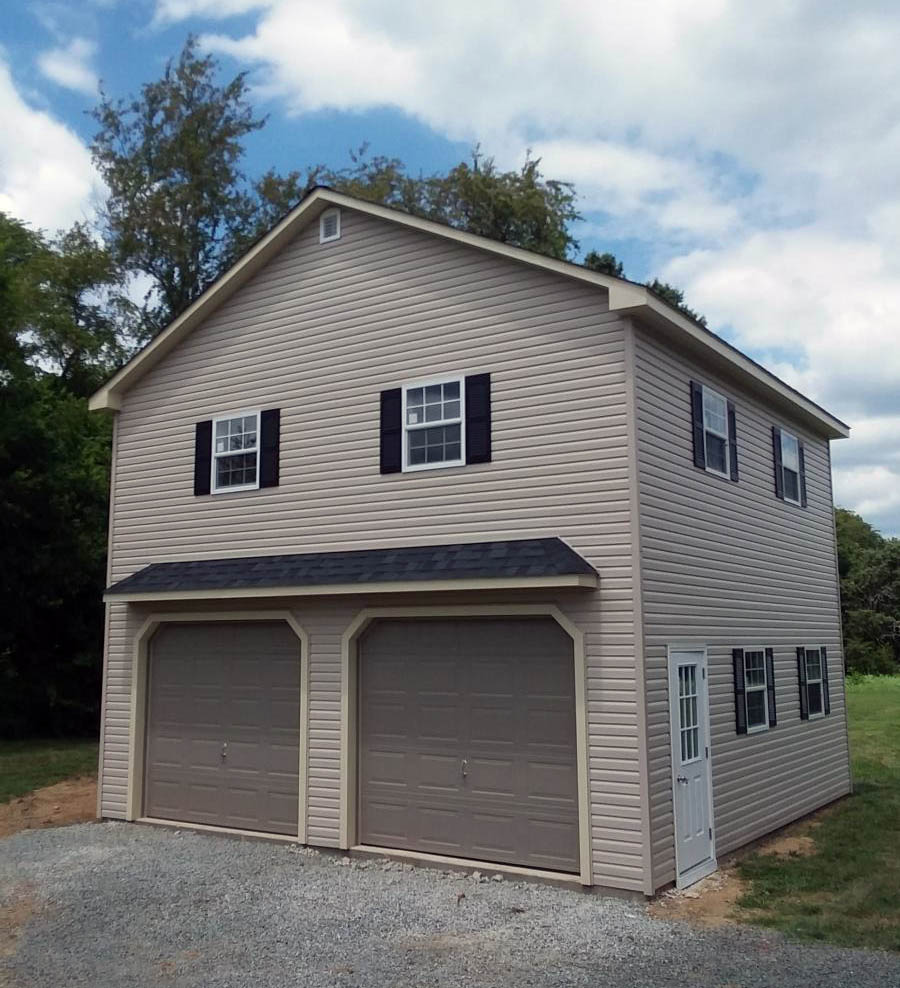 Get the most out of your garage with a pre-fab mega garage
The lower level has a towering 9′ ceiling height. With this new two story garage we've incorporated the LVL beam construction as STANDARD to maximize the interior clear span. This has allowed us to pare down the support walls to a very skinny 1'-2' each on garages up to 24′ in length. On larger garages, you're still guaranteed a 24′ clear center span.
As with all our 2-story garages with living quarters, the steps are full-sized and securely placed. No ladders or pull-down stairs here. The staircase includes a rock-solid wooden handrail with wooden balusters. The handrail encloses the opening where the stairs come through the floor for increased safety and prevents items (and people!) from accidently falling over the edge.
On-Site set up time for this extra large garage is only about 1 to 2 days!!!
The second floor of this prefab garage with an apartment above has a lofty 8′ ceiling height creating a cavernous expanse for…
This incredible garage with living quarters has one more amazing option… Have us install 5/8″ plywood flooring in the truss center for a 3rd floor crawl space storage area. Access comes with a set of pull down stairs. Upgrade to a 6-pitch attic truss to squeeze out every last inch of available space.