Despite our best efforts horses often injure themselves or suffer illnesses that require a period of confinement in a stall. For the equine caregiver the task of managing a horse or pony over several days, weeks or even months to optimize their chances of making a full recovery by restricting exercise can be onerous task fraught with worry.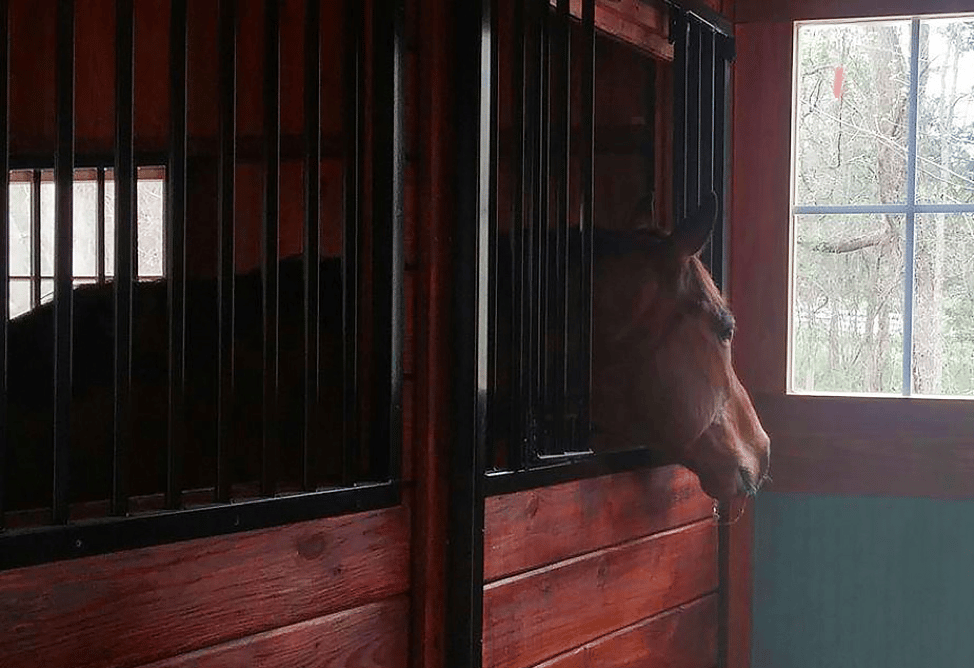 Thoughtful barn design features can help assuage the negatives associated with horse stall rest. Here are a few tips on equine stall layout and some helpful advice on how to navigate the confinement period and keep your horse or pony as happy and healthy as possible.
Divide and Conquer
There are many good reasons to have at least one dividing stall wall in the barn adaptable for combining two stalls into one should needs require. Foaling out a mare; housing a mare and foal; accommodation for a large breed of horse such as a draft horse; housing two or more animals such as donkeys together. In addition, a double stall can provide flexibility in space for the horse that is in rehab and requires more than the usual 10' x 12' or 12' x 12' stable but is not yet healed enough for turnout.
To help prevent boredom for the horse this stall should be carefully located. Placement of this stall could be close to an area of high activity such as next to a wash stall or tack-up area, a view to an indoor or outside arena where horses are exercised, or at the end of a barn where the open entry way offers some form of entertainment with a view of the house, backyard pool, driveway, or road.
The Lanai Option
Provision of a Dutch door with access to a covered area with limited space outside the barn is a great way to limit the horse's access to turnout while still providing freedom of movement and a change of view.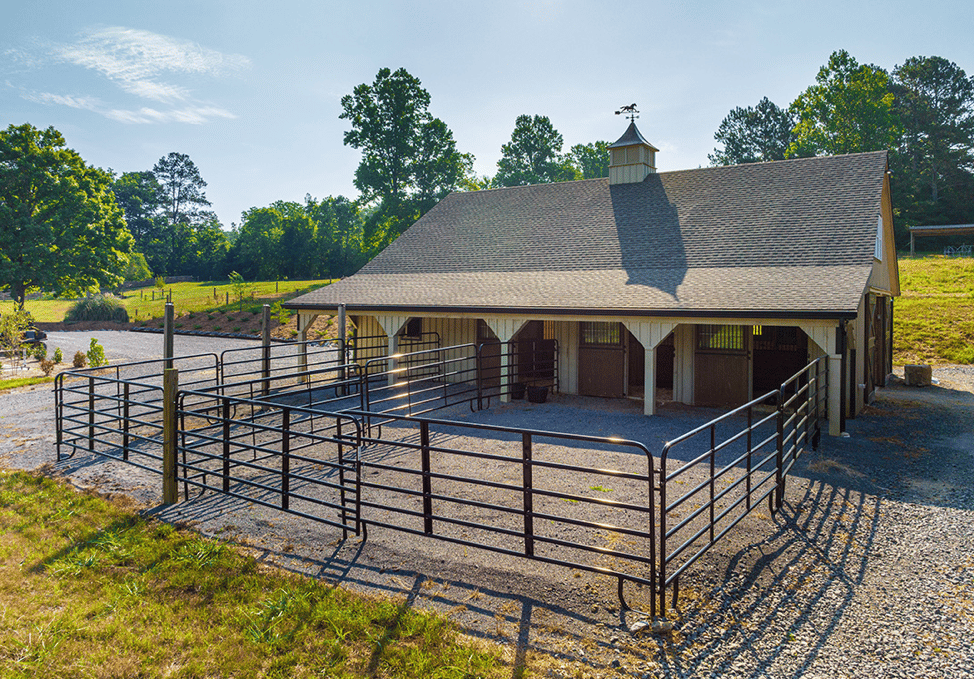 Often colloquially referred to as a lanai due to its similarity in features to the popular patio/veranda/porch seen in hot regions such as Florida and Hawaii, it usually features a roof for shelter from the sun and rain and may be screened in some way from pesky bugs if situated in an area where excessive heat and flying insects are a problem.
If the barn design includes and overhang, a simple option is to extend the overhang from 4' or 6' to 12' adjacent to one or two stalls. This will allow enough area to be converted with gates or temporary fencing to make an outside/inside lanai area if a Dutch door egress is provided.
This area could include rubber mats placed over concrete or it could be left as a stonedust surface to allow the later addition of rubber mats or a similar comfort flooring if needed.
Hang Tight
It is possible that part of the horses' rehabilitation and recovery will require suspending an IV fluid hanger to administrate medicines and supporting fluids. This is a system of pulleys, cleats and ropes that can be mounted as a hardware kit to a wood post on a barn.
All barns should be built with substantial framing members and wood pillars are ideal for mounting these IV fluid kits. Placement in a stall of an additional wood pillar in the center of a front or back wall can be useful for the purpose and if a single stall is converted to a double stall the center pillar may suffice for use. When installed IV fluid kits should be checked to ensure there is no likelihood of a tube, rope or pulley becoming caught up on a pillar or other obstacle.
It is also possible that a sling to keep the horse from putting too much weight on a joint, soft tissue area or hoof will be needed. Substantial additional weight-bearing lumber may need to be installed to accommodate the sling depending upon its design.
While there is no necessity to build a full recovery stall with padded walls and a full veterinary clinic set up, the inclusion of a few simple factors in horse barn design can make the stalls flexible to accommodate temporary medical needs.
Aside from veterinary aids the confined horse will also appreciate toys and other products to minimize boredom. Hanging toys, special feed dispensers and other distractions can go a long way to keeping your stalled equine content.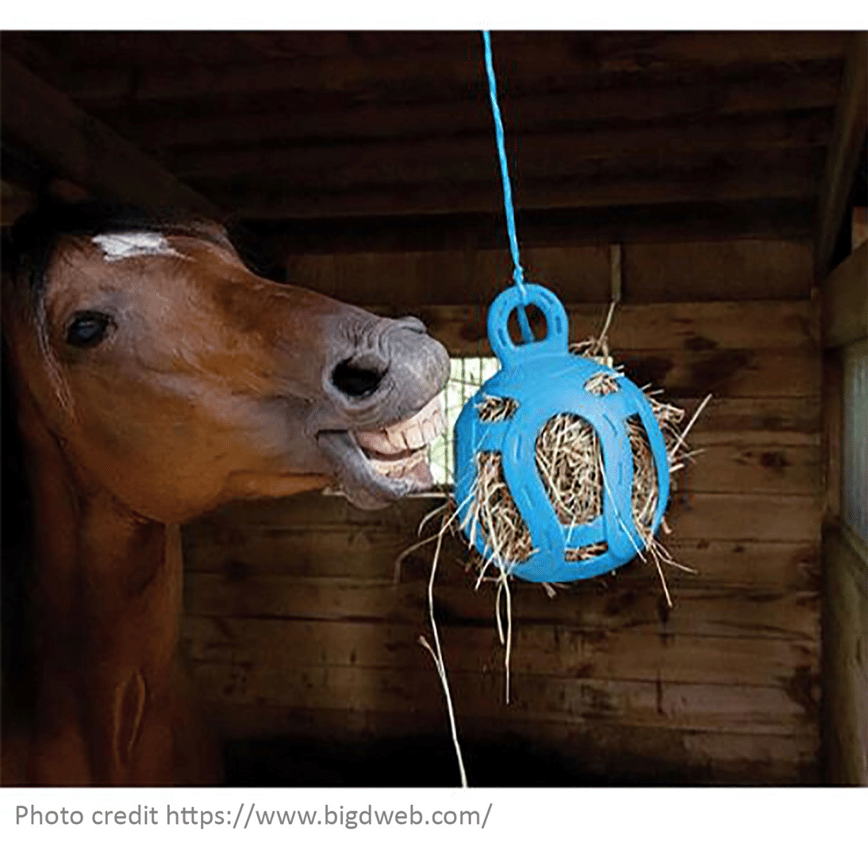 Hand Walking Areas
The requirement for regular hand walking and stretching exercises should be expected to be part of the rehabilitation protocol after any period of confinement for the horse.
A center aisle barn with a wide aisleway offers the perfect all-weather space to take those first baby steps toward recovery. The exterior doors can be shut for security or left open to facilitate extra room to circle the horse and turn around.
If rubber pavers or rubber mats are utilized to cushion the center aisle and protect the horse from slipping and sliding on a smooth concrete surface, or is s stonedust base is installed and compacted, the center aisle can provide a safe area for hand walking the horse during rehabilitation. Remember to avoid tight turns if the horse has suffered a leg, shoulder, or hip injury.
Power Up
Routine veterinary care and the elevated level of care needed in the case of a stalled horse during recovery may be aided by having additional power sources for equipment, and video monitoring with Wi-Fi access in the barn.
Electrical outlets conveniently located to the stall will minimize the use of electrical extensions and the risk associated with their use, as well as negate the need for the horse to be moved more than necessary for evaluation during recovery.
Monitoring systems ease the mind of the caregiver and can give 24/7 views of the activity of the horse so any necessary adjustments to set up or practices can be made and provide a valuable insight into the horse's mental condition.
Chew On This
Installation of metal edges for protection from chewing of wood by the horse on all exposed right-angled surfaces and tops of Dutch doors is essential to protect the building from the mischief horses can dish out when stabled.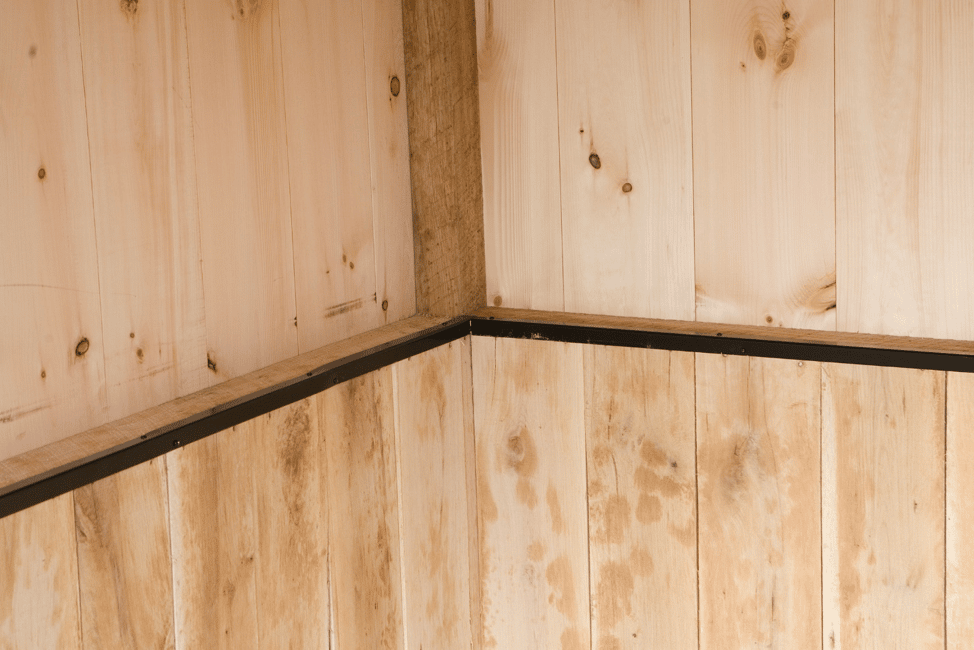 During periods of extended confinement, the equine occupant is highly likely to 'rail' on walls with his teeth, kick out or rear in frustration and chew on the ledges of windows and edges of posts.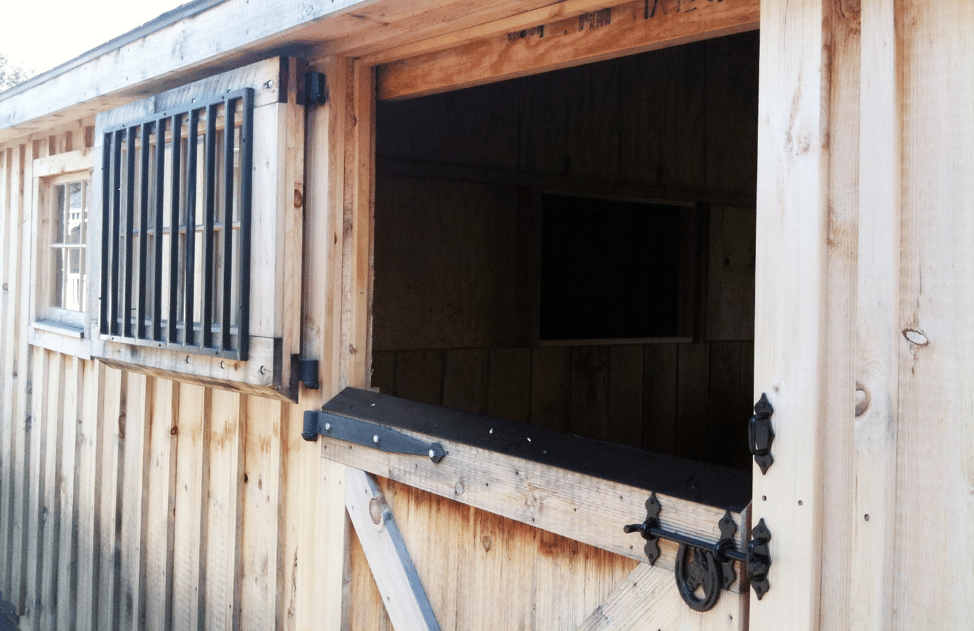 Smart barn design with properly constructed kick walls, grilled front walls and protected surfaces can greatly lessen the chances of damage to either the horse or the structure.
Seal The Deal
Before you add a horse to the stable in a new barn always protect interior wood surfaces from both chewing and staining by the application of a sealant. Not only will this action keep the walls protected from unsightly stains and marks, but this will also make cleaning the stall easier to accomplish.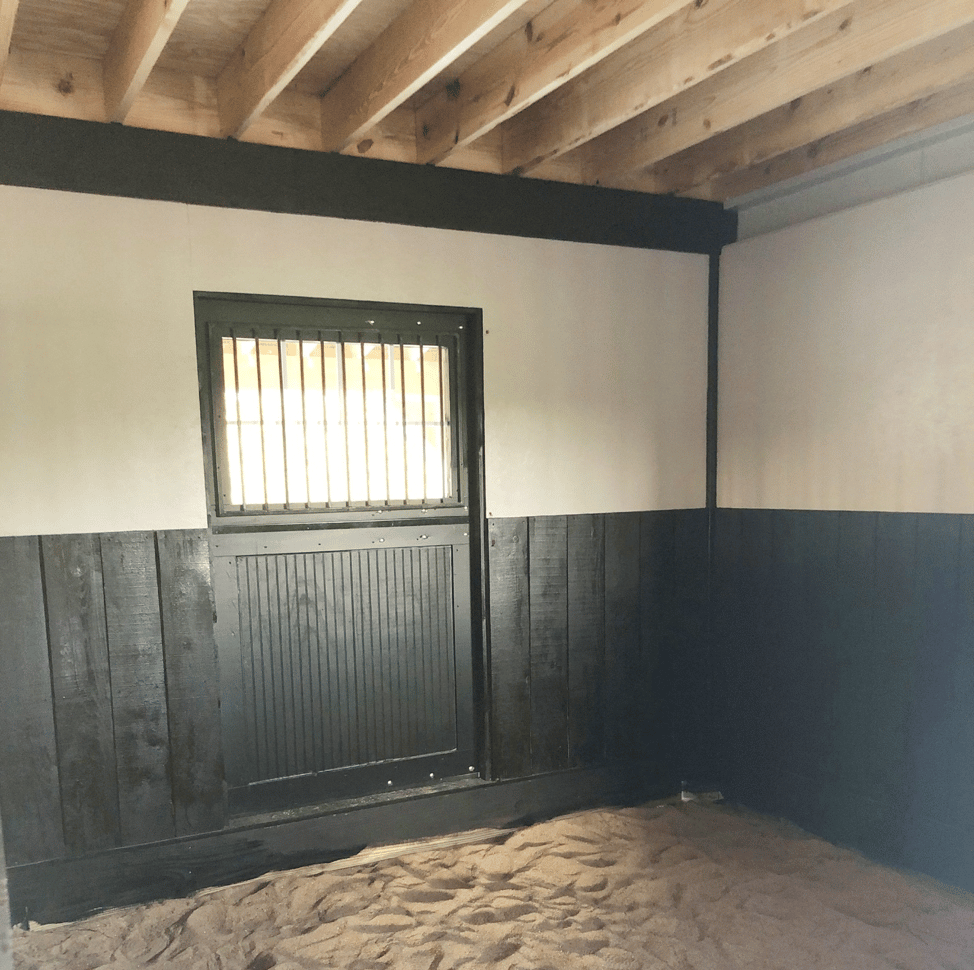 Keeping a stalled horse's environment clean and healthy requires a lot of effort and any labor-saving practice is a good idea to install at the outset.
Fresh Air Everywhere
Fresh air is essential for good health of the horse and should be especially considered in the design of a horse barn. Passive ventilation such as wire covered soffits (this protects from birds setting up house in the barn), gable vents, ridge vents, cupolas, windows, and Dutch doors can all aid in airflow within the structure.
In hot climates supplementing the movement of air by mechanical means such as the installation of commercial grade fans either on the ceiling, floors, or walls, (commercial grade offer sealed motors that are protected from dust and debris for fire safety), may be required for additional help in moving air through the barn and keeping the horses comfortable.
A sick horse on stall rest will need even more help managing his body temperature than a healthy individual, and provision of both safe heating and cooling options should be incorporated into the barn plans if possible.
Resources
Equine stall layout and design expertise can greatly aid in ensuring that whatever housing you choose, it has the adaptability to address future needs for medical care.
Choose a construction company that offers a variety of barn styles and will work with you on the budget as well as the aesthetics and the use of modern labor-saving materials that can help defray the need for future repairs and repainting such as siding and roofing options. Don't be shy to ask for advice from the staff at the company on how to optimize your new barn design to accommodate horses that become ill or require special needs. Specialist horse barn companies are usually horse folks themselves, and have a wealth of experience in the design of horse housing that they are happy to share to help you make the best decision for your individual needs.
There are many awesome resources that address daily practices for caring for a horse on stall confinement. A suggested place to start is M Libraries, that offers supplemental notes on large animal surgery.