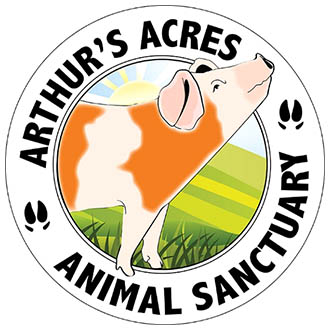 Horizon Structures Facebook May Run-in Shed Auction winner Arthur's Acres Animal Sanctuary, is not your average 501(c)3 rescue operation. Founded two years ago by Todd Friedman, the farm located in Parksville, New York is home to a herd of pigs that he has rescued from all over the Eastern seaboard.
The property's namesake, Arthur, was the first porcine occupant and one he discovered as a tiny, undernourished piglet when Friedman was casually looking for a farm to purchase and start his own sanctuary.
Friedman, who previously ran his own successful printing business in New Jersey, regularly volunteered in his spare time at local rescues to satiate his love for helping animals.
"I have loved animals all my life. I've worked since I was 18 years old and as a 48-year-old, I figured owning my own sanctuary was a pipedream, but I did occasionally look at properties. This farm came up for sale and I went to look. Its owners had abandoned it and they left behind some bunnies, a peacock, rooster, and in a dark barn filled with the appalling remnants of their slaughtering business I found a little piglet in the corner. I couldn't just leave the piglet there, so I talked the agent into letting me take it home. I named him Arthur, and he is still here today and one of the favorites on the farm. I tried to gather the other animals in need too but was unsuccessful. It was sad to have to leave them there. Turning a slaughterhouse into a sanctuary held a lot of appeal, it seemed the right thing to do. I applied for a loan and was frankly surprised to receive it. The stars just aligned. It wasn't a hard plan," recounts Friedman, with some emotion in his voice.
Arthur's Acres has rescued hundreds of animals over its young history. Friedman recently collaborated with several other sanctuaries to re-home 44 of 80 pigs that needed help in North Carolina. The sanctuary also provides solace for cats, chickens, and ducks.
"One of our recent rescues was a piglet that was just 3 weeks old and had fallen off a slaughter truck. We take care of animals with special needs," Friedman explained.
When asked why Arthur's Acres had developed so keenly into providing a safe landing for pigs in particular, Friedman was pleased to explain his passion for the porcine species.
"Pigs are the 4th most intelligent animal on the planet, behind dolphins, monkeys and elephants. They are more intelligent than dogs. Our pigs all know their names and come when called. They are not dumb. They are even bathroom trained."
Sadly, in November 2019, one of the two barns on the property was lost in a fire.
"Thankfully, no animals died as the barn gave in/out access and when the fire started the pigs just ran out. A neighbor driving by alerted us to the fire, and there was a very scary moment when it looked as though our main barn was also going to catch fire. We ran to evacuate the animals as they had no means of escape. Thankfully, the fire department put the blaze out in time to safe the main barn."
Friedman says the fire was not arson and was considered accidental, but that it took him a month to get over the loss.
"I was very depressed for a month or so. Figuring out what to do. Eventually I picked myself up and decided to move forward. We started making plans for a new barn. I wanted to turn the negative into a positive. We are currently fundraising for the new building as it will be expensive, and we had no insurance on the structure we lost. We will need to get a loan, and we hope to include an isolation space and a medical room in the new build. We shall call it the Phoenix Barn."
When Horizon Structures Facebook offered an auction on a run-in shed in their contest in May 2020, one of many such events they regularly host on their Instagram and Facebook platforms, Friedman could not have been more delighted with the win. It truly was perfect timing.
"The driver that delivered it was incredible. Everything went so smoothly. I wish everything in life went that smoothly," said a grateful Friedman.
Not only did Arthur's Acres secure the winning bid on the run-in shed, based on the number of recommendations they received during the contest they also won $500 cash prize, which they applied toward the run-in shed purchase.
"We had plans to build our new barn from scratch on site. It was going to be very expensive. Then along came Horizon Structures and we discovered through our run-in shed bid and cash prize win their modular options for barns. We've asked their draft engineers to reconfigure our original plans and to help us build the new structure. We have developed a great relationship with their team."
Friedman spoke with a reflective note on the meat and dairy industry and his view of slaughtering animals for consumption.
"I believe it was Paul McCartney that quoted,
"If slaughterhouses had glass walls everyone would be vegetarian."
I believe that the tragedy of the past few months and lives lost to the coronavirus may have a silver lining in that it makes everyone think about where their food comes from and what they eat. While the Covid19 crisis has shut down our major source of revenue generation of giving tours and summer events, we are taking the time to get busy developing the property. When I called my local lumberyard for some 4"x 4" posts for a fencing project I was stunned to hear that they had totally run out. The Manager said they have never been out of stock. Everyone is apparently buying them to build their raised gardens to grow their own vegetables. I hope that the world is changing for the better."
If you would like to donate to Arthur's Acres and do your bit to make a change in the lives of animals please consider helping the sanctuary with their creative online donation options and events. There are many ways you can help: Sponsor a specific animal; donate through Amazon's Wishlist program; donate to the new barn build and much more.
Please don't forget to check in at their Facebook and Instagram pages for updates on their events and volunteer opportunities. Meet their team of noble volunteers and learn how you can help firsthand at their website too.
-30-