Take a good hard look at your horse property and you'll probably notice that Father Time has left his mark on the fences, barns and buildings that grace the space that you call home.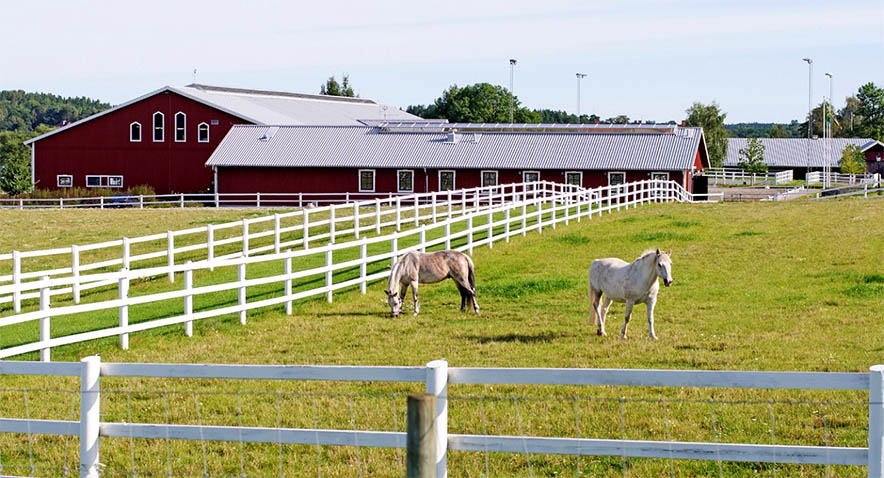 Along with Father Time, Mother Nature exhibits her prowess at fading paint, drying out stained or treated wood, tugging on gutters, and making muddy mayhem during the rainy season. Regular maintenance is the least expensive way to manage the array of damage that occurs on the farm. Procrastination in making repairs is always the best method to ensure a huge spend will be needed down the road.
Not everyone wants to acknowledge the reality that a well-maintained property will cost less in the long run to manage than one that is left to decline. Last minute fixes are usually much more expensive to do than making necessary repairs and replenishment before major deterioration sets in. This is especially true of natural products such as wood. And remember water is the enemy of most buildings in whatever form it arrives. Moisture and condensation or roof leaks or flooding around support posts of the structure.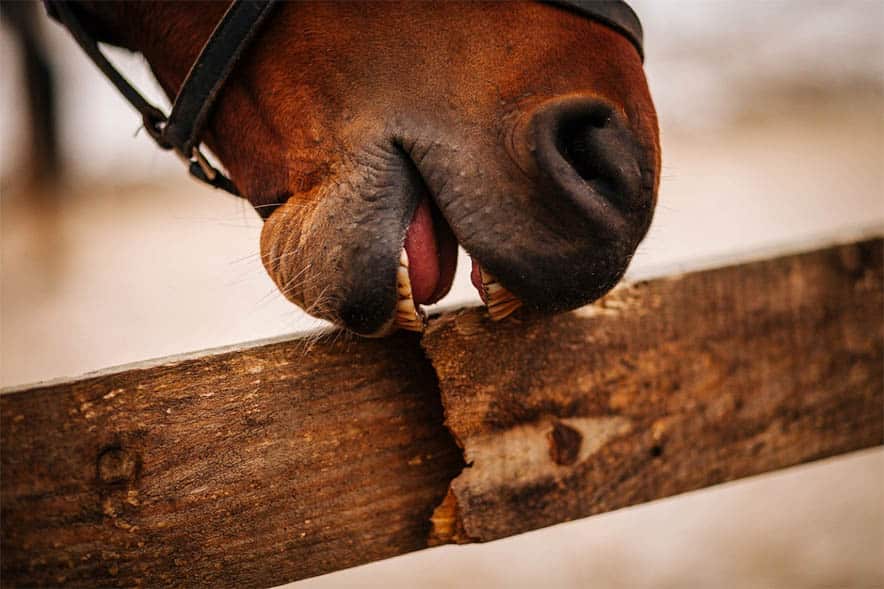 But it's not just Mother Nature that kicks up her heels, it's also the human and horse contingent that use the facility. The tell-tale nibbles on dry boards on the fence, the dented gates that no longer meet the gate post without a gap, broken window screens and broken door handles are all signs of daily use and abuse.
Structures on the property such as barns will last longest if they were properly crafted in the first place of the right materials. It's not just the weather and climate that will affect their integrity over time, it's also how well they are ventilated and built in the first place.
Simple renovations and sensible additions to your horse farm can make all the difference to both its appeal and efficiency.
Taking That Hard Look
If you are fortunate enough to take a vacation when you arrive back home you'll most likely feel refreshed, but your eyes will also be 'freshened' and you'll notice the shortcomings of your property. When we live in places day to day, our familiarity with our surroundings often results in a blinkered view of what shortcomings are present.
When you take a hard look at all areas of the farm, you'll soon see what needs doing where. Even if you really don't want to admit it, there will be areas where improvements could be made.
Make two lists, one for repairs and one for ideas for improvement and then prioritize each list so you can work your way down each one job by job.
If you are employing outside help to manage a repair project always get three quotations and ensure they are comparisons of true 'apples to apples' variety. For projects where you are completing the task in house, always shop the materials at multiple locations and again, make sure the products and quantities are identical before you make your selection.
Cost Savers
If your barns are board and batten sided you'll likely need to add a fresh coat of stain or paint to spruce them up. Not only will this improve their appearance, but it will also protect the wood from drying out making it more fragile and prone to damage.
Roofs that go too far past their expiry date are more expensive to repair than roofs that are on their way to failure but not quite there yet. Shingle roof lifespans may be anything from 10 to 35 years depending on the type of shingle applied, but high winds and ice damage can shorten the lifespan. It is possible to go over a shingle roof with a 2nd and even 3rd layer of shingle rather than scraping off the shingle and starting over. However, if you leave the shingle past its expiry date and water damage results to the plywood or Advantech sheathing beneath then the repairs will be much more extensive and thus expensive.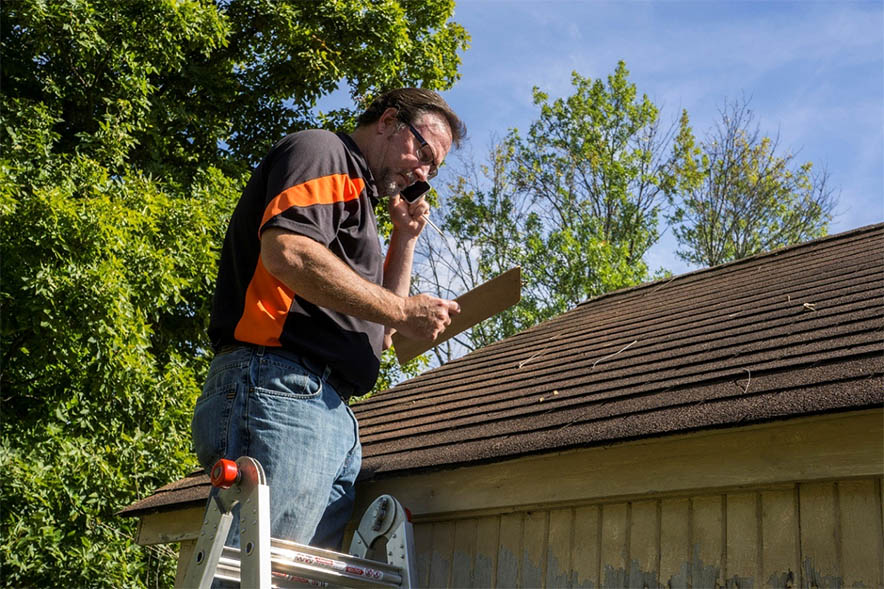 If you are considering a completely new roof installation, it may be worthwhile to add an insulation barrier of sheathing to minimize condensation in the interior of the barn and defray noise and insulate the barn.
If the property is located in a region that experiences snowfall or high winds and/or rainfall, it is also worth checking out installing ice and water shield products, at least on the lower portions of the roof to help prevent ice damage and to protect the roof from the possible loss of shingles during high winds. While these products are expensive, they can be well worth the spend and save the need for the dangerous enterprise of climbing on roofs during adverse weather to make repairs or remove ice.
Similarly, the time repairs are made also provide a good opportunity to upgrade the quality of the products used in the construction and even improve the design. For example, an older barn built in a hurricane prone region could be retrofitted with hurricane ties and protections from high wind.
Metal or tin roofs can show signs of fading or metal fatigue. Their longevity will depend on the type of roof and how it was built. Standing seam metal roofs will last longer than screw-down roof panels as the screws exposed on the latter are subject to wear and this type of metal roof does not allow for expansion and contraction. You can expect a standing seam roof to last upward of 50 years, while a screw down panel roof may only manage 20 years.
Additionally standing seam metal roofs that are factory coated before rolling with paint such as Kynar 500 or properly coated including ends of panels on site will have better lifespans than those without this paint protection.
A structure that is properly ventilated will require less maintenance over time than one that does not have adequate airflow. Moisture and condensation are enemies of metal. Take the time to address any poor ventilation issues. This can be done by adding gable vents, a ridge vent, or opening up soffits and installing ventilated panels, or adding a cupola with or without a motorized commercial fan installed beneath it to vacuum air up and out of the building.
A key component of barn health that is often overlooked is the use of gutters and downpipes. Relatively inexpensive to add to a building, the value of taking water away from the foundation of a barn goes a long way to protecting the building from water damage.
Get Down and Dirty
Renting or breaking out the power washer and cleaning interior and exterior barn surfaces can spruce up the appearance of the structure. Once clean the addition of a coat or two of polyurethane or other product to raw lumber can elevate the aesthetic of the kick boards and stall walls. This shiny surface also makes the walls easier to keep clean.
Windows that are cleaned and free of detritus make an incredible difference to the amount of light that can enter the building. Repairing bug screens is inexpensive to do and will yield good result in the hot summer months.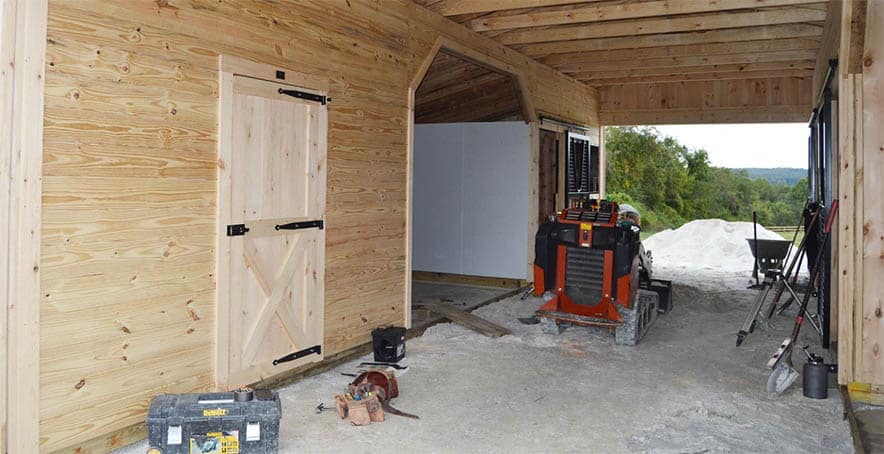 Dirt floors that are showing their age with potholes and uneven surfaces can be easily refinished with the addition of stonedust. A small compactor can be rented from a local hardware store to help level the stonedust if necessary. Mats can then be added that will save on bedding costs and improve the health of the horse with a barrier from dampness in the ground that can negatively affect the horse's joints.
Make Life Better
Horses and humans appreciate shade from hot summer sun and driving rain. There are several ways to improve the shelter aspect on the farm.
The addition of an overhang to an existing structure can provide extra protection from adverse weather. It also offers storage for expensive motorized equipment such as UTVs, ATVs, mowers, snow throwers, tractors.
Horses that are turned out will much appreciate shelter in the form of a run-in shed. Prefabricated and modular options are a great way to go as these can be moved, if necessary, from place to place using pre-installed tow hooks and even transported to a new farm if you move later.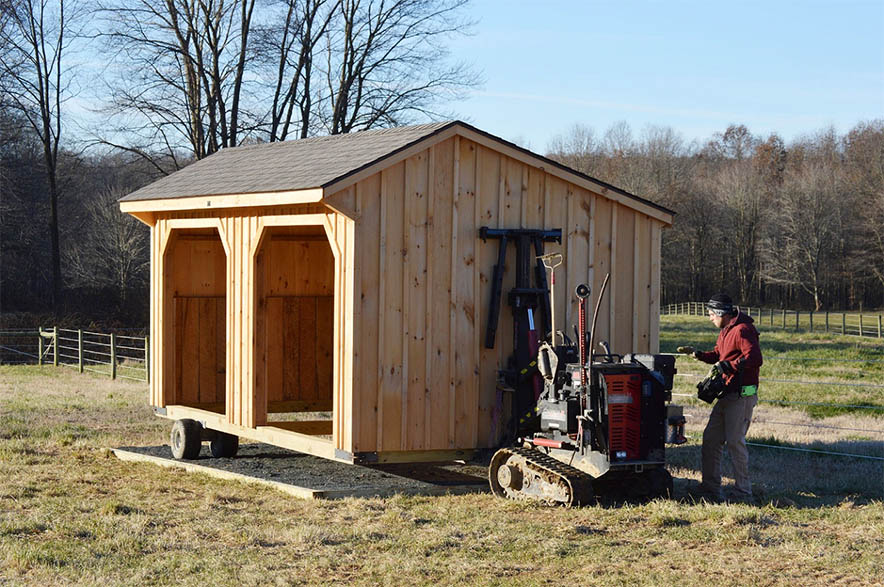 You Can't Keep It Tidy If There's Nowhere To Put 'Stuff'
Finally, it seems there is never enough storage on a horse farm. A tidy farm is always more appealing and safer for use than one that is cluttered and unorganized.
It is almost impossible to keep a property tidy if there is nowhere to put stuff.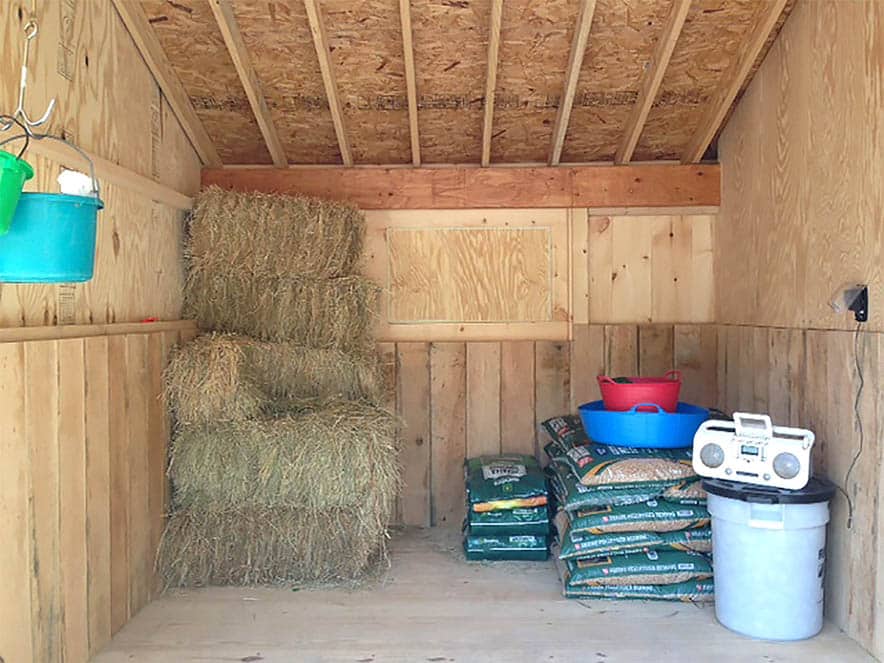 The addition of a simple shed can make good storage for hay and bedding.
Consider a shedrow barn as another option for storage. The front walls can be left open for access on certain stalls or sliding or overhead doors could be installed to secure the area.