Blog By Kathy Tyler
---
If you love to entertain, you probably have an outdoor patio that you use in the summer. A patio is a great way to extend your house and entertainment area outside. The trick is decorating it, so the outdoor entertainment area catches eyes and turns heads. Here are some simple, fresh decor ideas to show you how to decorate your patio.
Gazebo With a Swing
Seating is an essential element for your patio. Your guests need a comfortable place to relax. The second most crucial element is shade. If you live in an area with sweltering summers, you'll need to provide shade for your guests, so they don't venture indoors, or worse, leave.
Why not install a gazebo with a swing? It shelters your guests from the intense sun, and it provides an exciting and fun place to sit and relax. Add some lights and cushions and pillows for extra comfort.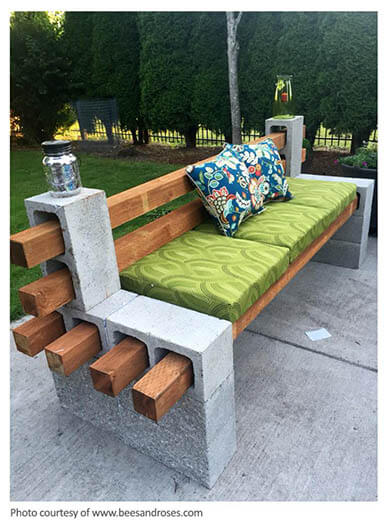 Table and Chairs made from Pallets
Wooden pallets can be extremely versatile for a DIY project. They're easy to use to build a couch or table. Paint it and add some cushions. No one will ever guess it was once a pallet. Get creative and make it a sectional or wrap-around sofa.
Cinder Block Bench
A couple of cinder blocks can quickly become a bench. Just stand the blocks on end and combine two or three of them. Then stick a couple 2x4s or 4x4s in the holes of the cinder blocks, stain or paint it, and throw on some cushions. Bingo, you've got an interesting looking bench.
Pergola
Pergolas are becoming more popular as focal points in backyards and patios. Put some of your DIY seating under it, and they become an attractive place for your guests. Pergolas are easy to install and can be as creative as you want. String some lights on it to provide a relaxing atmosphere in the evenings. Plant vines around it, so they climb up and hang over providing some cool shade. The possibilities are endless.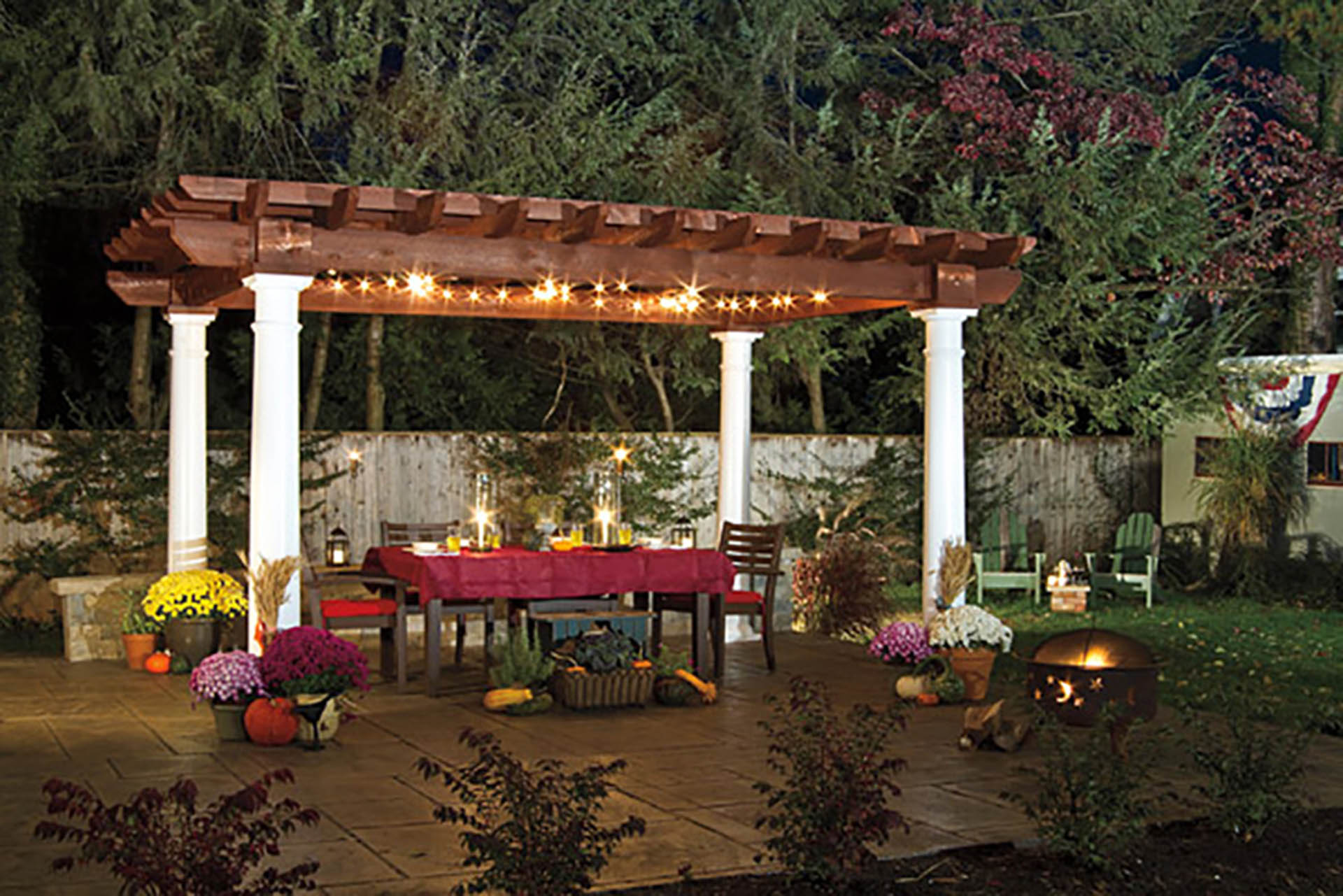 Outdoor Kitchen
Avoid having to run back inside by installing an outdoor kitchen. These can be as elaborate or as simple as you'd like. A small refrigerator under a cook-top grill. Add a pavilion to keep it covered from the sun and outdoor elements, and it will seem as you've added an extra room to the house.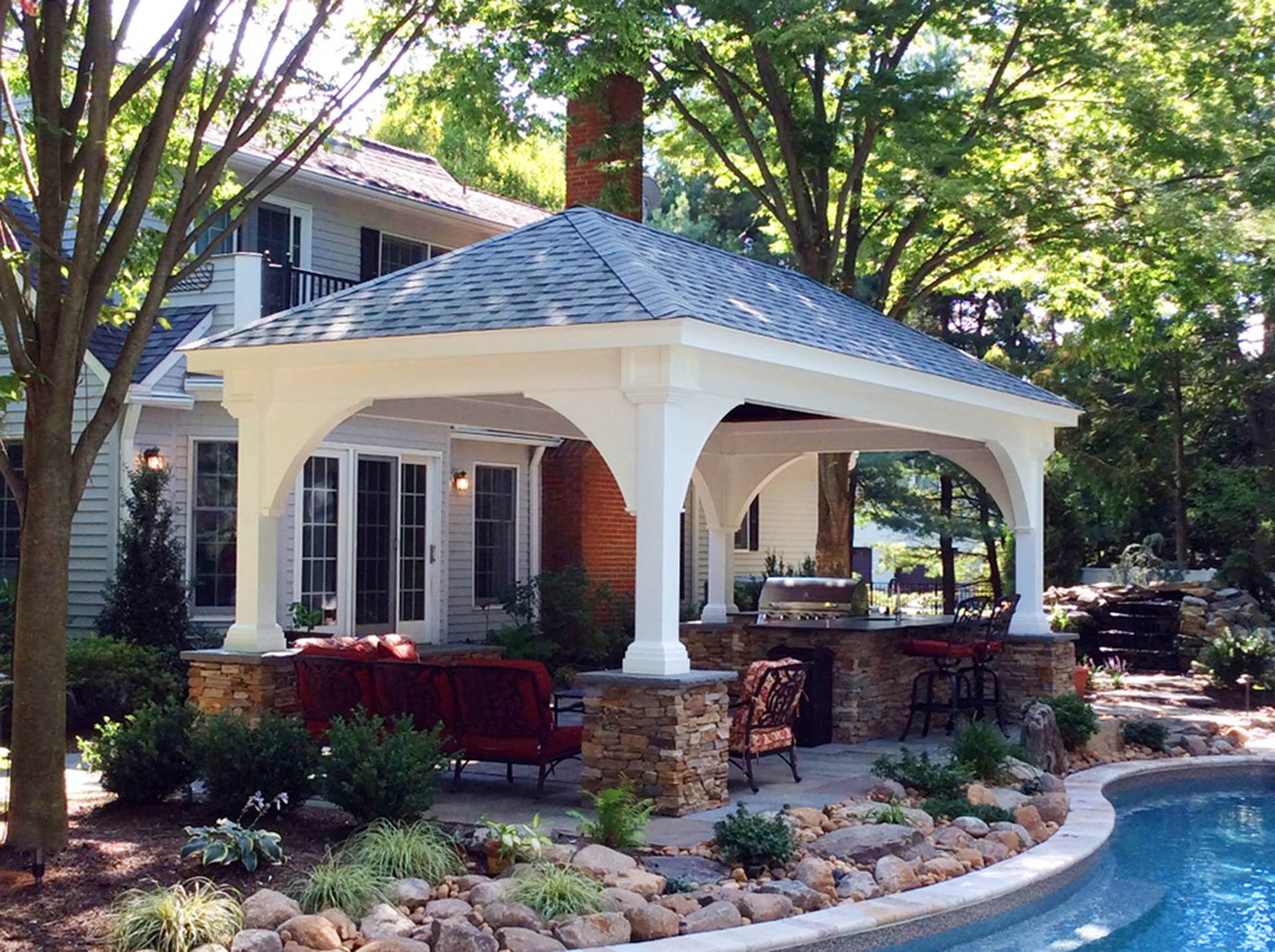 Potted Herb Plants
Since you're going to be cooking and eating on your patio, the last thing you want is uninvited guests. You can keep the mosquitoes, ants, flies, and beetles away by planting herbs like rosemary, thyme, basil, and cilantro. You can place the potted plants around your patio to keep the bugs at bay. An added bonus? You'll have spices at your fingertips while cooking.
You spend a lot of time taking care of your landscape. Make sure you and your guests can appreciate it by investing in these fresh ways to decorate your outdoor patio.
Kathy Tyler is a home decorator who spends much of her time gardening and entertaining. She loves to write about decorating as well as landscaping and cooking trends.