From NBC to CreateTV, Lisa Steele of the famed FreshEggsDaily.com is no stranger to showcasing life on the farm. Today she is celebrating 12 years and 55 million website visits Author, 5th generation chicken keeper and coop to kitchen cook, Lisa is Maine's answer to a cross between Martha Stewart and Jeremy Clarkson.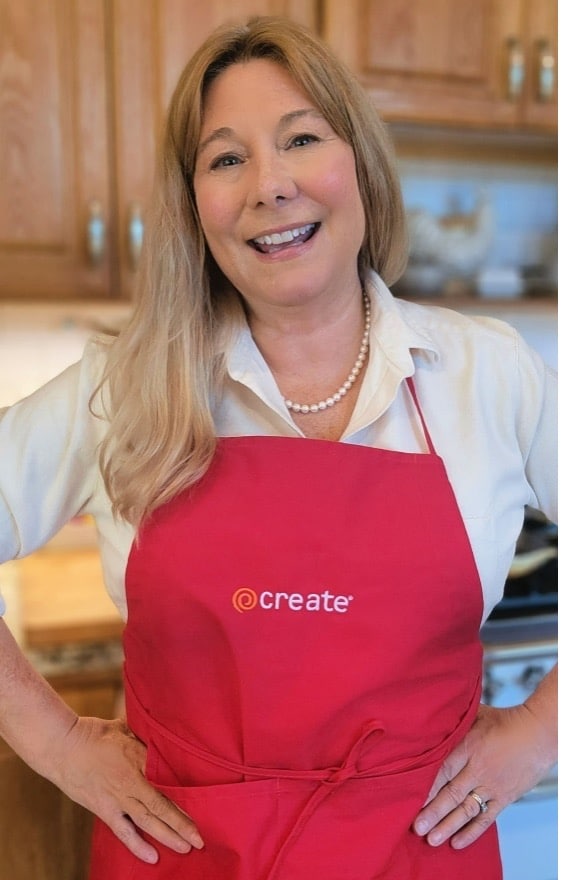 Her latest TV series, Welcome to my Farm, is currently in its 2nd series and the glamorous life of hosting a TV show is not all it is cracked up to be, as Lisa explains in this heart-to-heart interview shared here. Take a gander! (Yes, all puns intended, just couldn't help myself.)
Q: What is the very best part of making your TV show from your own perspective? 
Lisa: I have a lot of fun coming up with episode themes/segments, but what I love most about doing the show is the same thing that I love about writing books. They are both content that has a lifespan longer than being on the front page of a social media account. The shows are archived streaming online even after they finish airing on television. Hopefully years from now, people can still be enjoying them, unlike a Facebook post.
Q: Can you give us an idea of how a regular filming day goes? (time/takes/how many crew, etc, who are on the crew – names/positions) and a few photos of any of them if possible!
Lisa: An episode normally takes two to three full days of filming. Especially if we are visiting another location other than my farm. We have increased the crew for season two which I'm excited about. For the first season we had just a director and two cameras. That meant that we had to do multiple takes in order to get say an overhead view of a cooking segment for example. It also meant that in addition to being responsible for assembling all the props and my wardrobe for each segment and doing my hair and makeup, I also had to feed everyone lunch, refill coffee cups or water bottles…and was also the person who would run back to the house if we forgot something.  It was a lot.
For season two, we have a director, three cameras, two set assistants, a still photographer, a drone operator, craft services to feed everyone and a hair/makeup assistant. The extra crew will hopefully bring the show to a whole new level – and at the very least allows me to focus solely on the show content and my lines!
For season one, for the most part we shot each episode in chronological order, so we would usually start out with the visit to the locale, whether it be a strawberry farm or a lobster pound, then come back to my house and shoot the chicken or garden segment outside. Then the second day we would shoot the kitchen segment.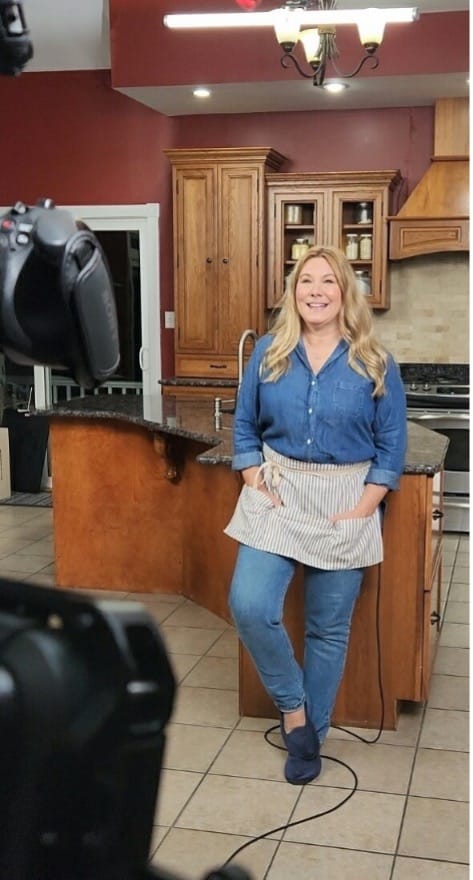 For season two, we have switched things up and shot three episodes of kitchen segments over the course of 2 days. It's much more efficient to do it that way because they only have to set up the lights and sound and props, etc. once. Most of the time shooting ends up being the set-up. Lots of standing around waiting for everything to be ready. I can see why lots of movie stars take up knitting!
Q: What is the funniest thing that has ever happened on your show during the filing process? Unexpected? Animal issues with non-compliance? Accidental happy notes?
Lisa: Interestingly enough, the chickens are extremely easy to work with. They are very cooperative, especially where treats are involved! It's usually me who messes up and doesn't hit my mark or forgets what I'm supposed to be saying! There are always mishaps in the kitchen too. Flour going everywhere, or a cake ending up being under baked. But it's amazing how much can be fixed in the editing room!
I think the funniest thing that has happened so far on set is when a huge raven flew into the chicken run while I had the door propped open and hopped up on the swing that I have set up for the chickens. The raven sat there swinging back and forth and terrified the chickens.
Q: People generally belief that being the 'star' on a TV show is an easy and glam job. What would you say is the biggest misconception about being the lead talent on a TV show? And how do you deal with it?
Lisa: I myself was actually surprised at how exhausting it is to "act" in a TV show. It may look glamorous but doing a scene over and over gets tiring really quickly. Even a short 30 second scene might take an hour or two to shoot. Let's just say I sleep very well after a day of shooting!
I also find it hard to memorize lines! I do much better when they just let me ramble and then piece together a coherent segment during the edit process. For the new season we do also have a teleprompter which has been really helpful to keep me on track and remembering specific points I want to bring up during each segment.
Q:  Do you get recognized when you are out and about because of your TV fame?
Lisa: I do get recognized! The show was on NBC here in Maine for two years prior to moving to public television/CreateTV and so when I'm out to dinner with my husband or at the feed store especially, I get recognized pretty often, which is really cool. Especially since Covid put a stop to in-person book signings and speaking engagements, it's nice to be able to interact with people I meet as I go about my errands.
Q: What is the biggest misconception in your opinion that folks have about country life?
Lisa: I think people believe that you need a lot of land to raise animals or grow your own food. And I don't think they realize how relatively inexpensive land and a farmhouse can be out in rural areas. We pay less taxes on 300 acres here in Maine than my mom does on a house half the size on barely an acre in Massachusetts. I wish more people would research areas they might like to move to and look at some of the farm listings. They are much more affordable than they think. And for those who want to continue living in a suburban or slightly rural area, raising half a dozen chickens and growing an herb garden for example doesn't take much space at all.
And people should know that you don't have to do it all. If you don't want to raise chickens, don't raise chickens, instead find a neighbor who does and buy eggs from them. Don't like canning? Fine, you don't need to do that either. You can pick and choose the things that you want to do. Barter or trade or buy local for the other things. Social media can give the impression that these "homesteaders" are raising every type of livestock under the sun, making milk and cheese, canning, and preserving every vegetable known to man. Just pick the things you enjoy doing or are good at. Every little bit makes you more self-sufficient and is good for the planet.
Q: What is the hardest thing about living a homesteading lifestyle?
Lisa: Predators. Definitely predators. Keeping animals safe from predators is something that I battle every day. And anyone who raises livestock, whether it be chickens, sheep, cows, battles. There are predators everywhere and they only have to "win" once for you to lose your entire flock.
Q:  What was your work baking or kitchen disaster?
Lisa: Oh, I started young with my kitchen disasters. I was maybe 10 or 11 and working on my Girl Scout baking badge and turned on the oven to preheat it. My mom used to store all her pots and pans in the oven, and many had plastic handles… which all melted. She has never let me live that one down.
Q: What do you love about where you live and would never want to change and why?
Lisa: I was born and grew up in Massachusetts, then went to college in Rhode Island. I want to work on Wall Street after college and lived on Long Island, then after I got married, my husband and I lived in Pensacola, then Norfolk VA where he was stationed in the Navy. But we always knew we wanted to come back to New England. Maine is where we belong. I love the seasons, the gorgeous foliage, and the snow. I love the old-fashioned feeling to many of the smaller towns and the slower pace. I hope that in coming years Maine stays the way it is. Kind of a throwback to how things were in my childhood.
Q: You have several sponsors including Horizon Structures. Could you fill us in on how and when you came to know the HS brand and what you like about it/how the relationship developed into sponsorship?
Lisa: I was immediately drawn to Horizon Structures when I first started raising chickens, but we weren't in my forever home, so I built my original coop for our first 6 chickens. It wasn't until we moved to Maine that I got my first "real" coop. I had by then been working with Horizon for several years and I was impressed with the employees, their professionalism, and also had gotten feedback from many of my followers who had HS coops. I loved how many choices HS offered, and how well-built they seemed to be. Since we have bears and coyotes here in Maine, I knew I needed a larger, sturdy, walk-in coop and it was a no-brainer to work with HS to design the coop of my dreams
Q: Can you tell us a bit about the Horizon Structures coop and how you customized it?
Lisa: My HS coop isn't actually a coop at all. It's the garden shed that they customized for me by adding roosts and nesting boxes.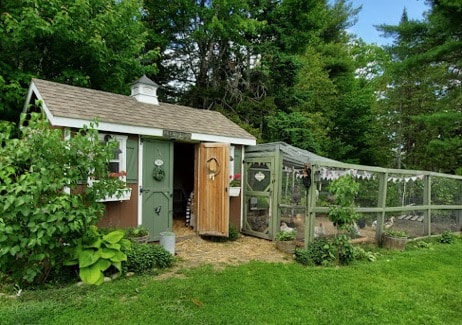 They also divided the coop so about 1/3 was a separate section with a door and wire dividing wall where I could store my chicken feed, supplements, first aid supplies, etc. I love that the coop has 4 windows with screens (and protective welded wire) that open and close to control the ventilation and air flow. And there are predator-proof latches on the large double doors (I asked for those so I could get a wheelbarrow inside if I wanted or maybe in the far future use the coop to store a lawn tractor or other equipment) and on the small chicken door.
It was wonderful the way it arrived, but I am known for tweaking everything!
I ended up building new roosts because you know chicken math! The roosts that the coop came with didn't fit our ever-growing flock eventually! I also installed shiplap inside. It was very easy because I just had to nail it to the studs. I liked that the white made the coop brighter inside and it is far easier to keep clean than I anticipated! I also added shiplap to the wire wall dividing the sleeping area from the storage area to keep the coop bedding, dust, and feathers from getting into the storage area. I also replaced the swinging door between the two areas with a sliding barn door which is much easier to open and close when the coop is full of bedding.
I had a row of nesting boxes installed in the storage area for storage and underneath them I made a sort of nursery where I could keep a broody hen penned up with her chicks to keep them safe from the rest of the flock.
And then of course I installed curtain rods and hung curtains across the windows, nesting boxes and little pop door – because that's just what I do.
Q: Any coop 'must haves' or recommendations for new coop buyers?
Lisa: I would say plan your coop size for the flock you eventually want to have.
Be sure there is plenty of ventilation and that all holes larger than 1/2″ are covered with welded wire.  Plan on a nesting box for each 5 or 6 hens, and at least 8″ of roosting bar for each chicken.
Other than that, go wild, have fun with it and choose what appeals to you.
Q:  Based on your many years of experience – what is your favorite animal to work with and why? Breed/species or a particular favorite living or passed.
Lisa: We've only had geese for about 4 years, but they have quickly become favorites. They are very smart, and since they are larger, less vulnerable to predator attack, at least from the smaller predators. And since geese are actually more like cows or horses than ducks or chickens, they graze all day long. If they could, they would eat grass and weeds as 100% of their diet.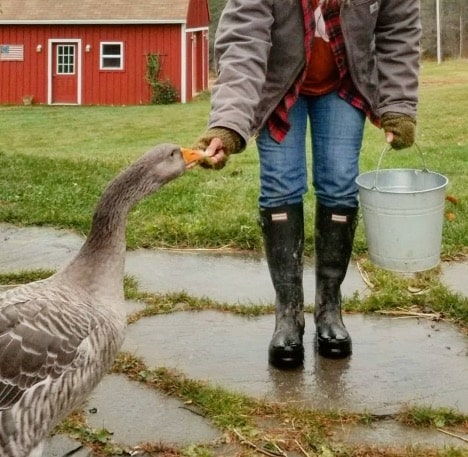 I do supplement them with wheat and oats, sometimes hay in the winter, but as long as there's grass, they'll happily eat that which saves alot of the feed bill! The one downside to geese is that they only lay for a few weeks in the spring, not most of the year like chickens and ducks, but their eggs are similar to duck eggs, nice large yolks and higher in fat.  And since one goose egg is equivalent to three chicken eggs, so you don't need too many to make an omelet!
Q: Can you tell us a bit about your family life? And idea of your regular day behind the scenes?
Lisa: My husband retired from the Navy when we moved to Maine 7 years ago, so he takes care of the mowing, snow plowing, car inspections, etc. and he even does the grocery shopping! He'll run errands also which is nice. That leaves me to concentrate on my business which consists of not only the TV show, but also my blog, social media platform, a chicken supplement product line that I sell on Amazon and Chewy and also my books (7 to date).  It's also nice that he's home to take care of the animals when I travel. Before Covid, I used to do a fair amount of public speaking at fairs and conferences as well as book signings around the country.
Q:  Do you get nervous before taping a show? Are there many edits needed? Are there any things you'd love to do on camera outside of your present role? Types of shows etc.?
Lisa: Oddly enough, while public speaking terrifies me and I have pretty much bowed away from that for the most part, I absolutely love being on TV! It's like filming a mini movie! I originally got the "TV bug" when P. Allen Smith asked me to appear on a few episodes of his show which also airs on public television. This was years ago, but I never forgot how much I enjoyed that. So, I am thrilled to now have my own show. It's alot of fun. In a way, I'm playing a character – even though that character is myself!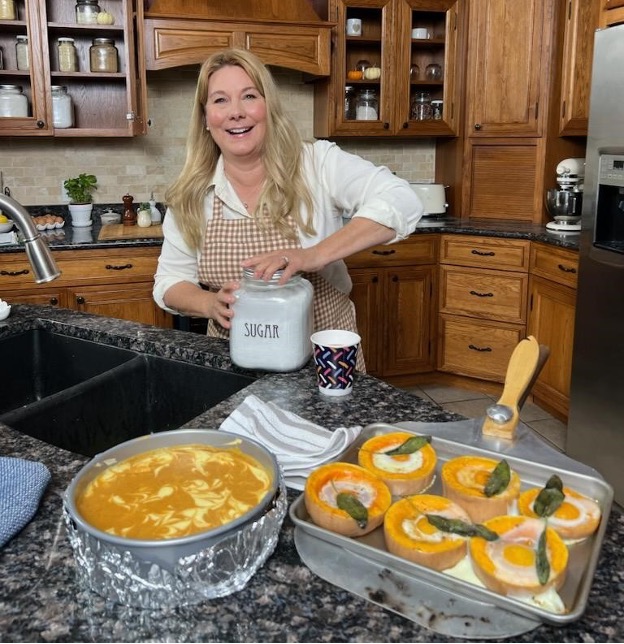 I would love to do a strictly cooking show some day, but for now I still have more chicken keeping and gardening advice to share – and I have been having a lot of fun exploring the state of Maine right along with my viewers!
Q: The thing about keeping livestock is that it is hard to get away? Do you manage vacations? Where do you like to go and what do you like to do? Any advice for folks on how to manage their homestead needs when they want to travel?
Lisa: Well, my husband and I haven't been on a proper vacation in probably 20 years! We used to vacation in Maine each summer when we lived in Virginia, and we also had horses at that time, but were fortunate enough to find a horse sitter who came twice a day to feed the horses and turn them out. When we added the chickens and ducks, she also collected eggs and locked them up each evening. It can be hard to find someone to watch your animals though, and they never do it exactly the way you want things done, so it works out perfectly for us. We just moved to our favorite vacation destination. Since my husband was in the Navy for more than 25 years, he's traveled all over the world and has no desire to go anywhere, and since I travel for work, I've had the opportunity to travel all these years all over the US and he's home caring for the farm!
We do love to do day trips here in Maine – whether it's to Bar Harbor to stroll around downtown a pop into various shops, or Camden for lunch on the water – there's so much to explore an hour or two away and we can still be home to lock up the chickens! We did build a predator-proof, completely covered, Fort Knox chicken run that's about 18×40 for our chickens and ducks. They have a dust bath, swing, benches, hanging treat baskets and all kinds of fun things to hop onto and nap under, so we feel safe leaving them in the run when we're not home.
Q:  Can you give us an inside sneak peek/ideas at what is coming up on your new series and what the audience can expect?
Lisa: For season two of Welcome to my Farm, I'll be visiting a pumpkin farm, feeding donkeys, going to see a holiday light show, making a traditional New England Thanksgiving dinner and going ice fishing! And of course, sharing chicken keeping tips and some favorite treats with my flock. I'm really excited to see the finished episodes.
Q: Could you finish this sentence.." If I wasn't living in Maine and living the life I currently lead I'd probably be living in      ——        doing ————
Lisa: Surprisingly enough, I would probably be living in Long Island running a bookstore. That's what I did after I left Wall Street, before I got married, and it was my second favorite job I've had.
Q:  When you were a kid what TV or Movies did you grow up watching and what were your favorites?
Lisa: I loved Bewitched. That was my favorite. I wanted to be Samantha when I grew up and be able to just wiggle my nose and have magic happen! My Mom and I used to watch Doris Day movies and all the old musicals too which I loved. When I was a little older, I loved Charlie's Angels.
Q:  Who is your favorite celebrity and why?
Lisa: Oooh, that's a hard one. As far as men go, I would say Kevin Costner. I've had a crush on him from way back. But I think my favorite female celebrity has to be Ina Garten. She just seems so nice and down to earth. And I love her recipes.
Q:  If you had the opportunity to meet someone and spend some time with them chatting who would it be? (Alive or passed)
Lisa: I admire Reese Witherspoon so much. She has had such a long career and done so many things. She's such an inspiration. I think it would be fascinating to talk with her.
Q:  If you had to make a 3-course meal for an intimidating group of chefs using your true farm to fork lifestyle – what would you make?
Lisa: Well, I prefer to call it "coop to kitchen," but I think I would start with a good old-fashioned whiskey sour to get everyone loosened up a bit.
My twist is a Maple Sour which is a nice introduction to my Maine farm since it calls for maple syrup and an egg white foam.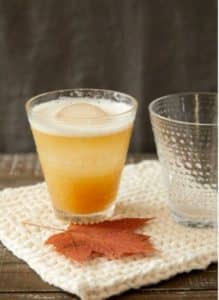 I would definitely make a classic Caesar Salad with homemade dressing and garlic croutons for the starter. I share my favorite recipe in my cookbook, The Fresh Eggs Daily Cookbook (HarperCollins, 2022)
Then the main course might be homemade gnocchi with browned butter sage sauce.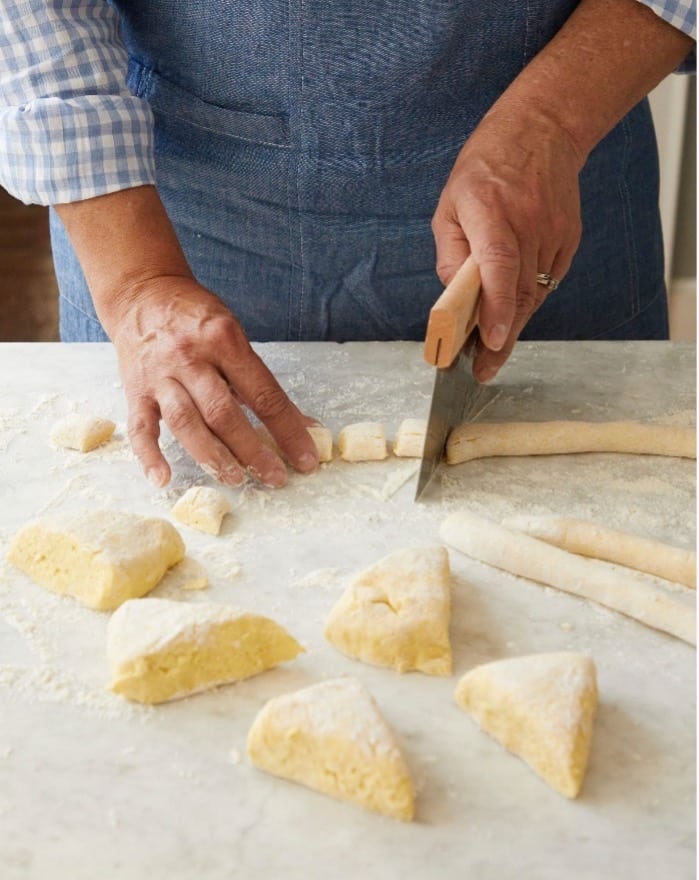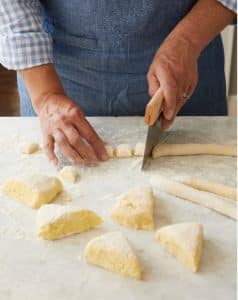 And for dessert, chocolate pots de creme.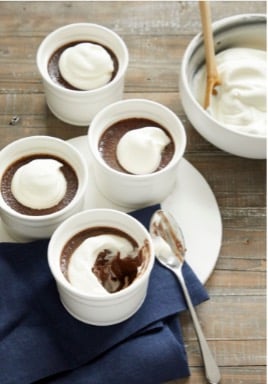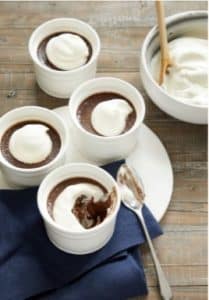 or maybe creme brulee.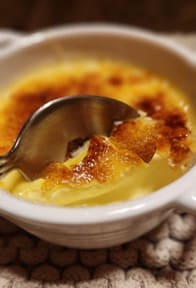 Q: When will this second season of "Welcome to My Farm" air and where?
Lisa: We plan to have season two begin airing July 1st on over 300 local public television stations across the country as well as on CreateTV and streaming on Passport.
If you haven't viewed this hit series yet, then you are in for a treat. Its mix of down to earth helpful advice, cookery creations and insights into rural lifestyle experiences are an engaging mix of entertainment and practical knowledge. Lisa Steele is brilliant in her role as host, serving up delightful experiences you won't want to miss.  See it HERE!