It's true that good things come in small packages and horses are no different. But what about their housing needs? It's important to consider the challenges that stabling minis and smaller animals face when housed in a regular horse stall.
When it comes to the value of the less common equus, and the smaller of the species, this author loves the 'wee beasties' of the horse world.
When I was 10 years old my family headed down to the Cotswold region of Gloucestershire, England to purchase my first pony. I was beyond excited. We entered the driveway to the stud and saw donkeys and ponies galore in the fields alongside the car, and when my parents, kid brother and I sat with the farm owner in his office to discuss our equine needs, I was certain a new pony was coming home to me soon.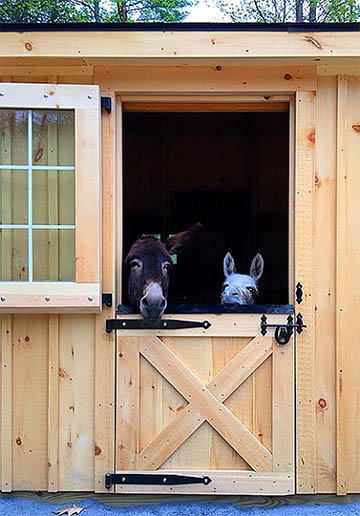 Not so much. Instead, unbeknownst to me, my parents opted to purchase two baby donkeys, a half brother and sister named Sage and Cleo. To say I was frustrated is an understatement. Nonetheless the donkeys would grow up as our staunch companions and I would train them to work under saddle. My kid brother and I spent many happy hours traversing the Buckinghamshire countryside alongside friends on their ponies. Needless to say, eventually I was to own a horse, but the donkeys lived on at my parents home until their 30's, and my Mom was forever in love with them.
We constructed their stabling ourselves, a 12 x 12 stable with overhang on two sides within the field for them to share. The stable door was four feet high, and when we locked them in the stall all that could be seen was either their noses or the top of their exceptionally soft furry ears.
Not surprisingly, Sage and Cleo disliked being denied their freedom to roam in and out of the stable, and locking them up was reserved for illness, or having them caught and ready for a vet or farrier visit.
If you own a herd or a few minis, mules or donkeys or a mixture of all creatures great and small the consideration of their access to the outside world with a view over the stable door, an opportunity to interact with their caregivers and visitors and their contentment in a much smaller space than a 12 x 12 stall can save you money when it comes to building a barn.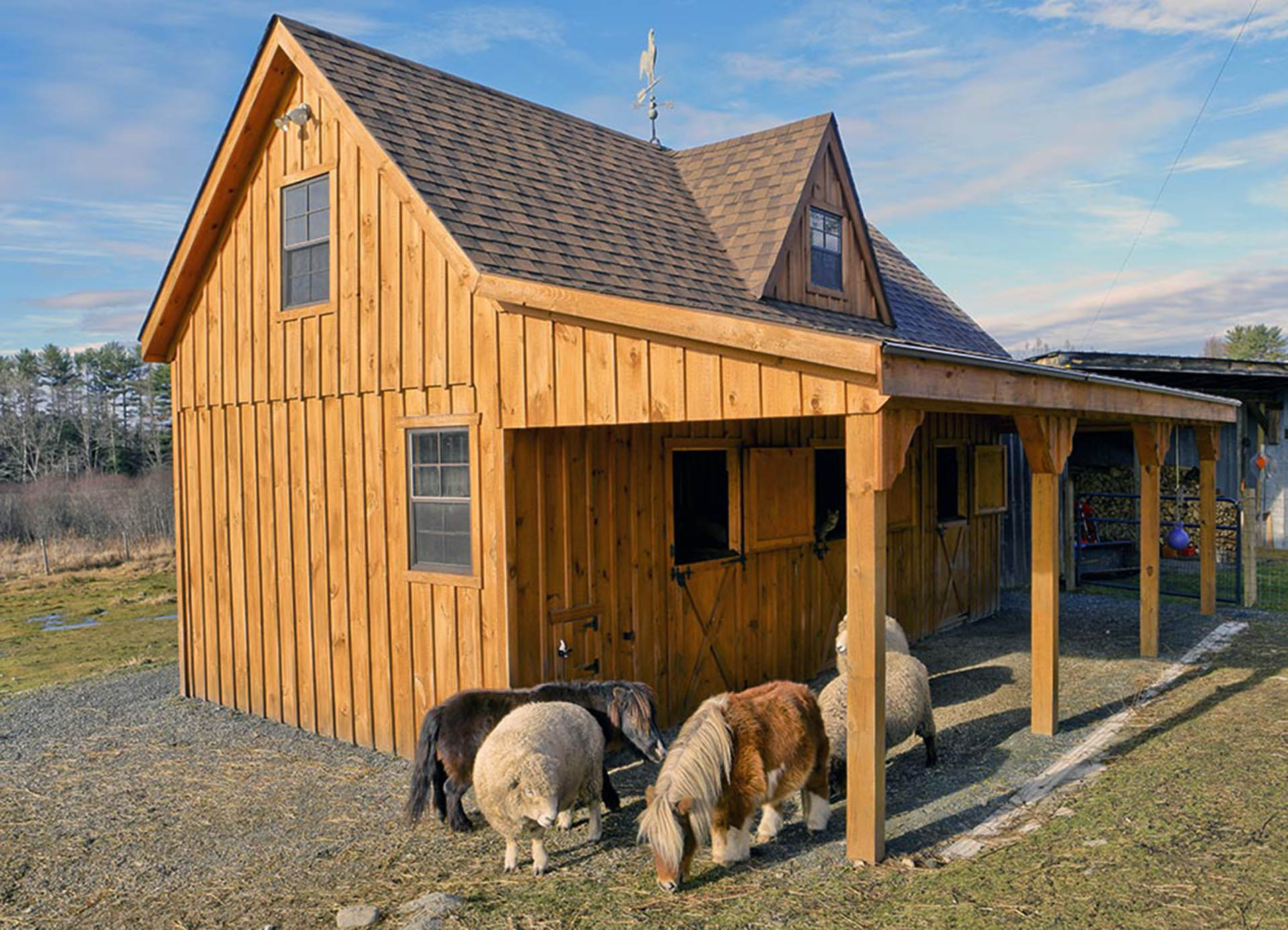 Resident barn expert on the team at Horizon Structures, Denise Chesnut, is often asked about modifications that might be made to horse barns to accommodate the smaller equine.
"We offer several modifications on our new horse barn builds for minis, ponies and donkeys. Minis can usually go into a smaller stall so this allows more stalls per foot than a standard barn. We recommended 10' x 8' stalls as a good fit usually."
Here's some other suggestions for modifying your barn for miniature horses, donkeys, and mules that Denise suggests to consider:
Removal of the grills on the stall fronts and replacement of the sliding stall door with a 4' x 4' hinged door or possible a mesh 4' x 4' door that allows the occupant to see into the aisle, and the caregiver to have a clear visual on the horse.
You can save money by not adding a grill above the partition wall.
For very small animals you can even lower the dividers and stall fronts to a 3' height with 3' x 3' doors.
We can build smaller Dutch doors to a mini friendly size so animals can see over the lower part of the door.
Lower the windows so the occupant can see outside.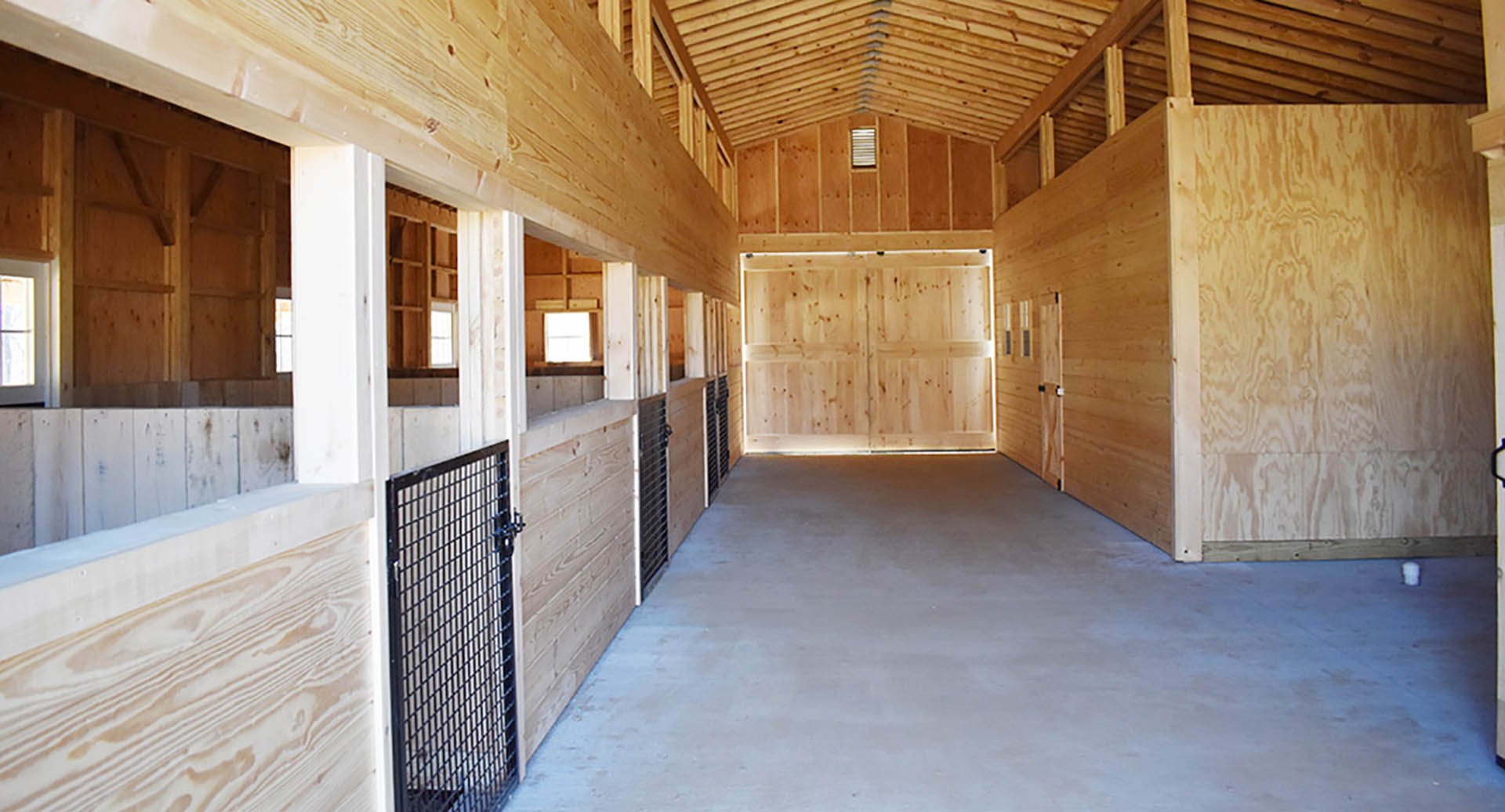 While Horizon Structures does not offer conversion services to existing barns, their new barn builds come in standard sizes but can be designed with mini features throughout, all customized for the individual needs of the customer.
From a horsekeeping standpoint there is much to be gained from making these modifications in barn design for the smaller equus.
Animals that can see out the window and over the door will be much less bored, and are much less likely to develop vices. If you are worried about wood chewing, the addition of a strip of metal to chewable and reachable surfaces is a simple solution, and can be completed by the manufacturer at time of building.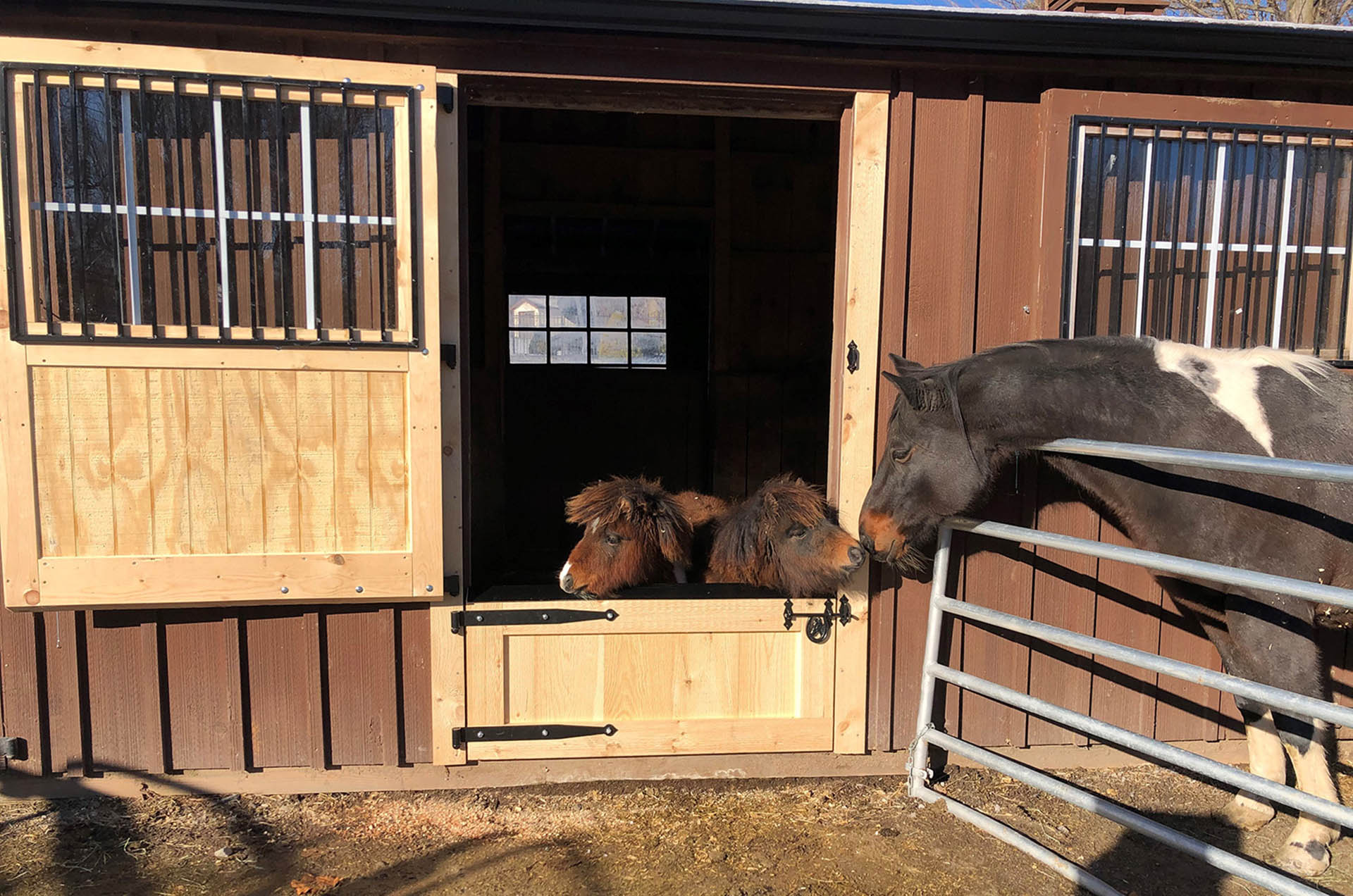 For the visitor the access to the cute mini or donkey face that can be petted easily over the door by children encourages better interaction between horse and human. This is especially valuable if you are designing a camp for kids or run a therapeutic riding program.
Smaller stable size means less bedding/matting and creates a cozier environment for the wee beasties in winter months. It also means you can add more stalls per barn and enjoy the option of separating the herd for tacking up and grooming, and if running a breeding operation it is a necessity.
So if you are interested in a barn design with a 'cuteness overload' factor as a visual treat to be enjoyed from your kitchen window, and one that creates a happy, contented environment for the mini, mule or donkey, don't be shy to ask for special design features. Small stalls can also be suitable for small pony breeds and even Paso Finos.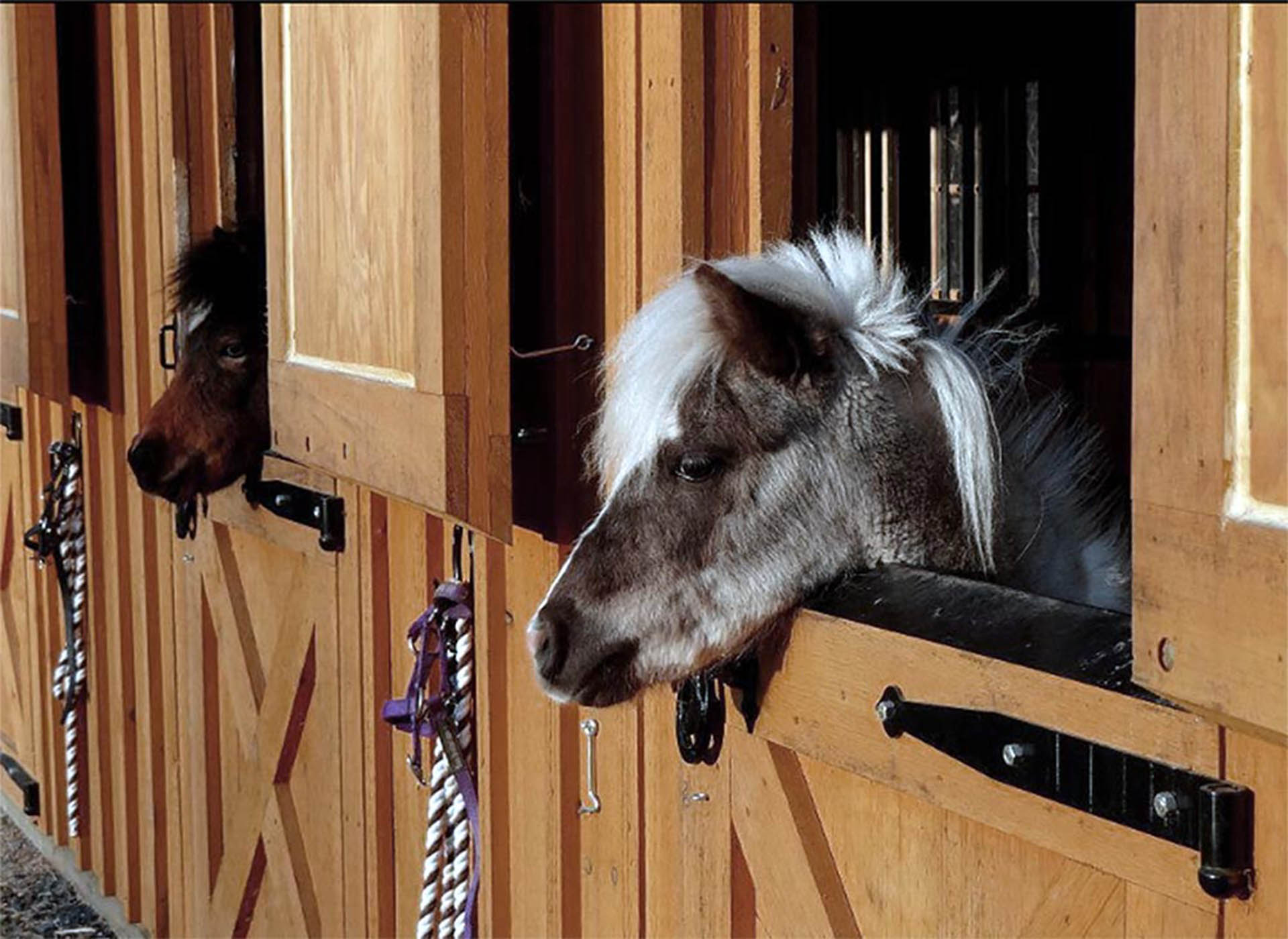 The only caveat regarding these modified barn builds, is that if you come to resell the property the barn may be less useful as a sale feature to the future buyer who might have horses. Nonetheless there are many folks out there who have alpacas, goats, sheep and other small livestock that can probably appreciate the smaller stall sizes.
In conclusion, when you keep the 'equus' you own happy, you won't regret putting their needs first. Happy horse, happy owner! Whatever size the wee beastie is or whatever its duties, riding/driving/therapy or simply a loving pet.