Purchasing hay supplies for equines is one of the largest expenses in the horse keeping budget.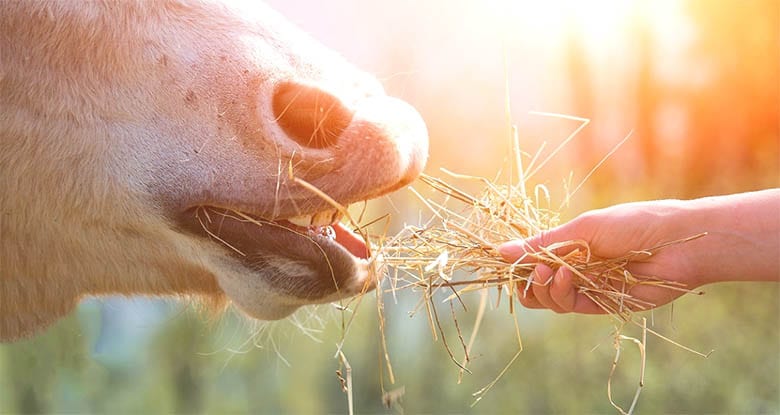 Here are six easy hacks that can turn the tables on horse hay costs.
Quality Not Quantity
It makes no sense to purchase low quality hay. Horses can be picky eaters and low quality hay will often be discarded by horses, and/or tromped into the pasture and go to waste.
Hay that is sold by the ton is fine for cows, as they don't require much quality and feast more on quantity and need the bulk that the forage can provide. Unaffected by moisture in the hay, heavier bales work fine for cattle. Horses are a different story. Consider a hay bale can be heavy for two reasons. Either it is good dry hay properly cured that is heavily compressed or it contains a lot of moisture.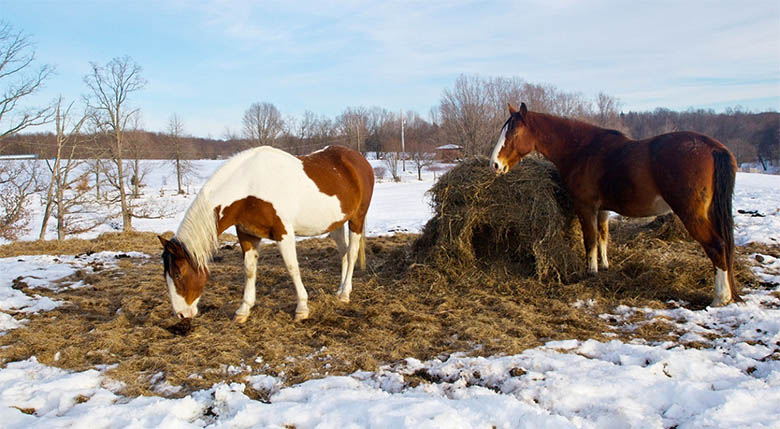 Moisture equals dust and mold and if the hay is baled above 14% moisture levels both will develop in the hay over curing time. The actual moisture value is easily ascertained with a hay wand. Hay that carries a high moisture value also poses a fire risk when stored inside (or outside!).
When shopping for horse hay, look for hay that smells sweet, is clean and green
(meaning weed free and green as a dollar bill) and has been recently minted i.e. is less than 12 months old. Hay that has been hit with a rain shower, then properly cured and baled can be fine to feed, but it will have a slightly lower nutritional value than hay that was never rained upon. As hay ages it loses nutritional value. It doesn't mean older hay can't be fed, it just means the dietary component is less beneficial.
In the worst-case scenario dusty or moldy hay may cause colic in horses and require an expensive vet visit or even worse, could result in death of the horse. Respiratory health (and thus quality of performance, even in mild cases), can also be compromised in the equine by the presence of dusty/moldy hay in its environment regardless of whether it is ingested.
Poor quality hay can also include issues with weeds and vegetation in the hay that can be toxic to horses. Keep poor quality hay away from your horse and invest in clean and green, properly cured hay that is specifically produced for horses as opposed to cows and other livestock.
It is also wise to test the quality of the hay to validate its level of nutritional benefit.
Farmers that properly manage their hayfields will necessarily have higher expenses to maintain top quality forage so their hay may cost more per bale as a result. Be wary of the use of dry down agents and preservatives on hay that may not have been scientifically tested/proven to be safe for horses to ingest.
Talking of Wasting Hay
Horses that are fed with loose hay in a pasture will inevitably waste a large amount walking over it, peeing and pooping on it, and using it as a bed. Hay expenses can be cut as much as 30% by the use of an equine hay feeder.
Hay feeders come in many sizes to accommodate variant size herds and types of hay bales used, small or large squares or large rounds. It is essential to horses' safety to utilize a hay feeder that is specifically designed for equine use as cattle feeders may pose an injury hazard. Always remove halters from horses that are pastured with a hay feeder to help avoid halter buckles becoming tangled or caught on a feeder.
Leading modular horse barn construction company, Horizon Structures LLC, offers a wide range of equine hay feeders and here is some feedback from a couple of their clients on the use of a feeder:
Louise Mochocki, who lives in PA, stopped by the Horizon Structures lot to check out the hay feeders she saw on offer through their website. As a previous happy customer with the purchase of a chicken coop, Mochocki was keen to return to Horizon Structures to get help with her horses' needs.
" When I stopped by the lot there was an 8' hay feeder that was a bit too big for my needs as although I've owned large numbers of horses at one time before, I was now down to just 3. Sadly, I recently lost one of those and am now down to two. My Arab Quarter horse mix and my warmblood breed type that I rescued. So I opted to order the 4' model and when it came in I picked it up myself. It was easy enough for me to handle as it only weighs a few hundred pounds. My horses love it and so do I!
I absolutely love my 4' hay feeder and I wish I had bought it sooner. It saves me so much money on hay. I've been keeping horses for over 20 years and just bought one. I should have done this before! There is almost no hay wastage. The tray catches the scraps that the horses drop. I simply throw flakes of hay into the feeder over the fence and occasionally go in and clean out the tray. My horses tend to stand on each side of it, each with their own preference as to which side. I can't tell you how happy I am I bought it."
Louise Mochocki is one of many satisfied equine horse feeder purchasers that are also repeat clients for Horizon Structures. Steve and Karen Torcise, of Fletcher, NC, purchased a run-in shed from Horizon Structures as well as an equine hay feeder.
" We were, and still are, in the process of building a horse barn on our property. Our architect is a dear friend and we still have 3 or 4 months to wait until the barn will be complete. Meantime the lease on the place where we kept our horses had finished and we needed to bring our horses home right away. We opted to buy a run-in shed from Horizon Structures to give our horses the shelter they needed in the meantime. We also bought a hay feeder.
We love our hay feeder a LOT. Our horses line up to come into run-in shed and use their hay feeder. They prefer to be in their shed with their hay on hand rather than in the pastures. It's like they've discovered their 'Ritz Carlton' lifestyle. We put them out in the paddocks everyday, but it is only a few hours before they come and line up at the gate, asking to come back in to the shed and enjoy their hay. I can't say whether it has saved us on hay costs or not because we haven't really paid that much attention to it. But I can say it has kept the pastures in good condition! They are definitely not overgrazed." said Steve Torcise.
1st Versus 2nd Cut Hay
Many horse owners prefer to feed their equines the slightly richer, softer 2nd cut hay over 1st cut, and 2nd cut hay is generally at least $1 more per bale than 1st for small squares and is always more expensive.
Many horses actually prefer 1st cut. It generally contains a broader variety of seed heads and grasses and offers more chewing satisfaction and variety of taste than 2nd cut hay that is mainly just grasses. Some grass types, timothy for instance, only produce a hay seed once a year so 2nd cut hay from timothy hayfields does not contain timothy, one of the preferred types of hay for horses.
Considerable money can be saved on hay costs by utilizing 1st cut hay for horses in low or medium work, and reserving the more expensive 2nd cut for breeding stock and high performance equine athletes.
Buying Off The Wagons
Production of small square bales requires much labor and handling to stack and store. Farmers will often offer discount pricing to sell hay directly out of the wagons as soon as it comes off the fields to avoid double handling the product. If storage space is not an issue, purchasing hay supplies this way can save a considerable amount of money.
As all fresh cut hay will 'sweat up' over the first two weeks, ensure that the hay is properly cured and not too high in moisture when baled (14% maximum at time of pick up which can be ascertained by use of a hay wand), and store it in a well-ventilated, dry space following these suggested methods for best storage practices.
Share a Load
Buying hay in larger quantities can also save money on costs. Consider going in with a horse friend/neighbor on larger loads of hay and splitting the load.
Don't Pay Without The Hay
As in any business there are scams that regularly foil even the most experienced hay purchaser. Never pay for hay not yet received or give deposits in cash ahead of the hay arriving at the barn door.
Hay should always be inspected before purchase for quality and handing a payment for an undelivered product may cause a lot of heartache as well as leave the purchaser empty handed if the dealer/middleman is not honest.
Take Home Message
Hay is an expensive resource and not one any horse owner wants to squander. When you find a good hay supplier stay loyal. Not only will this ensure consistency in the hay you feed, it will also help ensure your supply. Most hay producers make their end-user hay clients a priority for supplies at the front of the hay year.
Note: The North-East USA has seen a terrible hay year in 2020. Between the lack of rain, and the consequent lack of yield for both 1st and 2nd cut, even hay producers that usually supply their own needs are having to reach out and source hay quantities elsewhere.
As farms disappear from the countryside and land is taken up for development, hay production can be expected to diminish over time and prices will necessarily increase. Smart use and management of the hay that is available by minimizing wastage and providing good storage for the hay you do buy will continue to be an intelligent way to ensure your horses get the required forage they need each day (a horse should consume approximately 12-14% of their body weight as forage per day for optimal gut health).