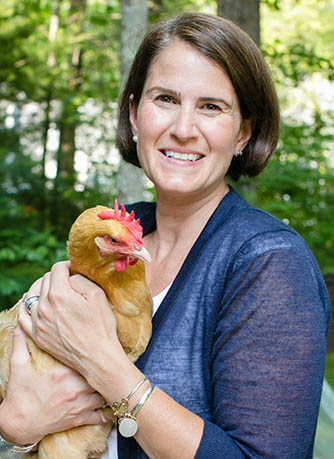 "Adventures with backyard chickens"
Today Melissa Caughey (founder of Tilly's Nest) is a go-to for newbie and seasoned chicken owners alike, sharing her advice in Country Living Magazine, Grit Magazine and on HGTV Gardens.
On her blog Melissa writes about her day-to-day life of chicken keeping, teaching people how to raise happy, healthy fowl and giving readers an inside look at her hens' lives.
Tilly's Nest started with four hens (and an accidental rooster or two) and Melissa's flock called a little green coop home for the first few years. The happy girls had plenty of room to nest and scavenge in their humble abode, but it soon came time for an upgrade.
It wasn't until Melissa wanted to increase the size of her flock that she started thinking about a new coop. "At first I wasn't sure if I was going to enjoy keeping chickens, so I ordered a small coop that could house four hens." Within a few short months Melissa was "smitten" and ready for more hens! But before adding to her flock of four, she first had to find a larger coop that would be durable and functional, without sacrificing charm.
As all chicken owners can attest, you learn pretty quickly what works and what doesn't. So, when it came time to go chicken coop shopping (a few years in to her chicken keeping journey) Melissa knew exactly what she wanted. A quality coop that was going to last was at the top of her list. Plenty of space for her girls and ample light came next on the list, and you can't forget about curb appeal!
To meet all of her wants and needs Melissa custom designed her chicken coop from top to bottom, and it's safe to say that it isn't lacking in appeal.
The schoolhouse inspired exterior is quaint and inviting, with coastal Cape Cod characteristics. Its clean white siding is complemented by the cedar shingled roof.  A cupola, windows and a 12-lite, country style door complete the main structure.
Inside are nine nesting boxes to accommodate the 10 layers that make up the now larger flock.  Melissa says she always gets a laugh out of the chickens having "a favorite nesting box where they all lay their eggs." Nevertheless, if they ever decide to keep to their own nest boxes, there are plenty to go around.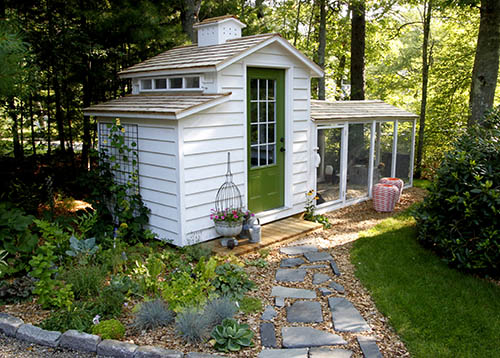 In their run the hens have ample room to stretch their legs, sun themselves, take a dust bath and watch the goings-on outside the coop. They have overhead protection courtesy of the run's roof that extends from the coop, keeping them safe from direct sun, rain and snowfall. They also have the added protection of predator proof mesh to keep them safe from evildoers.
Cleanup is easy thanks to a bump out with removable roosts and a place within the coop that catches the majority of the chicken droppings.
Because New England winters are harsh Melissa wanted a coop that could stand up against the weather and also provide her hens with plenty of indoor space for those extra blustery days when they need to stay cooped up. By choosing top-of-the-line materials customizing the layout, she got just that.
Two years after the arrival of her swoon-worthy coop, Melissa says she wouldn't change a thing and adds that the design and functionality has worked perfectly for her flock.  Now Melissa is excited to offer her adored custom coop to fellow chicken keepers through Horizon Structures!
That's right! The Tilly's Nest Cape Cod coop that you've seen featured on Country Living Magazine's website and in your Pinterest feed time and again will soon be available on our website!
You'll have the freedom to choose Melissa's custom chicken coop plan as-is, or customize it to meet your individual needs.  With our endless customization options you have the opportunity to choose from an array of color and material variations, add on extras, and more!
Stay tuned and like us on Facebook to be sure you don't miss the big reveal.