If you are lucky enough to own a horse property, there is a good probability that you have considered adding 'just one more horse' to your equine population. The likelihood of temporary overcrowding of horses on your property doesn't intimidate most horse buyers from going right ahead and adding another mouth to feed.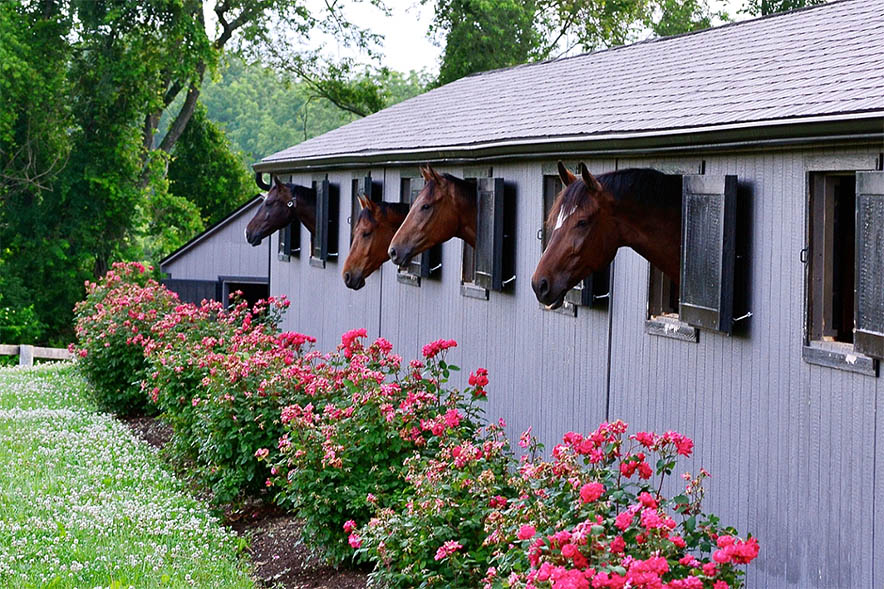 When you are a passionate horse person, the temptation to buy another horse is always on the horizon. There are so many reasons to buy another horse. Perhaps your present mount is not up to par and you are certain that a new horse would solve the training issue you are facing; your trainer doesn't think your horse has the potential to go further in his career; placement of an emotional bid to take home a poorly fed rescue horse abandoned at the kill pen; a colleague offers an opportunity to buy their horse that you know firsthand offers a good ride; a 'deal too good to miss,' that pops up when you spend too much time browsing through social media platforms or even access to a so-called 'free' horse.
The additional mouth to feed and house may begin as a temporary notion, with the plan to sell off another member of the existing herd or be bought home as a horse in transition that will simply be trained up and moved on.
Wherever the extra horseflesh comes from and for whatever reason, one thing is almost certain – if there is an extra stall available on your property it is likely to be filled quickly.
If existing horse accommodation on the property is not a viable option for provision of shelter for the animal, then adding another structure to the property may be necessary.
The property may already be overcrowded with horses and the extra 'new' horse may just be another part of a pattern of overstocking the property.
What to do? Here are some budget barn building solutions to add extra stall space.
Renovate. Repurpose. Refit.
Begin by taking stock of all the existing structures on the property to identify any options to renovate or repurpose a building for horse stabling.
Rehabbing a cow barn or garage structure may be viable but remember to carefully consider the real costs of the retrofitting necessary to safely stable a horse. For example, a low ceiling dairy barn with concrete stanchions is going to take a massive amount of time and money to renovate. There is likely a need to excavate dangerous concrete manure channels, mitigate the likely uphill grade of the stanchion floors and elevate the ceiling height for the horse's comfort and safety.
If there is a large machine shed or storage building on the property it may be an option to convert the interior into stall space. Temporary stall building solutions such as renting show stalls or buying secondhand show stalls that are past their prime may be a solution for stabling. But ensure the stalls are sturdy, safe, and large enough to do a good job.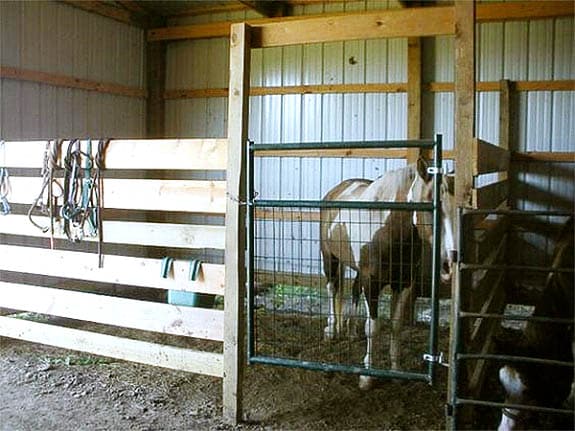 An existing center aisle barn may include a grooming stall or storage space that can be easily converted to a permanent stall.
Carefully consider the pros and cons of change of use of a space in the barn because the temporary fixes tend to become permanent. For example, don't subdivide a large foaling stall into two stalls that are both less than ideal size wise to accommodate a standard size horse comfortably, with the belief that the new stabling will work long term. And what will you do when you do breed your mare again despite saying you wouldn't!
The Humble Run-In Shed
A very popular choice for temporary shelter is the humble run-in shed. This structure can add sincere value to your property and addresses the need for shelter if there is sufficient space to facilitate an enclosure around the structure, either as a small paddock or dry lot.
Build A Barn Extension
Not surprisingly most barn building companies are reluctant to add an extension to an existing barn, even if it is one they originally built. This is because in barn design each exterior side of the structure is constructed to shed water and moisture and very importantly, to add structural integrity to the building.
If a barn addition has not been devised in the project planning stages of the original build and then included in the ultimate construction, then cutting into roof lines and removing structural walls is likely not a budget friendly endeavor. A construction firm that does not want to start the process is likely to bid a high figure for the work.
A shedrow barn design offers the ultimate in adding stabling to a horse property.
The shedrow with an open-faced storage area can be quickly and inexpensively adapted to a fully operational stall with either Dutch doors or a sliding stall door.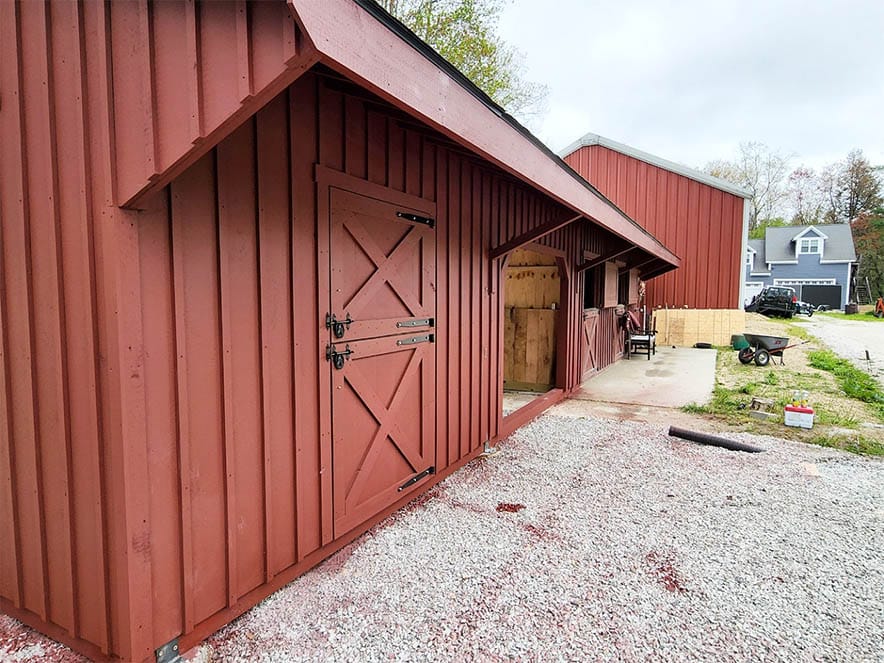 Shedrow buildings are easy to add to, either at the end of the line, at an angle such as a boomerang or right angle, as a courtyard option, or simply faced opposite each other with an aisleway between.
Start Afresh
There are many advantages to adding a new modular barn rather than trying to butcher an existing building into compliance with new plans and ideas:
A separate building offers the possibility for quarantine for equine newcomers or horses that arrive home from competition season.
Modular barns provide an almost 'instant' stall space solution and smaller barns can be placed almost anywhere with the use of a special 'mule' machine.
The huge range of designs in prefabricated and modular builds provides the perfect solution to fit a variety of budgets and aesthetic desires as well as functionality preferences.
Expedited timelines for delivery are often possible by buying off the sales lot.
Discount deals on purchase prices as well as delivery costs are often available at major events where the manufacturer is showcasing their wares, such as The Equine Affaire or Horse World Expo.
Known 'to the penny' pricing of modular builds ensures compliance with budget.
Know Your Options
As with any purchase, garnering knowledge of your options for extra stall space replete with accurate pricing is key to making the best decision.
Carefully consider which company you choose to collaborate with on the project. A good company will assign a project manager for your prospective purchase. He or she can offer salient advice on where you can save money in the build and give ideas in design that can make a new barn a 'doable' purchase.
Choose one with an established and proven good reputation that offers a myriad of choices that is open and transparent about its products and clientele's satisfaction with the buying and building experience.
The closest or cheapest construction option is often not the best choice in the long run.
Reality Check
When you buy 'just one more horse' it is wise to do a self 'reality check' before you embark upon fixing your stabling shortfall. Be honest with yourself about the likelihood that more horses are likely to be added to your equine ownership roster.
Remember these common reasons for the 'just one more horse' plan going awry:
You are running a horse rescue and planned to keep a maximum of 20 horses but find your operation turning into a sanctuary where some horses are not rehabbed and transitioned to new owners but stay to live out their lives, then there is a high probability to horse population is headed into triple digits.
A layoff or termination of your regular employment leaves you short of cash and work and you want to take on a few boarders to pay the bills.
You didn't plan to get into horse breeding but are enjoying the process and want to keep going.
Your children or significant other want to join in enjoying equestrian pursuits or you want them to do so and are laying the groundwork.
Your competition horse string is getting thin due to injury, and you need to bring more youngsters up.
The horse sale market is soft and there is an opportunity to make some extra money buying and selling.
Your barn help wants to bring their horse(s) on site and barter livery in exchange for their labor.
It might make better sense to opt for a new barn build and acknowledge your horse buying habit is not going to stop at just one more horse. Financially speaking it may be smarter to make provision for realistic future needs now, rather than spend less money in the short-term making a temporary fix to just spend more money later to add more stabling.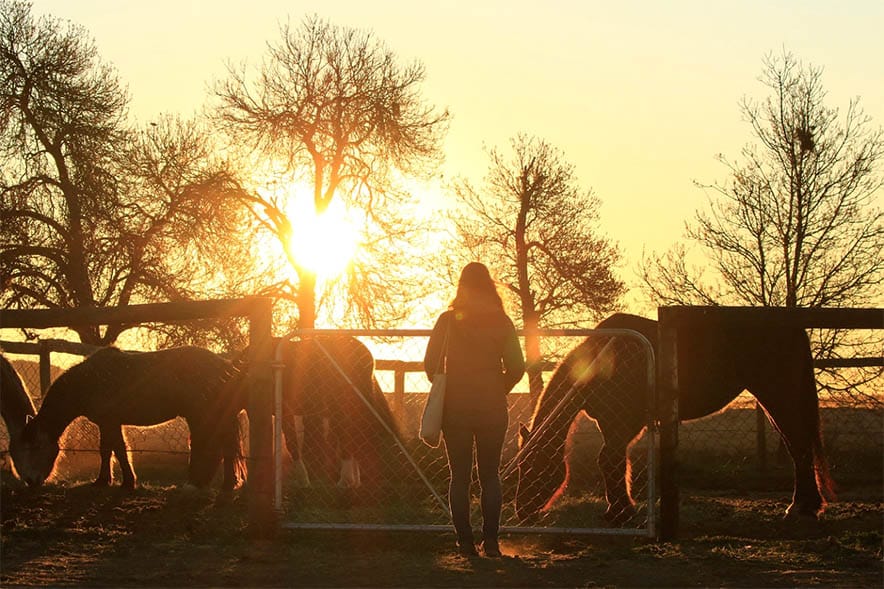 This is especially true if your vision includes developing any sort of horse business where depreciation/amortization of a capital expense is viable and finance interest may be deductible as an expense or if you currently have an existing registered charity facility and can take a fundraising route to help toward making a barn purchase.