The advantages of a shed row barn are mirrored when you add two together at a right angle for an L-shape barn. Not only are your horses delightfully on show, with their beautiful heads in view as they gaze contentedly out at the horizon while munching on their hay supply, the fresh air is everywhere.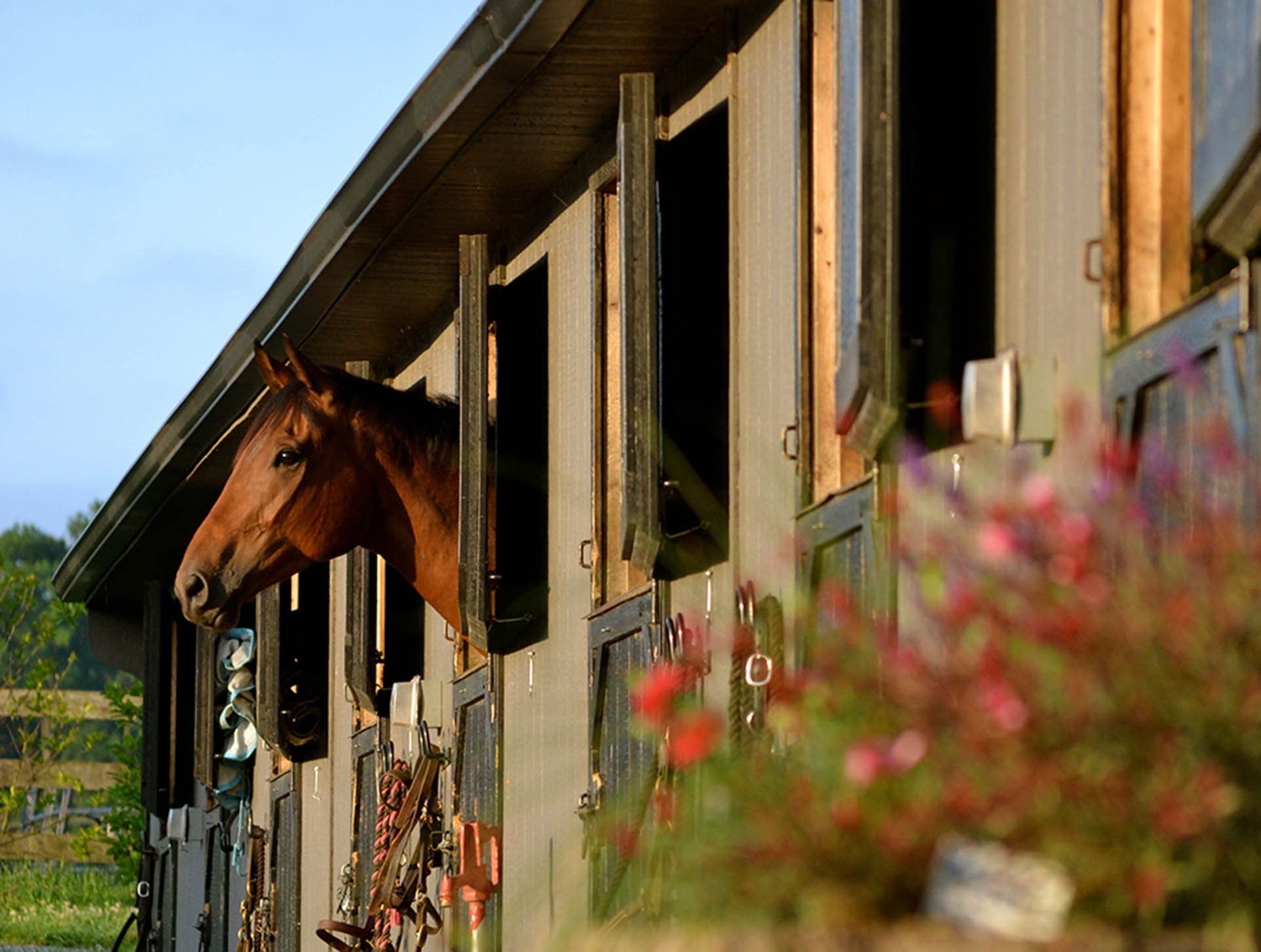 While their minds are kept busy with watching their surroundings, their lungs are being filled with high quality oxygenated air free of dust and dastardly environmental pollutants that can be found in even a well-ventilated horse barn.
The 'fresh air factor' can be a godsend for horses that suffer from minor allergies or are easily bored if confined in a box stall inside a building with no opportunity to view the great outdoors and be kept entertained by the comings and goings in the yard. Equestrians that actively compete also value the fresh air factor especially for disciplines such as eventing and racing, where the horse requires maximum lung health for their intensive fast work.
But why add an L-shape to your barn design? Obviously you've increased your available stable and storage space, but why the L-shape?
The L-shape fits neatly into any corner of the property, and provides instant privacy and screening from neighbors and can hide views you'd rather not see, such as discarded junk, ugly fences or garages that may otherwise impair your enjoyment of your space. You can also use the back of the L-shape barn to park large equipment such as horse trailers out of harm's way and out of view but still handy for use.
Their shape also provides an instant courtyard and when properly sited can shield your horses from adverse weather such as hot sun or wind, rain and snow. The simple addition of an overhang provides more protection from the elements, and offers more storage and working space options.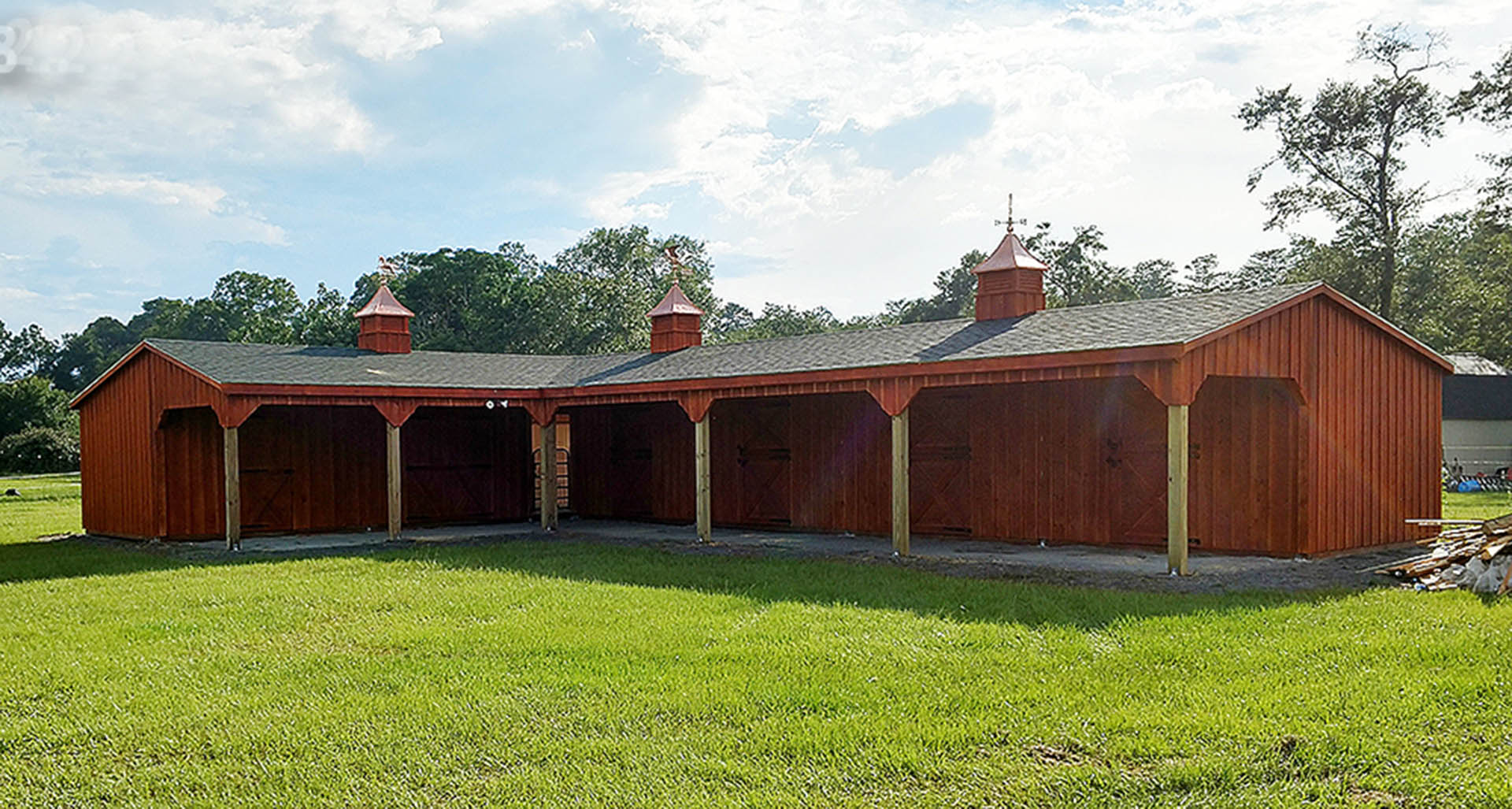 For instructors or trainers running a busy yard, the L-shape makes a workspace that everyone can enjoy communally, and gives them the opportunity to keep an eye on the horses, help and students at all times. This can be a valuable safety factor as well as making it easy to keep the daily chores and routines on track.
Affordability is another great reason to opt for an L-shape design. Obviously shedrow barns can be placed in squares, U-shapes, boomerang or L-shapes and their installation is quick and easy with modular building and easy transport options. If your budget demands a more leisurely pace of spending, you can start with one shedrow and add more as you go and money can be saved by leaving some stall fronts unfinished with Dutch doors and used for storage of hay, bedding or supplies until later, when funds allow further development of stall space.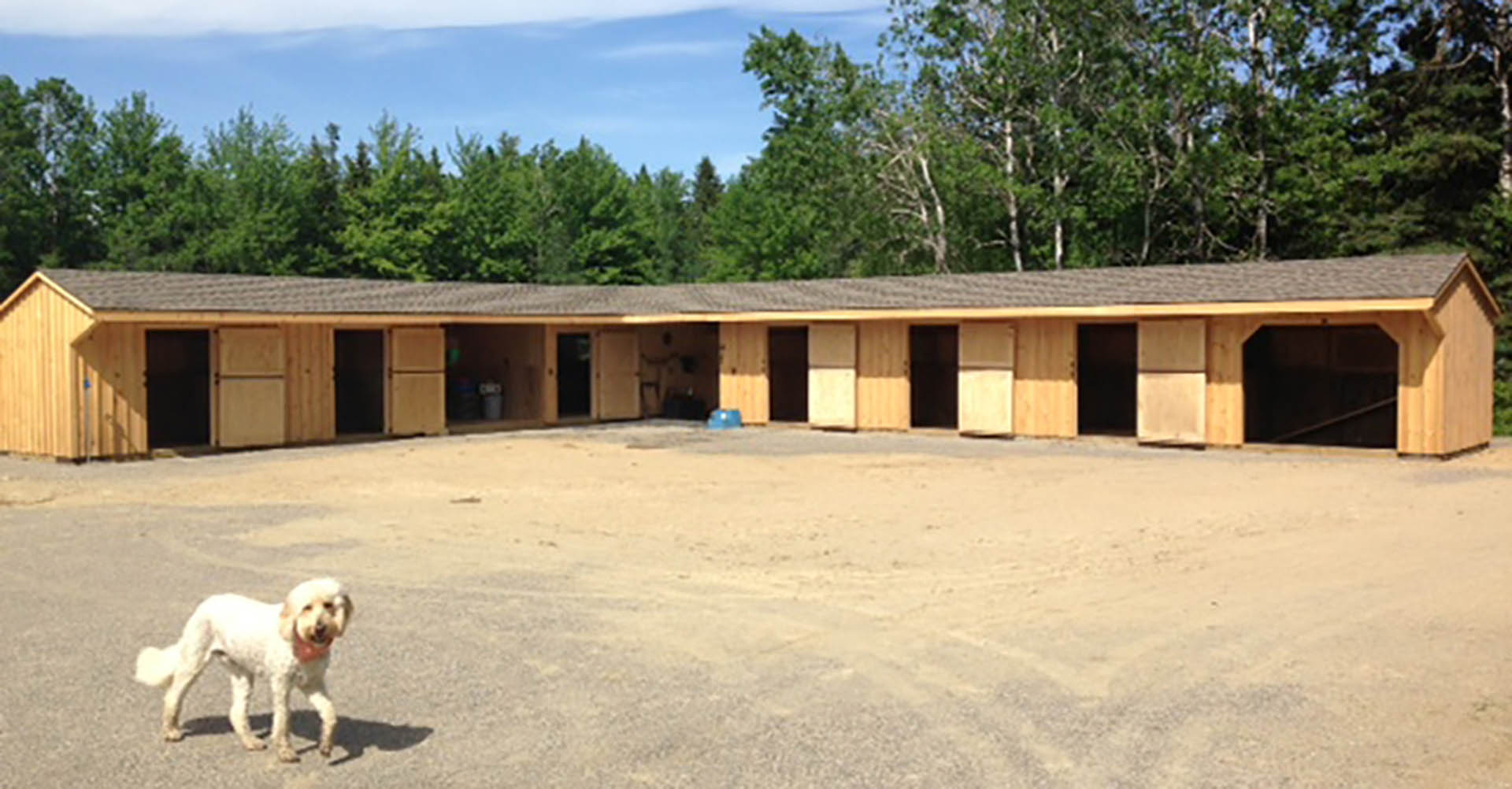 From a labor perspective, mucking out and cleaning can be accomplished with the use of machinery such as a tractor, that you might not want to run indoors to avoid diesel fume build up. The fresh air also provides advantages to keeping the stalls free of gases such as ammonia, and regular muck pick ups can be easily completed and dumped to a muck-spreader placed in the center of the space and transported away once full.
From a horse management point of view, horses that don't get along can be easily separated at each end of the rows. This is particularly useful for breeding operations, where mares in heat can be stabled away from stallions or colts. For the horse trainer one row of stalls may be used for lesson horses while the other can be used for boarders' horses or their own private horses. One end of the stabling can also be valuable for stabling a horse that is ill that needs a bit more peace and quiet but not isolation, and will be kept happy with the company of other horses in proximity but not contact, especially if placed away from the entrance to the yard where horses are consistently coming and going.
There are lots of benefits to living with the L-shape shed row barn. Size can be easily customized to suit your needs and with our modular building expertise we provide many options in designs and materials. Placement of the L-structure in even the most difficult to reach sites is possible with the use of our handy 'mule' equipment. Ask us about financing options, warranties, delivery timeframes and don't be shy to ask our expert team for advice. We always provide a 'delivered' price in writing before requesting a deposit and our Amish carpenters also deliver on top quality craftsmanship.