Moving horse and home can be a challenging event even for the best organized horse property owner. The decision to relocate can present many challlenges that have to be addressed to facilitate the move successfully. Problems such as timeline management for vacating a 'Sold' property and closing on the new one, readiness of the new site for horse occupation and renovations or modificationss required to provide adequate housing for the incoming equine residents.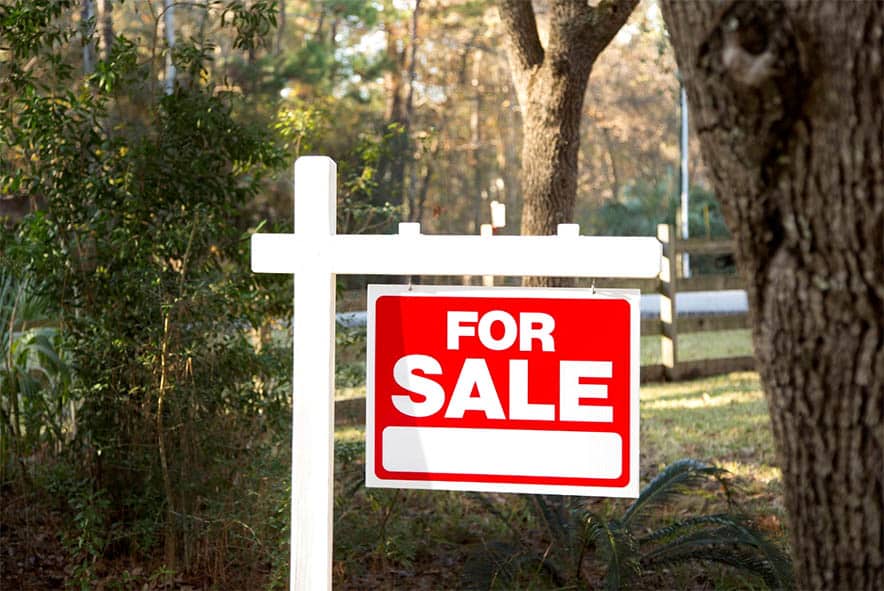 The minefield of decisions to be made for moving horses and finding new horse housing and pasture set-ups can be difficult to navigate, especially if the move is to a new farm a significant distance away or one in a different climate.
Regional and local moving companies will take care of all the 'stuff' associated with our households. But the acquisition of a new horse farm, especially one ready for development where horses will need to be stabled or sheltered pending construction of a barn requires some savvy planning.
The Zero Turn Horse Farm
If you are doing a 180-degree turn and moving your horse(s) from boarding to development of a parcel of land that may include a home but has little to offer in the way of barns or storage structures then closing on the property will be just the beginning of a long and arduous journey toward making your horse farm dream a reality that you can sit back and enjoy from the saddle.
Even if you are blessed with unlimited funds and can employ experienced construction crews to build your new barn, there will be many decisions to be made. Try to choose a company that has experience and talented craftsman not just to build the structure, but also to work with you in a positive 'old-fashioned' customer service manner throughout the process.
More likely budget constraints will demand some entrepreneurial and enterprising ideas and adjustments to the final development plan. Often, as you live with a property, you find even the best laid plans change as you develop a sense of the perspective of living in the new environment and appreciate the diversity of the land you have acquired.
Have Barn Will Travel
A simple 'starter' shelter that is budget-friendly will be a simple run-in shed within a well-fenced paddock. If the run-in shed is modular in design, planning permission for its siting may not even be required as long as zoning set back distances are honored.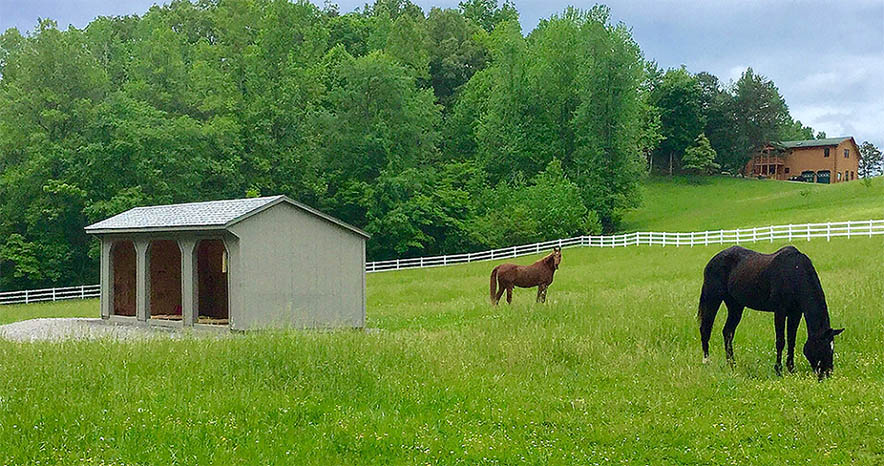 Prefabricated run-in sheds offer another significant advantage: mobility. Large metal tow hooks installed at the corners of the structure facilitate hauling the building from Point A to Point B utilizing a pick-up, tractor or UTV.
If you have already purchased run-in sheds from a company for an existing property it may be possible to contract that company to return and move them. While modular building companies are not in the business of offering moving services per se, some will offer the service for a fee, to provide added customer service value over and above the norm. It is worth asking if you have already invested in a good quality product that still has life left in it and could be useful.
With a new purchase it is worth asking the company whether they would be prepared to come back and move the run-in shed elsewhere on the property at a later date if you find that necessary. Most horse farm owners have the equipment to manage the move themselves with the use of tractors or a pick-up truck. For smaller operators, those with larger distances to move the structure or difficult access areas to place it, the use of the original manufacturer's service can be extremely beneficial.
This can be a great boon for the under-funded newcomer entering the world of horse farm design who needs to move horses in situ right away, but has not had the opportunity to develop a complete layout and design for the construction process or the means to finance it right away.
Obviously, mobility of structures is not possible with a pole or stick-built barns. Additionally, it may not be financially viable with larger modular horse barns. However, for smaller modular structures this can be a money saver long term.
The 'Instant' Fix
Modular horse barns are amazing because they seem to 'instantly' appear and are ready to use within hours to just a few days, depending on the size and complexity of the design. The 'to the penny' pricing that includes delivery and set up means that no budget overruns are incurred, and many larger manufacturers offer financing options for the cash strapped newbie farm owner. Some of these programs also allow fencing, site prep and other associated projects to be included in the loan.
The huge range of barn styles and designs together with customizations that can be made to any structure when pre-ordered rather than more cheaply purchased off the manufacturer's lot, mean everyone can find something to suit their horse housing needs within budget.
Mix And Match
The quality of the build in any structure is important to assure durability and safe use. While you may see a structure that looks similar to another at a cheaper price, it is important to do your homework regarding whether the buildings are of the same quality materials and construction specifications.
As with anything else there are many variances in quality of craftsmanship and materials utilized in construction. The cheapest option is rarely the best, especially when it comes to the industrial strength abuse horses can dish out to buildings over time. Always buy the best you can afford. It will save you money in the long run.
Milestones
Remember when moving homes and your horse to a new barn that the new property can always be developed piecemeal as finances and needs dictate. Factor this in when embarking on a horse barn purchase to get the most 'bang for your buck'. For example, don't buy two shed rows and place them next to each other and expect to develop them into a Monitor barn later. Instead consider buying a shedrow barn and leave a few stalls unfinished and open faced for temporary storage needs for hay/bedding supplies. These can be enclosed later as needs dictate.
Value added features such as lofts can always be included in the original build, with certain details finished later by the property owner, such as cutting out windows in gable ends or adding rails to stairways.
Establishing goals and milestones along your horse farm development journey will allow you time to refresh your finances, design and siting ideas.
Temporary Housing Options
Utilization of an existing dairy barn, or machine shed with temporary stalls erected is sometimes an option.
For safety's sake always protect the horses housed within a metal sided building from injury by sheathing interior wall surfaces with lumber.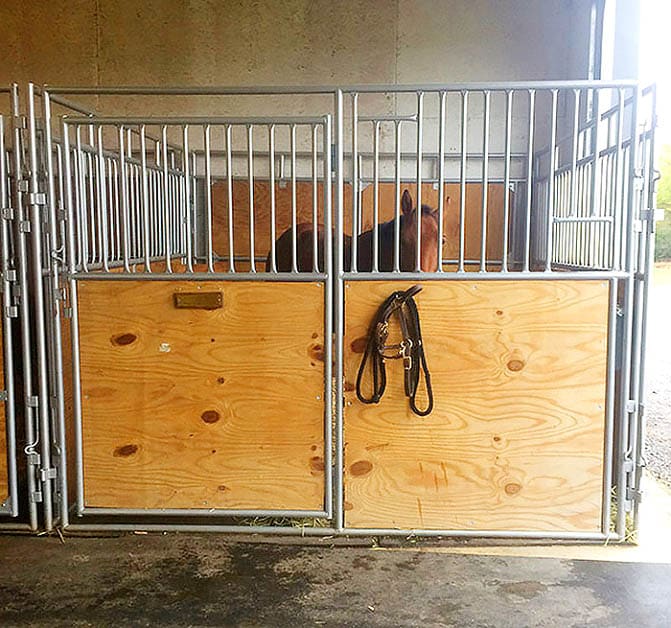 The use of portable stalls set up inside an existing structure may also work as a temporary solution for horse stabling. Bear in mind that portable or 'show' stalls are often small, many as small as 10' x 10', and are not designed to withstand a great deal of horse abuse.
Horses that are stabled at shows are usually well-used to confinement, plus their owners and handlers are usually present to monitor their horses' activities to reduce the risk of injury the horse resident may incur infighting with a neighbor or becoming cast in the stall.
Other temporary horse housing solutions include boarding your horses in the new neighborhood while you establish the stabling and pasture for your animals. This can be a good temporary solution.
This solution offers the added advantage in that you'll become acquainted with other horse folks in the neighborhood and learn about reputable suppliers of hay and bedding and service providers such as vets and farriers.
Work Arounds
Don't be afraid to ask the outgoing property owner for help managing the timeline on the move. Many horse folks are open to helping their fellow equestrians solve difficulties. There may be options to start measuring up the building site, moving horses in early, repairing a paddock for use etc. in advance of the final closing.
For most quandaries there is usually a work around that will accomplish a good end result that works for everyone. It often pays to adopt the philosophy: "If you don't ask the answer is always 'No'."
Enjoy The Journey
For a lucky few the newly purchased farm includes perfect, pristine equine accommodations that are available to move the horses in right away. The farm may encompass everything that the horse aficionado has yearned for during their years of horse ownership. But in most situations, this is not the case.

Whatever challenges your decision to 'pull up stakes' and move presents, moving homes and your horses to a new barn should be a fun and enjoyable experience. The key to successfully navigating the process is good planning. A sense of humor and some flexibility will serve the horse owner well when it comes to making the move. And most 'quandaries' are easily solved when diligent research is applied.