Pergolas and particularly pavilions have long been associated with sport. Perhaps the most famous being Lord's cricket pavilion in London.  A grand affair! Why should equestrians not cash in on their use too?
As a horse farm owner, creating useful outdoor spaces adds real value for family, friends and client's visiting your property.
Your busy barn aisleway is not the safest place to host a gathering of family, friends, students or colleagues. Horses are constantly coming and going or standing in crossties, hay and shaving deliveries may be happening, the vet or farrier may be in residence and staff are often busy mucking out stalls and sweeping up.
All these activities make the barn a busy, crowded place. If you are fortunate enough to have an indoor arena, this area is not ideal for hosting a gathering either.  Even temporarily giving up the space for an hour or 2 may not be convenient.  The area may be dusty and there's always the concern about what people leave behind in the footing after an event.
Think of all the occasions that a farm pergola or pavilion could provide the perfect site for a get together. For example:  summer camp students arriving with their parents need a place to get their bearings, your picnic, club meeting or wrap-up party needs a centralized location for food and beverages, you would like to invite your vet to give a talk on horse health for your boarders or maybe you simply want to kick off your boots, enjoy a cool beverage and seek a respite from the hot sun and a dusty day walking the arena.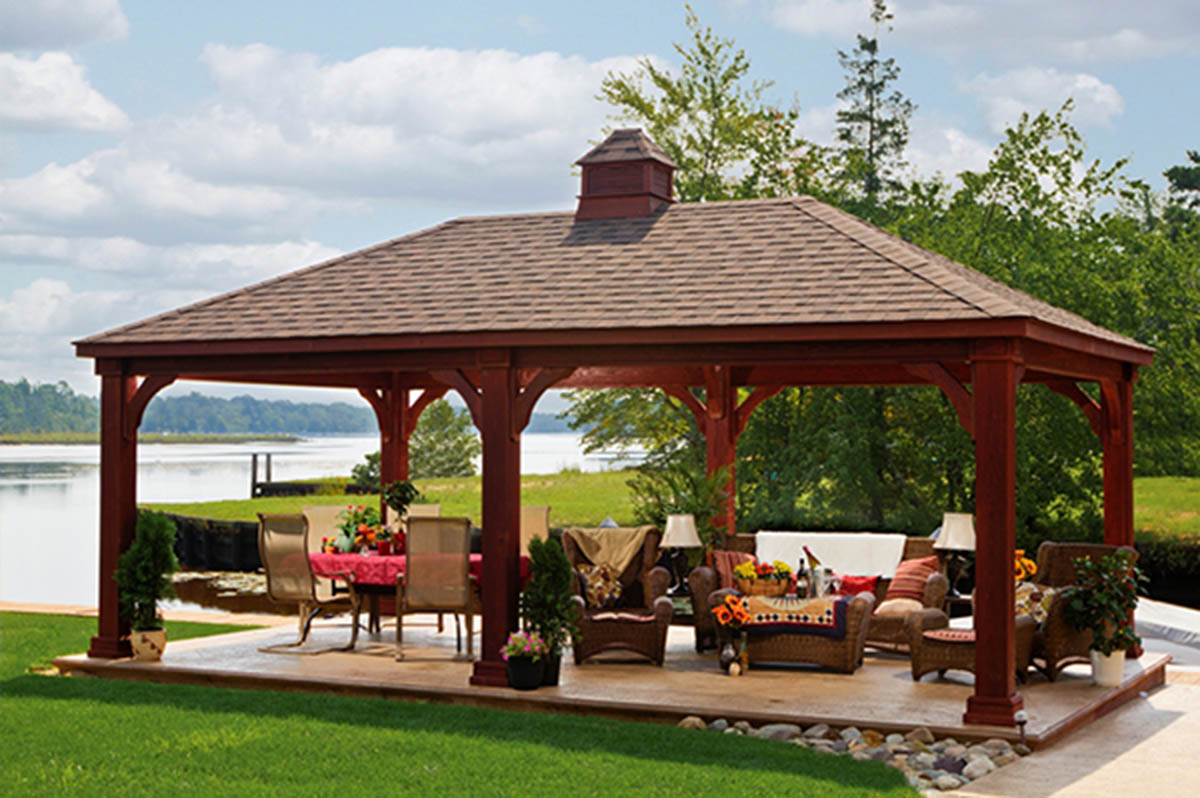 With the wide variety of farm pergolas and pavilions available, there is a design to blend in perfectly with your existing buildings.  Site preparation is straight forward and delivery is quick and easy. Horizon Structures provides all the information you need to build the best base for the structure.  If you're a DIYer, save money by ordering a kit and building it yourself.
Summer is here so get started right away.  Horizon will deliver your structure promptly and if you need help with your cash flow so that you can take advantage of the great weather and put your pergola, pavilion or gazebo to use now, we offer an easy application process for quick financing options at competitive rates.
Back in the 18th and 19th centuries, pavilions developed as both freestanding structures, used for banqueting and as places for pleasure and relaxation, as well as additions to the house joined to the main structure via pergolas laced with woody vines and pretty flowers.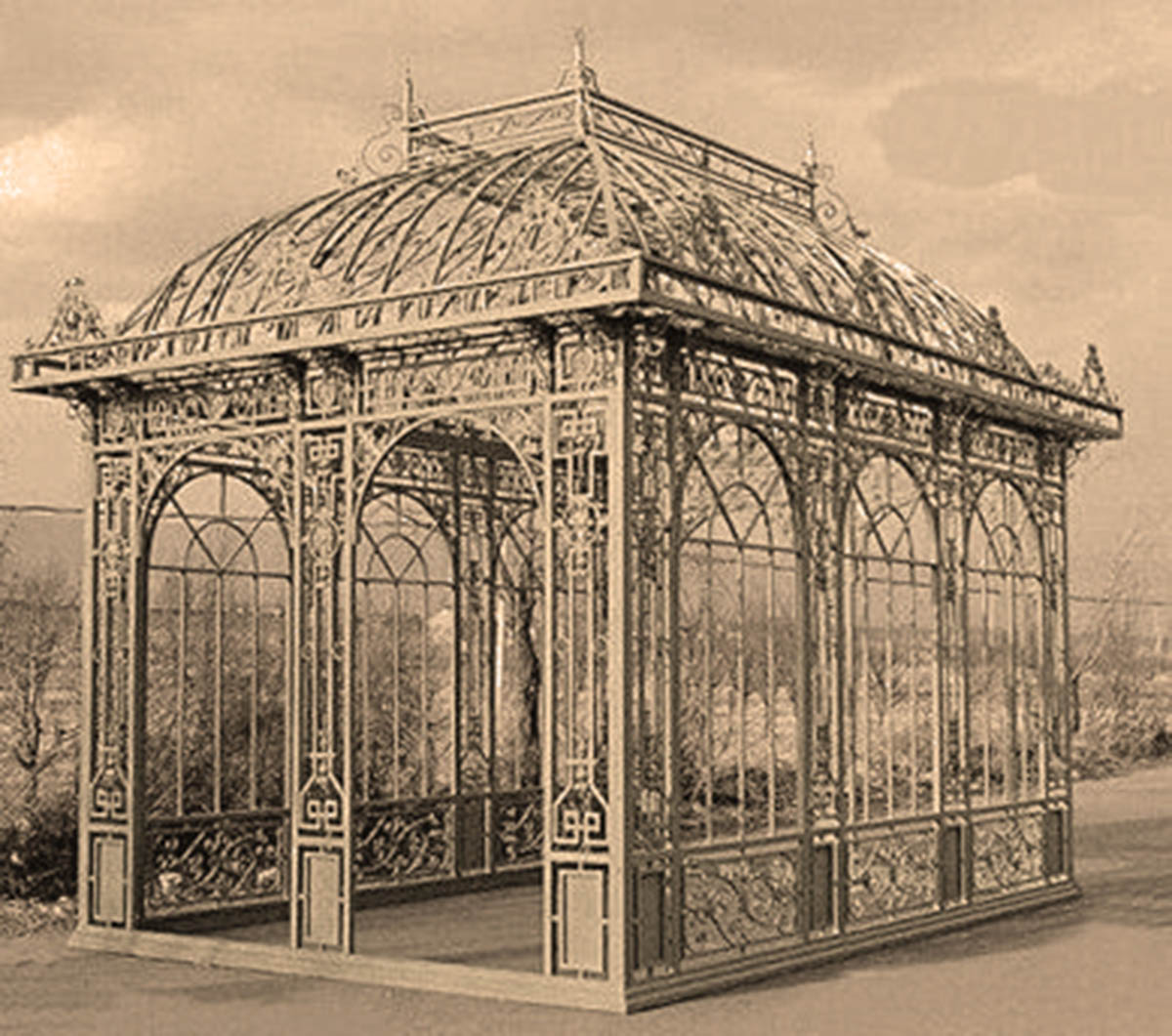 In today's world, there is an uptrend in their use, as folks desire more time outdoors. Many homebuyers love the added value that a pergola or pavilion offers in addition to the curbside appeal should you decide to sell your property.
The range of customization that is available in size, style, materials and design of the modern-day pergola and pavilion ensures that whatever your individual needs and preferences there is an outdoor structure that will add panache to your property.
When making your selections plan for present as well as future needs. A larger pavilion can be used as an outdoor kitchen or serving area, a seating area for clinic or symposium attendees or a gathering spot for your hay stacking crew after a busy day of summer work. We've seen folks add flat screen TV's, wet bars and more enabling the outdoor structure to be used for all manner of events.
While we all love the sun, it can soon become too hot to handle especially for the very young and the elderly. When grandparents or grandkids come to visit, a pergola with an EZ-Shade option instantly becomes a haven for relief from the sun.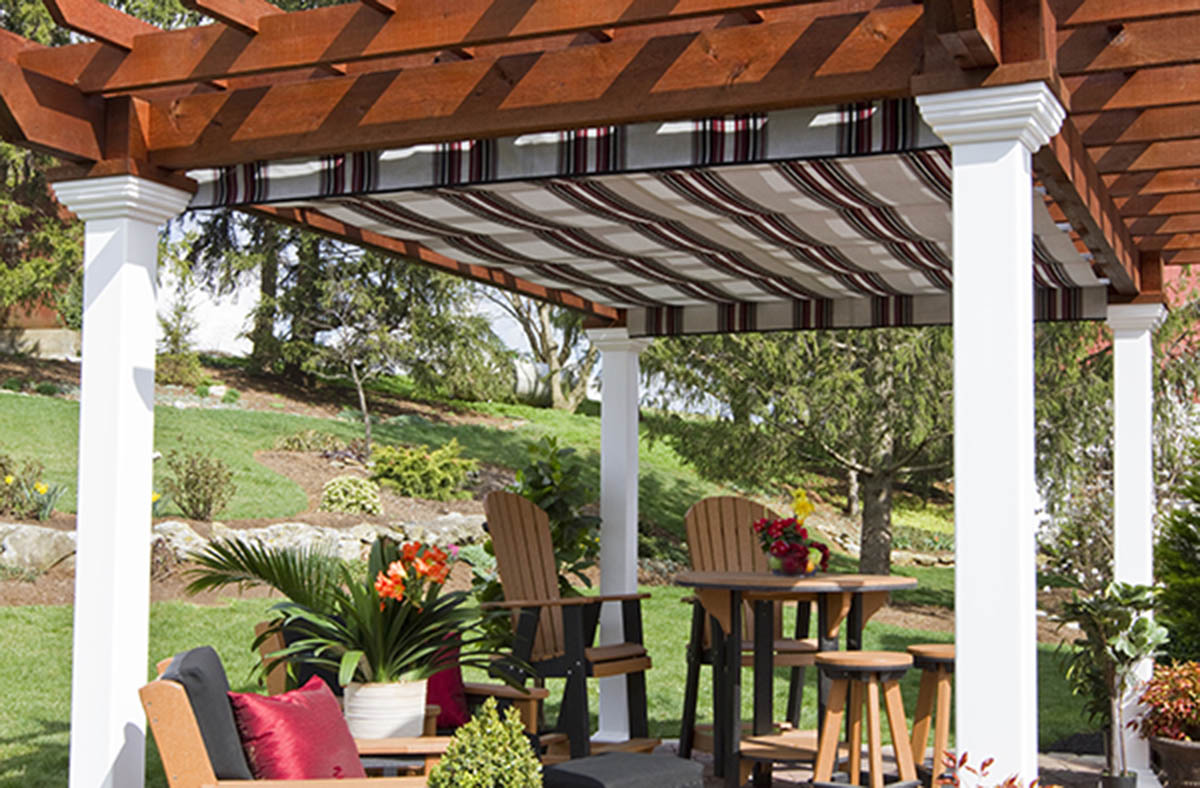 Overhead EZ-Shade canopies can be can be combined with curtains on the sides of the structure for shade AND privacy.
A pergola is so affordable and the flexibility in its use works perfectly for multiple events. While the sun may track across the sky, the EZ-Shade option allows your guests to avoid the glare of the rays wherever they choose to sit.  The addition of side panels ensures they are never sitting in a cool breeze if they would prefer to avoid it.
When shopping for outdoor event structures, always compare 'apples to apples' and be sure that, just as we do at Horizon Structures, you are offered a 'to the penny' quote.  Of course, we hope you'll choose us for your purchase!
Take your time to select the best site whether that be in the yard, poolside or on your patio or deck.  The ideal location will ensure your pavilion or pergola provides the perfect environment to entertain and relax for years to come. With the wealth of sizes, styles and designs here at Horizon Structures, there truly is something to fit every budget and every need.  Check out our Outdoor Living photo galleries for inspiration!  Or, use our online 'builder' to create your own pergola or pavilion.
Finally, always check the warranty that is offered. We stand behind our outdoor living structures and are very proud of our long list of satisfied customers.  The Amish top quality craftsmanship built into our outdoor living structures adds beauty to your property and a valuable retreat outdoors for years to come.