Blog by Nikki Alvin-Smith and Jill Siragusa
---
Part 2: The Differences Between Prefabricated and Pole Barns
In Part 1 of this post, we wanted to get you thinking about how an "apple" – i.e. prefab/modular horse barn is different from an "orange" pole barn in order to help you can make an intelligent comparison between the two and an informed decision when purchasing a horse barn.  In Part 2, we continue the discussion with an explanation of some additional, equally important advantages of prefabricated structures over stick-built ones when buying a horse barn.
Completion
The crew that builds the pole barn may not be familiar with working as a team which may result in a lesser quality job as their skills will be variable and communication may not be the best e.g. if one crew member hasn't quite finished nailing down the plywood on the roof and goes home and the next day another crewmember takes up that job and is unaware that this important element has not been completed it may never happen.   Additionally, quality control on the job site is likely more challenging than the regulated environment of the modular barn workshop.
With prefabricated barn construction, the craftsmanship will be consistent because the team is used to working together every day.  There is a quality control manager in the shop and, rather than being a jack-of-all-trades, each carpenter is a specialist.  Jake builds stall doors.  Ben does the framing.  David is a roofer.  Sam specializes in siding.  The result:  consistent quality and manufacturing efficiency.
Unless you stay with the standard metal siding on your pole barn, painting/staining of your pole barn will obviously need to be done on-site, outside.  Here again, extra costs to upgrade to wood siding and factors subject to environmental influence outside the controlled environment of the modular barn workshop.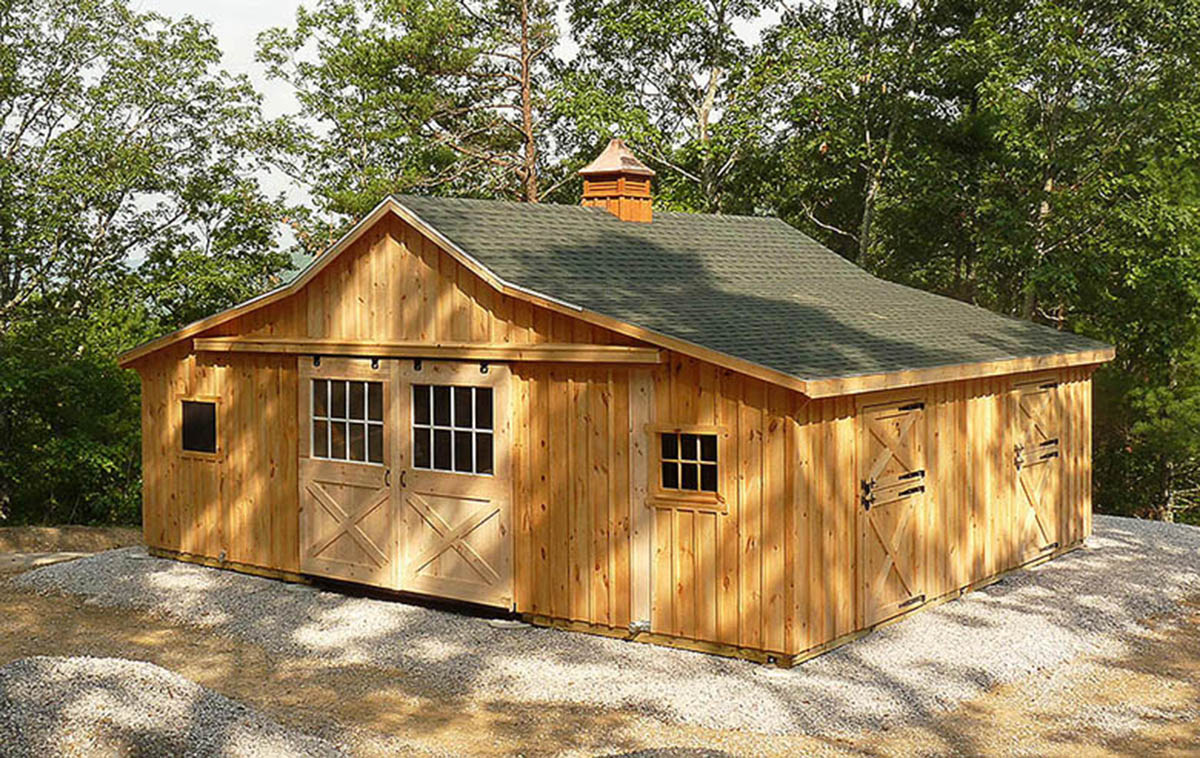 In a modular pre-built horse barn build everything is done inside so there is never an issue with a poor result or finish. As the construction takes place in a controlled environment, the team is also not fighting the wind, rain, snow, hot sun or other environmental factors and can focus on doing a good job without rushing OR unexpected delays.
Complementary Considerations
A pole barn is considered a permanent structure and may increase your property taxes. A modular barn is, often, considered a temporary structure so it should not impact your taxes in the same way a pole barn would.  An added bonus with a modular build is you can take your horse barn with you if you move.  Horizon Structures not only delivers and sets up your barn, they can come back, disassemble and transport it to another location as well.
Any building you decide to add to your property should also be added to your insurance policy in case of loss.  How your insurer classifies the structure will also factor into the bottom line cost.  Ask them if they offer a lower rate for one barn type versus the other.  Yet another possible advantage of prefabricated structures.
You should also consider the warranty or guarantee on the barn as a cost factor. A modular building company like Horizon Structures provides a robust warranty whereas pole barn contractors may not.  This is yet another factor to take into account in your "apples to apples" / prefab versus pole comparison.  View Horizon's warranty HERE.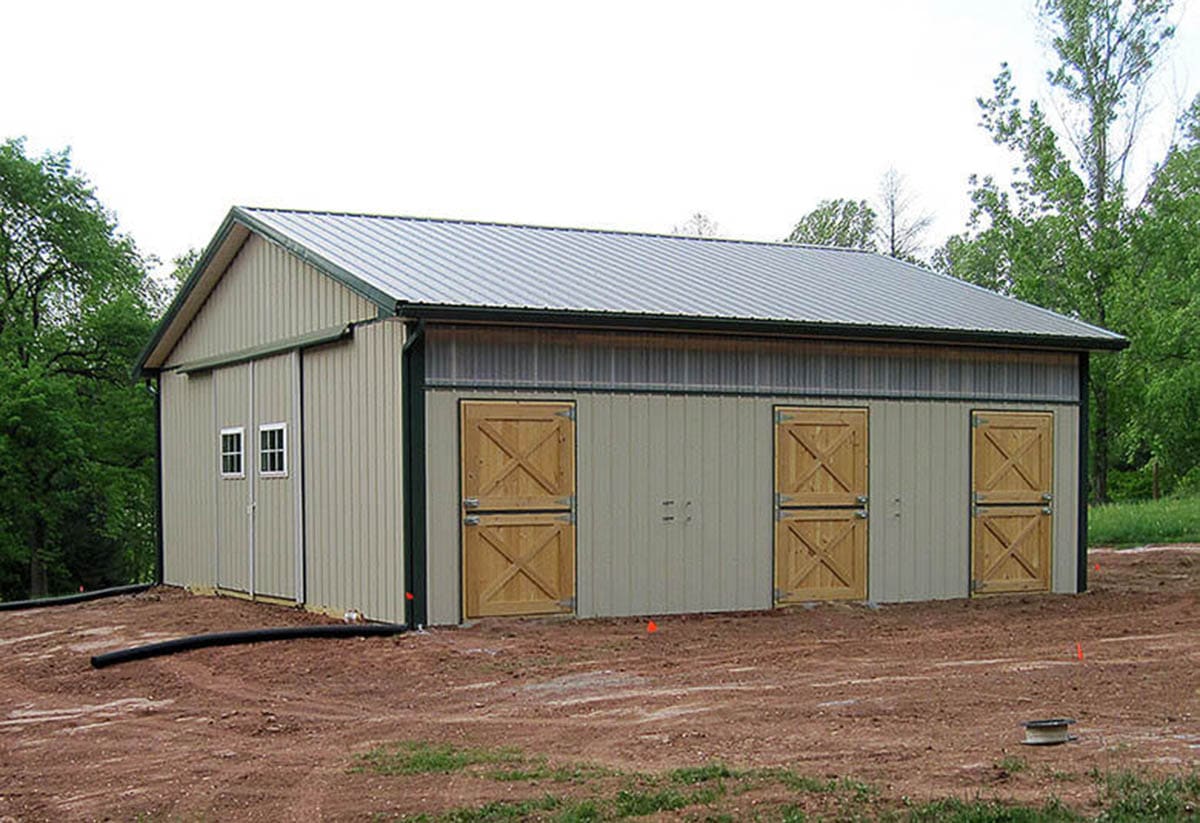 Always check references thoroughly.  If possible, visit someone that has used the builder you're considering.  See the barn for yourself and chat with the owner about their experience.  At Horizon Structures we offer you the opportunity to source barns we have built in your area through our interactive Barn Finder map.   You can easily contact folks that have worked with our team and see for yourself the high quality of the barns we produce.
Finally, be sure to factor delivery cost into your budget.  One would expect this to be included in the price of the pre-built horse barn as without it there is no barn.  Delivery is not something you can do yourself or shop around for someone else to do at a lower cost as you might, for example, site prep.  Similarly, the cost of delivery of the building materials should be factored in to the pole barn cost as well.  As always, err on the side of caution and ask.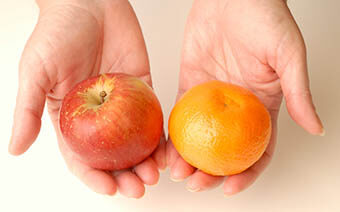 Pole barns and pre-built barns are as different as apples and oranges.  Both serving the same function but with important differences in their makeup.  And, just like 2 different kinds of fruit, one is not necessarily better or worse than the other.  It all comes down to your preference and what works best for your unique situation.  Whatever route you choose, do your homework and understand the differences.  Time spent now will most certainly save you disappointment later.
In Summary
| | |
| --- | --- |
| Pole Barn | Prefab/Modular Barn |
| Initial Cost:  May be less BUT everything (windows, doors, stall partitions, etc.) costs extra | Initial Cost:  May be more BUT everything included /nothing extra to buy. |
| Builder may not have horse barn experience | Expert in the needs of horses and barn requirements |
| Customization:   Yes | Customization:   Yes |
| Raw materials:  sourced locally, readily available, tailored to 'generic' pole building, stored on job site.  Weather damage? Theft? | Raw materials:  top grade, bought in bulk, tailored to withstand equine 'abuse', stored in warehouse |
| Siding:  Metal – Standard.  Low/no-maintenance.  Industrial appearance. | Siding:  Wood – Standard.  Board & Batten – unfinished OR Smartside – INCLUDES paint/stain.  Excellent natural insulating properties.  More attractive. |
| Site Prep:  Digging for poles… may hit rock?  Additional excavation, soil compaction and finishing.  Inspection by soil engineer may be required. | Site Prep:  Minimal to no digging or excavation required.  Gravel pad.  Modular barns/overhangs require concrete pillars/piers for leveling and stability. |
| Construction:  on-site, possible weather delays, days or weeks?, varying crew | Construction:   built indoors by specialized carpenters |
| On-site:  crew, material 'left overs' danger to livestock, buyer responsible for removal | On-site:  delivered fully-assembled or 1-3 day set-up for modular, no junk pile to remove |
| Quality control:  varies job to job | Quality control:  consistent, assembly-line style production in a controlled, indoor environment |
| Structure Classification: PERMANENT. Higher tax and insurance considerations | Structure Classification:  TEMPORARY.  Less impact on property tax and/or insurance.  Take barn with you if you move! |
| Warranty/Guarantee:  ??? | Warranty/Guarantee:  See it HERE. |
| References:  Call contractor.  Check them. | References:  Check them HERE. |
Missed Part 1?  Read it HERE.