Which is the Best Siding for your Horse Barn
LP Smartside versus Board & Batten
Find out if LP Smartside or board & batten siding is the best choice for your barn. Pick the best siding for your horse barn with Horizon Structures.
Board & batten siding is natural wood; Horizon uses white pine. The term "board and batten" refers to the style of the siding, not necessarily the material. A wooden strip, called a batten, is nailed over the siding boards where they meet. Horizon board and batten siding comes unfinished. Left untreated, the white pine matures to a silvery-gray color over time. Some people prefer this look rather than staining to preserve the bright color of the fresh pine or change the color altogether. The "weathered" gray color is not an indication of the integrity of the wood.
LP Smartside, on the other hand, is an engineered panel type of wooden siding. It is similar to T1-11, and is textured to look like vertical boards with wood grain. Horizon includes a paint or stain with Smartside siding, and it is the same price as the board and batten.
There are a number of factors to consider when choosing between these two types of siding. Quality, however, is not one of them. Board and batten and LP Smartside are of comparable longevity, and both are built to the high standards set at Horizon Structures. The main difference between them is appearance. Board and batten provides a rustic, natural look. Since Smartside siding comes with paint, it can be matched to existing buildings and gives a more urbane appearance.
In addition, there are some other minor differences in construction. Board and batten is built with a post and beam style frame made of oak. This is the framing best suited for vertical siding like boards. The frame of a Smartside building is the traditional wall studs most are probably familiar with. It is constructed of pine. The kickboards of the stalls are installed a bit differently depending on the siding as well. They are both 1" x 8" oak boards, but they are applied vertically in a board and batten building and horizontally in a Smartside-sided building. The windows are another difference. Board and batten windows are wood framed and are 24" x 28". The windows used for Smartsided barns have a metal frame (available in white or dark brown) and are 18" x 22". These windows also come complete with a screen.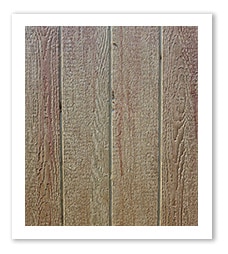 The final difference, and perhaps the deciding factor, to consider when choosing your siding is location. LP Smartside is constructed and shipped from our main location in Atglen, Pennsylvania and may or may not be available at our other shops. Board and batten, by contrast, can be shipped from any of our several workshops throughout the country. So, even though the buildings themselves are the same price, LP Smartside siding may cost more for customers far from PA due to shipping costs associated with the longer distance.  Please call our office at 888-447-4337 to verify availability.
Hopefully now you have a better understanding of the differences and technicalities of LP Smartside versus board & batten sidings offered here at Horizon Structures. Whichever you choose, know that a Horizon building will withstand years of use to provide an attractive and serviceable addition to your property!