The training and care of all K9 and Military Working Dogs (MWD) should include a hygienic and safe haven for times when these canine heroes are not on duty. This downtime is an essential component to their well-being and due to their specialist skill set regardless of whether the animal is in training or in active duty, the housing factor should be carefully addressed.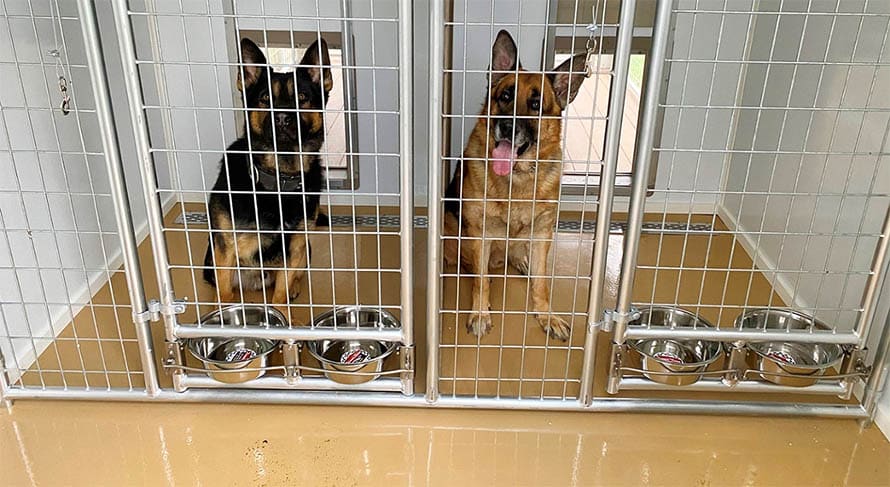 The only time these dogs are allowed off the leash is when they are actively employed at a designated task or when the animal is off-duty and is under the direct control of their handler. Police dogs are never allowed off leash when in public otherwise. When they are housed, they must be properly secured from the likelihood of escape. These well-trained service dogs are also highly valuable animals. An incredible amount of training and hard work goes into each and every one of them, so locking them up and secure makes sense from the theft and protection point of view also.
Additionally in order to keep police and transport vehicles clean and well-maintained, it is necessary to provide grooming and bathing of the dog.
Selection of a well-designed and sturdily built K9/MWD kennel that has easy clean features, temperature control, and proper security provisions makes a world of difference to the handler(s) in kennel cleaning duties, grooming, and bathing tasks and the dogs' security.
Aside from the daily routines of the dog, where it may be housed with its handler in a kennel provided on site at the handler's home, there are times when it is necessary to temporarily relocate the canine to approved, specialist care and housing. Extended days off work or vacation times, retirement, or medical leave, may all require the dog to be displaced from its usual routines.
These facilities are obviously required to meet very specific criteria to protect both the dogs and the public at large.
Incidentally, while adoption is sometimes an option for displaced retired service/working dogs, there are some seriously good projects that have been founded to house retired MWDs and K9s for cases where they cannot be kept united with their most recent handler or adopted out due to PTSD or other reasons. Projects such as founder Jason Johnson's Project K9 Hero offer a soft landing for retiree MWDs and K9s. Such projects deserve our support.
The Mission the Kennel Design Search
Regardless of whether the kennel is to house single or multiple canines or is being purchased for use at a home or for a municipality or military agency the criteria for excellent kennel build and design is the same.
While most modern kennel designs will address the necessary correct sizes for the kennel boxes and covered runs, guillotine doors, entry doors, windows and passive ventilation, there are upgrade features that the professional handler and their animals will appreciate in the MWD and police dog kennel structure.
Drains for boxes should be placed to the back wall of the kennel box to give the resident canine maximum room to lay down while also providing a quick sweep down directly to the drain that is hopefully a long channel floor drain system secured/sealed stainless-steel leading to discharge pipes that take fluids and small material away from the structure to the outside.
The floor surface should be an easy clean but slip free material. A polyurea coated floor with edges properly sealed to the exterior of building and the drainage system are a must have.
Easy clean Glasbord ceiling and walls for deep clean ease.
20" doors for easy access.
Insulated walls, floors, and ceilings for climate control and to mitigate noise.
Welded wire versus the lesser strength chain link and possible upgrade to lower gauge wire (the lower the number the stronger the wire) for larger canines.
Solid ½" partition walls.
Stainless steel attached easy access feeder bowls.
Additional height for better air circulation and access for taller individuals.
AC/heat systems/mechanical ventilation and roughed in plumbing/electrical systems. Electric/solar light and possibly security/video monitoring devices make life after hours much more manageable for all involved. A comfortable temperature and proper ventilation ensure handlers and canines are kept refreshed and minimizes unnecessary stress caused by extreme weather, especially hot and humid weather.
Bathing/grooming station and securable feed room/equipment room.
Extra full-size access door in wire gauge to minimize chance of inadvertent escapes when kennel being cleaned/dogs being fed/bathed etc.
Lockable exterior pen gates for easy access to an exterior secured training compound.
Welded wire fencing should be roof high to keep dog secure inside.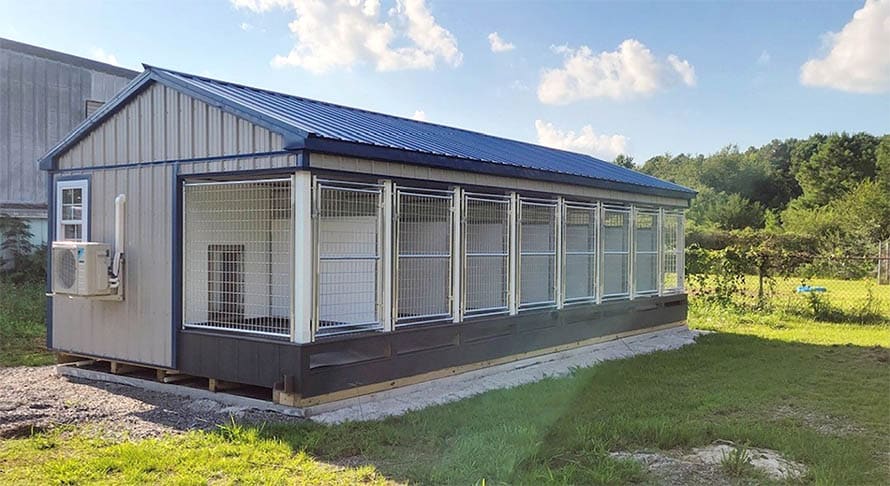 Think Outside the Box
While the interior features of the commercial police dog kennel are very important, so too is the exterior of the structure. From an aesthetic point of view, the appeal of adding an organization's or officer's preferred color on trim/siding/roofing is always a treat. But in addition to looking good the exterior and unseen framing and floor system must offer longevity and be as durable as possible.
Protection from adverse weather such as snow/water being shed off the roof with gutter systems that drain water away from the base of the structure are a good idea. French drains can be installed at the same time as site preparation or directly after placement of the kennel structure on site.
Moisture damage should be prevented by the use of pressure treated flooring with joists of at appropriate distance OC (on center measurement between structural framing members) and size/grade to take the weight and abuse that a service building will endure.
The floor as well as ceilings and walls should be insulated, and the floor edges must be tightly sealed to prevent leakage of fluids from the interior cleaning as well as aspiration of moisture from the ground beneath into the building's interior or substructure.
The use of modern-day materials should help defray any need for maintenance of the siding. Similarly roofs either metal or shingle, should be of a high standard brand and longevity to minimize needs for replacement or refurbishing.
The days and nights that all service dogs and their handlers work are often long, arduous, and stressful. It makes sense that when the inevitable chores such as cleaning tasks, cleaning a muddy or wet dog, and feeding times are needed the operation is executed as efficiently as possible, with as much ease and safety as possible.
Superior grade commercial kennels come with many desirable features that are included in standard offerings. But these upgrades can make life better for both dog and human. Whether a large barrack style or multiple kennel structure layout is preferred, the ultimate mission is to ensure the best possible care for the animals.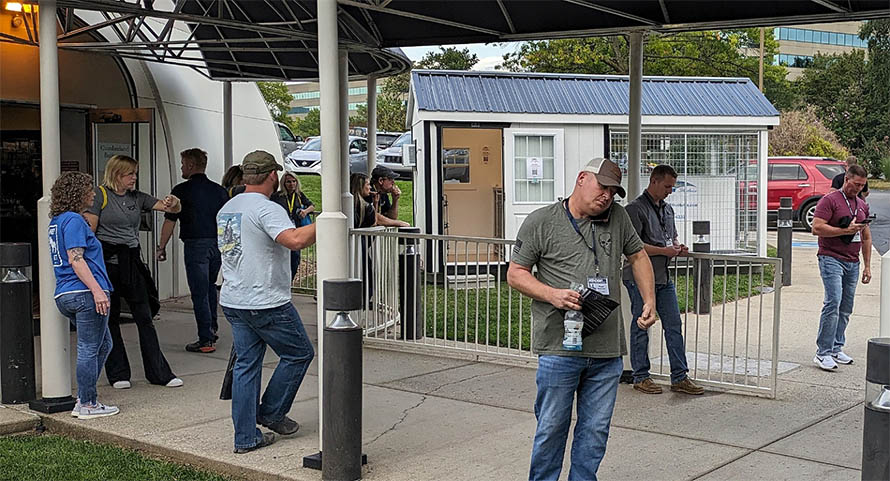 During K9 events such as the Fall K-9 Cop Conference held annually in Nashville, TN, it is possible to view commercial grade kennels in person. In many cases, the visiting officers/administrators are shocked at the level of ease with which a properly constructed police dog or MWD kennel can be cleaned and maintained. Outside of such events, online purchases are common and often include options for GSA purchases.

CLICK HERE to view our contract and available kennels
Another factor that often amazes the attendees at such events, is that the commercial kennel arrives ready for immediate use and is easily transported from factory to its location, in many cases without necessity for any police escort.
This is because of the forethought in the design process. The kennel specification is drafted in such a way that on-site installation in modular parts is quickly affected by a craftsman crew, if necessary, though many units are designed to meet over the road transport parameters without such need. The use of a 'mule' device allows kennels to be positioned extremely specifically and garners access to difficult to reach areas in the cases of smaller units.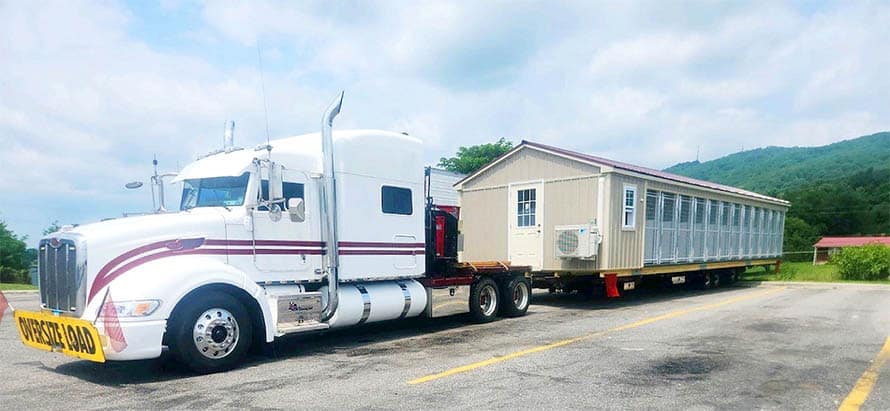 All modular builds can be quoted with a 'to the penny' quote that includes not just the purchase price of the kennel itself, but also its cost for freight and the set up.
The modular commercial kennel offers a quick and easy set up on a known and specified timeline. This is an invaluable aid to government agencies, who often encounter delays in initial approval for purchase due simply to the protocols of spending public funds, and who once approval is granted desire an accurate timeline for final project completion. A factory build means no delays due to material supplies or shortages, inclement weather for outside construction or temperature issues with paint/stain applications.
For urgent needs larger kennel companies also offer 'off their lot' kennels at a discount, which can be purchased with an initial online deposit of 10%.
For busy K9 and WMD handlers and their administrators, anything and everything that makes life easier is high on the priority list.
Don't be shy to buy the best for the best (both dogs and humans).
You all deserve it! Thank you for your service.