Willow: Bent But Not Broken
A story of inspiration a strength
Willow, abused, neglected, beaten and unwanted.
I decided to try to track her background. I started with BLM, Bureau of Land Management. I took pictures of her tattoo and they were able to identify her.
November 2007: The mustang was part of a round up at White Mountain HMA in Wyoming. A little filly, probably a yearling, was forced from her mom and away from the herd as she was herded into another smaller pen where she could not move at all. Scared and confused, she was stuck with needles, and a hot freeze brand was burned into the side of her neck. They were also cutting her feet, trimming her hooves.
The little filly remained in captivity for nearly 1 ½ years. Still not knowing why she was taken off the range, she was among new horses, all colors and ages, but she had very little human contact.
April 2009: Humans loaded her into a trailer, another enclosed area. She did not know why. As a wild mustang, she only knew open ranges and being among a herd, which made her feel safe. She had never been in a trailer, and the feeling of a moving trailer was very scary. She traveled across country to Ashville, N.C., where she was auctioned off.
After having a BLM horse for one year the adopter has the option of receiving a title for the horse. The mare was titled in June 2010 which means she is now owned by the adopter. Since she is a titled horse BLM can not longer help with the mare.
Summer 2009: The mare was boarded for approximately a year. Neighbors were feeding her hay thru the winter. She was wild in the pasture, never received farrier or vet care and was not halter broke. The owner at that time had moved and was not checking on the horse regularly.
September 2010: The mare was moved to a boarding facility.
March 2011: The mare was confined to a small round pen in the pasture. She had to be sedated to get a halter on and receive vaccinations and blood drawn for coggins. The owner at that time did care about the mare but was frustrated with the lack of help she was not getting to help with the mare.
May 2011: The owner was trying to find another home for the mare or have her euthanized. Instead the mare was given to one of the workers at the boarding barn. The mare then left the boarding barn.
June 2011: The mustang filly was found abandoned in a one-horse beat up old trailer that was left on the side of the road in 90-plus degree heat with no water. The vehicle identification number and plates were removed so there was no way to track the owner. She was near death and the weather conditions were not helping her situation. Animal Control was called. There were several spectators that had also stopped. Animal Control allowed one of the spectators to take the horse, but told him he needed to keep her for 30 days incase someone claimed her. Animal Control did not know the person that took her, he had very little horse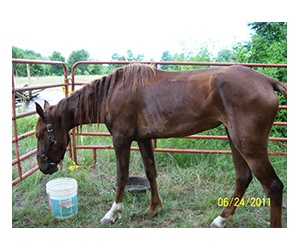 knowledge and Animal Control did not file a report. All they had was his name and address. Later that afternoon the trailer was gone, and not by law enforcement.
He took her to his farm where she was put in very small paneled enclosure in direct sunlight. The temperatures remained in the 90's. Her ribs were very prominent as well as the bones in her hind end. She had rain rot, a type of fungus all over her body. Her skin and hair were exposed to open sores. All four of her ankles had open wounds and scars, as if someone tied her legs together. There were also other old scars on her body. He had no idea how to care for an emaciated, approximately a body score 2, with open wounds on her legs and back. He fed her, gave her hay and water but had no intention of keeping her after the 30 days, and did not care what would happen to her. He did not treat any of her wounds. CERA, Carolina Equine Rescue & Assistance received calls from others that were concerned about the mare. Animal Control insisted that she stay where she was for 30 days. They told the person that had her they could do whatever they wanted with her after 30 days. If CERA did not step in, she would have been shot. During that time, she did break thru the panels; they had a very difficult time catching her. Again there were threats of shooting her if she was not able to be caught.
July 2011: After 27 days, Animal Control agreed to let her come to CERA, 3 days short of the 30 day hold. CERA, took her into its program. She was severely emaciated, nothing but skin and bones. She was staring into space as if wanting to die. She still had severe untreated rain rot all over her body. Kindness was as foreign to her as this new life away from the range. A human had never offered her a gentle touch or a soft caring voice; all she has known is that humans have hurt her. She was so frightened that she would not look at or approach anyone, but she was not aggressive. The vet examined her a few days after CERA took her in. She had to be sedated in order for the vet to exam her. Amazingly, she was in fairly good condition but needed to gain a good deal of weight. The vet examined her teeth and determined her age to be going on 4.
As a volunteer for CERA, I decided she needed a name that was appropriate for a mustang mare that had had such a traumatic life. We choose Willow, as in the tree. They can bend, but rarely break.
I decided to give all the information and leads I had to Animal Control hoping that they would be interested in charging the person that did these horrible things to her. They told me that I needed to move her back to the county where she was found, with no explanation why. Willow is too fragile to move her to another facility and not knowing if she would receive the human contact that she was getting at the CERA farm was not guaranteed. I decided to contact an attorney for advice. The attorney told me that Animal Control did make a call to the last known owner and left a message, they never returned the call to Animal Control so they did not attempt to call again. The attorney told me to drop it, due to money and politics.
She has a wonderful appetite, drinks plenty of water and is given all the hay she can eat. There are only a few volunteers, my husband and I, whom she semi trusts. She will not allow us to touch anywhere on her face or head. This response, called head shyness, usually results from a bad experience such as a blow to the head. The only place we are able to touch her without sedation is on her back. We are able to go into her stall to clean, fill her water, give her food and hay. She is gaining weight nicely.
At first, she was very reluctant to come out of her stall, the only place she considers safe. It took us 30 minutes to get her to walk out about 6 feet. She was very cautious and wary of anyone approaching her out in the open.
Willow has been through a lot at such a young age. Watching her every day and looking into her beautiful eyes, I can tell she is not happy. She cannot talk to me, but I can read her body language and tell she is not very happy. Staying in a stall is not a good life for such a young magnificent creature, but we are afraid to turn her out in the round pen where we may never be able to catch her again or she could jump the rails and take off. She is a wild horse, and we have decided that she needs to be a wild mustang again.
I have been in touch with Jackie Fleming of Cimarron Sky-Dog Reserve in Cerrillos, New Mexico. Willow's story has touched her heart, and she has agreed to give Willow a forever home on 1,000 acres of open range that is part of her fenced-in property. Willow will finally be happy again. She will be able run and play with the other horses in the sanctuary. She will never go hungry again nor will any human ever beat her or hurt her for the rest of her life.
Willow is scheduled to leave CERA's farm on November 14, 2011. We will miss her dearly. We have taught her that she is able to trust humans again. There will be a reporter standing by in Cerrillos, New Mexico. Jackie will continue her story and keep us posted of her progress.
UPDATE Jackie of Cimarron Skydog Sanctuary, Cerrillos, NM
Willow is currently [August 2012] running on over 420 acres up at Watrous, New Mexico. We had a lovely rainy May but June was very hot and dry. This is why there are some lush pic's and some hot, dry pic's. She is with 6 other horses, all of whom are mustangs. They may all be joining the big group of mustangs I have in another area up there, either this summer or in the fall. There are 19 horses in that group.. maybe 2 more this summer. Anyway, by fall she may be in a group of over 25 mustangs running on 1,100 acres of open range. If we get some more rain this summer, we hope they will all be out and running free on that range for the winter.
We have had a little rain this month (at Watrous…. although Cerrillos has been flooded) but we need a lot more… fingers crossed. Willow seems very happy and content with her buddies on the range. She is especially attached to 'Pie' another Wyoming mustang, but really is friends with all of them. It is hard to think of her in the hands of her abusers this time last year. I am glad it is all a distant memory now.
As told by Darlene Kindle, President of CERA

---