A dog camp village is a seriously good idea. With our busy lives our devoted doggies often spend hours alone at home while we earn our daily bread. How cool would it be to put them in doggy day care for long or short stays while we are out of the house or out of town? More and more folks are realizing the advantages for their pets of doggy day care options and with a few grooming sessions thrown in, social time for your pet to play and boarding readily available for longer stays at a location your pets know with people you know you can trust, the doggy day care business is thriving.
We spoke with Kristen Viele, who has been operating DogCamp.net based on a wooded 16 acre property in Fleetwood, TX, just South of Austin since 2001, to learn about her experience in the day care, grooming and boarding business for dogs and cats and to find out how she has built her dog camp village.
As most things do, the kennel development started from the ground up.
Learn More About Horizon Structures Commercial Kennels
"We needed to add more kennels to expand our dog care. When we did our online search for a kennel company to work with I looked at the cost to revenue ratio. It made much more sense to go with a prefabricated building than a permanent, foundation building. When I found Horizon Structures, their buildings seemed more carefully planned and were constructed with plenty of options to customize versus the buildings other prefab companies offered," Viele explained.
This is something that the team at Horizon Structures hears on a regular basis. Professional dog trainers and handlers that have had much business experience often state that the flexibility of having a kennel that is not a permanent structure makes sense. Not only does it provide the opportunity to move the kennel to other locations on or off site later, it allows the animals to avoid living on a cold concrete floor. Insulation and weather proofing keeps the kennel spaces water tight and warm/cool in variant temperatures. Quick and easy clean modern surfaces with proper drain placement and design of the structure overall, make daily chores around the kennel pleasurable. With lots of choices for customization in both design and exterior appearance customers can truly complement existing structures on their property. Options that Viele was happy to take advantage of to create the right atmosphere for their canine facility at their beautifully wooded site.
"Our dog village is so cute! We created a village with four buildings, four play yards, decking and tons of trees. The cedar siding on the structures looks so nice in the setting and our wood paneled office is a great detail," said Viele.
Take a Virtual Tour of a Horizon Structures Kennel
The four buildings consist of three 12 x 23 foot commercial grade kennels each with 6 run plus a 10 x 28 foot commercial grade with 5 runs. While many super features come standard in Horizon Structures kennels Viele did personalize the buildings with several custom upgrades. Features such as 9-lite 'man' door between a lobby and aisle, exterior lights, electrical packages, hose ports, exhaust fans, sink tub, solid Azek divider walls and vents and deluxe dog doors were added.
One of the most amazing factors that many customers rave about is the ease of delivery of Horizon Structures prefab structures. Viele was no exception:
"It was a little stressful anticipating the delivery and wondering if we were prepared enough on our end but it was amazingly flawless considering four buildings came on two huge trucks all the way to Texas. Just watching the drivers get on our property was amazing but to watch them manipulate the buildings on the property through the trees was incredible!"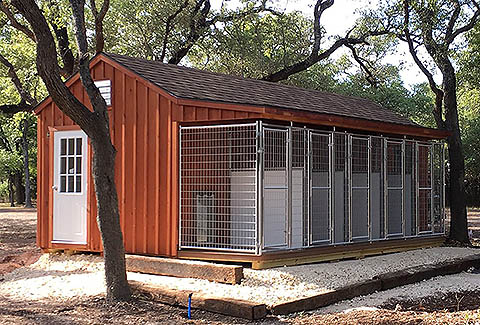 Obviously this purchase represented a significant investment for Dog Camp Inc. in their business model.  Naturally when you purchase a structure that you may not have seen in person there is an added nervousness you may feel during the shopping process. While testimonials as to the positive experience of working with the Horizon Structures team and the clients' happiness with the Amish built top quality products produced, go a long way in quelling fears, it is obviously still a leap of faith. This is something that Horizon Structures well appreciates and goes out of their way to address.
"My experience with Horizon Structures was smooth. All concerns and requests were handled. It was a little weird buying something so major sight unseen, but we were really impressed with the outcome," stated Viele.
When asked if there were any plans for further expansion to Dog Camp Inc., Viele was almost certain that the village was now complete.
"This will be our final expansion. Unless we expand our grooming room."
Of course we all love to expand our operations as business develops and realize that needs do grow. Especially when we are running a good business with services that are in demand. The ease of adding to your structures with matching buildings at a later date increases the appeal of the prefab building option over a permanent structure. Dog Camp is certainly providing the royal treatment for their animal guests and there is little doubt that their new 'village' clearly demonstrates their dedication to providing topnotch pet care.
The team at Dog Camp pride themselves on caring for their animal guests like their own pets. Regardless of whether the pets are Day Campers or Extended Stay Camper, every pet receives personal care and attention.
Request Kennel Price List & Buyer's Guide
Options include Standard Runs or Luxury Suites and dogs receive multiple play times and walks everyday. Both types of canine abodes include indoor-outdoor space, and indoor spaces are climate controlled and the large fenced-in yards are shady. With Texas heat the pets certainly appreciate being able to stay cool and comfortable.
Cats stay in private, quiet, climate controlled cat condos that called 'The Cattery'. The Cattery condos provide plenty of places to climb, nap or watch birds and squirrels outside a window.
If you would like to book a stay or learn more about the services available at Dog Camp please visit their website at DogCamp.net or call them on 512 858 9227.