Noyce fondly refers to his business of Axieom Gundogs in Accord, New York, as a dog hobby that got out of control.
As those of you that embrace dog training and breeding as either a hobby or full-time career know, it requires a lot of heart and perseverance. Noyce has suffered his fair share of mistakes, disappointments, and tragedies along the way.
For Noyce it all began when he rescued a dog named Teddy, a super intelligent individual of the Springer Spaniel breed that made the perfect family pet for the Noyce's young family then living in England. His kids grew up with this good-natured critter and Teddy was much loved by all that encountered his friendly nature and playful personality. After Teddy passed away Noyce vowed that if he ever had a dog again it would be an English Springer Spaniel.
Fast forward several years and Noyce found himself working in London alongside his new wife Gina, in the realm of structural engineering as a material scientist. The pair had met at Columbia University in New York when both were presenters at an event. The couple established and developed a successful business as consultants to the infrastructure industry, and it was not long before American investment in the corporation brought the firm to New York.
"When we bought our 27-acre property in Upstate New York, it gave us lots more space than apartment living in the city and a great opportunity to finally have a dog. I said to Gina that I wanted a dog, and a few glasses of wine later managed to talk her into going to see a litter of puppies. That was how it all started," explained Noyce.



The couple selected Roxy, a female aged 8 weeks old from the litter of English Springers and Noyce admits the dog was, "A little bit crazy. A fantastic dog but a complete nightmare. The breed is known for being hyperactive, a bit like me. They fit my personality. Roxie was no exception and had bundles of energy."
In fact, Roxie's highly active nature landed her in trouble at age 14 weeks when she tried to jump a ditch and failed. This resulted in a complex leg fracture that could not be set in a cast. After the vet had placed several pins in Roxie's arm to help it heal, Noyce found himself with a $5000 vet bill and a dog that had to be kept on a leash 24 hours a day.
"I used to hold her, sleep with her on the floor and generally spent all hours of the day with her. It took a long time to heal but through it we formed a very deep bond," explained Noyce, "But unfortunately, I had made a mistake buying Roxie and a crucial one at that. I did not realize that there were two breeds of Springers in the U.S.A., a show variety and a working variety. I wanted a gundog, and Roxie was not the sporting end of the breed. Of course, we loved her and kept her, but it was then we bought dog 'Number 2' from a breeder in Wisconsin.
"We flew out to see a 6-month old part-trained gundog called Boston that was for sale and fell in love with it and arranged his flight back to New York. However the day before the flight the seller called and said their vet had discovered a heart murmur in the dog and that they could not in all good conscience, sell us a dog that might drop dead at any time especially as an active working dog. Of course, we were disappointed. The sellers explained they did have a 12-week old puppy that was for sale that they could send instead. I asked for photos. But when they told me its name was Teddy, I was immediately sold on it. That was the name of the great dog that had been part of our family all those years ago. I had to have it. I renamed him Sir Winston Leonard Spencer Churchill aka Winston, after the revered British politician."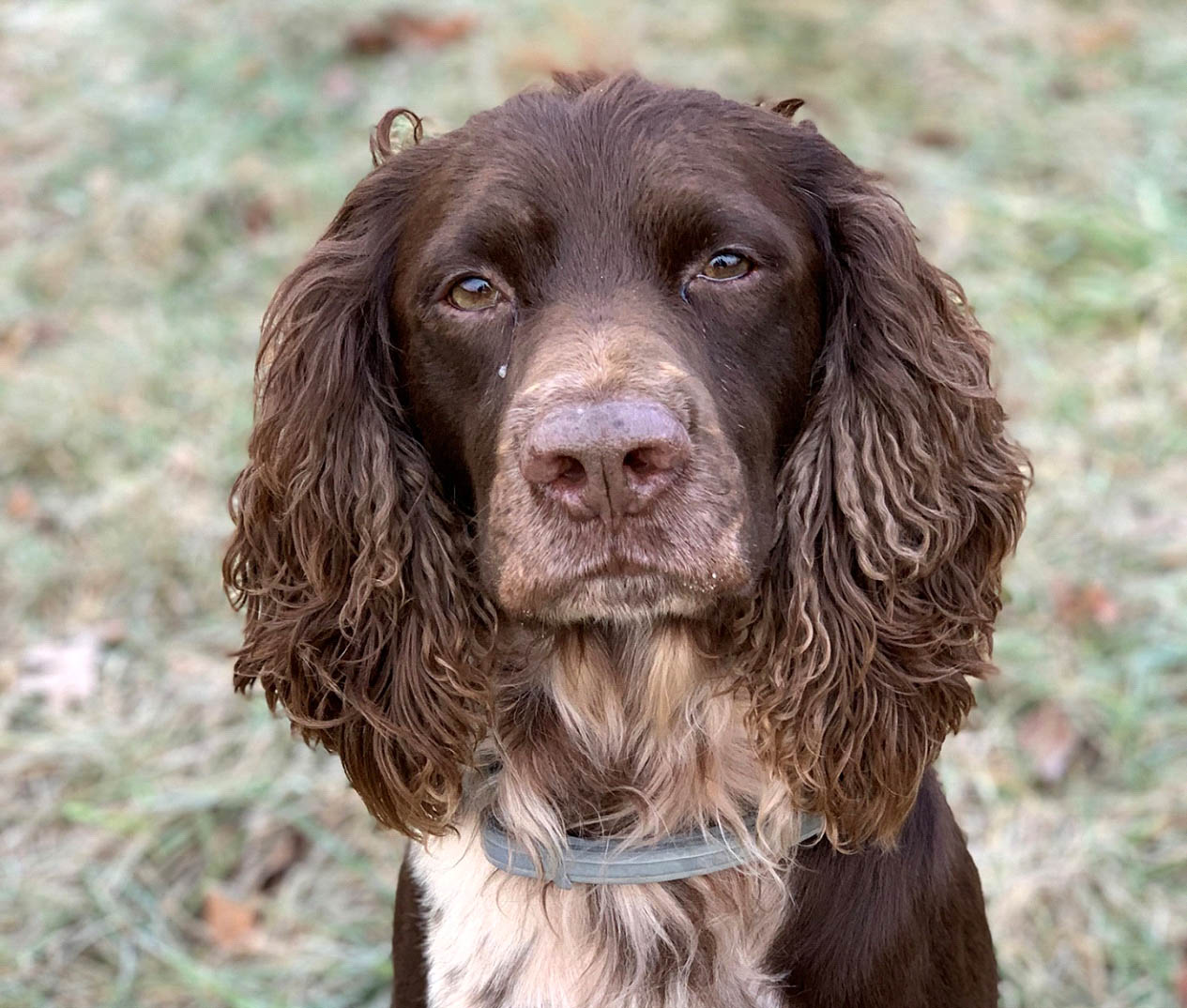 As anyone that has tried to train a gundog knows, there is a lot involved in the process. Noyce admits he is still learning, and that during his training efforts with Winston he made a lot of mistakes. In his opinion, if the opportunity for foundation training is missed in the early weeks of a prospective field dog's life, there is a point of no return when it comes to learning its job.
Despite his lack of experience, Winston has never missed a retrieve in any trial. Bred by Pine Shadows Gun Dogs, an Orvis endorsed Springer Spaniel breeder, he has garnered many accreditations including qualifying as an AKC Senior Hunter and attaining 2nd Place in the Canadian Limit Field Spaniel in 2017.
Noyce regularly travels back and forth to England for both work and to visit his family there. Britain is a heralded center for gundogs and their breeding and training, and many competition opportunities exist across the countryside for keen gundog aficionados like Noyce to participate in as an amateur trainer.
"Gundog clubs have been around in Britain since the 1800's," explained Noyce, " there are over 52 clubs there today, and with the abundance of estates to hold field trials there are plenty of events to enjoy. The most prestigious is the annual championship held in January each year. In Britain training dogs and field trials can be built around birds such as pheasants that naturally exist in the country today. In the U.S.A. competition has transitioned to flagged courses with birds released that are not native to the area. Dogs are taught to hold when they find their quarry. That takes some serious discipline for any dog and a lot of training."
The history of the English Springer breed dates back a long time and Noyce's passion for the breed and for the gundog sport continued to develop as he delved further into his hobby. Noyce decided to purchase his third gundog, an extremely well-bred English Springer he named King Alfred The Great aka Alfie. The name has an emotional affiliation to Noyce, whose father is called Alfred John Noyce, his mother named him after King Alfred.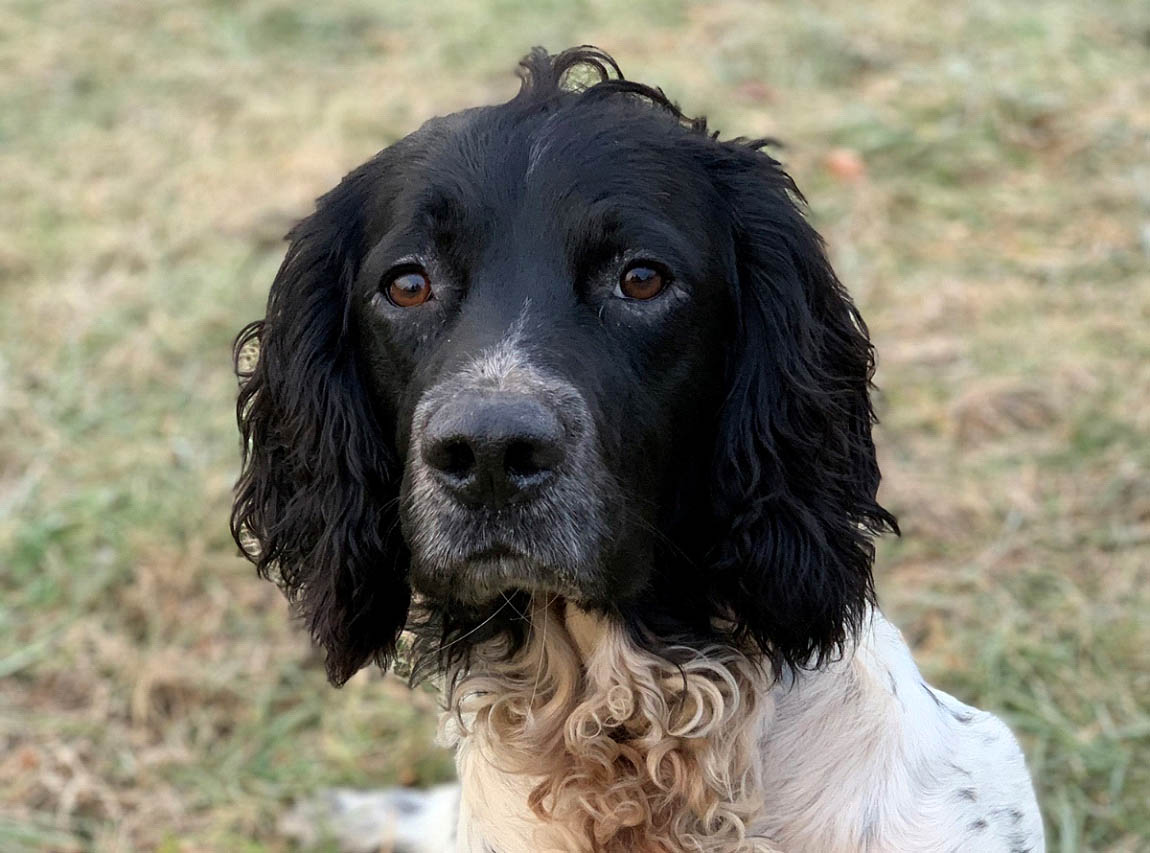 Alfie's father was a USA National Champion. While it is common for Springer bitches to be favored as more suitable in the sport, due to their smaller frame and more athletic style over male dogs, Alfie's father was an exception to the rule and Alfie exhibited a fearless nature, the breed's classic bowlegged front legs and was much admired when he entered his first field trials by professionals on the field.
After a number of testing trials Alfie finished first at the Long Island ESSFT Amateur Field Trial at Canisteo NY.  This win qualified him for American Amateur Field Champion [AFC] title and for the 2018 Amateur National held in Ohio.
Noyce secured a high-quality bitch called Pip, who is the stylish daughter of one of only 2 male dogs to secure a championship title in the UK in over 25 years and bred her to Alfie. This special union resulted in a litter of four pups in April 2020, one of which is named Monty after Montgomery. Due to the likeness of this puppy to its father Alfie, he has been dubbed Alfie 2.0 at home.  The litter is a bittersweet legacy today for Noyce, as sadly just one week before this interview took place Alfie died in a tragic accident.
Earlier this year Noyce had planned to send two of the four puppies from this litter to his U.K. trainer, Lee Cooper, Lee Cooper of Breckmarsh Gundogs, based near Shrewsbury, Shropshire. Due to the Covid crisis and expense and lack of availability of flights, he held off. It is a small blessing that the progeny of Alfie are still home, after the huge loss of the once in a lifetime dog for which he had such affection and high hopes for the future. The legacy is yet to unfold and hopefully the youngsters will provide solace to Noyce in the days ahead.
Indeed, it has been a tough few months all around for Noyce.
As puppies are apt to do, two of his championship litter of 4 puppies called Lilly and Harry (also named after family members, in this case Noyce paternal grandparents), got into mischief and ate things they shouldn't. Their treatment required expensive visits to the vet for surgeries to remove the foreign objects. One of his bitches, Penny, who is at his U.K. trainer's premises also found something to ingest off diet, and another vet bill ensued for her surgery. Interestingly, vet expenses for such events are significantly cheaper in the U.K. than in the U.S.A.
Noyce also purchased two Irish pedigree Springers from the renowned Ian Magge, whose operation Rinn Seimhne Kennels is based in Canada.
This continued growth in Noyce's dog population soon overwhelmed the household and it became increasingly obvious that keeping the canines safe, secure, and comfortable would require kennel housing. And from the sound of it not a moment too soon!
As an expert in structural integrity and building as a professional engineer, Noyce searched for a modular kennel design that offered a sturdy, durable construction that could be specifically customized to his needs.
His adult daughter, Tathia Di Maria, who is a graduate of both Hartpury University with a Masters degree MRes Animal Behavior and Welfare, and the University of West of England U.K. with a Bachelor Degree in Animal Science, added her expertise to the choice of kennel and its design. Di Maria is currently owner and director of Ultimate Natural Ltd. a raw feed supplement used in the diet of raw fed dogs.
"We knew that we didn't want a dog box with runs. When you kennel a dog, you want to it relax. The addition of a run is like putting a dog on a chain run. It encourages them to bark and run and agitate. In the design of our Horizon Structures commercial kennel we added a 4' wide feed alley located in the center of the kennel with the dog boxes on both sides. In addition to the 12 dog boxes, which are 4' x 5' in size, we have two larger boxes that are 5' x 6' wide and a lobby space," explained Noyce.
There were many upgrades that were encompassed in the kennel design to make day-to-day care easy and add convenience to the task of daily chores. A continuous stainless floor drain with a drain pipe, an electrical package with extra lights and receptacles, a combo heat/AC unit, a prehung 9-lite 'man' door, a tub sink in the lobby and 4' high solid heavy duty plastic divider panels and 3/16" thick welded frames and a solid panel in kennel gate.
When asked how Noyce found his experience working with the Horizon Structures team to build his dream kennel, he had this to say:
"I worked with Merv King and he's been great. We spoke just a couple of times and communicated mainly via email which works better for my schedule. He was brilliant at keeping me up to date on everything and we've been back and forth many times on the details. He has been very responsive throughout. Working with Horizon was the easy part of the build. I did have some difficulties with my contractor choice for the site work. The first one gave me a quote for a planned concrete base for the kennel, but when it came time in February to complete the site, he wouldn't pick up my calls.
I managed to find a second contractor and decided to go with a compacted gravel base instead of the concrete. He was a bit of a nightmare too. Made a mess of the garden and left everything a muddy mayhem. My wife sent me photos of the aftermath and she quickly jumped on the phone to him and managed to get him to come back and make some reparations. The Horizon team on the other hand did a great job. They brought the kennel in and set it up for us. We had a small issue with the main door sticking once the building had settled a bit on the foundation we had made, and they sent a crew out to fix it no problem. It works great. It's a little hard for me to go out there right now, as I'm still getting over losing Alfie."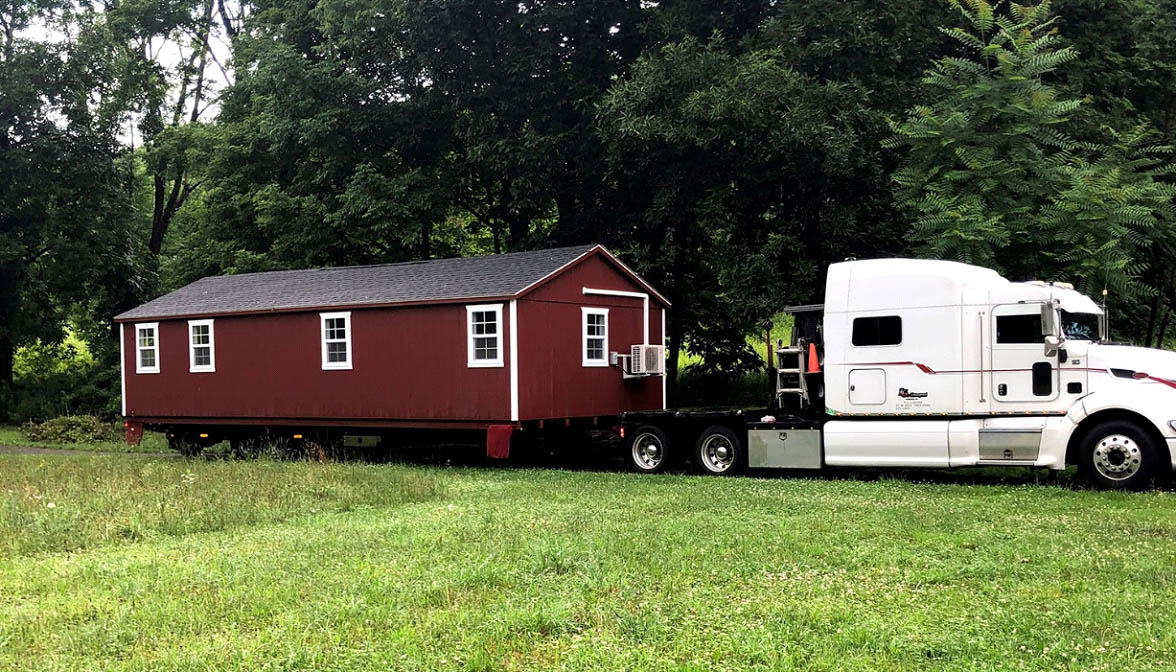 Noyce continues to work to improve the health and lifestyle for his dogs. Although trips to England are currently on hold due to the pandemic, between puppies and training, he has plenty to keep him busy. He is an ardent believer in feeding his dogs a raw food diet, something he has taken on board with the most recent litter of pups that has shown fine results, as well as having transitioned his adult dogs to raw food over the past few years. Noyce earned his certification as a Certified Raw Dog Food Nutrition Specialist in February 2020.
"This litter was adult size by 6 months of age. The raw food diet has been well researched and of course my daughter is educated in all the science behind why it is so good for dogs. As a scientist myself, I realize that improvements come through trial and error. When we research and follow scientific evidence, evolution of ideas happen and the results can be amazing. For me dog training and dog keeping mirrors the same. Where once I would use negative reinforcement to train my dogs, now I use only positive reinforcement. As the saying goes, "Wish I knew then what I know now," but there is still so much to learn."
Noyce is very happy with his new home for his Axieom Gundog business and looks forward to enjoying its benefits far into the future.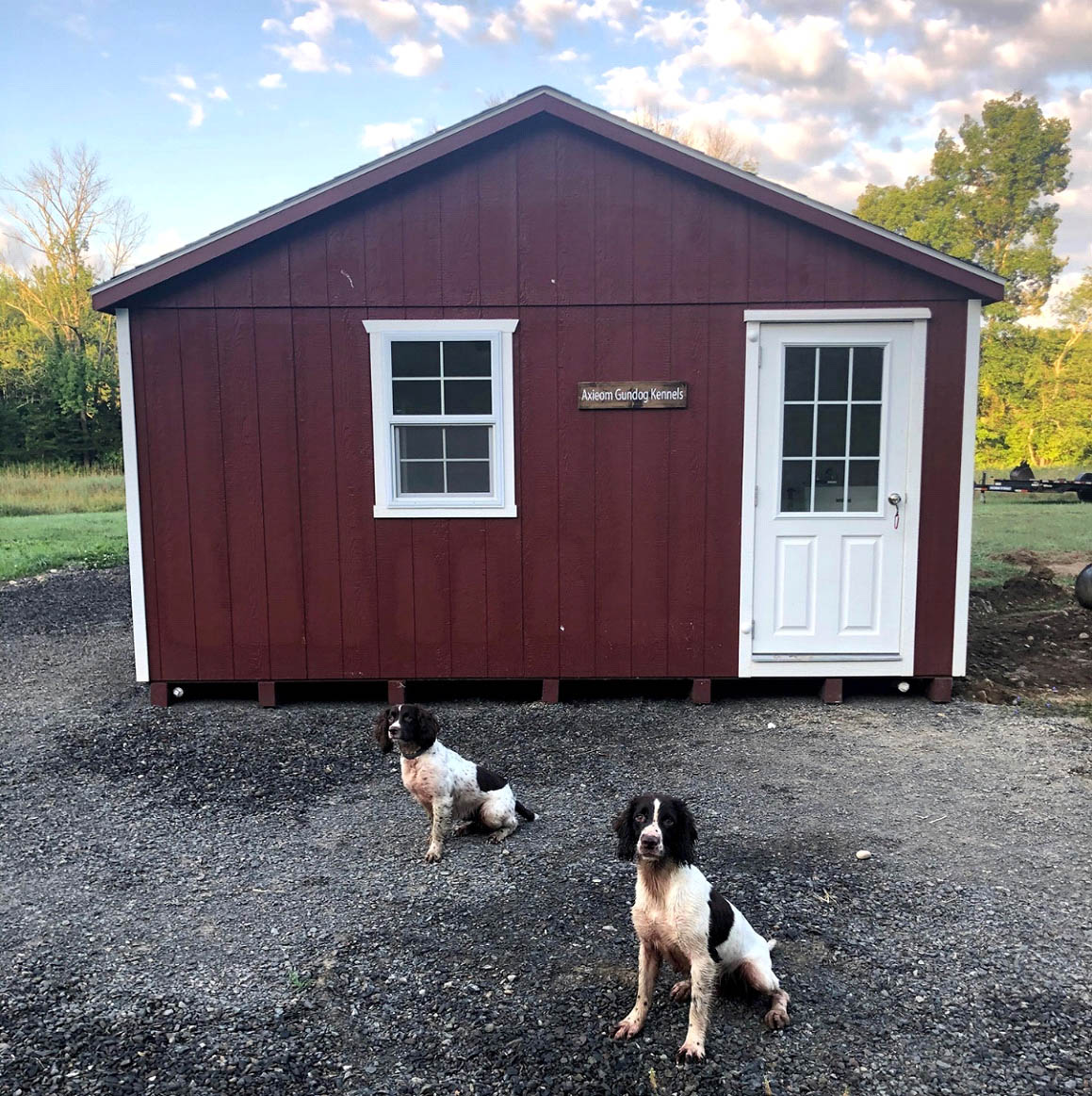 If you are interested in learning more about Noyce's English Springer Spaniels, please contact him through his website.
"The puppies I sell will always be carefully placed in the best homes where positive training is the norm. It is important to me that every dog reaches its full potential and enjoys a rich and rewarding life. Dogs give us so much and preserving traditions and traditional breeds is very much a part of my British culture. I look forward to being able to get back to the field trials in Canada, the U.S.A. and of course, England. It is hard not seeing my parents, sister and my two kids Gez and Tathia in the U.K., and I miss my time with Lee Cooper visiting Breckmarsh Kennels and the dogs there too," said Noyce wistfully.
Let's hope it's not too far in the future and that the 'dog hobby that got out of control' brings happiness for Noyce and his family for many years to come.