Chick-Chick Hooray! It's so easy to pull this movable chicken coop around your yard. Shop Horizon Structures' chicken tractors and coops online today.
You can literally pull this coop to another spot in your yard so your chickens can have fresh grass. Or, relocate it to the garden for free, instant fertilizer and non-toxic pest control! We include a chain on the front of the portable chicken coop on wheels for pulling. You will need a buddy to help you with this movable chicken coop.  Or hook it up to a lawn tractor or an ATV to make the move easier. More and more urban areas are allowing people to keep a few chickens in the back yard and this dandy little all-in-one coop and run set-up is PERFECT for people with limited space.
Pull-It coop shown here with the Wheel Lift Lever Kit option (*wheel barrow handles included – not installed in this picture).  Our hanging chicken feeder will work great in this coop.
The greatest thing about this movable chicken coop model is that the chicken coop and the chicken run on wheels are all under one roof!
If you live where backyard space is at a premium then this portable chicken coop is perfect for you.
Your small flock will be safely confined yet still have room to scratch and forage in the fresh air.
The side door is large enough for you to reach inside to open/close the coop door.
The sturdy "Pull It" coop has everything your chickens need in a convenient package.
The coop roof extends over the attached chicken run to provide seamless built-in shade and shelter from rain and snow.  And, your hens are protected from overhead birds of prey.  Chickens love to forage in the area under the coop as well.
While the coop and run keep chickens comfortably contained and protected from threats above, the wire-framed enclosure is not designed to keep predators from crawling in below.  Please bear this in mind and take extra precautions to keep your flock safe.
The door on the back of the movable chicken coop allows you to easily reach all areas of the coop for cleaning or tending to your hens.
Latch the panel tight at night or when the weather gets cold (or wet) to keep everything snug and dry inside.Hens and chicks stay safe & secure in this all-in-one coop & run.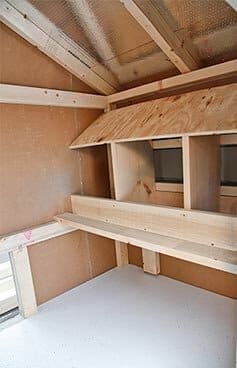 Interior view of nest boxes.  Note the Glasbord floor upgrade.
Shiny TechShield roof sheathing helps keep your coop cooler in summer.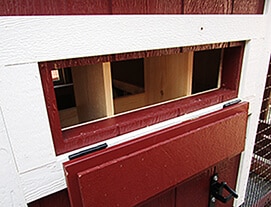 The easily accessible nest boxes mean you never have to go inside to collect the eggs.  Simply open the door from the outside and reach in.
As with all our other coops, the each nest box is approximately 12″x12″ with a wooden sill in front to help keep nesting materials (and eggs!) inside.
The Pull-It coop nest boxes also have a convenient built-in ledge for perching as hens enter or exit the box.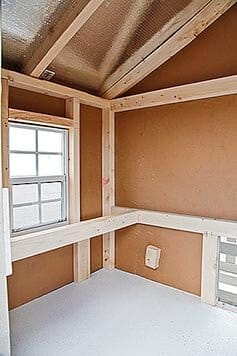 The sturdy wooden roost bar is mounted directly across from the nest boxes.  It is approximately 11″ away from the wall and 14″ from the floor.
In order to provide coast-to-coast delivery of our chicken coops, we MAY require the services of a commercial carrier. This means that your coop MAY arrive via a large tractor trailer truck.
Please call us at 888-447-4337 if you have concerns about the truck accessing your property. We will work with you to the best of our ability to make the delivery; however, your assistance may be needed in some instances.
Horizon Structures chicken coops are delivered fully-assembled and ready for same-day use. Mobile chicken coop pricing includes placement.