If you have ever participated in any role as part of the team as therapeutic riding program, you will know firsthand the sincere joy and truly amazing benefits that these specialist equestrian services produce.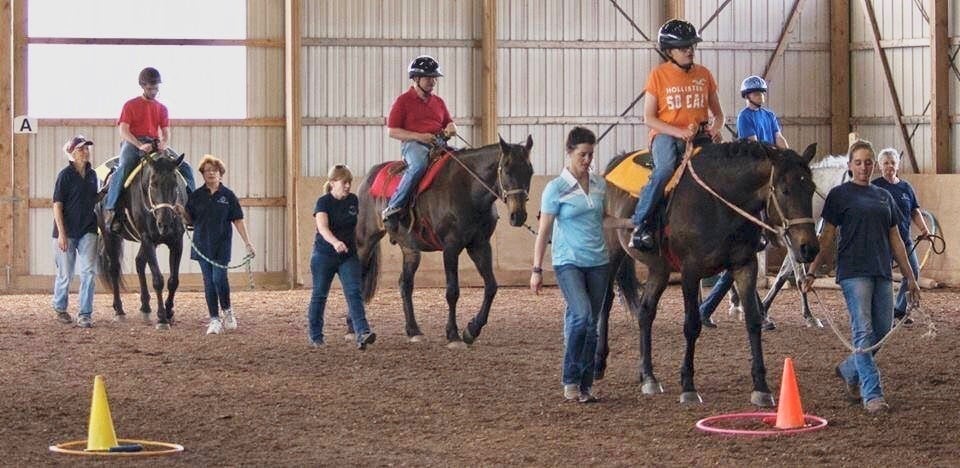 My husband and myself are both dressage clinicians, and although without PATH certification, at times during our careers we have been requested to include high functioning autistic students in our clinics. Initially we were reluctant to accept the challenge, aware we were not professionally trained to offer such instruction and with high regard for the PATH certification process. But the parents, students and their regular trainers would not take no for an answer so we complied. It was the students that taught us how they wanted to learn. Such lessons were extremely rewarding to give and have been educational for students and teachers!
Many of the facilities we visit offer therapeutic riding. These equestrian facilities run the gamut in form and function but not every design is best suited to the special needs of riders, volunteers and teachers that participate at a therapeutic riding facility.
While it is always possible to renovate an existing horse farm for the safety and security of special needs users and their support team, if this use is contemplated in advance of the build it is cost efficient to incorporate some extra features in the original design plans.
Here is a look at a few of the important factors to implement in the equine facility structure and design that is to be purposed for therapeutic riding:
Easy Access
Obviously clear access for wheelchairs at entrances to viewing rooms, barn aisles, bathrooms and mounting areas is essential. While the ADA [American Disabilities Act] defines entrance widths should be 32 inches from the door's face to the opposite stop, it is not unusual for certain wheelchairs to be as wide as 40 inches. A 48" wide doorway is an optimal width that will accommodate all needs.
All doorways will ideally offer a level surface for transition from one room or area to another without a raised threshold. Small fixed ramps each side of a raised threshold can minimize the energy needed to navigate wheelchairs into and around the building.
In interior rooms and key access points, try to keep the floors as smooth and level as possible. Utilization of concrete or similar materials without the placement of rugs will not only be easier to clean, but also ensure free wheel movement across the ground.
Barn Aisles
Barn aisleways should be rubber bricked or concrete floors with mats of minimum thickness to avoid tripping hazards and facilitate ease of movement for wheelchairs.
For safety the aisleways should be designed slightly wider than the average 12'. This will offer valuable room for the support team and the participant to traverse the area farther from the horses on either side of them. It will also give more room for people to pass each other. Cross-tying horses in the aisleways should be limited to a specific area of the barn away from key entry points for visitors and/or a grooming stall/station provided.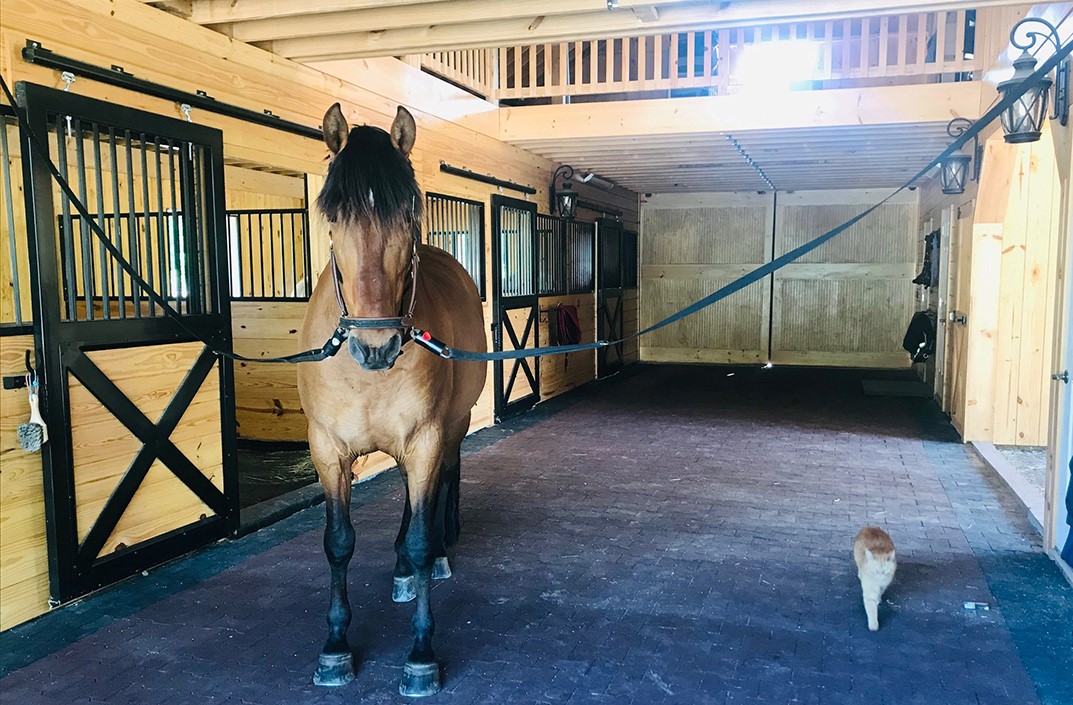 The aisleways should be kept clear of tack trunks and other equipment, to ensure visitors don't have to navigate an obstacle course. Tack fixtures for halters etc. and equipment should be accessible at a maximum of 48 inches above ground.
It is also important to construct ramps and railings to a sturdy mounting block platform that can be safely navigated with assistance as needed.
For the comfort of all patrons, the equestrian facility should incorporate a bathroom that meets ADA standards, including a panic button, hand railings, free-standing sinks etc. Panic buttons can also be added at the correct height in other areas of the building such as the mounting platform.
Clearly marked and permanently lit exit signs are a requirement for any commercial equestrian facility. Ensure that these exits are wide enough and user friendly for the wheelchair users and their support person.
Safe Areas
While a designated viewing room to an indoor or outdoor ring is not a necessity, it can provide a useful staging point for all visitors and can do double duty as a gathering point for special events. It will provide a safe and secure environment for the support team of family, volunteers and participants in the therapeutic riding program, and keeps everyone warm in winter and shaded in summer.
For outdoor arenas ensure that fencing is sturdy and secure to keep horse and rider within, but adapt areas for open viewing so those that cannot see above the fence do not have to peer between boards.
It is also essential to provide shade for the 'collecting' or viewing area. An open pavilion or pergola style outdoor structure is not only budget friendly but also allows for variant and larger numbers of people at one time without the need for folks to navigate doors and move within a confined interior space. A pavilion or pergola can also be constructed level to the surrounding site. Consider adding a traffic friendly ground surface such as pavers or concrete.
It is also a good idea to construct a wide paved pathway to exterior riding arenas. This will save much angst on the part of the student's support team, and make the experience of visiting your facility much kinder on all involved.
Ensure that the windows of any viewing area are set low enough and wide enough to maximize viewing at wheelchair height. Viewing rooms should be designed with as much space as possible. This will facilitate easy maneuvering of wheelchairs within the area. All windows should be made of shatterproof glass, and the window span should be as wide as possible to offer an optimal vista.
While it may be tempting to construct ground to ceiling windows, for safety of riders, horses and spectators it is better to provide a solid wall at the base of the windows. A low 15" 'kneewall' may offer maximum viewing for the wheelchair user but will not protect the horse and rider on the other side of the windows from risk of injury and may become damaged when wheelchair positions are changed. To accomplish maximum safety raising the kneewall height of the window wall while distancing the riding area from this wall with a see-through but well-built fence is advised.
Also consider that all 'operable parts' such as switches, outlets etc. should be within the 48"/15" height range throughout the visitor areas.
There are many technical solutions such as smart control interfaces using Google Alexa or Apple Siri voice recognition that can be extremely helpful to visually impaired users.
Parking
Provision of a proper parking area for the larger vehicles that will transport handicapped visitors and their equipment is essential.
While the ADA suggested space for each parking slot is at least 96 inches wide with a 96 inch wide loading access aisle, it is helpful to increase these sizes if possible to provide more ease of parking and access. Placement of designated parking areas with an abundance of turn around area/back up area, is much appreciated by the drivers' of these larger vehicles.
The parking area should be as close as possible to the entry point of the facility and should be illuminated at night.
Think Ahead
Both humans and horses appreciate large, light, and airy spaces to live and work. Natural light lifts the mood and good ventilation provides health and comfort. This is one of the special needs requirements to consider when designing a therapeutic horseback riding barn.
Anticipate the extra needs that a therapeutic riding facility will need to accommodate over the ones for the general populace requirements that are set forth by the ADA guidelines. Considerations such as the planned activities the facility will entertain in the future. For example, where hands on grooming or interaction out of the saddle may take place may define additional key areas of activity or the requirements for students of a variety of special needs such as blindness, deafness as well as other physical and mental disabilities.
Evaluate the need for additional resources such as quiet spaces, braille light switches, charging ports for medical equipment, seating alongside wheelchair locations. Thoughtful extras will be much appreciated by visitors to the center.
And remember, it is always more cost efficient to incorporate the special requirements during construction than after. Due diligence with regard to ADA provisions and local permits and stipulations are best addressed ahead of the build. Don't be shy to consult with a seasoned barn building company for design ideas and resource other therapeutic riding school owners for advice.