Interior design is not just for your outdoor living home extension or new kitchen. A horse barn can be constructed at the outset (or renovated at a later date) to offer aesthetic appeal as well as be designed for easy care and daily use.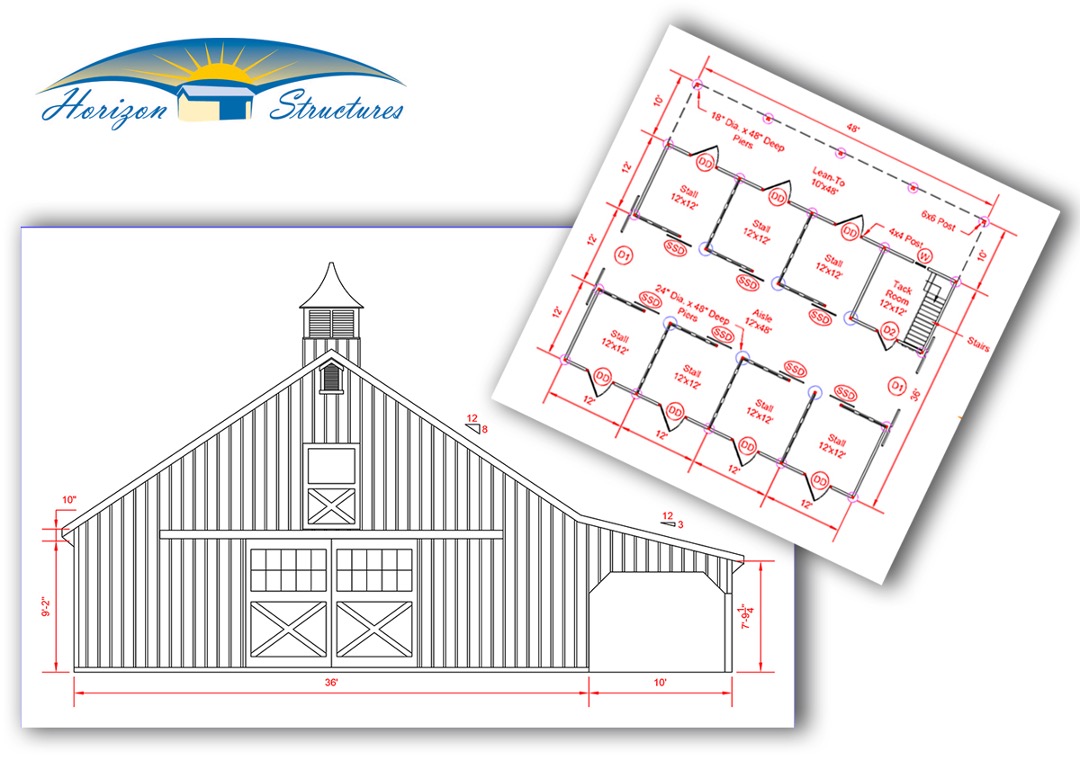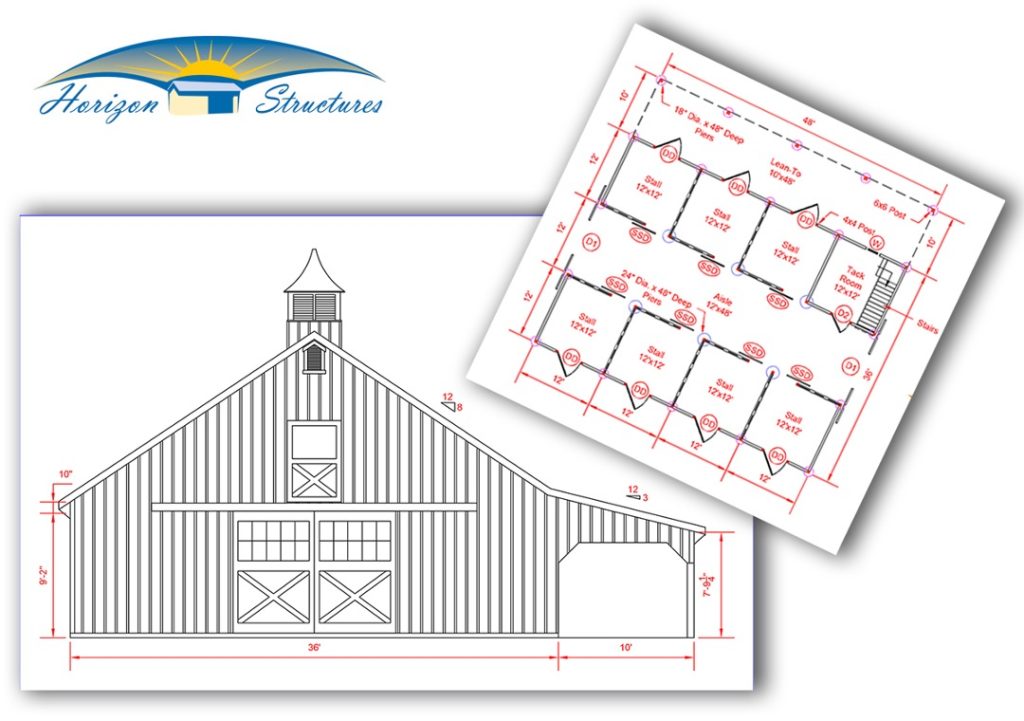 Are the plans for your new horse barn the magnificent creation you envisioned? Did you choose to dress up the interior design of your horse barn with a hard look at hardware options for stall fronts, stable doors and dividers?
Design is about more than creating curved lines and inviting aisleways in light and airy barns. The choice of materials and their construction must be carefully weighed against budget constraints and safety issues and the ergonomics of the space must be front and center in the decision making process.
For example, selection of the right gauge high quality cold rolled steel provides the best option for both safety (due to its innate strength) and clean finish when paint or powder applications are added. The downside is its expense.
The longevity of the beautiful initial appearance should be considered when choosing the materials to be incorporated into the building. Metals should be powder coated/galvanized or otherwise protected from rust. There are choices of pre-galvanized or hot-dip galvanizing methods, powder coating and paint. Know the difference and know what you are buying.
While standard features such as grilled sliding stall doors and kick-boarded walls may come without upgrade fees, the addition of some personal design touches can make your new horse barn a true reflection of your taste and give it a unique feel.
It is a fallacy that modular and prefabricated horse barn manufacturers don't offer all the high-end style stall fronts, metal work and full customization options that on site construction companies may offer.
Leading modular construction companies encompass a litany of customization options in hardware design and the purchaser can still enjoy the sincere advantage of a 'to the penny' quoted bottom line that includes both delivery and set up on a pre-ordained timeline.
In reality the majority of clientele of leading modular horse barn producers opt in for customization of some sort. Metalwork and hardware are key components when it comes to creation of a visually appealing and highly functional horse barn.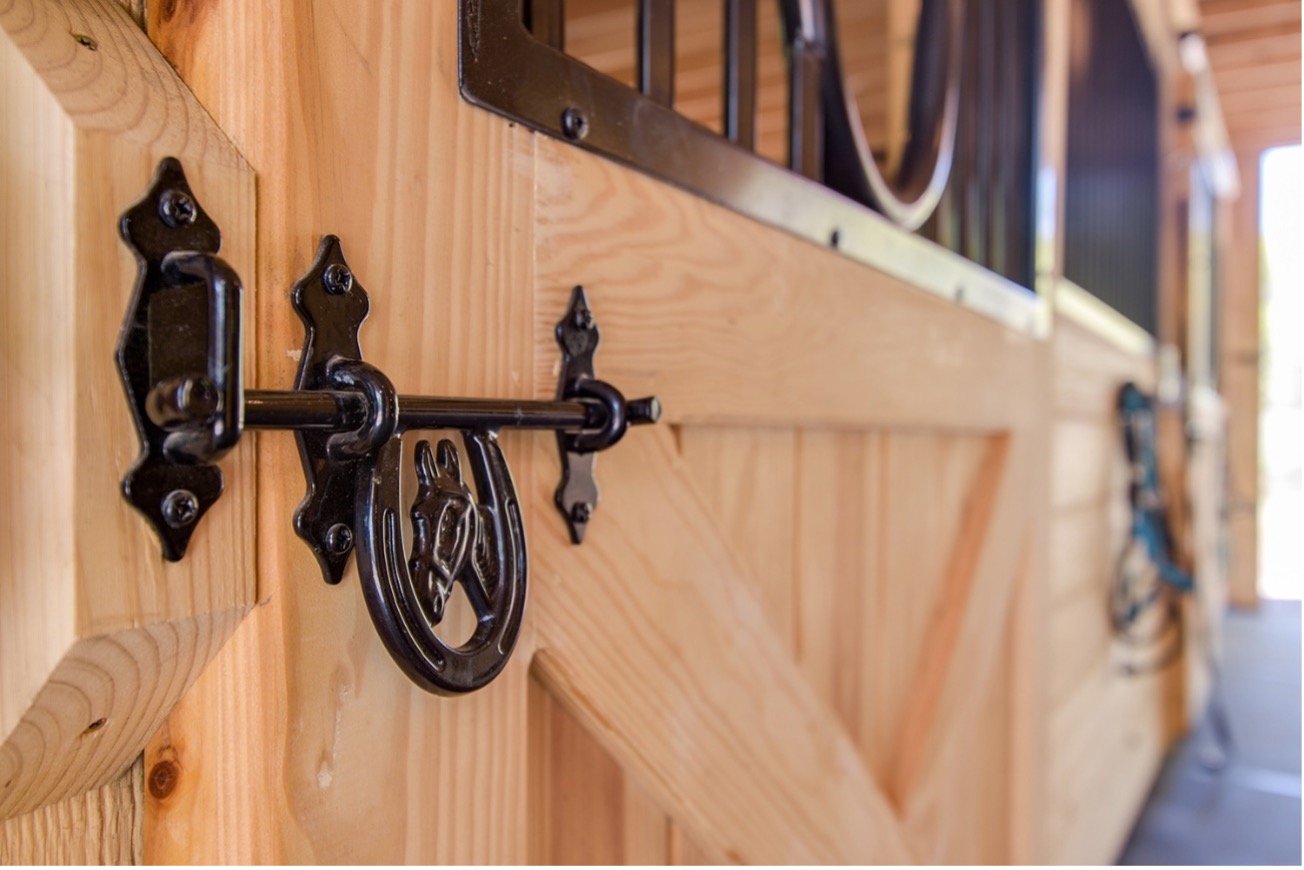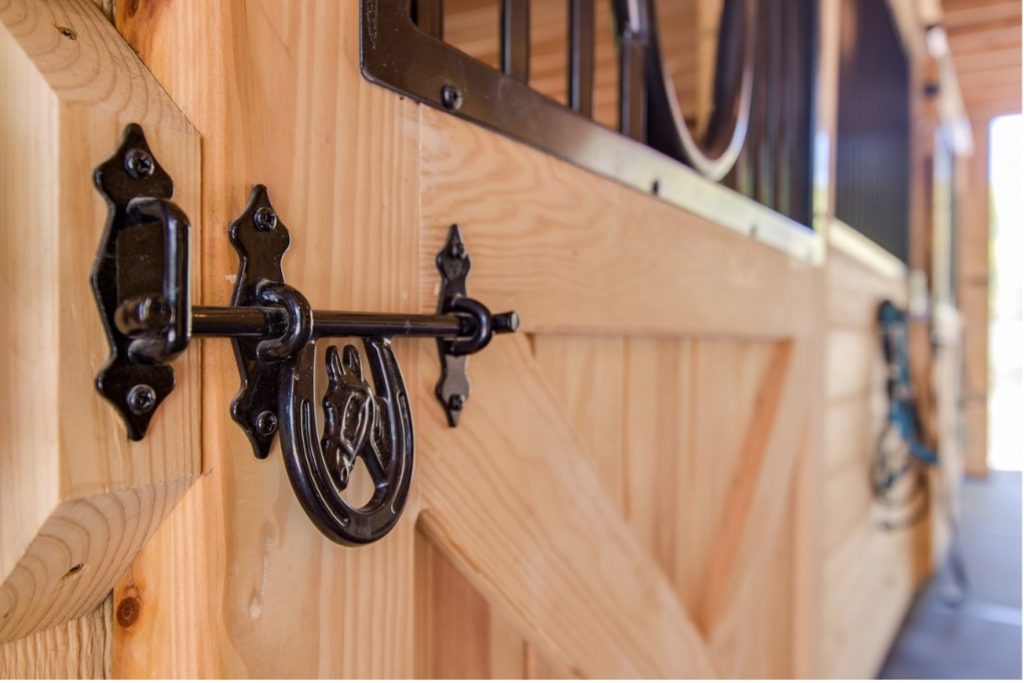 While functional and simple designs offer a 'plain Jane' option that is affordable, the addition of customization features can truly make the barn unique. Colors, curves and design styles that mix wood and metal can all be blended to create a special feel that individualizes the horse barn.
More Than Just A Pretty Face
Savvy shopping for horse stalls and their design requires diligent research. Stall walls and all barn doors both interior and exterior, take a lot of punishment over the years. For safety's sake be careful that the materials and construction methods chosen for any aspect of barn building are up to the task, including the weakest points such as latches, hinges and rails.
It is also prudent to look for seamless welds including on all connection points on crosshatch and grilled framework. It is essential that wherever metal is welded together it is compatible. For example, spot welding an aluminum mesh grill or crosshatch sheet to an iron frame on a door will easily break at the weld points if a horse lands a kick on its surface. Such accidents can cause severe injury to the horse.
Stall doors in particular are prone to damage and need to do more than just present a pretty face or façade to the horse barn. Certain styles of mesh and metal materials are not suited to the abuse a 1500 pound animal can bestow upon them.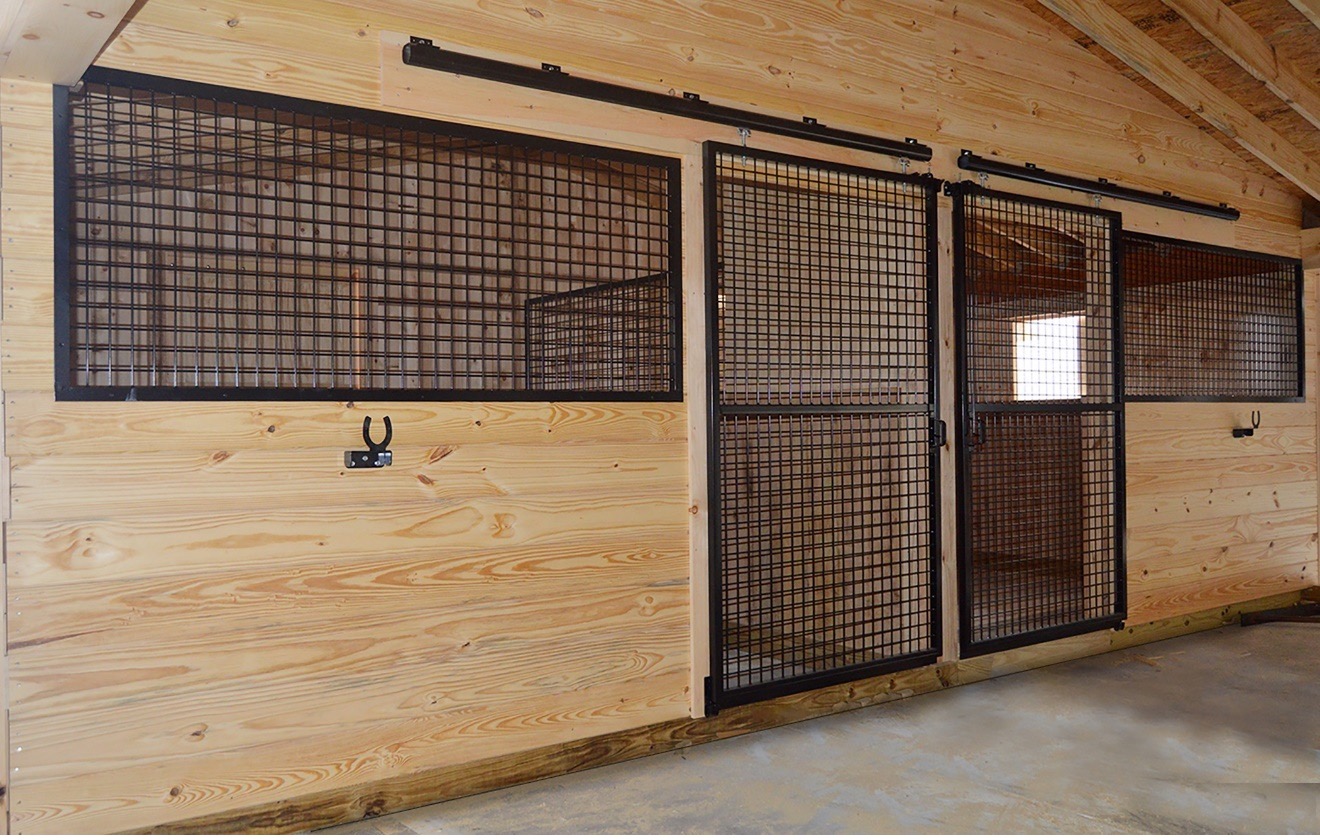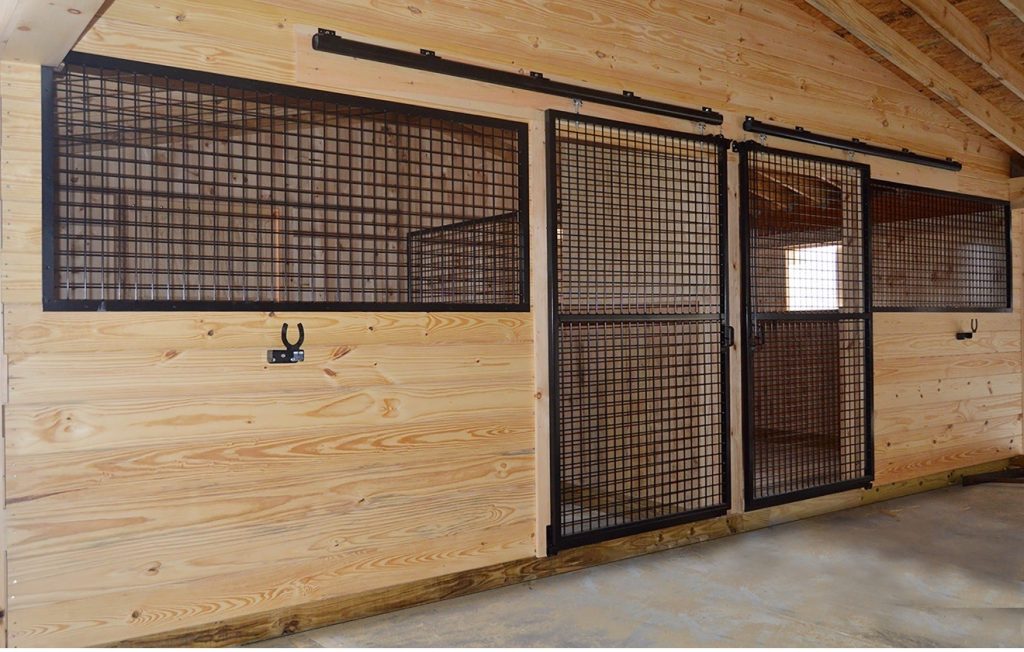 Mesh, grill or crosshatch gates designed for goats and sheep might suffice as a visual barrier but may not be of a low enough gauge metal or good enough construction method to stand up to an errant kick from a horse as noted above. Styles such as low cut front stall walls may invite equine occupants to lean, rear up over the top of attempt to jump out of the stall.
The bars on all grillwork should be safely distanced to eliminate the possibility of hooves being caught between the space and horses' not being able to bite or nip each other through the bars. Injuries may otherwise occur such as one horse biting another horse's tongue or a foal's tiny hooves becoming hung between bars.
Industry standard is for bars to placed 3" on-center. This allows for a 2 ¼" gap between bars for ¾-inch grills, and 2" gap between bars for 1" grills.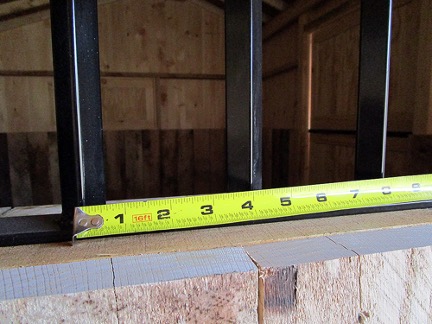 Here are some custom features to consider when designing your new horse barn:
Freestanding Stalls
The self-supporting nature of a freestanding stall makes the design perfect for large width span buildings with multiple aisles or corner stalls at the ends of stall lines.
Many stall designs require the support of the posts and pillars that provide the integral strength to the framework of the building as these components offer substantial capacity to withstand undue force and bear the weight of the doors and walls.
Semi-freestanding stall designs are also available that rely on minimal structural support from framing members.
Front Wall Stall Design Options
Custom arched tops to the front stall wall can lend a European polish to the style of a freestanding stall and can include brass finials, V-Yoke doors, fold up blanket bars all made from heavy tubing.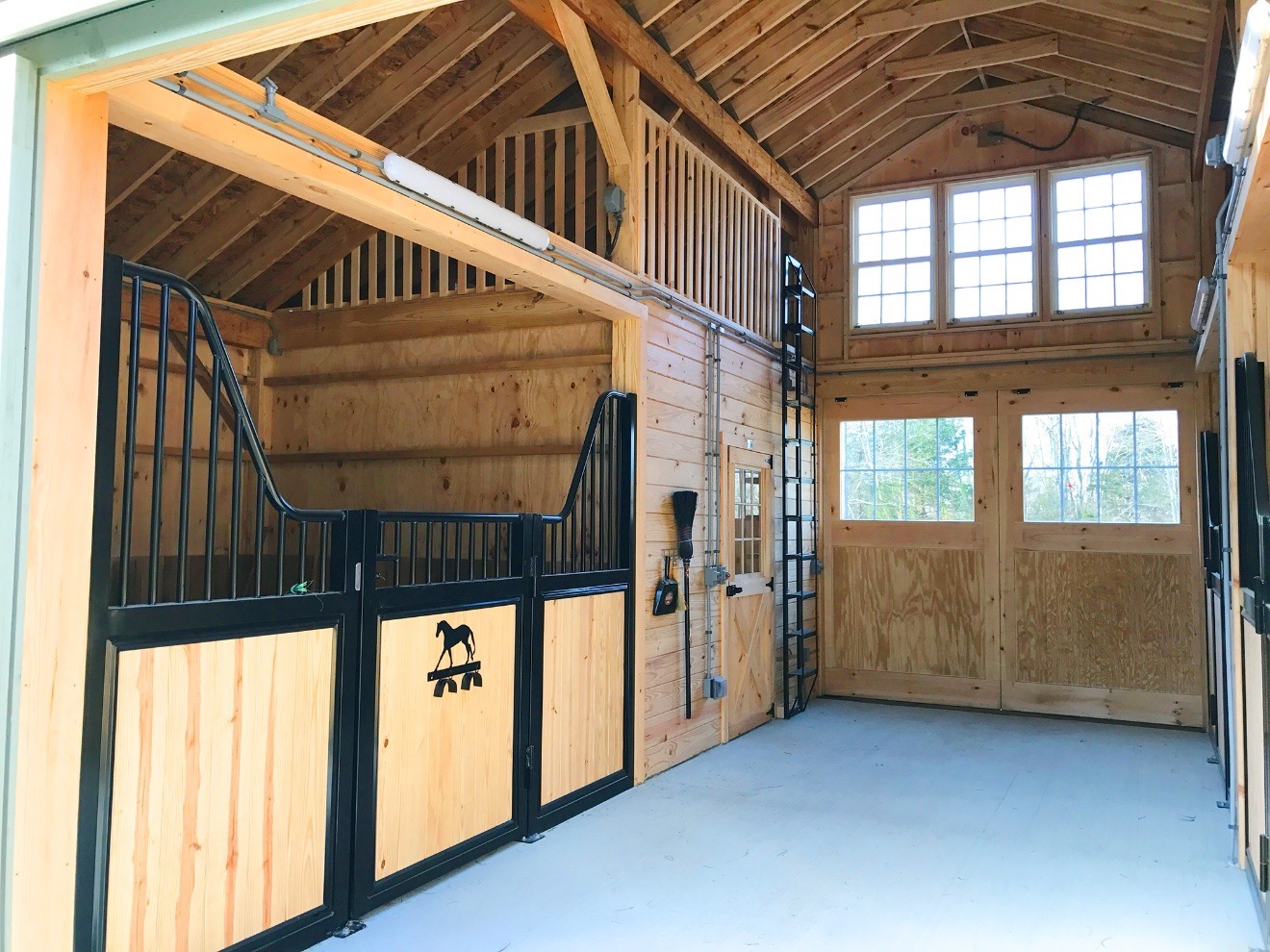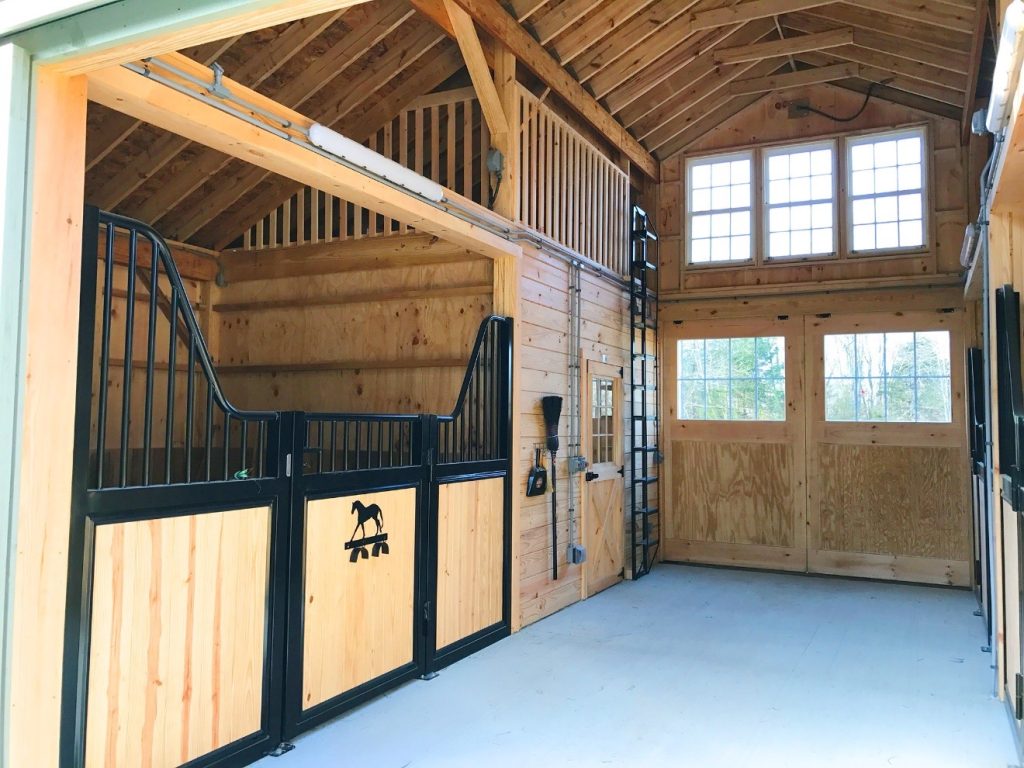 Low cut stall fronts add even more opportunity for horses to interact with activities in the barn and facilitate great views of the stabled horses for the visitor or caregivers. Be aware that as mentioned above, these front stall walls can allow stabled equine inhabitants too much access to the aisleway in times of excitement or unruly behavior.
Front Stall Door Designs
Sliding stall doors are a popular choice for center aisle barns for good reason. Many manufacturers offer a variety of styles that can feature a wooden "X' design, a metal "X" design and grilled front stall doors can have a v-yoke option.
V-yoke stall doors with a drop yoke invite the horse to interact more fully with his surroundings. The barn posts may be used to support the modular stall construction. The front stall wall is technically not freestanding in this case as it does require the barn posts to hold it together.
Consider adding feed corner cut-outs in the stall front grille for easy feeding that saves the time required to open and close front stall doors.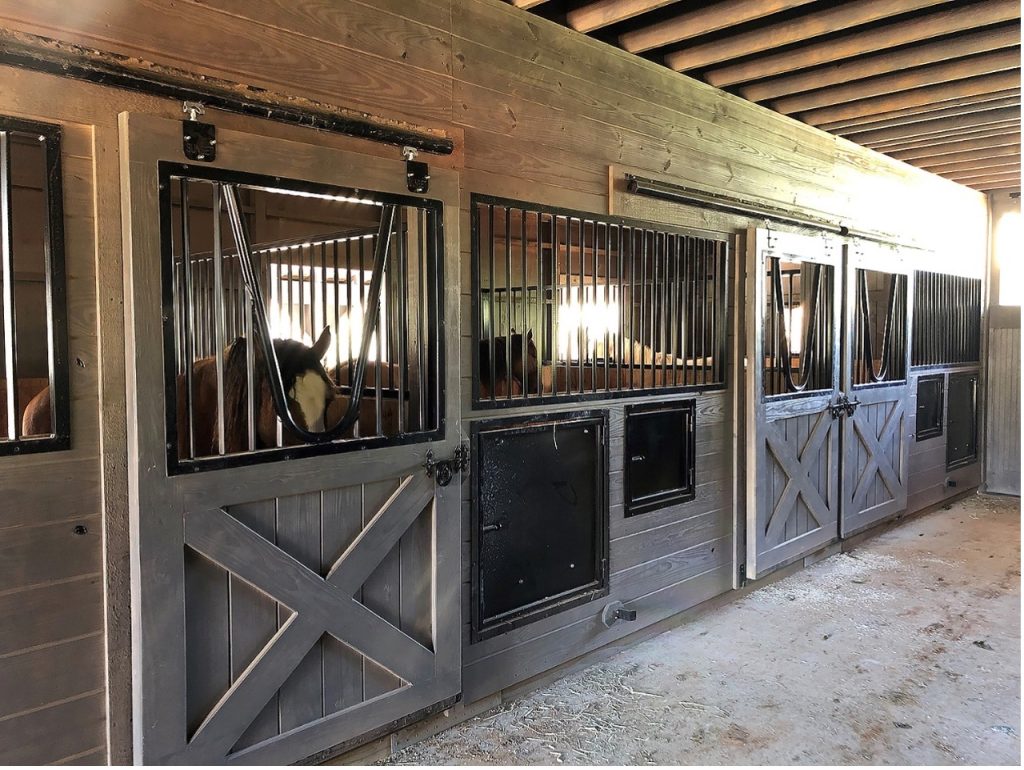 All doors should have stops and guides both top and bottom to ensure horses are not able to kick out the door and that sliding doors cannot be run off their tracks.
Substituting hinged doors for sliding doors is also an option, and may be required if you opt for a low cut front stall wall design. Ensure that the quality of the hardware and support structure used for the hinged doors have the capacity to support the weight of the door, especially if the doors are made of wood.
Dividing Walls 
The more mesh/crosshatch or grilled surfaces between horses the better the ventilation and the greater the opportunity for contact both physical and visual for the stabled horses on each side of the wall.
It is wise to consider future use of the barn may include visiting horses, sale horses or horses that simply don't get along and intimidate each other.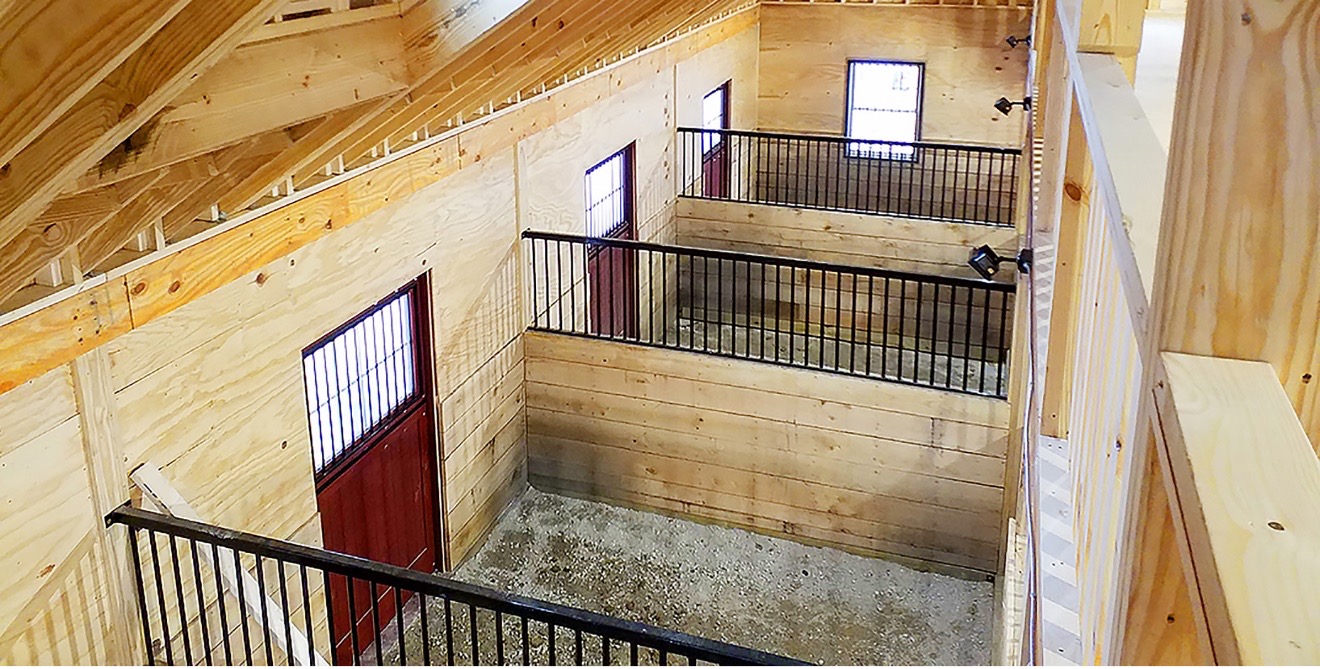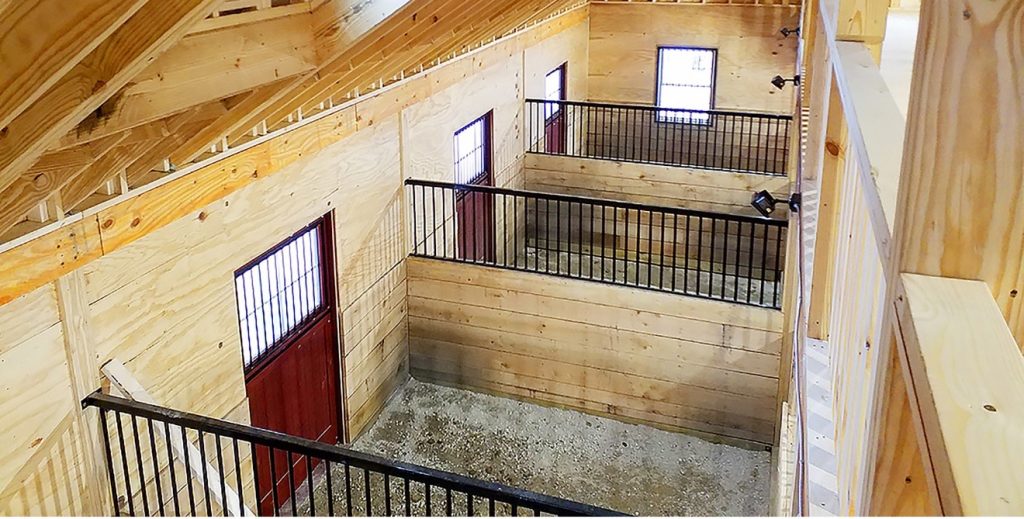 To avoid mealtime stress always place feed rations on the same side of each stall to ensure maximum distance between horses when they are eating.
Quick-take down systems for dividing walls that facilitate doubling up a stall space for use for rehabilitation of a horse, for foaling out mares and for use with mares with foals at foot are also an option.
Other types of partitions such as swinging dividing walls are also sometimes available, but consider carefully how these will operate on a daily basis and how safe they will be for use around horses. If the barn is being utilized as multi-purpose for horses and livestock such as cows, goats or sheep the swinging door option can be very useful for corralling the herd when a caregiver is working alone.
Dividing walls may require additional bracing to prevent warping or damage due to leaning or rubbing on their surfaces by the equine occupant.
Exterior Door Options
Plain wood works well for both stall Dutch doors and barn entry doors but wood by its very nature can be heavy and it requires strong hardware to both hang the doors and support the swing or slide of the doors when opened. There are other options that are more user friendly.
Pressure-treated plywood coated with a panel of galvanized metal that is painted to a color preference is a budget friendly way to introduce color to the barn design.
Doors can also be made of more than one panel and have a tongue and groove beaded aluminum panel that can be made of solid wood rather than a laminate like plywood. A variety of wood choices including exotic woods from a sustainable resource are available.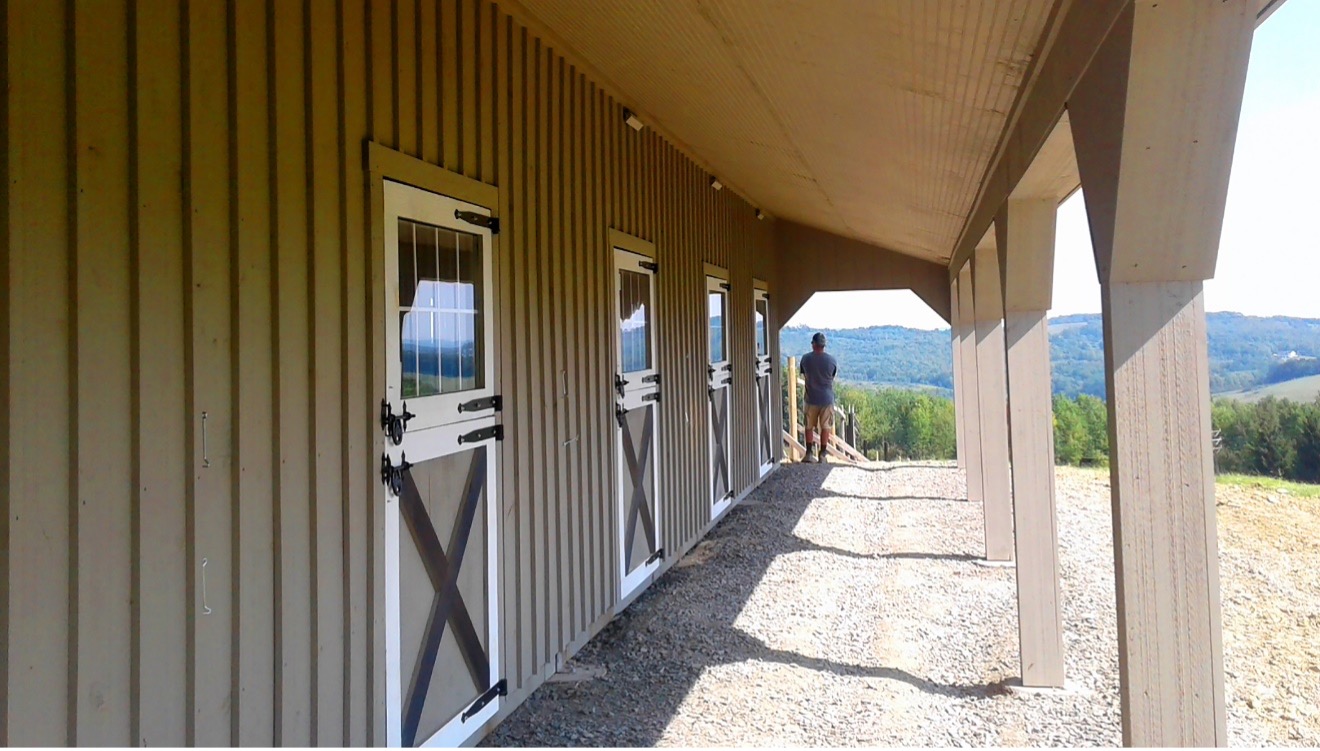 The use of aluminum alloy can provide a strength equal to steel that requires no maintenance and is a lightweight option that makes the doors easy to operate.
Aluminum doors can be made in any color and offer rust and rot protection. Special hardware is required and should be included with the pre-hung doors.
Many features within the barn can be changed from the 'usual' specifications. Always ask if there is a cost saving involved. Changes to barn design do not necessarily cost more money. In fact, some can actually save you money. For example, removing Dutch doors from the exterior stall walls or building an entry door of wood versus having a mullioned glass window incorporated.
If your dream barn build is coming in over budget, don't be shy to ask where you can save costs.
Door Shape Counts
Door shapes run the gamut from fancy arched entry doors to one-piece sliding entry doors and customizable window designs and panel sizing.
The addition of windows with or without mullions to entry doors provides a great deal of natural light.
Spin The Color Wheel
Most manufacturers will offer a vast array of color options but custom paint and stain choices are also often available.
Don't be shy to add color to the interior as well as the exterior of a horse barn. Color choices made with the aid of a color wheel help mitigate the chances of making a blunder in the color choice that might be regretted later.
Look for durable finishes for all surfaces that are UV and weather resistant.
Finishing Touches ~ Details Count
Interior designers know that small details that show the property owner's personality can add much to the enjoyment and appeal of a space.
The addition of hand-polished or lacquered brass finials to the top of posts can provide a beautiful classic touch to the horse stall.
Door latches with extra style such as horseshoe shaped handles can add a neat detail to a line of stall doors. Special twist latches and 'Houdini' defeating latches are also something to consider especially if the horse inhabitant of the stall will have access to the stall door latch.
Don't forget to add a metal chew guard to any wood surface a horse may be able to reach. Gnawed wood is not only unsightly, wood can be ingested by an equine and cause colic or other health issues. Chewable wood corners also invite bad habits such as windsucking and cribbing when a stabled horse becomes stressed or bored. Most modular barn building companies include chew guard with their standard barn designs or charge a small upgrade fee to cover its installation. It is well worth having!
Bridle/halter hooks, tie hooks, fold down blanket bars, saddle racks and hay racks can all be added to improve functionality.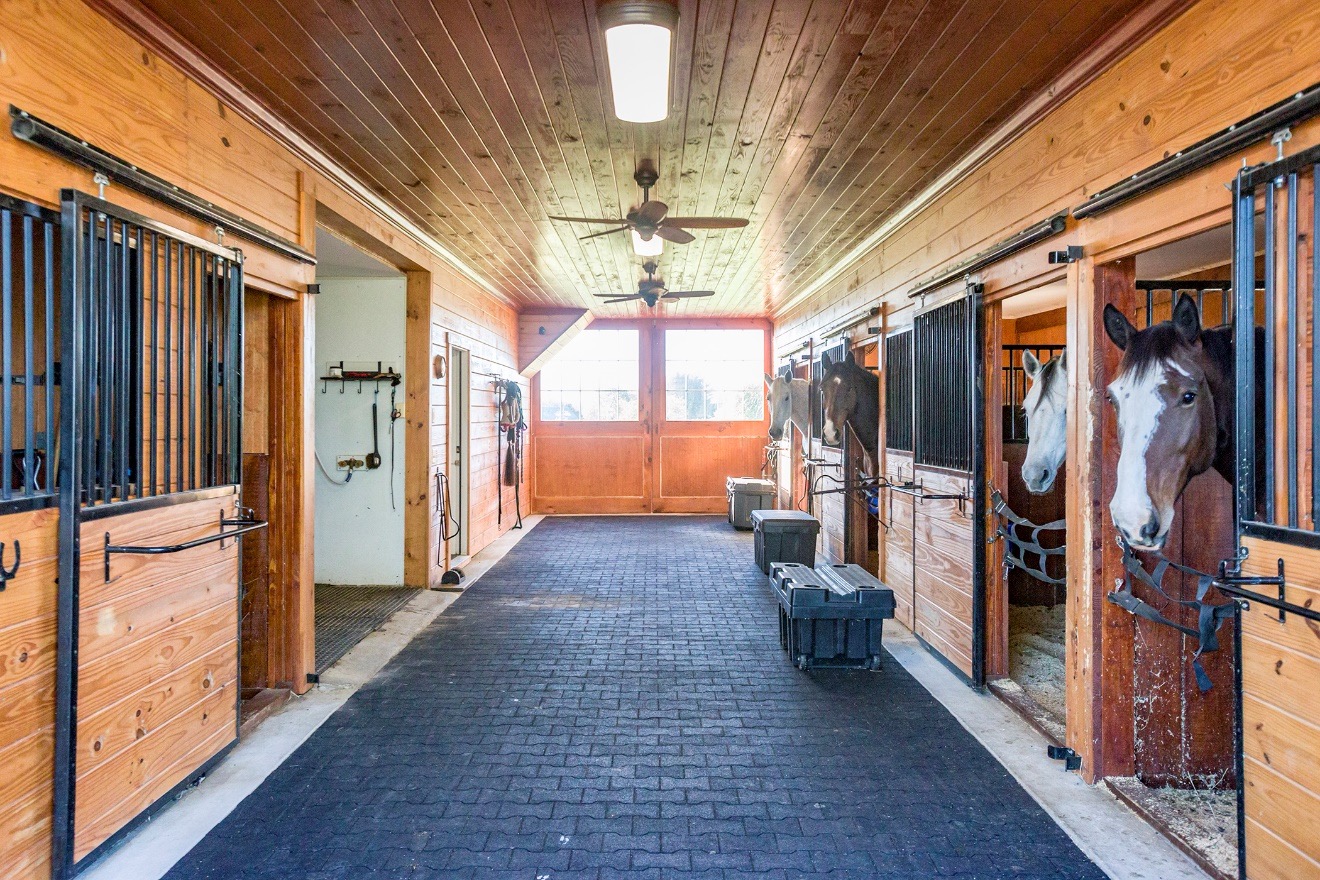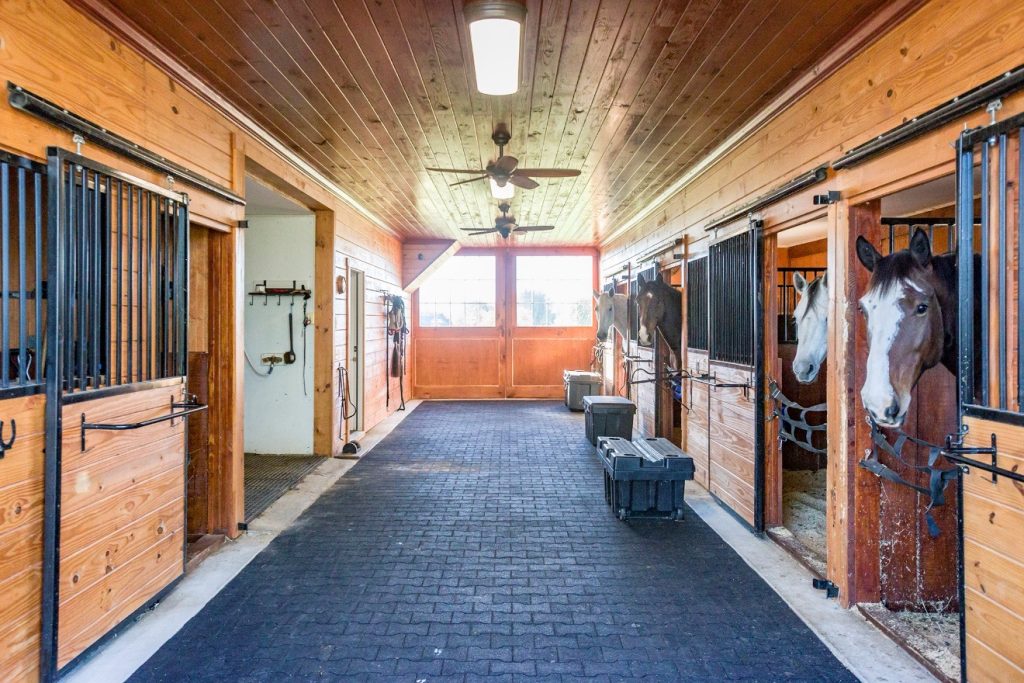 Take Home Message
Don't be shy to be adventurous when it comes to color palettes and changing up stall styles when it comes to the interior design of a horse barn. Always make your selection based on safety with ergonomic design in mind as a priority.
Design the space with a keen eye to your own preferences but also to the possibility of resale of the property too.
Remember, a barn can quickly become obsolete to service the horse housing needs if some forethought doesn't go into the design. For example, kids will outgrow ponies and suddenly a 10' x 10' stall with no grills and half walls may not be sufficient to safely house a full-size horse.
The stronger the color palette chosen for the barn the higher the likelihood you may tire of the color. Light and dark colors affect the light, feeling of space and atmosphere within the barn significantly. It is well worth reading up on the topic for both interior and exterior color selection.