Donkeys, mules and 'mini' versions of all things equine make wonderful pets and are extremely popular. These wee beasties can thrive with a simple set up such as a small pasture with a run-in shed and supply of fresh water, grass and/or hay.  But there are times when a horse barn would like to provide a mini horse haven for both equus and their human caregivers.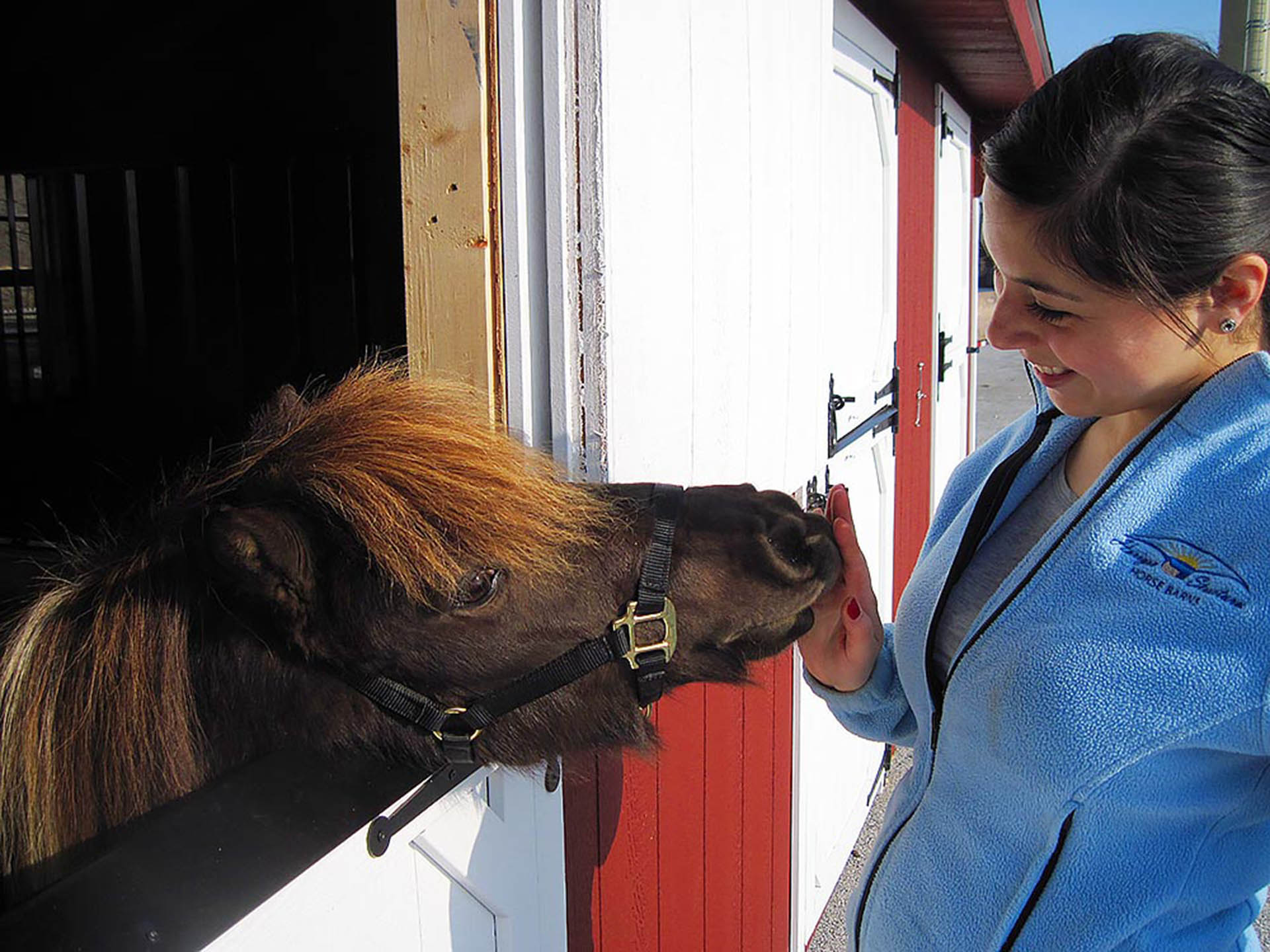 Just because your horse size is a scaled down version doesn't mean you have to scale down on the quality of the abode that you provide. A well-designed structure that accommodates the miniature equines' special needs not only provides a welcome reprieve for the animals from the hot sun and harsh winter wind. It can also offer a room with a view, a quiet place to recover from illness, safe and comfy accommodations to take a dietary break from grass overload or a sweet spot for the horse owner to prepare their herd members for sale or show.
Caring for these canny critters can be more complicated than it at first appears. Their digestive systems may require special attention. Minis are very efficient at utilizing small amounts of calories. It is very easy to overfeed a mini and grazing may need to be minimized by using muzzles or limiting grazing to avoid the dreaded laminitis. The ability to provide a stable makes management of their turnout time much easier.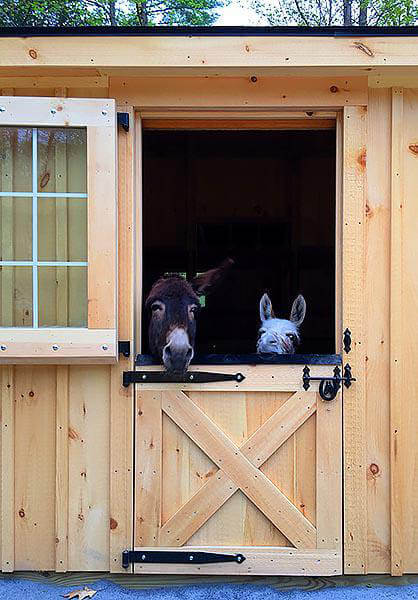 Breeders often find confinement is required during foaling as miniature horses may require more assistance than their larger horse counterparts and cesarean section is not uncommon. This is due in part to the discrepancy in the mare's pelvic size and the size of the fetal head.
When you call your vet out in an emergency, which almost invariably happens in bad weather or at night, then the provision of a well-lit, dry space free from invasion by nosy equine neighbors is invaluable.
When the farrier or other health experts arrive to work on your miniature horse or donkey, you can similarly provide the perfect spot for them to work safely.
While adding a calf hutch or two to the paddock might be used as a shelter for mare and foals or a herd of miniatures, the need for a horse barn, properly tailored to the needs of these small breeds, is important. Predation by coyotes, mountain lions, fisher cats and even terrorization by neighborhood dogs, are all factors to consider for the safety of your miniature horse.
The structure to house any type of mini equus, should offer the same standard features, snow load protection, quality craftsmanship and maintenance-free siding options its larger equine cousins enjoy. The team at Horizon Structures has much experience working with all types of animal housing.  Designing a multi-use barn that houses miniature horses, chickens, alpacas or other livestock is not an uncommon request from their clientele. Specialized stabling for the smaller equus comes with lots of customization options.
When you 'burrow' into the matter of miniature horse, donkey, and mule care and safety you may be surprised at how affordable and available a first-rate horse barn can be. The modular horse barn is the perfect option. Not only can it be customized for stall sizes, door and window heights, the modular barn also offers the horse owner the additional benefit of mobility. The building can be moved as needed, even to a completely new property if required.
Many horse rescue groups take advantage of this flexibility, as their needs change over time. Unfortunately, the same cuteness that has us tagging photos of donkey and miniature horses with 'likes' and 'loves' on social media also impacts these little creatures' lives as it makes them extremely popular with neophyte horse owners who sometimes discover that ownership of any equine comes with serious responsibility and commitment for their newly acquired pet.
If you run a miniature sales operation you can guarantee that the adorable vision of a line of tiny horse heads over appropriately sized stall doors will have your prospective purchasers 'foaming at the bit' to buy. For rescues, an agri-tourism visit that captures this endearing equus delight can raise much needed funding.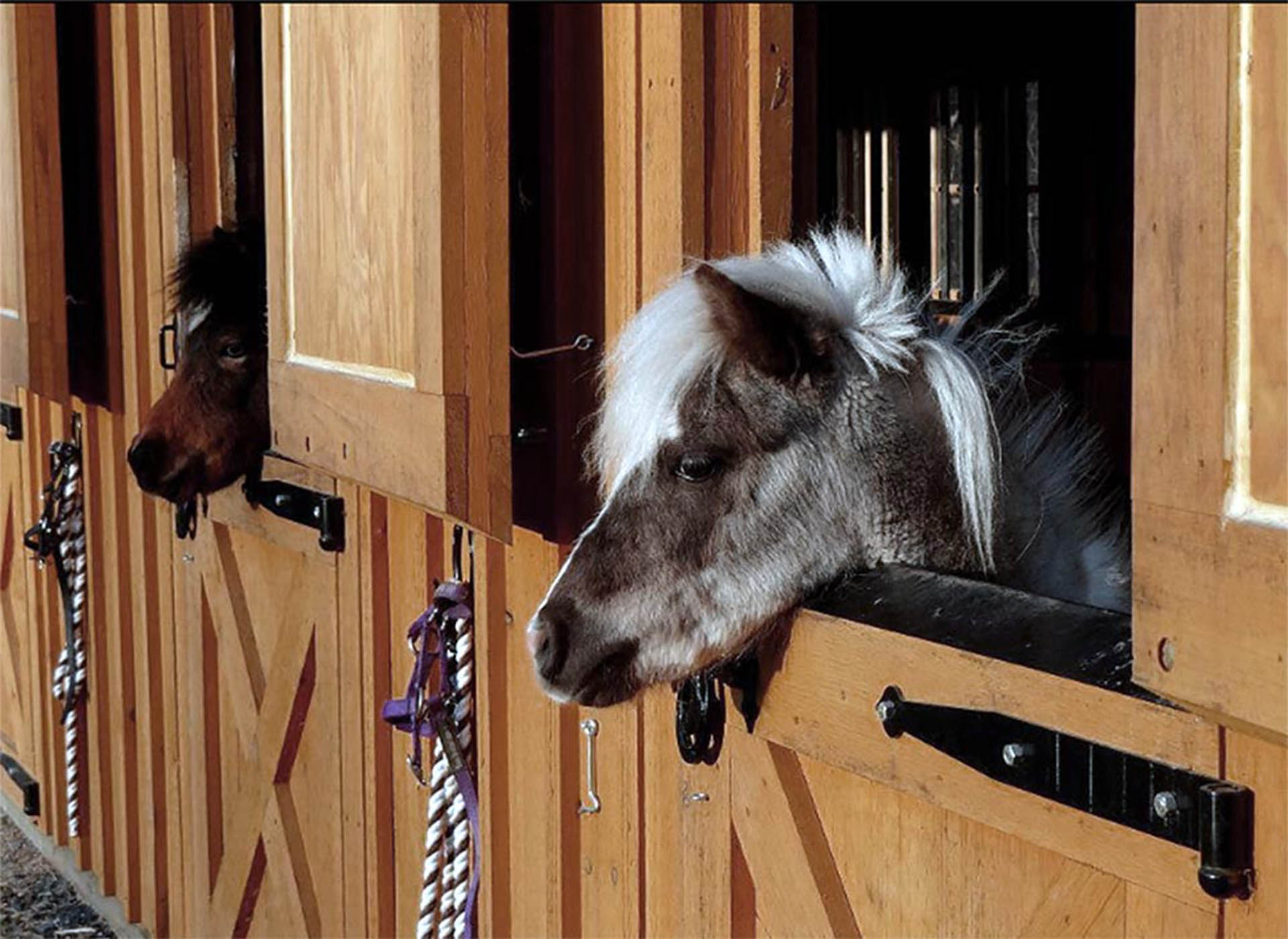 In any event, every little critter deserves to see the light and have fresh air and a safe abode. If you have any questions about sizing of stalls and design for your miniature horse or donkey barn then don't hesitate to give the Horizon Structures team a call. As I've mentioned before "All Creatures Great and Small, Horizon Structures shelters them all."