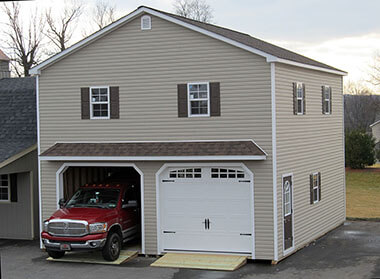 The mega garage package offers a second floor with a full 8' of ceiling height across the width and length of the upstairs
If you are in a situation of deciding whether it is time to replace your garage or you are looking to add a building to a shore area property or even an all in one living space/garage in the mountains for those well deserved weekend getaways, you may want to consider the Mega Garage.
Unlike a raised roof garage which can leave you with not enough living space on the second floor to put your office or build a partition wall or two, the mega garage offers a second floor with a full 8' of ceiling height across the width and length of the upstairs.
Your mega garage will also include 12 insulated windows, 4 on the first floor and 8 on the second floor which will provide great natural lighting and still keep the space warm during cooler weather.
In addition to insulated windows, the mega garage comes standard with insulated garage doors. Having a warm garage level will make it more comfortable to work on projects in your spare time. There is plenty of room for full sized vehicles and ATV's with additional space for work benches and shelves. If you are looking to have a special area for a motorcycle or lawn tractor consider adding an extra garage door on one of the sides. This will save the trouble of having to pull a car out of the garage every time you want to mow the yard or hit the road on two or three wheels.
Back on the upper level, another great feature is the option to install plywood flooring above the ceiling and pull down stairs to create a great storage area. Or you can upgrade to a 6 pitch roof and create an attic area for even more space.
It is easy to see how great a mega garage is and the different uses it can provide for your needs.
The mega garage is offered in widths of 20', 24' and 28' and in various lengths to provide the size options you want for the space you need.
If you think the mega garage with loft is the right building for you, or if you're interested in
2 car prefab garages
, give us a call 610.593.7710 or send your questions to
[email protected]
.
We'll be happy to assist.