Part 5:  Site Prep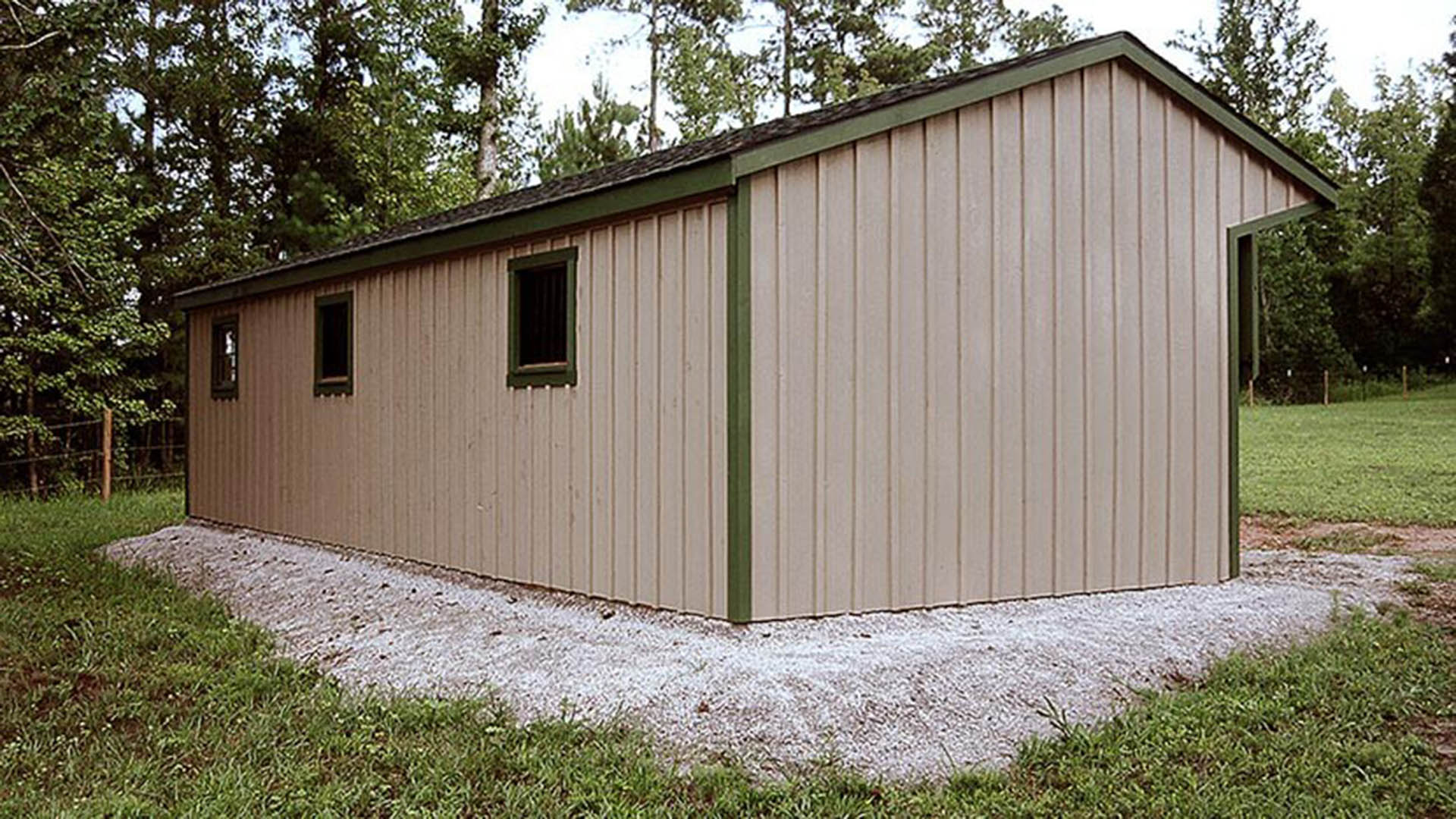 Most of Horizon Structures' well designed buildings are delivered fully assembled.   The exception being a larger, modular barn. Quick. Easy. Instant. How awesome is that? Your only task is to have the site properly leveled, prepared and ready to herald this great event. Frankly, shed ground prep is not that complicated.
What do you need to do to prepare your site?
Once the sod has been removed from the pad and the dirt has been leveled, stone dust should be spread to a 3 or 4 inch depth. Ensure the pad is larger than the outside dimensions of the actual structure and add a slight elevation with the material will improve drainage. Once it is tamped down and flat and level you can move on to the pillars.
In the event you are adding a run-in shed to a pasture, with the possibility of moving the shed at some point in time, it is not necessary to provide the stone dust base.  The shed base framing is pressure treated wood and can be set directly on the ground.  A dry and level spot is all that is needed.
Pillars/Footers ~ It's all about the base!
For large, modular barns or shedrow barns with overhangs we recommend footers be placed at your building's corners, under the barn foundation and around the building's perimeter every 10 to 12 feet. These pillars should be 18″ in diameter and should be set 3-4' deep and 3-4" above ground level. These pillars will prevent your building from settling unevenly. This can occur over time when the ground freezes and thaws.
Horizon Structures will automatically provide you with a footer diagram at no extra charge. Our team is also happy to speak directly with your site contractor/excavator to address any questions they may have. Liaison is the key to success!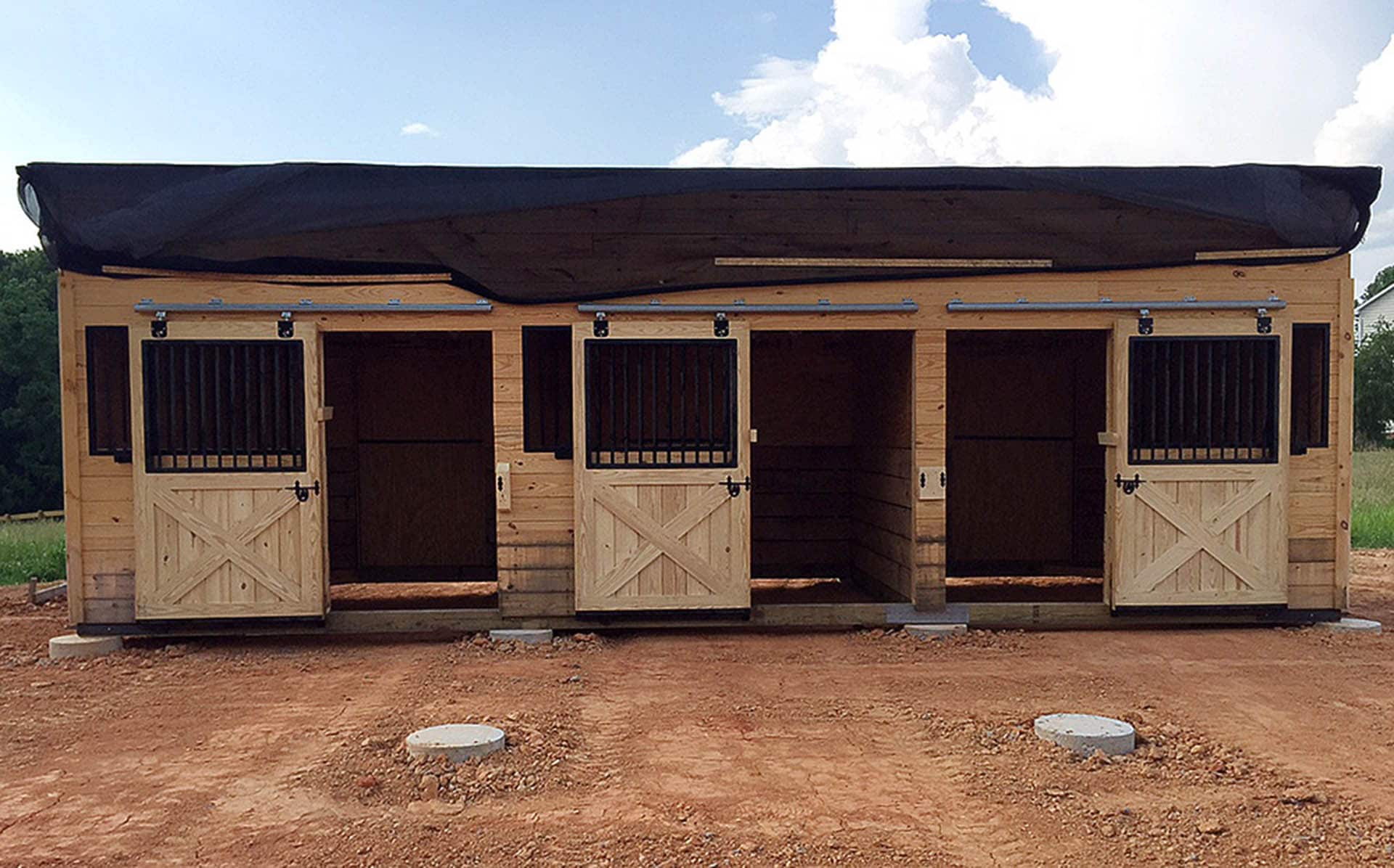 Anchoring
All buildings should be anchored for the safety of your horses and indeed may be required by local authorities. Horizon Structures can complete this for you at the time of installation or provide you with a kit to do it yourself.
Due to weather issues in certain locations it may also be required and/or advisable to add a hurricane kit to the structure to ensure there are no 'Wizard of Oz' moments in its future.    Our "hurricane kit" encompasses important structural upgrades.
Roof rated for 120 m.p.h. winds.
Laminated headers and hurricane clips on the rafters.
We would also recommend using the built-in tow hooks, along with an anchor kit, to further secure the building.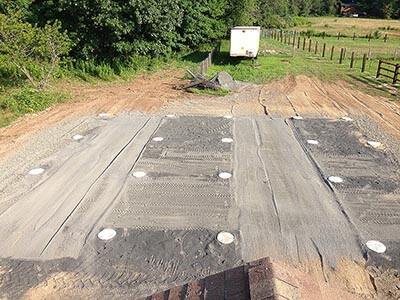 When you are in the process of obtaining your permit be sure to ask the relevant local authority whether this is either required or suggested.
Concrete Center Aisles and Other Flooring Additions
What if you want to add a concrete flooring to your aisle? Cement should be poured after your barn is delivered.  By pouring the cement aisle way after the barn delivery you ensure that it will properly 'fit' and will not be damaged during installation of the structure.
This is also a good time to review whether there is a need for drainage around the base of the building. If you want to add curtain drains, French drains etc., it is best left until after the barn is in place to prevent damage during installation.  This is particularly important if you are in a low lying area, have certain soil types or expect heavy snowfalls that will melt off the roof to the outside of the building.
Please stay tuned for Horizon Structure's next blog post. We'll explain how your barn is being built while you're preparing your site as we continue to showcase the ease of the experience in buying horse barns and other well-built prefabricated buildings from Horizon Structures! It's a smart and fast way to go!
Read Part 6 – Construction of our Prefabricated Barn Buying Process Series HERE.