Whatever your budget and whatever your new barn design, orchestrating a new barn build is an exciting time. However, that excitement makes it is easy to overlook important details during the purchasing process. Here are some tips to help you stay on track when shopping for the perfect barn.
Tip # 1
Buy Good Quality
The longevity of your barn will depend on good craftsmanship in the build and top-quality materials being used for its construction. Horses dish out some serious abuse on stall walls and doors and the exterior of the building needs to be as maintenance-free as possible.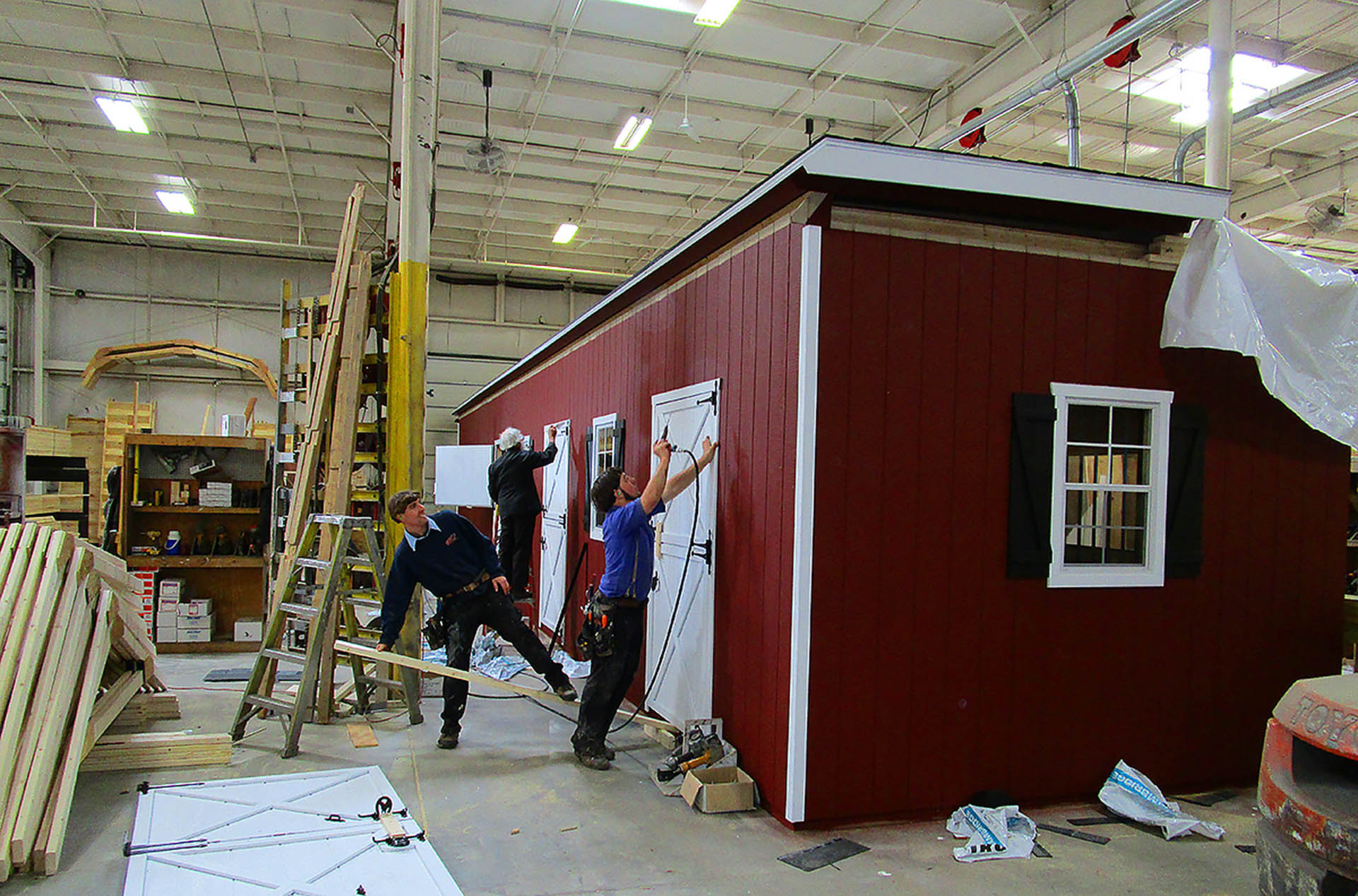 Excellent carpentry techniques and attention to detail combined with a well-engineered design will ensure your new barn provides decades of service for your equine herd. Modern building materials offer serious labor and cost-saving benefits on maintenance needs of the structure.
When you choose a company that has a broad choice of options in color and materials for siding and roofing and a design that is functional for your individual daily lifestyle needs, you are making the smart decision to invest wisely as you can select exactly the style and materials you need without compromise. For example, if you prefer your horses to have free inside/outside access, Dutch doors and overhangs are a must.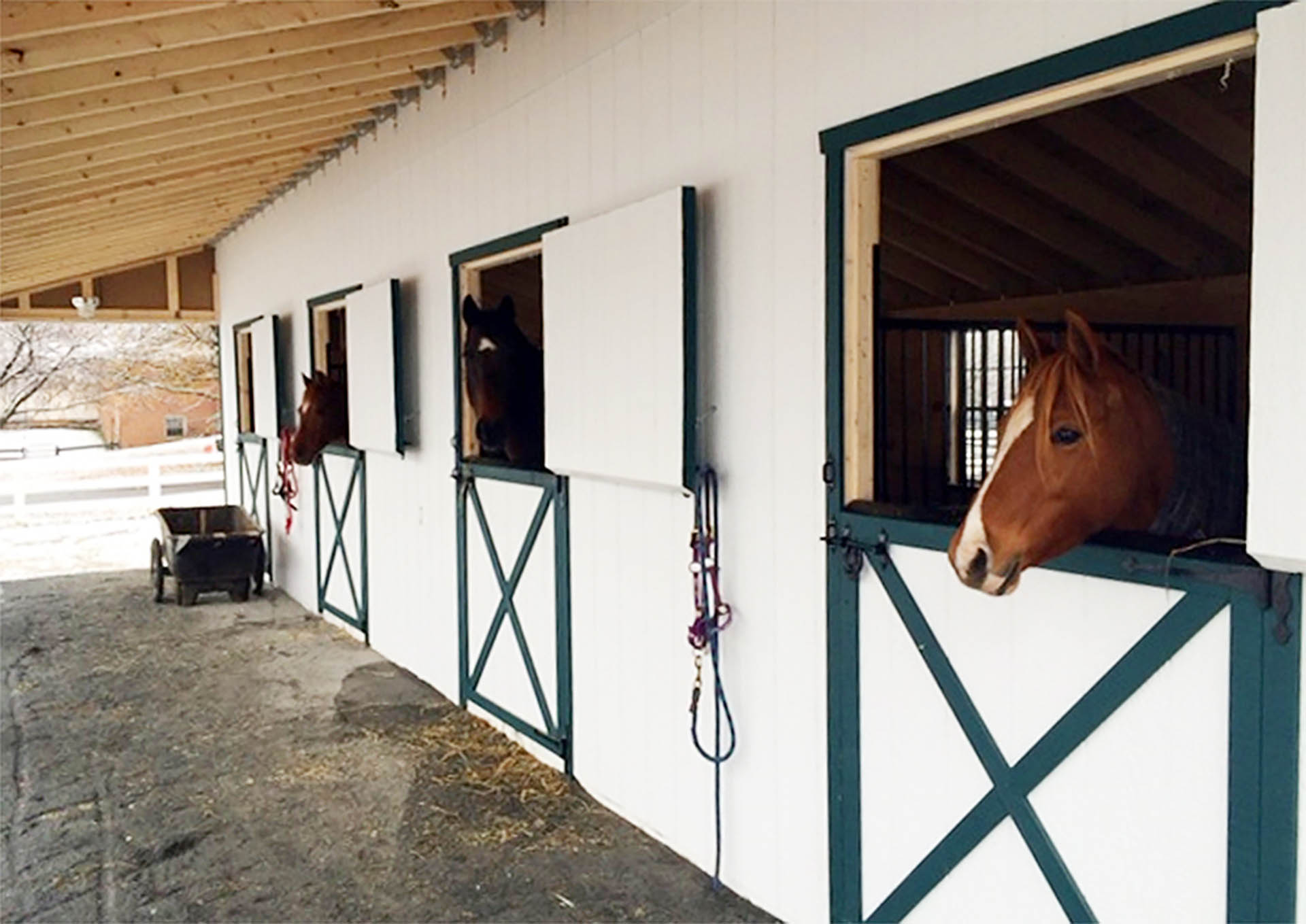 For trainers that run a busy boarding operation the inclusion of a large, secured tack room and feed room, with additional space to add a bathroom and wash stall are a boon for business. Clients always appreciate security for their equestrian equipment and a place to freshen up themselves and their horses.

Tip # 2
Research The Construction Company
All companies are not created equal. By conducting research online and by word-of-mouth, you'll get a good picture of previous customers' satisfaction level with their purchase. Remember that buying a barn is not just about the initial deposit and site preparation. The company you choose to work with will be in your life throughout the building process. Pick a construction firm that has lots of experience building horse barns as a specialty and that is open and transparent about their previous builds.
To address this need Horizon Structures has created the Barn Finder tool that allows open access to its customer list with direct contact possible between prospective and past clients.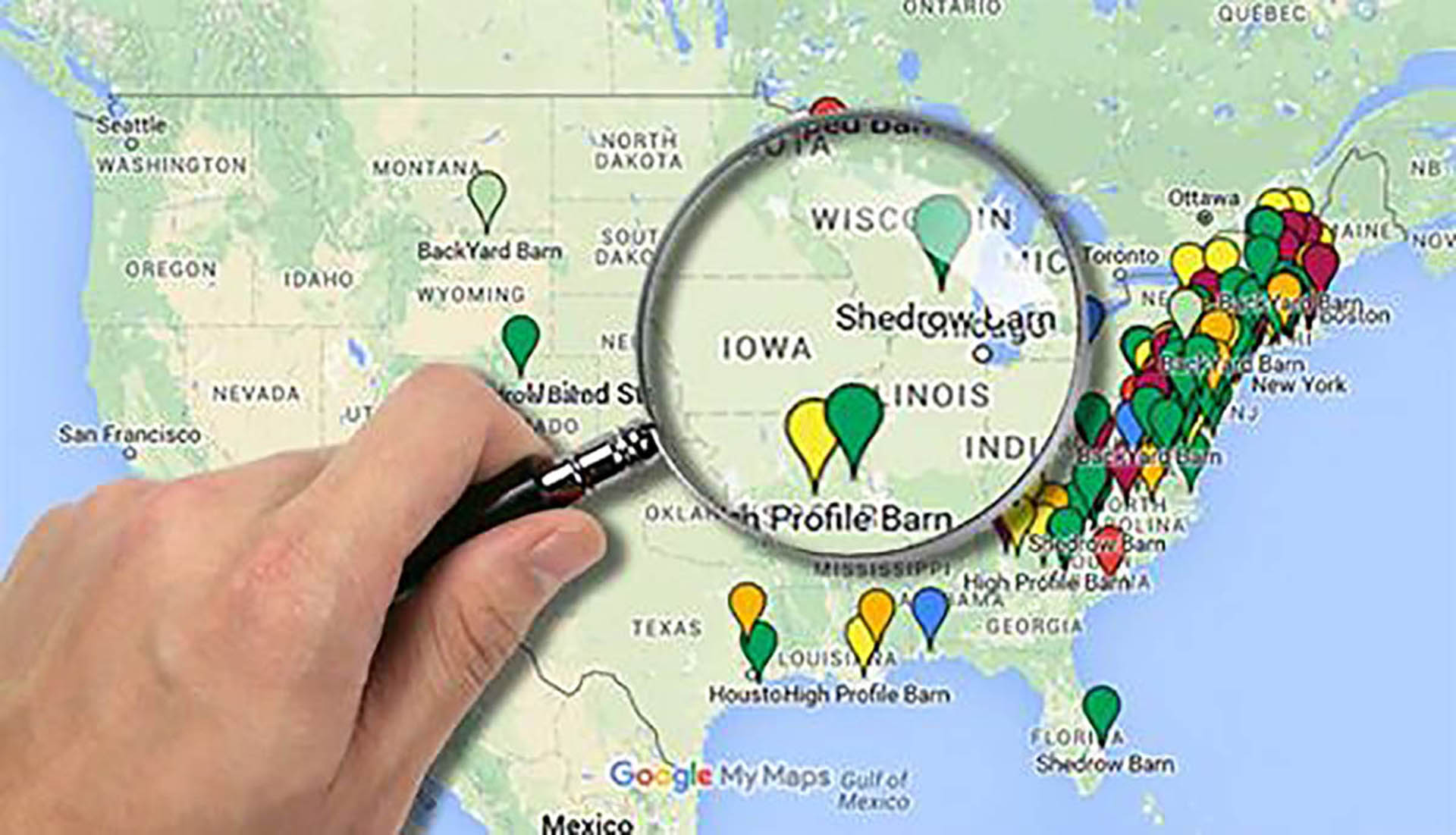 You will have lots of questions and a friendly, professional staff will be happy to address your individual needs and offer advice as needed. At Horizon Structures you will enjoy a wide choice of barn designs in addition to free information such as barn building guides.
If possible, visit an example of the construction company's work and talk to their previous customers in person. It is great way to garner insight into the reality of their barn purchasing experience and satisfaction with the quality of their barn months or even years down the road. When you select a building company with proven experience and a list of contented customers, you are minimizing the likelihood of a poor barn build or negative encounter.
Value-added services deserve serious consideration when evaluating a builder as well. A company that invests in employees with deep product knowledge and a thorough understanding of their customers' concerns is a company you want to work with.
A sales rep who is readily available to answer the phone and respond to your email and voicemail questions builds trust and confidence. Dealing with a single point of contact who is able to provide the information or documentation you need in a timely manner helps simplify an often complicated and multi-faceted process.
These 'intangibles' go a long way toward building trust and increasing your comfort level navigating a project the like of which you've never tackled before. The chance for mistakes or mis-steps are eliminated or greatly reduced with an expert by your side.
Tip # 3
Written Price Guarantees
A quotation or an estimate is just that, an approximate cost. When you are ready to move forward with your purchase ensure that the price quoted is guaranteed. If there is wiggle room to add other charges later, then you are signing up for a headache down the road. Reasonable overage costs, if they apply, should be clearly defined. When you purchase a modular horse barn, you enjoy the significant advantage of a "to-the-penny" price with no hidden fees. You also avoid construction delays due to weather, lack of crew members or materials arriving on site.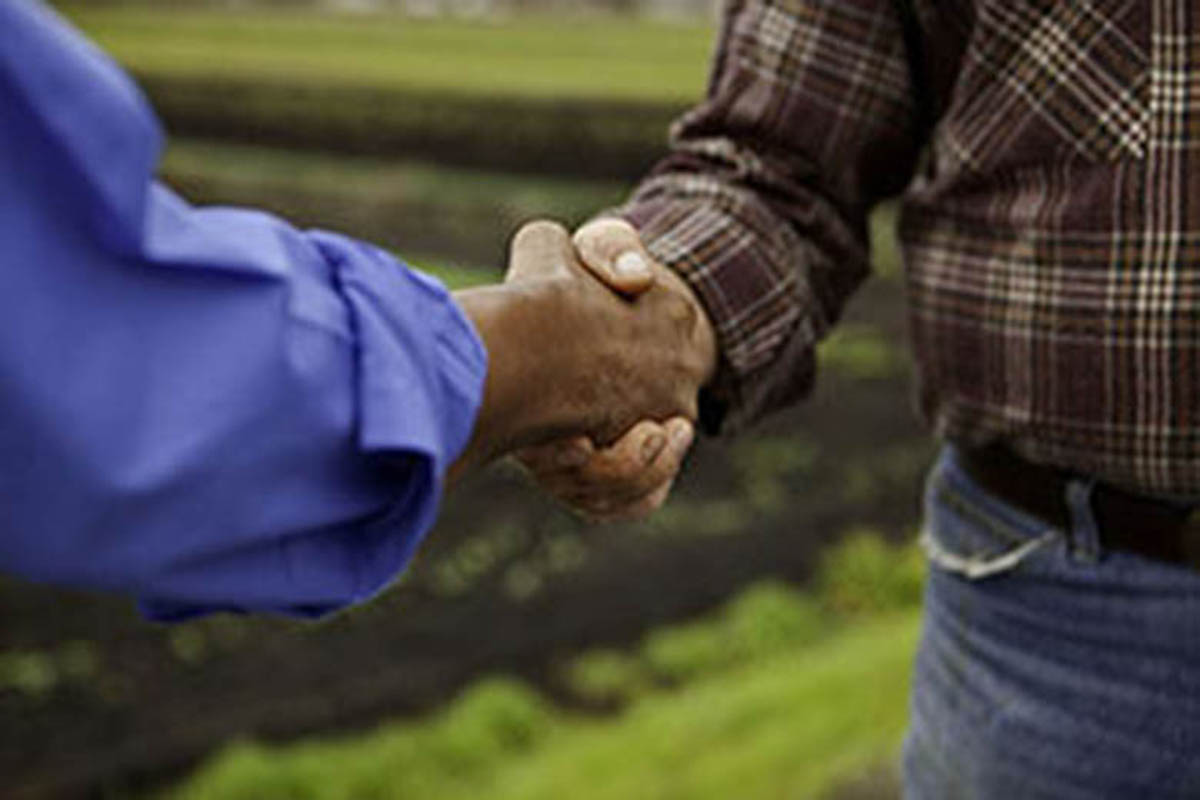 Avoid companies that push a hard sell, are vague about defining the ultimate price or timeline for the build or that don't define all the aspects of the purchase in detail. The type of materials and manufacturers of roof or siding materials should be specified and warranty information included.
If the prospective builder does not respond to your questions in a timely manner then walk away. Once the deposit check is cashed such companies will likely be even harder to work with and you don't need to waste your time fretting about cost overruns or chasing down the builder.
Tip # 4
A Contract is a 'Must Have'
Before you part with any hard cash be certain that you have a contract signed by both yourself and the building company.
An ideal contract will
be to the point and easy to understand
detail the agreed price and the time frame and amounts of each payment
state the terms of cancellation of the project
detail materials to be used
outline Buyer and Seller responsibilities – For example:

method of repairs
terms of rebate/ refund
warranty information
delivery
insurance
site preparation and access
Be certain to read all the fine print. If in doubt, have your attorney review the contract especially for a large capital investment.
Don't be shy about asking for a sample contract in the early stages of your building project. A company should have standard Terms and Conditions and be up front about the content. Full disclosure provides a valuable trust factor and will give you peace of mind.
A sample contract early on also means you won't be lured in to the wrong company just because you've spent considerable time formulating the design of your barn and making additions or customizing the build. Any company that tries to lure you in by spending your time is not one you probably want to work with on your new barn project. Trust is an important aspect to any transaction, and a good construction company will have a professional approach and provide tacit information that they are fully prepared to back up in writing.
Tip # 5
Be Realistic
If a price for the barn build seems too good to be true then it probably is. Good materials and quality workmanship may not be the cheapest price on the market.
It is a good idea to resource multiple quotes for the barn building project. However, these are only valuable if you are certain to compare "apples to apples." This does not just apply to the size or design of the building but also the materials to be utilized. Wood comes in different grades, with the least expensive grades showcasing many knots that result in a weaker product. Wood that is pressure treated is a necessity where it enters or is close to the ground but is more expensive than regular untreated lumber. Boards come in different thicknesses and different types of wood provide varying levels of insect and moisture repellence as well as strength.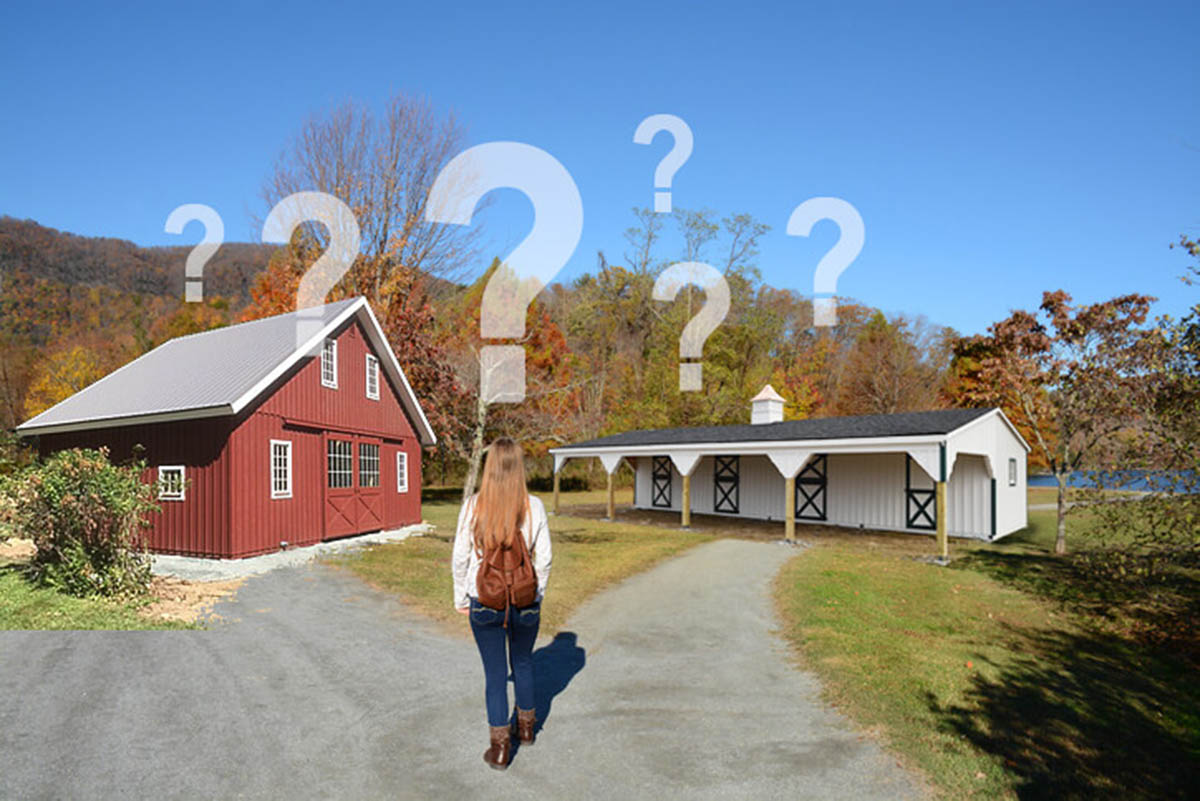 There are a myriad of products on the market and a huge variety in quality of hardware, shingle or tin, siding boards, doors and windows. The quality of these materials all factor in to the final cost.
In conclusion it pays to be detail oriented when comparing prices and don't be shy about asking questions. If substitutions are to be allowed these need to be clearly defined. You don't want to be blindsided later with additional costs.
The process of buying and building a horse barn should be a happy event throughout the project. If you see any red flags it is smart to move on and find another builder. There are many excellent companies to choose from and doing your due diligence at the outset will help ensure a smooth and worry-free experience. By following these five tips for buying a horse barn you should be able to get the barn of your dreams at the right price.