The trending popularity of adding an outdoor living structure to the patio, garden or backyard is born from the sincere benefits of adding a pavilion, pergola or gazebo can provide to any lifestyle.
When it comes to making a choice between a pavilion, pergola or gazebo, the amazing variety of options makes it a truly mind-boggling decision. You can choose to party hearty with an elaborate pavilion that offers flexibility in the size of the gathering and a solid 'ceiling' of protection from adverse weather; opt for a garden destination retreat that offers privacy from the prying eyes of neighbors with a graceful gazebo that reflects the peace and quiet of a bygone era; or channel your inner gardener and lounge in a scented wisteria or honeysuckle vined pergola.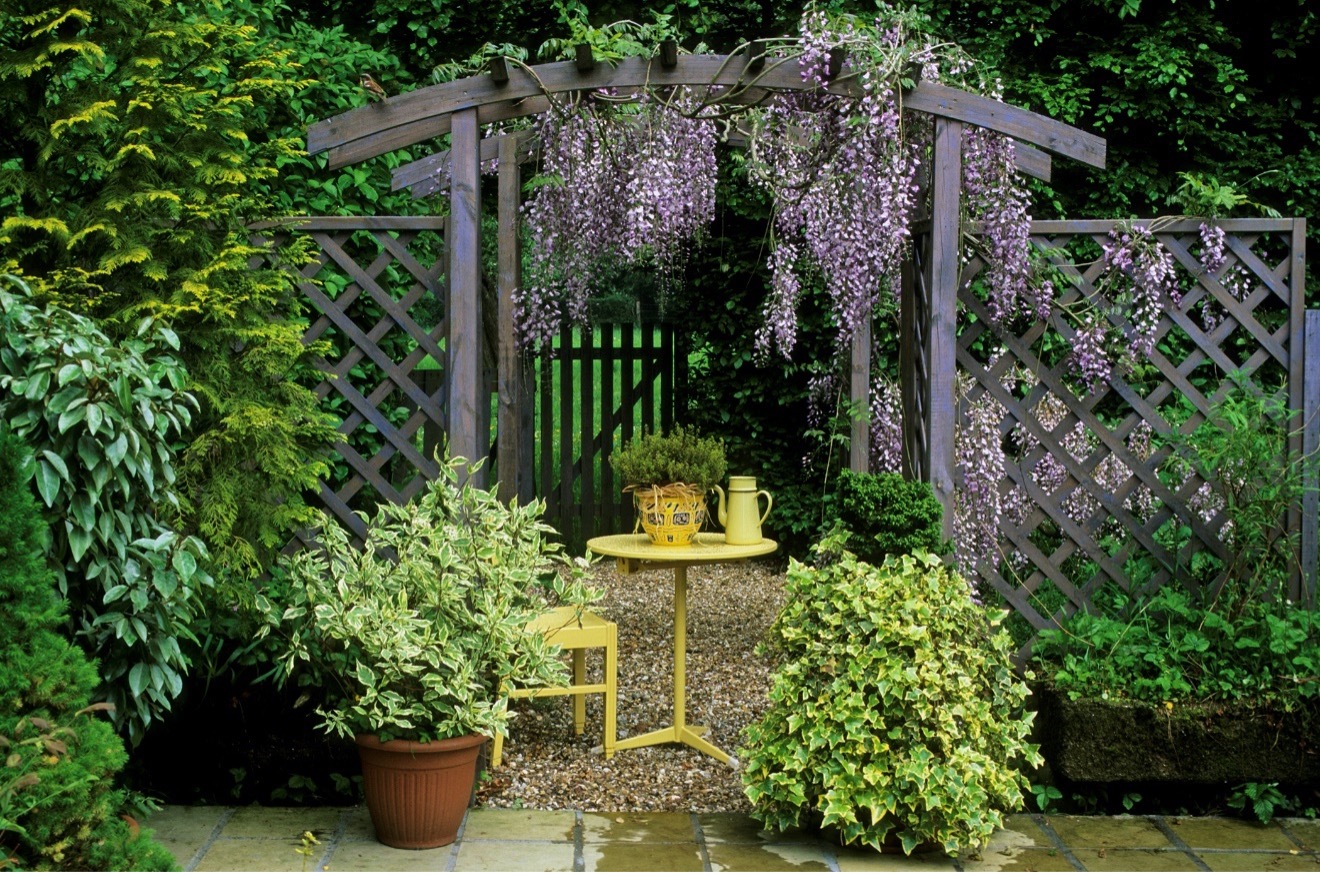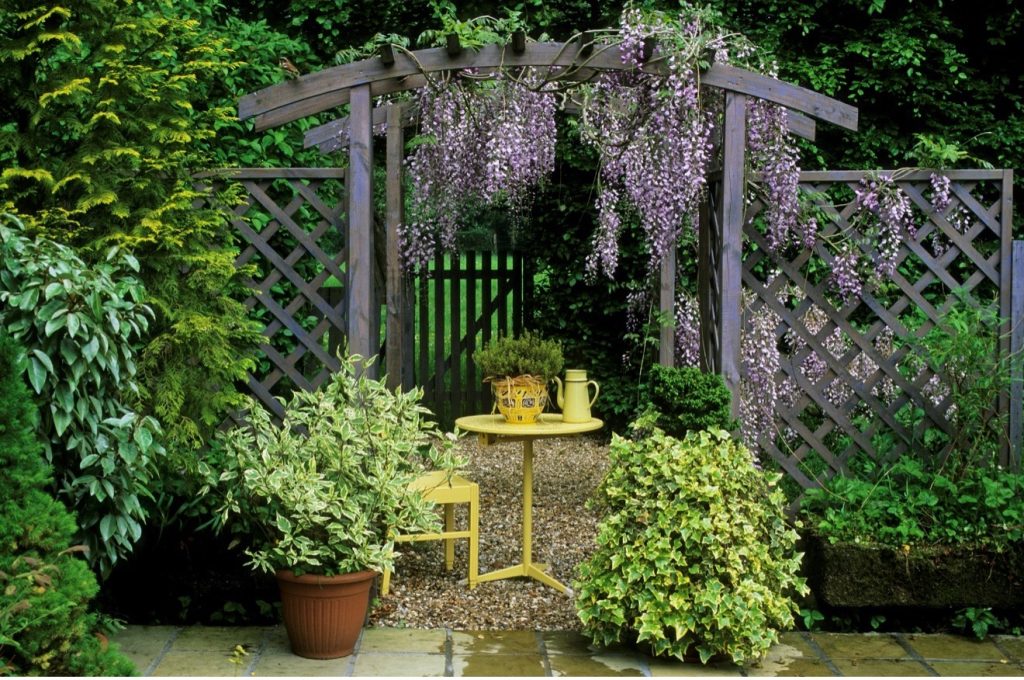 Boundless options come with the pergola and pavilion, as size and height can be adjusted to match a roof eave to truly extend indoor/outdoor living, or simply stand alone in a solitary setting to provide an architectural focal point. The gazebo necessarily provides more privacy and the ultimate in shelter from wind, rain showers and glaring sun.
If you prefer a quieter lifestyle and would enjoy a spot to gaze at your garden, converse away from others or seek a spot to retreat to reflect on the day, then the gazebo might be your best choice. The space can easily be screened to remedy any pesky buzzing insects from upsetting your tranquil environment, and it can also be large enough to enclose the perfect dining location.
Size does matter when it comes to seating and set up of a dining space. Ideally any side of the dining table selected would be 36 inches from the side of the structure to allow for people to get up and down from the table and for folks to pass behind them to serve or pass by. Seating wise the rectangular table offers the most seating space, so if choosing a gazebo as a dining location consider how a rectangular shape will fit into the design. Figure that family seating might be comfortable at 20-24 inches apart but for formal occasions a large distance might be better. Oval tables, round tables and the most limited, square tables, are also dining space options.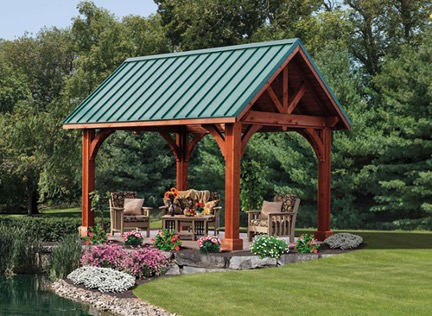 Obviously with a pergola or pavilion the lack of exterior walls is blessing when it comes to sizing the seating arrangements. But it is prudent to allow enough floor space of the same floor covering that is laid under the structure to surround the table for 36 inches or more all around, to mitigate the likelihood of people tripping up or taking a bad step and falling when coming and going to the space.
While gazebos can be purchased with or without floors, (the latter requiring a 4" concrete pad be poured as a base rather than the usual simple compaction of a gravel surface that is level), the pergola or pavilion will require some sort of stone, gravel, tile, concrete other surface be laid in the interior space, rather than left as grass which will quickly become dusty at best and muddy at worst during high traffic use.
All 3 structures can be purchased as kits and assembled by a handy do-it-yourselfer or bought as kits and delivered and assembled by the manufacturer's crew. Be careful of companies that employ 3rd parties for delivery and assembly as they may not be experienced and familiar enough with the product to do a good job of construction on site.
Smaller gazebos offer the opportunity to be shipped assembled and trucked over the road. Utilizing a company that offers its own nationwide delivery and assembly option is a great idea.
You may love to host large family and friend gatherings. Your lifestyle may include a love of cooking and an outdoor kitchen and dining space may be your dream outside living space. The addition of BBQ's, full outdoor kitchens, hot tubs, swing sets, are all possibilities when you construct a pavilion structure. You can add shade/sun curtains and blinds for the sides, or even metal shutters to secure the space from inclement weather when not in use.
The flexibility of a pavilion means there is shelter from rain showers and the heat of the sun from above, and the area can be set up in advance with buffet style or formal dining that can accommodate larger numbers and variant numbers of people. This makes a pavilion the perfect choice for hosting family events such as weddings, graduations, birthdays and wedding anniversaries as well as holiday get togethers with neighbors and friends.
The Money Factor
The main factor in the decision of which of the 3 options to choose is the matter of cost. As you might expect, in general terms the most budget friendly is the simplest to build, the pergola. Followed by the gazebo with the pavilion option generally being the most expensive. However, there are so many options to choose from in size, style and materials (traditional wood or maintenance free vinyl, shingle or metal roofs) plus add-ons such as cupolas and weathervanes, it is easy to manipulate the price point between the three options to favor the individual's budget.
A major consideration in the decision-making process should be the planned use of the structure. Remember to consider both your present and possible future lifestyle needs and preferences when making your selection.
Here is a quick look at the pros and cons of each structure:
Gazebo Pros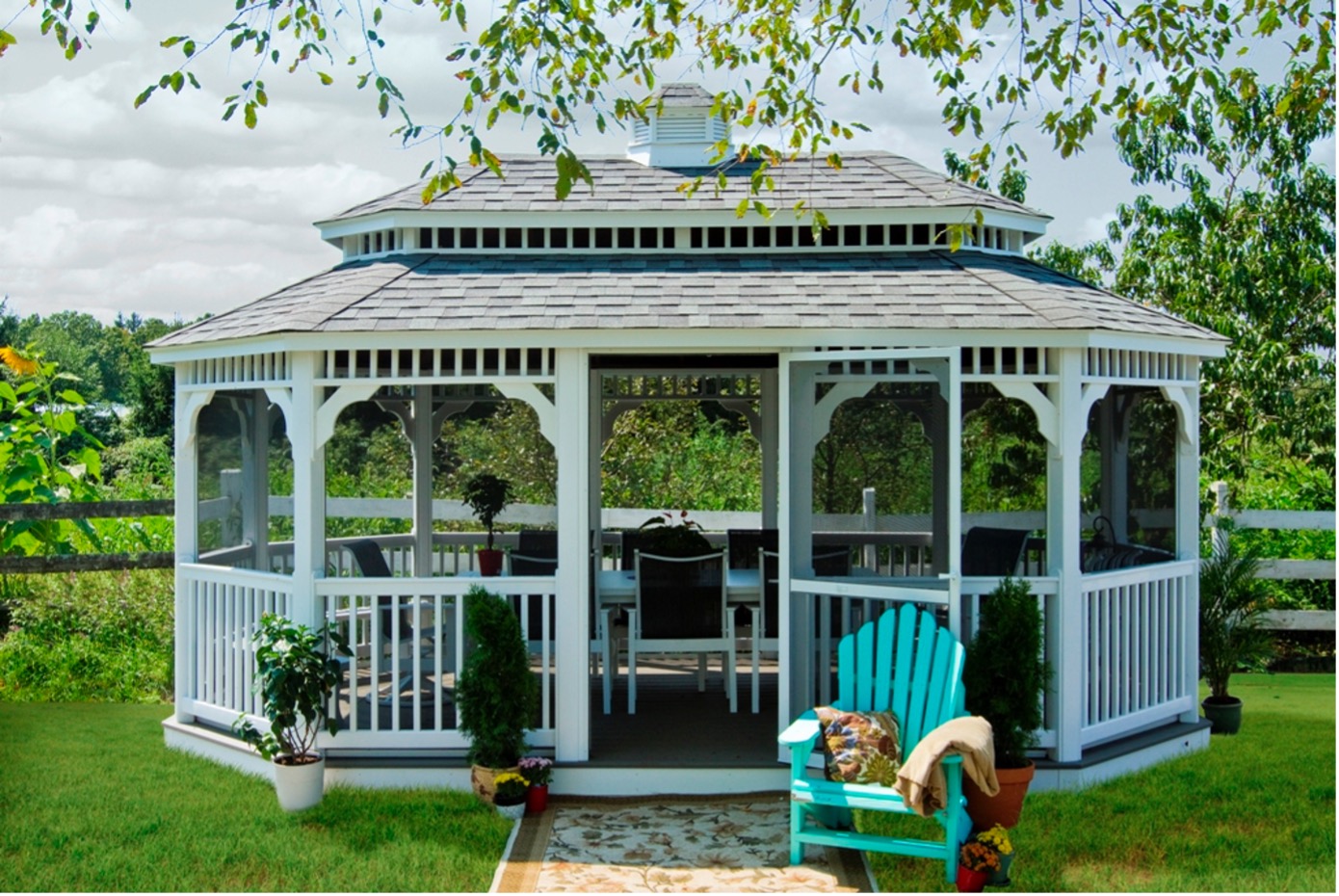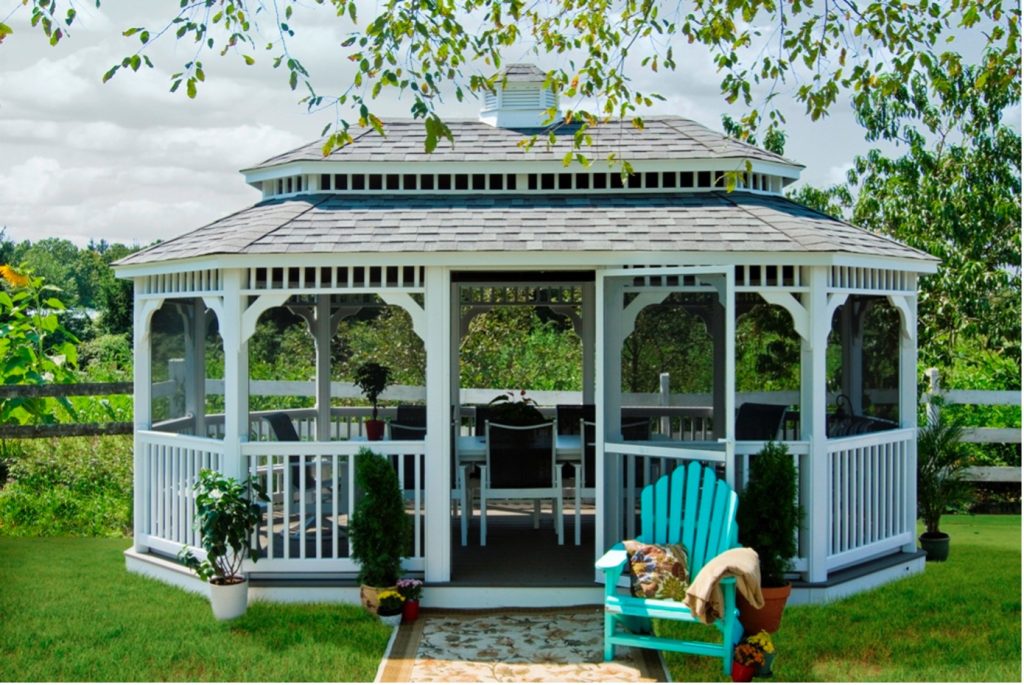 Reasonably budget friendly (when ordered with floor minimal site preparation required)
Portable (especially useful for varietal placement within a competition jumping area)
Aesthetic appeal of traditional design
Full shade and shelter from rain
Can be screened to provide bug-free environment
Offers privacy
Less distraction to horses from the movements from occupants
Optimal 360-degree view
Enclosed space secures safe space for children and pets
Gazebo Cons
Size restriction of the enclosed space limits size of gatherings
Permanent concrete pad required if ordered without floor
Hard to keep clean of dust and dirt
Site must be level and well drained
Pergola Pros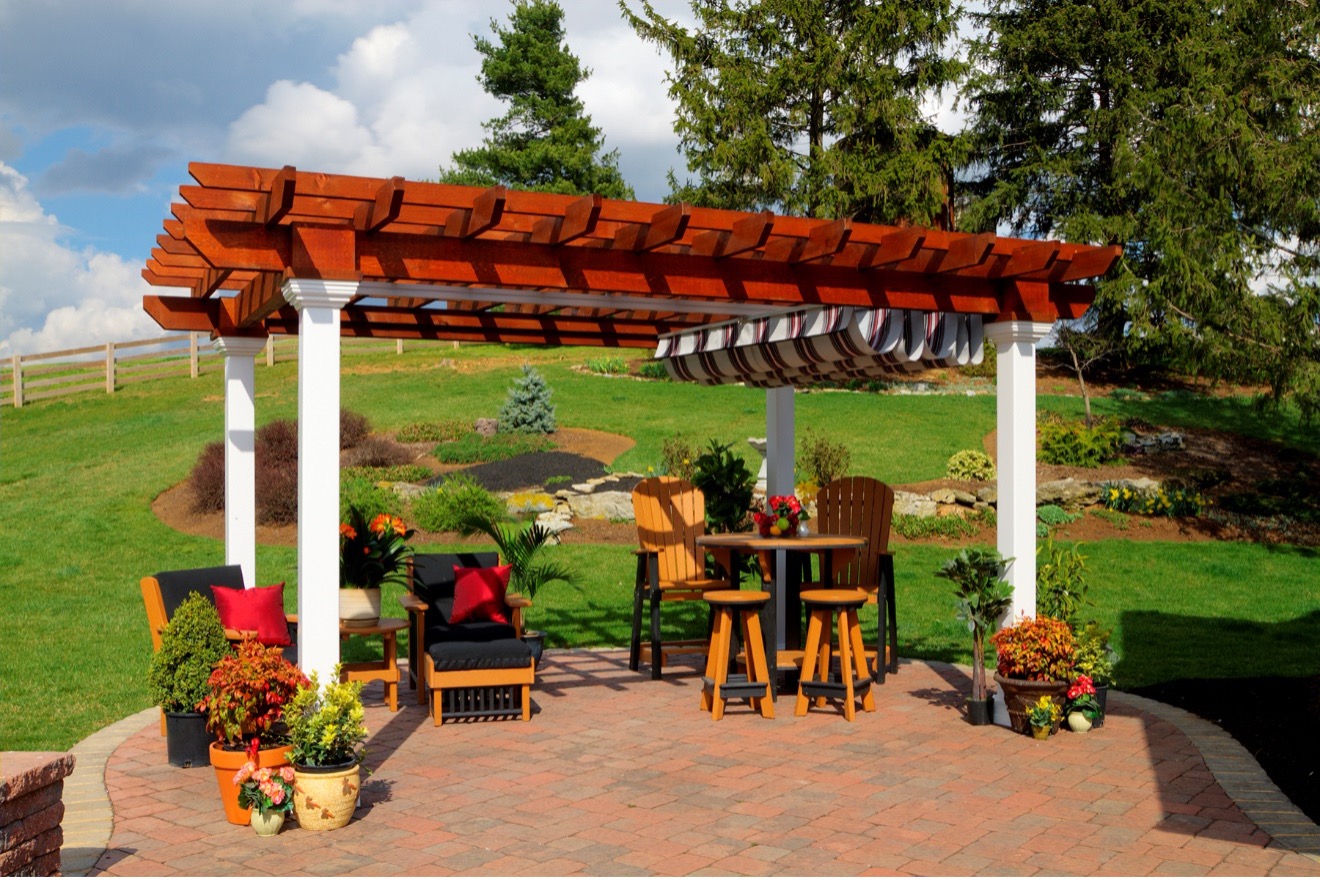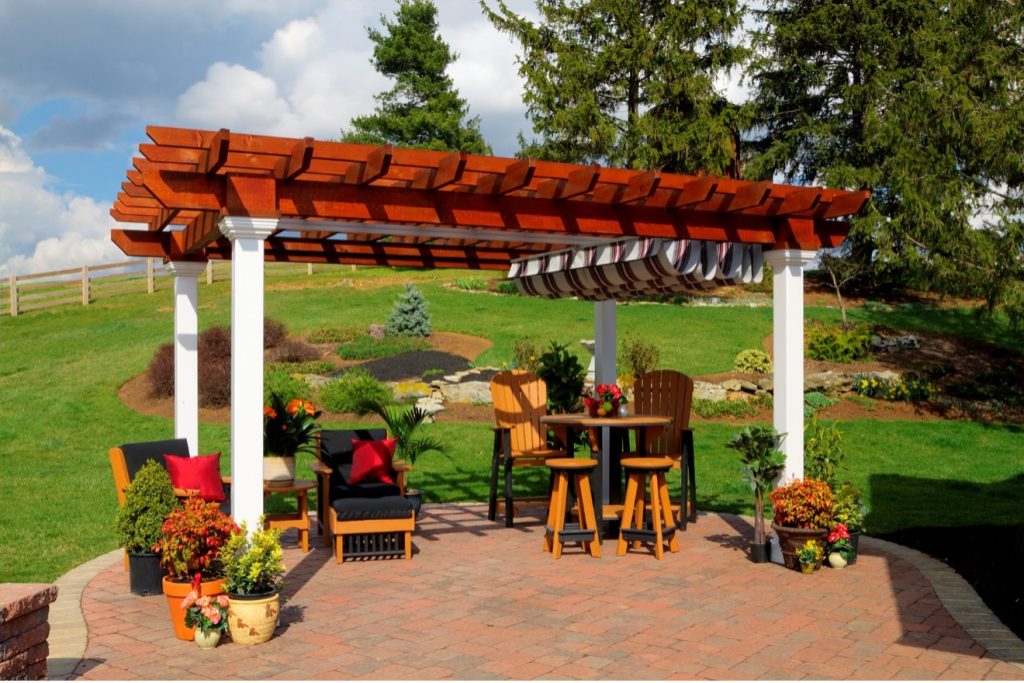 Cost effective
Myriad of options regarding size and shape
Can be built adjacent to existing structures for ease of access
Offers benefit of 'green' living with climbing vines and scented plants
Can be easily combined with pavilion to extend covered space
Easy to keep clean
Minimal site preparation needed
Pergola Cons
Offers some shade but no protection from rain
Limited options on roof style
EZ Shade or some other blind or shade curtain may be needed to defray sun glare on sides
No protection from pesky bugs – may encourage nesting of wasps/hornets or other unwanted visitors
No protection from wind
Must be permanently sited
Lack of privacy
Pavilion Pros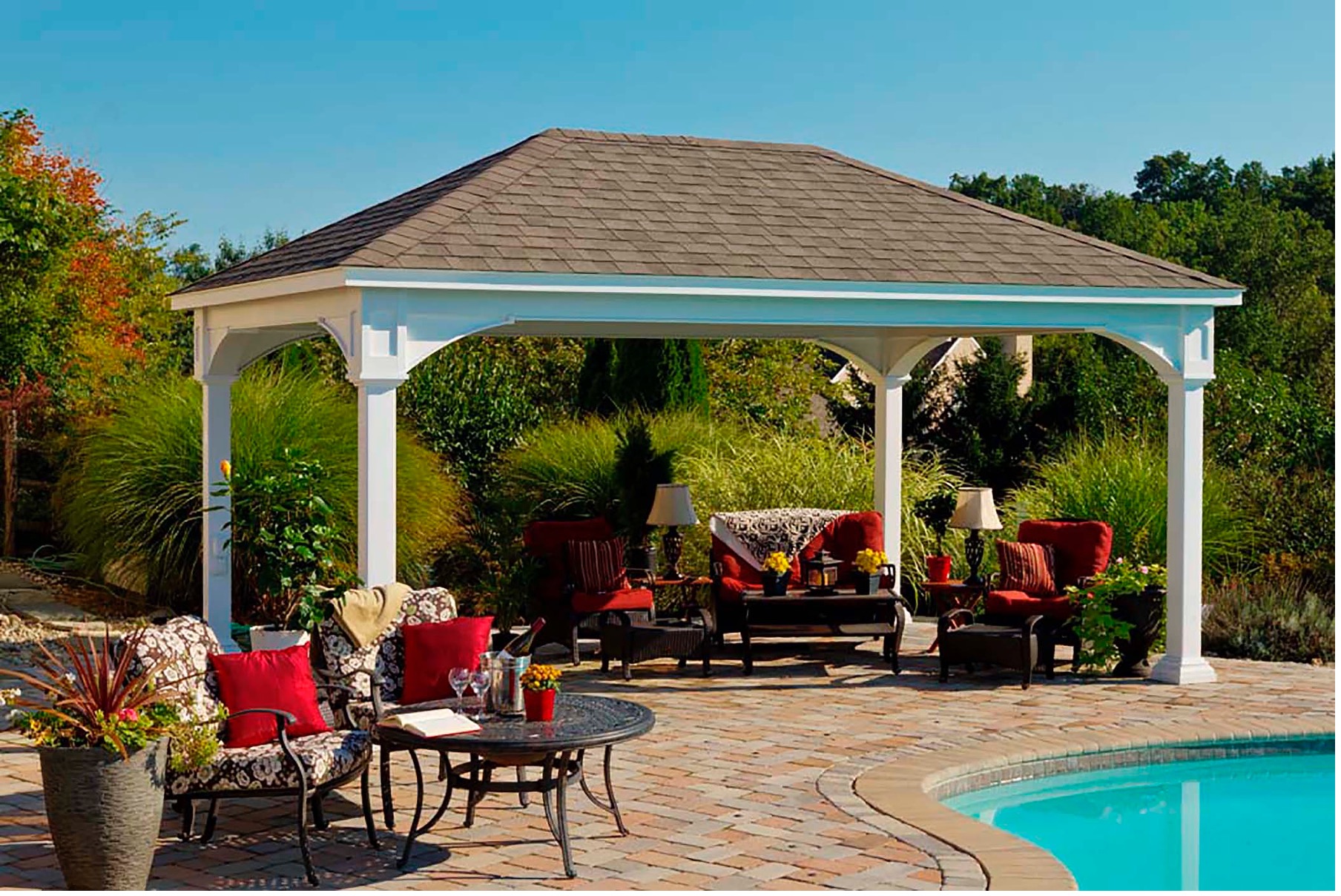 Large choice of styles, sizes and roof shapes available
Superior protection from rain and sun, but not from wind.
Easy to add cooking fixtures/TVs/hot tubs under cover and easy to clean
Sides can be sealed with overhead style doors for all season weather protection and security of contents
Supports multiple size gatherings and pergolas can easily be added to each side for more space
Effective extension of living space when placed adjacent to existing building's entry points
Pavilion Cons
Requires permanent siting
May require shades or blinds to protect interior from sun glare or driving rain
No protection from flying bugs or nesting insects
Generally considered a more expensive option than its counterparts
Requires careful choice of location in areas where high winds are common and/or additional engineered securing of rafters/roof to supporting members.
Lack of privacy
Ask A Professional
There are so many variables in the world of outdoor living structures that affect the price. It is wise to resource a professional company that offers a complete selection of all types of structures in a myriad of materials. Don't be tempted to just buy something you see down the road. It pays dividends to explore all your options and if buying multiple structures a discount is often available.
Here are some of the important factors that Horizon Structures offers:
High quality builds that utilize first class materials and offer a huge variety of options
Clear 'to the penny' written quote (not estimate), that includes set up (if not a kit) and delivery
Clearly written, easy to understand contracts with reasonable deposit requirements
A specific timeline for delivery
Informative website that is interactive and quickly provides options
Friendly customer service that addresses your concerns and offers solutions
No 3rd party delivery services/set up. Work with a professional entity that has 'hands-on' product knowledge and will both deliver and assemble on site.
5 year manufacturer's warranty
Good references and unedited/tamed reviews
Financing options
Remember it is not always the cheapest initial price you find that should dictate the decision-making process. A good quality product that is properly installed will offer better longevity, lower maintenance expenses and more enjoyment than a poorly constructed or conceived structure.