There is a reason that dogs are often cited as being "man's best friend". They protect us, keep us company, help us with our tasks, and show us endless love and support. With what they do for us, we must do everything we can to make their life better. One way to do this is by providing them with a dog kennel that fits their needs. Luckily, Horizon Structures' prefab and modular dog kennels provide an exceptional space for working dogs, and all dogs alike, to enjoy life comfortably. Here are some reasons why dogs that work need a dog kennel.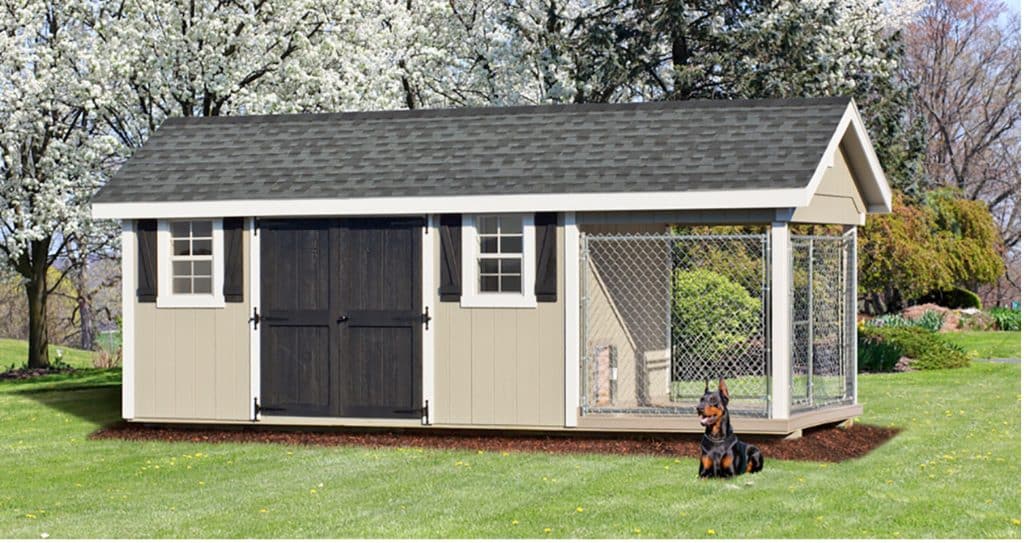 Working Dog Overview
According to the Merriam Webster Dictionary, a working dog is "a dog suitable by size, breeding, or training for useful work (such as draft or herding) especially as distinguished from one primarily for pet, show, or sporting use." Working dogs tend to be very helpful to farmers, as they can herd sheep or pull small wagons and farming equipment. Furthermore, they are different from pet dogs because they are used for work, as well as companionship. Similarly to how dog kennels benefit show dogs, dog kennels are also necessary for working dogs.
Protection
One of the biggest perks dog kennels provide to working dogs is that they offer substantial protection. Dog kennels provide a spacious environment for your dog, both indoors and outdoors. They prevent your dog from running away or letting any potentially dangerous animal in because they are closed off. As a dog owner, you want to do everything you can to make sure your dog is well protected, so a dog kennel will give you peace of mind. Not to mention dog kennels tend to be more cost effective than fences, so your wallet will have peace of mind too.
Although having a custom dog kennel is great for keeping your furry-friend safe, you might want to also look into getting pet insurance for your dog that works, especially if they perform labor intensive duties outside of the kennel. Pet insurance will allow your dog to get the best protection available, if they get sick or injured. Of course, it will also prevent your wallet from getting badly hurt in the process. Ask yourself, "is getting pet insurance worth it" so your pet and wallet can stay protected!
Privacy
Like supreme protection, our dog kennels offer your work dog some much needed privacy. After a long day's work, there is nothing more a working dog wants than to have some privacy. A dog kennel allows working dogs to have their own spacious quarters, in which they can unwind. Afterall, the last thing your working dog wants is to be cooped up in a crate for the night. They can enjoy their alone time in the outdoors where they can enjoy the sunset, or in the comfort of their own closed room where they can unwind in some shade.
Training Space
Whether you have a working dog or any kind of dog, kennels provide a great space to correctly train your dog. If you wish to bring your working dog into your home, then your kennel is a great place to potty train them. Moreover, when you teach your dog new tricks or commands, it's essential to do so in a calm, welcoming, and spacious atmosphere. This will help your dog concentrate, while having minimum distractions around them. Ideally, you want your dog to learn new commands in their kennel at first. Once they begin to master new commands, then take them to noisier and more distracting places to really test them.
Consistency
Work dogs are animals of habit. They thrive when they have schedules and routines that they follow. Providing your working dog with a kennel designed for their needs will allow them to always have a place to go and call their own. Ideally, you should plan a schedule for your work dog that includes work, fun time, and down time. Having a place to go every day for some down time will allow your dog to not get overworked and to have some consistency.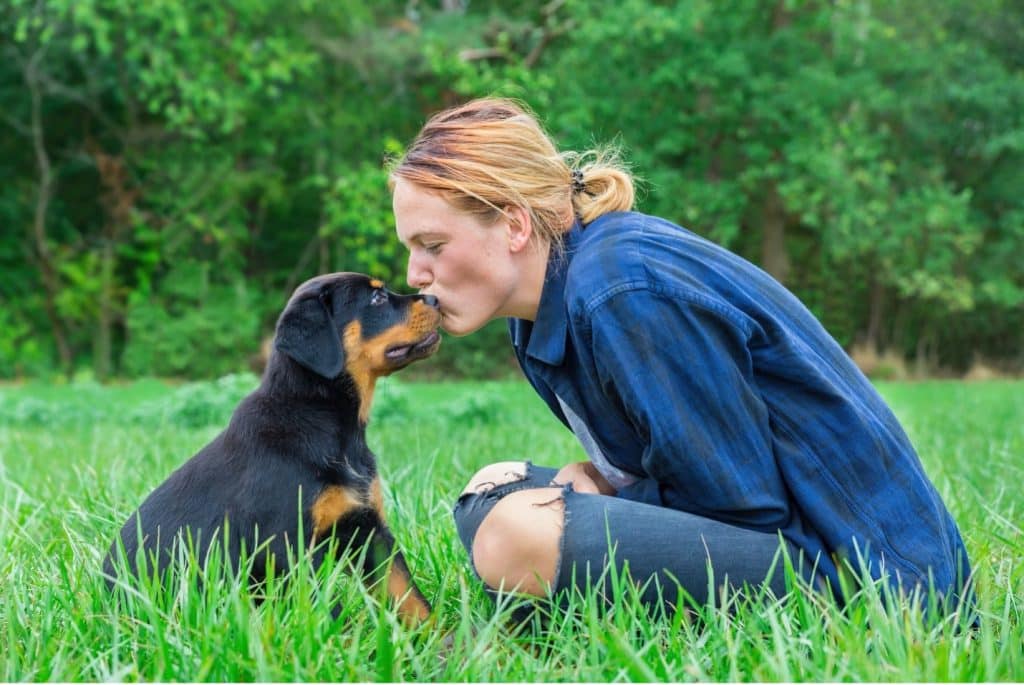 Increased Mental and Physical Stimulation
The importance of dog stimulation has grown in recent years. Thankfully, dog kennels can support mental and physical stimulation for your four-legged companion.
Your dog can gain increased mental stimulation by spending time outside in their kennel and observing nature. Your dog will get to take in new scents, noises, and animals in an intimate way. Spending time outdoors relaxing and experiencing new occurrences is one of the best ways to care for your dog's mental health.
On the other hand, all dogs need physical stimulation in their life. A dog kennel will allow your four-legged friend to have enough room to play with their toys without damaging items in your home. If your kennel is large enough and you do not have a big yard, then your dog will be able to run around in their kennel to get some energy out. However, you should always make sure your dog gets plenty of exercise outside of their kennel too.
Exercise
If there is one thing all dogs love, it's running around and playing. We all know how dogs get the occasional zoomies. Luckily, dog kennels, like our 8×14 Kennel will allow your pet to have some space to exercise in.
Although dog kennels tend to be very spacious and help facilitate exercise, it's important to make sure your dog gets exercise outside of their kennel. A great way to do this is to take them to the dog park or on adventures. You might even wish to include your dog on hiking trips, runs, or camping. Make sure your furry-friend gets around 45-60 minutes of exercise a day to keep them happy and healthy.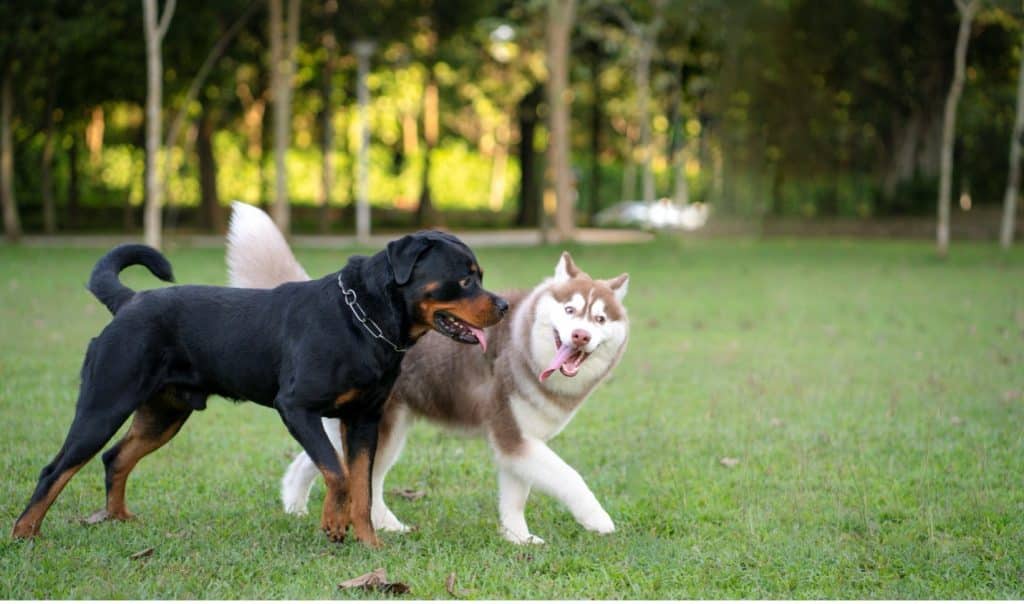 Final Thoughts
It doesn't matter if you have a pet dog, show dog, or a dog that works because regardless, they are a member of your family. Treat them as such by providing them with a dog kennel that will best suit their needs and that will show your appreciation towards them.
If you have any questions or suggestions, we're here to help. Feel free to contact us for customizable kennel solutions that can keep your working dogs ready to give each day their all!