As the seasons rotate and weather changes there is no reason that your canine can't enjoy the benefits of the kennel all year long. That is if your dog's abode is properly constructed and designed and not a plastic igloo or hastily thrown together wooden box sitting on a bed of gravel.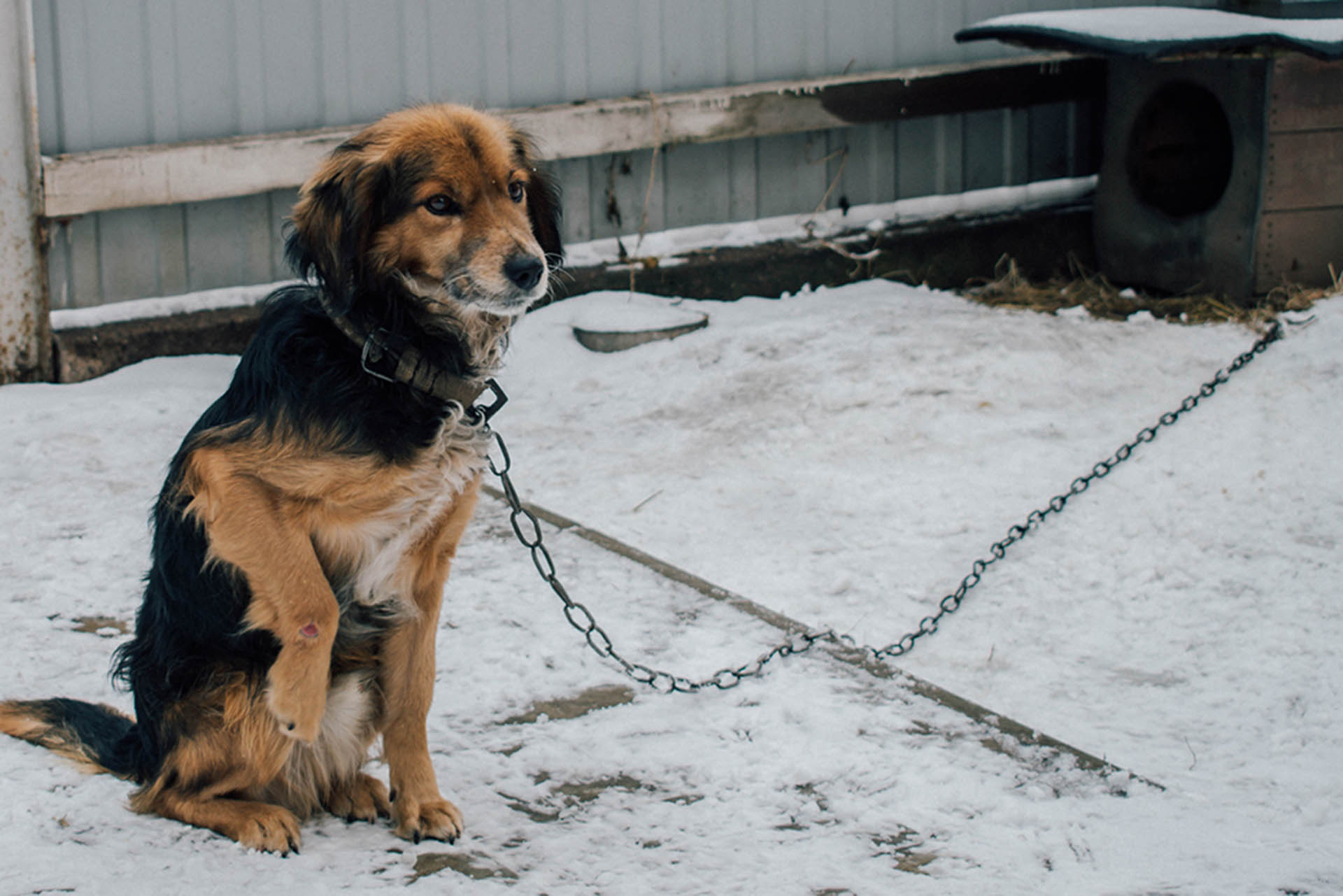 Every season brings its unique challenges. A properly built kennel addresses these issues in the design stage – before the kennel is even built. Great craftsmanship and top-quality dog-friendly materials built in from the ground up guarantee your dog's comfort and safety regardless of where you live or what Mother Nature is doing at any given moment.
No matter what your regional climate, a kennel should address all the major criteria to ensure the perfect environment for your dog or canines in your care or business.
Here are some features – included in all Horizon Structures all season dog kennels – you can count on to address these elements and ensure your hounds will be happy all year around.
Base is Basic
If you place a kennel directly on the ground it is inevitable that moisture will seep into the structure causing mold and mildew in addition to creating a damp and unhealthy environment. Eventually, the building will succumb to the damaging effects.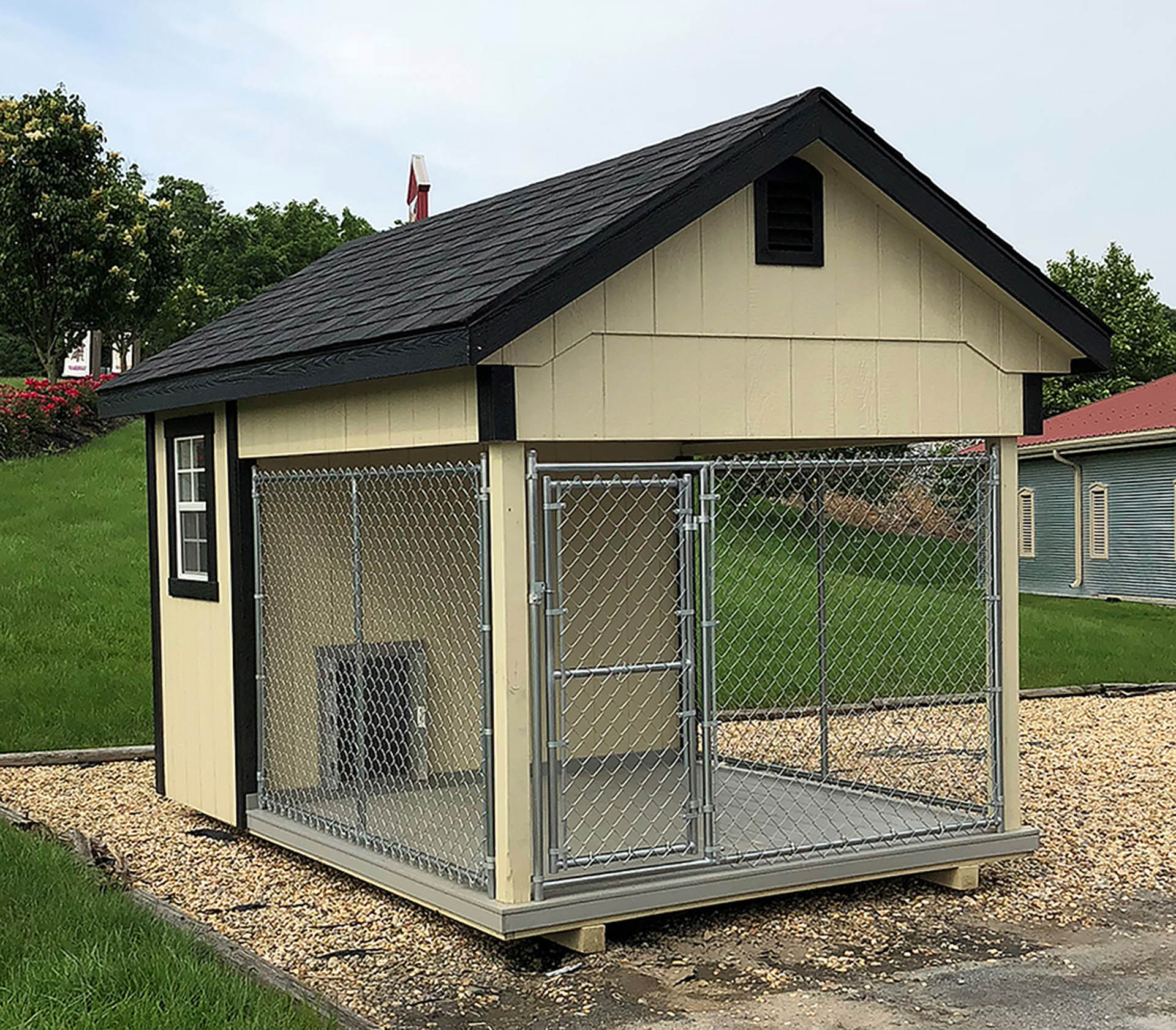 Horizon Structures kennels are built on pressure-treated 4×4's foundation runners. The floor above has been carefully engineered to take the weight of humans, dogs, and all your possible equipment and supplies with their 16" on center spacing.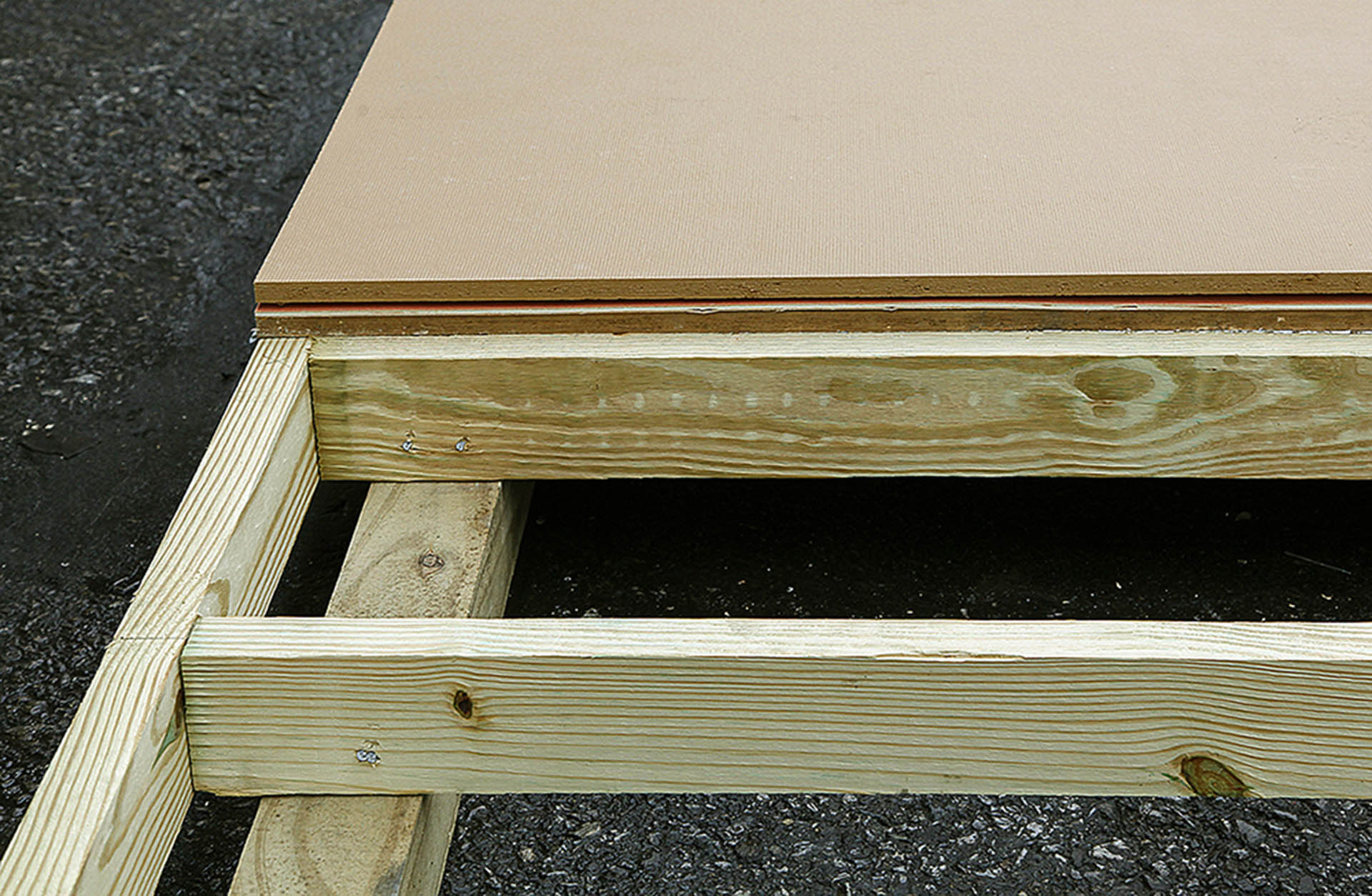 An added bonus of keeping your weather proof dog house off the ground is that it deters fleas.
On top of this base, the Smartfloor® flooring is vermin and moisture resistant. We add a seamless polyurea coating (over the Smartfloor®) that provides the perfect barrier to any outside water or dampness. Polyurea is resistant to dog abuse and makes the entire surface easy to clean*.
*NOTE: we recommend Simple Green D-pro-5 for the best cleaning result for our polyurea kennel floors. It does a brilliant job of clean up when it comes to your least favorite chore of the day.
Polyurea is nontoxic and slip resistant. Its waterproof rubberized plastic surface can stretch and 'self-heal' small areas of damage and is corrosion and it's abrasion resistant, too.
If you opt to have us to install a drainage system in your kennel, know that it is completely self-contained and NOT open to the ground below. This greatly reduces or eliminates cold air, moisture and drafts from entering the kennel.
We place the drains at the end of the interior dog box, just in front of the door, rather than the center of the kennel space. This ensures easier clean up and maximizes clear floor space. There is no drain in the middle of the floor / underneath the dog when it lays down.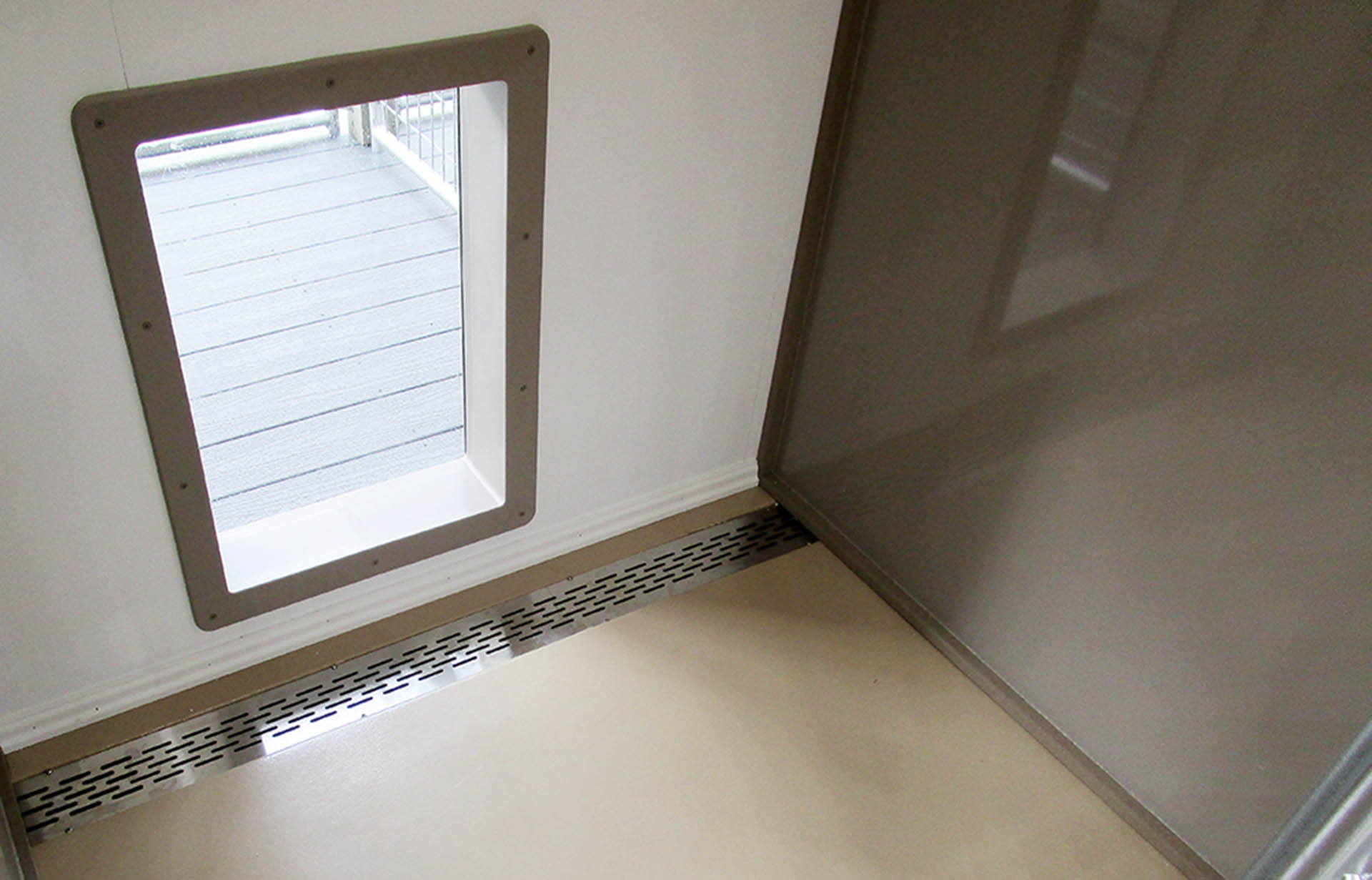 The floors and walls are insulated to provide maximum comfort for your dog in both hot and cold weather. The R-7 spray foam insulation under the floor adds yet another level of protection against mold and moisture with an air-tight and water-tight barrier.    Radiant heat can be added for additional warmth and is especially useful for whelping or for older or ill animals such as rescue cases.
Walls and Windows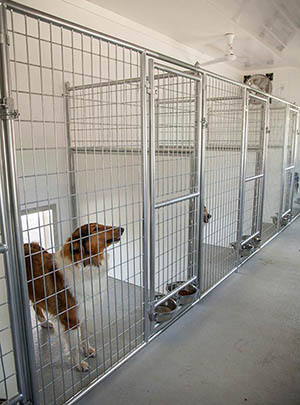 The interior walls are covered with bright white paneled surfaces for easy washdown whatever the weather. Glasbord® is used on the smaller kennels and TrusscoreTM is used on the larger, commercial kennels. Light colors keep the interior airy and reflective.
R-13 batten insulation, behind the Glasbord® or TrusscoreTM paneling in the walls AND ceiling, further insulates the kennel structure.
Windows with screens offer additional ventilation and remove humidity that can arise in both hot and cold weather from the animals inside the building.
Gable vents and extractor fans add additional air circulation.
The dog doors between the interior box and the outdoor run not only enable your dog access to fresh air, they can also be kept open during warmer weather to encourage better airflow.
As Comfortable as Your Home
We offer MANY options and upgrades to further ensure your canines' comfort through all the seasons…
Heat
Air Conditioning
Fans – Several different types
Hose port for running water
Hot water heater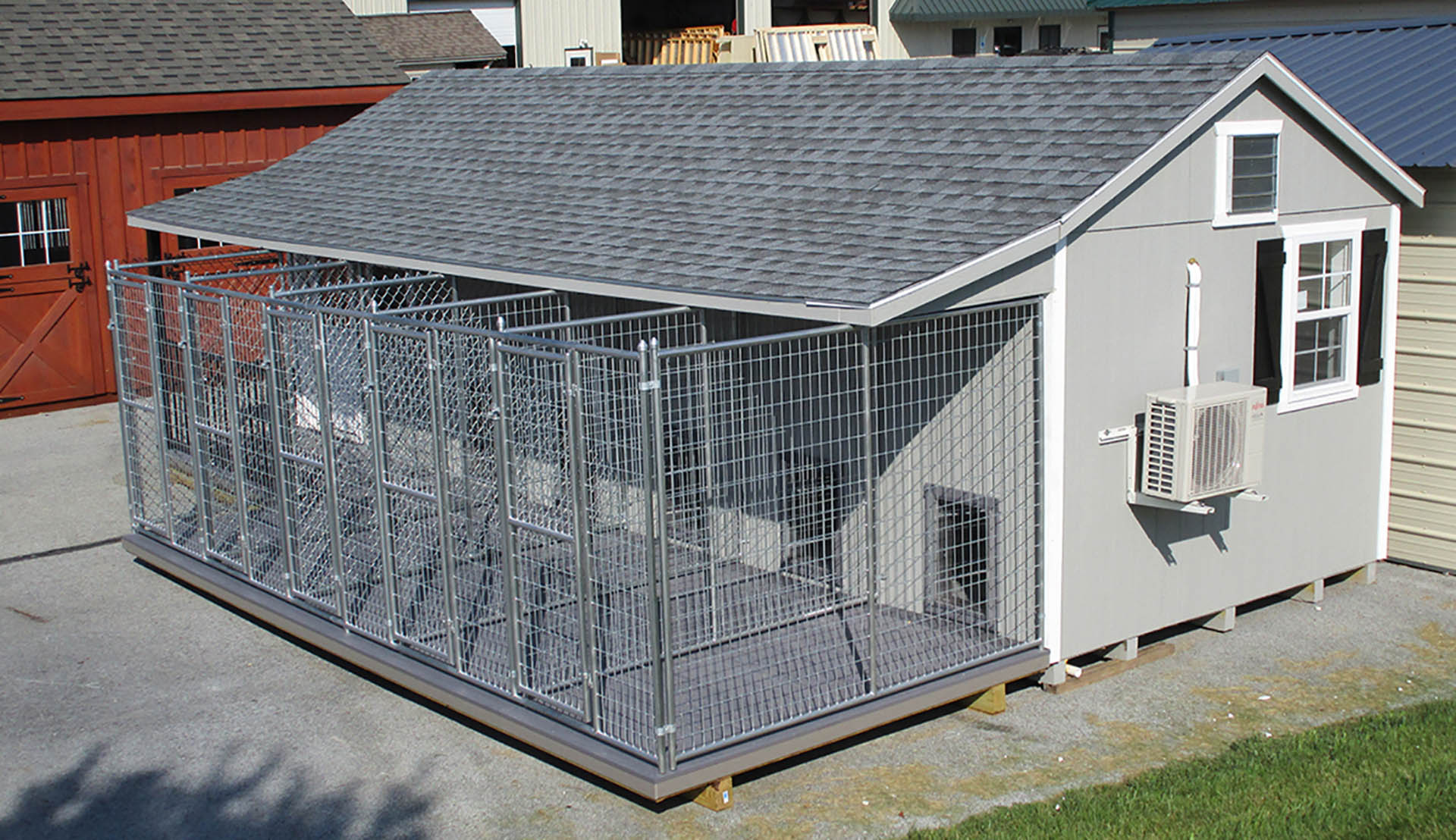 Roofing, Siding and Structural Soundness
Our engineers design all the kennels with the right roof for most any weather.
110 mph wind rating
30 psi snow load
30-Year architectural shingles are standard on all kennels. The insulating properties of shingles helps keep the kennel cooler in summer and warmer in winter.
However, you may wish to upgrade to a metal roof. Snow will slide easily off a metal roof and may be advantageous if you live in an area of high snowfall.
Either way, we carry a wide range of color choices to complement your home or other existing structures on your property.
Siding choices run the gamut. Wood structures are always cooler in summer and offer more natural insulation in winter. We offer 2 standard wood siding choices: pine board and batten or LP Smartside®. Paint or stain is included at no charge with many colors to pick from.
Exterior Materials Matter, too…
Every Horizon Structures kennel comes with an attached dog run that allows for freedom of movement… your canine can come and go as he pleases. Many of us think that dogs don't like cold weather but in fact there are a number of breeds that prefer to be outside no matter how frigid it seems to us. The roof over the dog run ensures shade and protection from the elements at all times.
Our covered dog runs are built right into the prefab kennel structure. That means you don't have to worry about setting up a hard-to-clean gravel run that may be prone to messy puddles and ice or snow accumulation and encourage dogs to dig.
Pouring a concrete slab for the run is off the 'to do' kennel setup list as well. Our exterior dog run flooring is made of solid composite decking. It's easy to clean as water drains through the spaces between the boards. And, it will never buckle or crack like concrete.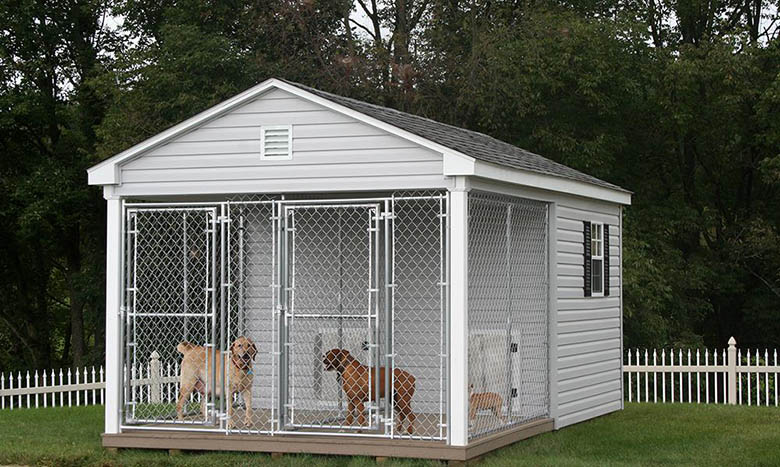 Your dog can enjoy year-round living in his Horizon Structures kennel while you rest easy knowing he's comfortable, safe and protected regardless of the weather.
As Horizon Structures Project Manager, Merv King attests based on his own experience:
"We have two dogs at home, and they have no problem staying in an outside kennel with a big run area. They will stay outside even in cold weather during the day and have a very cozy kennel area for when rain and snow blows."
Even if your dog lives in the house with you most of the time, a kennel can be particularly useful when friends and family bring their animal companions to your home… especially during the holidays. A kennel provides the perfect sanctuary when pets need a quiet retreat from an overload of attention or the hustle and bustle of boisterous holiday activities and/or unfamiliar people in the house.
From top to bottom and everywhere in between, a Horizon Structures pre-built kennel is the perfect accommodation for your pet, show or working dog and nearly as comfortable as your home. 24/7… 365 'all season' days a year.