When professional AKC registered all breed dog handler and long time Manchester Terrier breeder Valerie Stanert moved her show dog business Enchante' from Las Vegas, NV to Sequim, WA, she knew her opportunity to make the new seven acre property a professional's dream kennel complex had arrived.
Stanert has been showing dogs for as long as she can remember. Her drive to excel in the show dog world kicked into high gear when she received her graduate degree from the University of Nevada in Las Vegas with the intention of becoming a full professor and becoming an instructor to others with the same passion for dogs and their breeding, training and showing.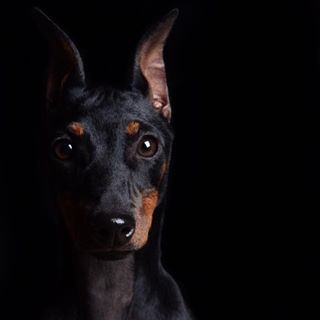 15 years ago Stanert determined to open her own kennel operation and modified her home in Las Vegas to accommodate the needs of her growing businesses and quit her job to give her full attention to developing Enchante' Manchester Terriers and Professional Show Dog Services.
"It wasn't perfect. When people came to look at puppies or bring their dogs for obedience training they had to walk through my home, past my dogs and into the kennels subjecting my own dogs to unnecessary foot traffic. This would be difficult if I had one of my dogs in heat or for my older dogs that had not been recently vaccinated due to their age. Over the years I added to the building, but it was never ideal. When my husband and I bought our property in Washington State in March 2018, I knew I had the clean slate I had always wanted to build a fully functional kennel complex. I'm now 55 years old and it was time. I knew what design mistakes I had made before and was not going to repeat them." said Stanert.
Learn More About Horizon Structures Commercial Kennels
Stanert developed a plan for the property which included kennels for whelping and breeding stock, kennels for her own dogs and a separate kennel complex for visiting canines that arrive for professional obedience training and showing. Additionally storage buildings in the form of run-in sheds, and a chicken coop were included.
"I searched and called everyone I could find to check out buildings available. We closed on the property in March and I needed to move my animals in right away. By May I wanted everything in place," stated Stanert.
"When I found Horizon Structures I knew I had found the perfect partner for my big project. Their staff member Mindy, was part of the reason I went with them. She was so kind and so patient with me. They planned everything and were constantly attentive and she never showed any weariness with my constant mind changes to the designs. It was a complicated big project. Mindy explained all sorts of options for customization that I had not considered and worked with me to find solutions and make possible all the facets in the buildings that I wanted and everything was so well organized by Horizon Structures. When you've done something for a while like I have you know exactly what you want and they worked with me every step of the way."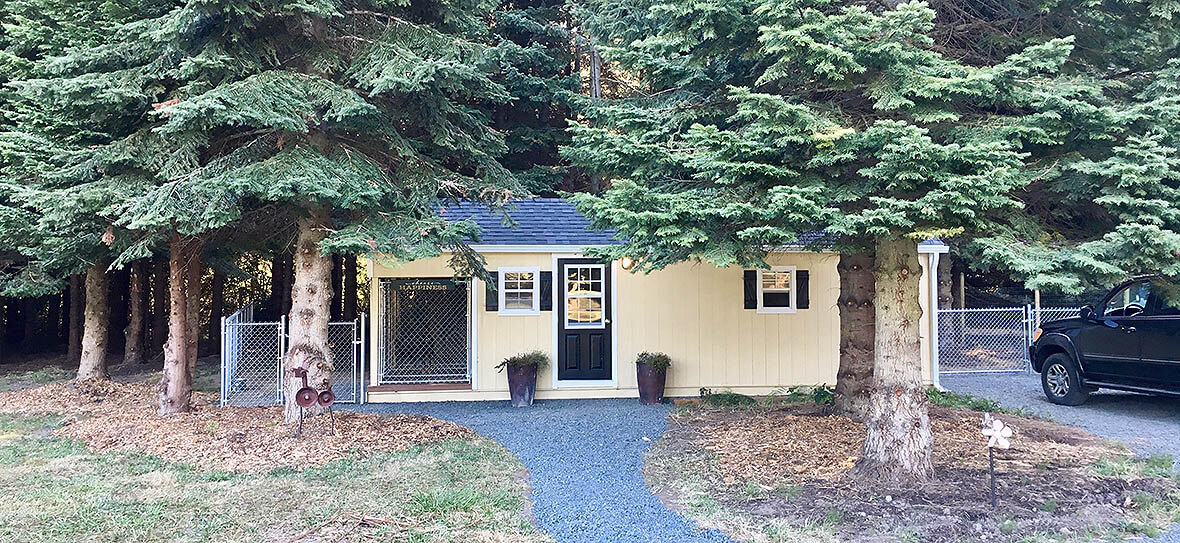 The first delivery was of two buildings. A kennel and a coop arrived on the same truck.
"When the buildings arrived it was a miracle to watch the driver Thomas, unload and site the two buildings on the readied concrete pads all by himself. He arrived at 7:30 am and by noon he was gone and the buildings were ready to use. He fixed the cupola and a couple of shingles that has come off during transit across country, he touched up the paint where needed. The mule machine placed the buildings exactly where they were to go and it was the least stressful thing I have experienced. Instant buildings! My chickens live in the Taj Mahal of chicken coops now," said Stanert.
The template for the kennel design took Stanert some effort to construct. She began with a Google screen shot of the property and then mapped out the buildings to scale, placing them here and there taking into account the angle of the sun, walking paths and distance between buildings to minimize the walking back and forth between chores to facilitate more time being available to do what she loves, training dogs.
Take a Virtual Tour of a Horizon Structures Kennel
"There is no substitute for putting together a template," explained Stanert. " I made changes along the way and was flexible. I have tweaked everything along the way."
The next delivery from Horizon Structures was a set of 3 more buildings for the kennel complex.
"Mindy and I worked on the design so that I had the maximum space inside the structure to accommodate two larger kennels for my Dobermans. I wanted two larger space kennels divided by a door with outside access, so that I could use them for bitches in season and for whelping. I wanted a large feed room in a central area between the buildings, where I could have a workroom with a sink and toilet and a grooming area. After the buildings arrived I added the bathroom and the cabinets and countertops using a local builder, but all the components for connection were in place on arrival which saved time and money."
There were challenges to overcome concerning the permits required by the town ordinances for buildings over 4000 square feet with water/electric and living spaces.
"Horizon Structures really shined especially when it came to beefing up the plans and structures for the town permits to meet seismic and hurricane safe building requirements. The floor joists and insulation were beefed up and they provided engineered drawings and a letter certifying the plans and inspection of the final construction from the engineer to satisfy the town requirements and permit. Horizon Structures made everything so easy."
Request Kennel Price List & Buyer's Guide
The complex boasts 4 paddocks that are centered around a courtyard so that the dogs can socialize and see other dogs without being intimated by their neighbors. Intact dogs can be kept safely separated from the females without being teased by their proximity but within view so that they are not alone.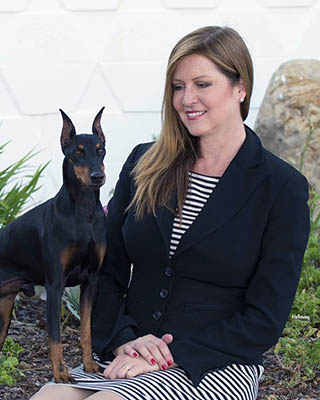 "It is important that people can come and visit and train with me in the courtyard and that the dogs can all run and play and socialize safely while they are here," stated Stanert.
With the transport of the buildings across country and the large scale and complexity of the project a few damages occurred and a few mistakes were made.
"When you do something on this scale you have to expect a few hiccups. For example the window on the chicken coop was wrong, and a window on one of the kennels was broken during transit. Horizon Structures responded immediately and when Thomas delivered the second set of buildings he brought new windows and fixed the problems. They were extremely attentive and made good on any issue," explained a delighted Stanert.
When asked if she had any plans to buy more buildings for the already blooming kennel complex at Enchante' Manchester Terriers Stanert responded with a resounding 'Yes!'
"I will certainly be going back to Horizon Structures for my next building which is to be a run-in shed. I had one delivered from Horizon but re-designed it for storage use and I want another one."
With a string of successes breeding and showing Manchester Terriers, including 'Taz" and many more award winning canines, it is certain that Valerie Stanert's talents showcasing and training dogs will be a valuable asset in the Sequim, WA area  and beyond. People across the country bring their dogs to Stanert for show training and showing.
"I train local dogs to help fix behavioral problems, and offer obedience training for all breeds. Though as I am older and want to keep my knees from wearing out I prefer to show and handle dogs under 40 pounds at this point. In the dog show world we say start with a Doberman Pinscher, then as you become an older lady move to Manchester Terriers which are lighter to handle. When you are truly ancient you move on to the Miniature Pinshcers. I love showing dogs and show extensively nationally and in Canada. As my terriers are cropped I cannot show them at Crufts or in Britain and other countries abroad as cropping is not allowed and they are ineligible for entry. At Professional Show Dog Services we offer training for specialties such as obedience and conformation classes. Plus one of my favorites, barn hunts."
If you would like to reach Valerie Stanert to learn more about the Manchester Terriers she has available for stud and sale, or would like to engage her dog handling and show services please visit her Facebook page HERE. Also look for her new website coming soon!