Build the perfect barn for your property. Horizon Structures' modular barns are configured to your specifications, so that you can have the barn of your dreams.
The Savings in Pricing on the Modular Horse Barns is in the Labor...
Think of a simple child's toy… Pre-built shed-row barn sections, configured to YOUR specifications, are used like building blocks to create the barn you've always dreamed of. It's as straightforward as that.
Modular barns cost less than traditional "stick built" barns and take only a few days to put up. Best of all – No one can tell the difference! After our modular barns are delivered, many decide it's the perfect time to add personal riding arenas or even professional outdoor / indoor riding arenas for an even greater experience!
When buying Modular barns, 90% of the construction is done before it even gets to your property.
The modular prefab horse barn sections are built in a Horizon Structures workshop, assembly line style, ensuring consistent quality and standards of workmanship.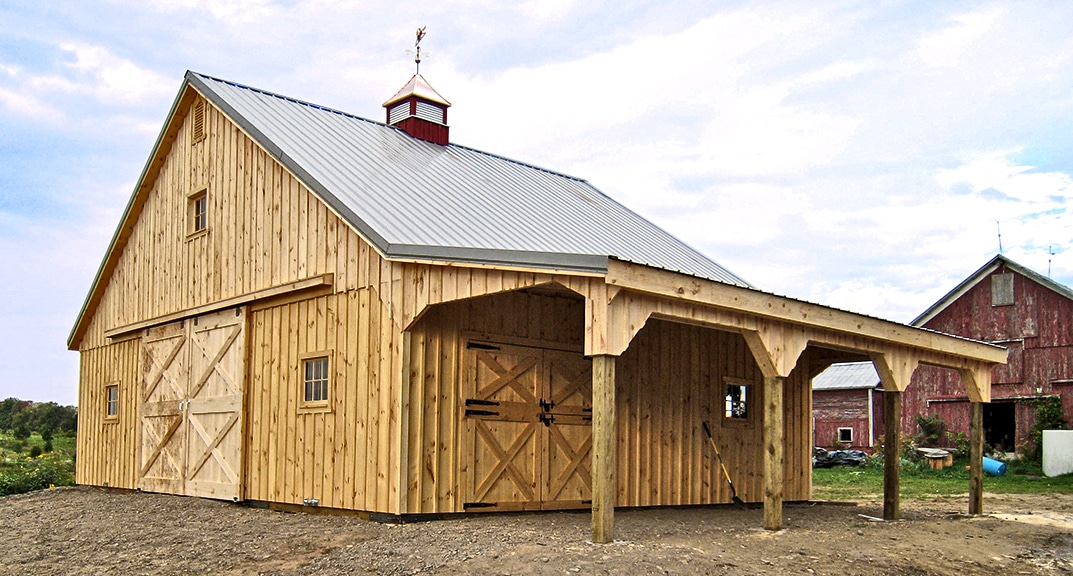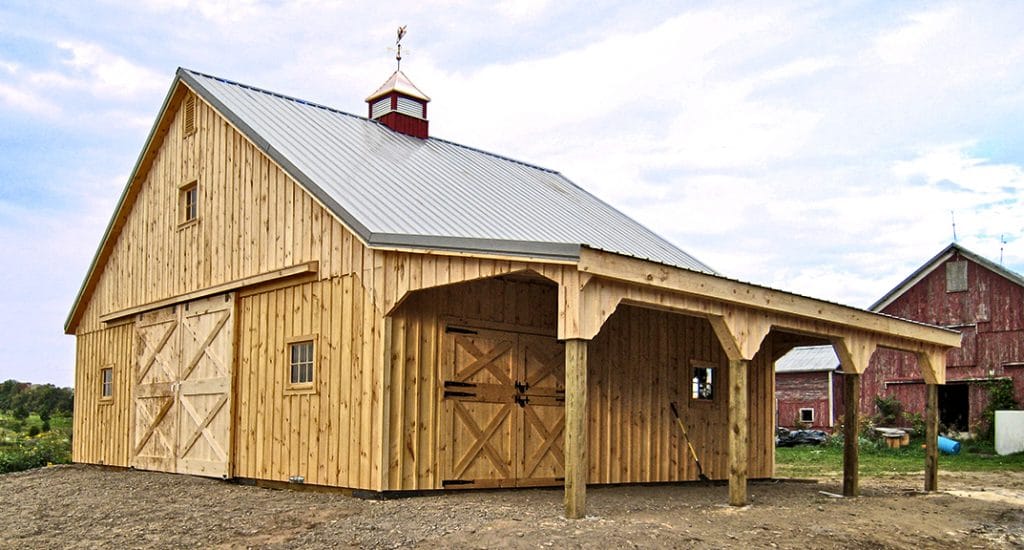 We think you'll be surprised to learn just how easy & affordable a modular barn may be. Click Here to learn more
Horizon's Modular prefabricated barns are available with several different roof styles.
Modular center aisle barns have a number of distinct advantages over having a similar barn "stick built" on site. Because all of our barns are constructed by hand in our shops, we can assure our customers of consistent quality and workmanship on every single barn we build.
Whenever you have to bring a crew, tools, materials, etc. to a job site you're not able to do things as efficiently, quickly or cost effectively. Furthermore, you're at the mercy of Mother Nature. Prolonged stretches of bad weather can delay construction of barns for days or weeks.
When you buy a modular barn from Horizon Structures, your barn arrives at your property in most cases 90% complete. Our crew of 2-4 Amish carpenters can complete the roof, overhang or other finishing touches in less then a week.
You don't need to worry about the little details. Everything has been thought about beforehand and incorporated into the prefab barn kit. Horizon Structures "Barn Packages" – be it for small run-in sheds or large 6-stall center aisle barns – are Complete Packages.
The upgrades, or options, we offer will simply enhance the beauty and convenience of our fully-functioning, ready-to-use barns. These options also allow our barns and sheds to work in perfect harmony with personal riding arenas or even professional outdoor / indoor riding arenas.
Horizon Structures' modular barns include all of the same Standard Features as our regular shed row barns & run-in sheds… Click Here for a complete list.
Our double-wide garages are also available in a pine board and batten siding just like our horse barns!
Call 1-888-44SHEDS and talk to one of our representative for more information and pricing.
That sounds like stating the obvious but, with a Horizon Structures' barns it's absolutely true. All barns come equipped with most everything you need for your horses to live safely and comfortably.
Worried about us getting into your site?
Check out this 36′ x 24′ "Low Profile" being delivered by one of our trucks with side-way wheels, then using the "Mule" to put it into place!
Siding and / or kickboard material may vary depending on locally available materials.
Horizon Structures reserve's the right to substitute white pine siding and / or oak kickboard with materials best suited for optimal performance within your geographic region.
**Cypress siding may be substituted for white pine, in Southern and Western regions, due to its moisture and insect resistant properties.
**Spruce may be substituted for oak kickboard due to local availability.
Most buildings are delivered fully-assembled and ready for same-day use.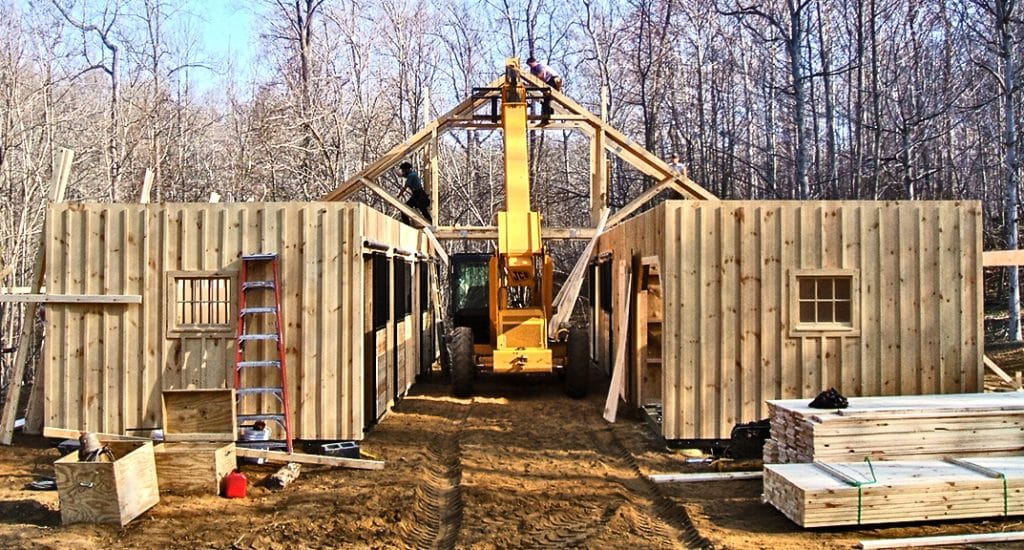 The actual on-site assembly of our prefab horse barns is impressive to watch and efficient. Our small crew – usually 2-4 carpenters – arrives at your site a day or two after the pre-built sections are delivered.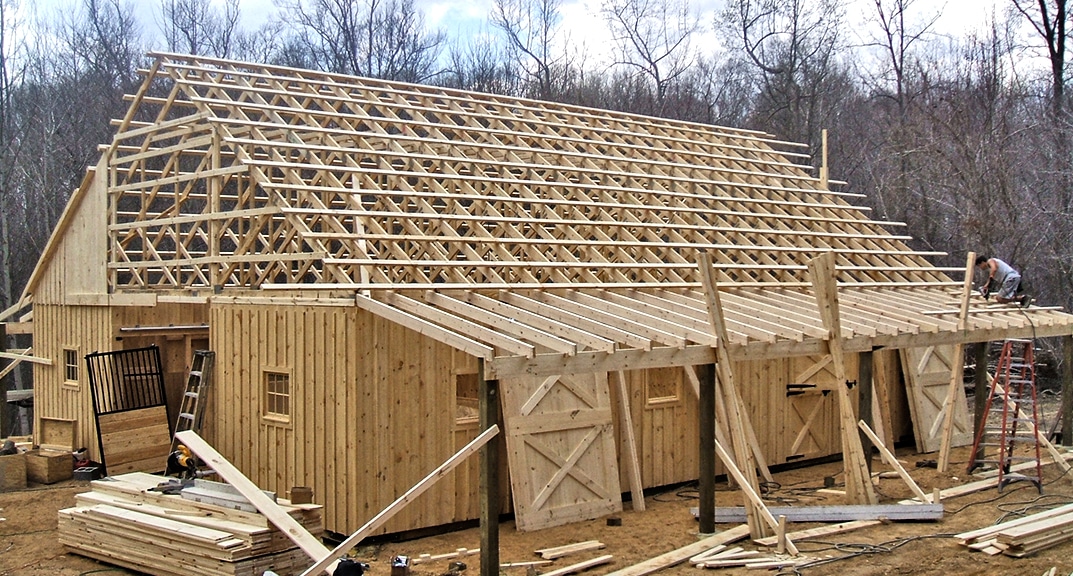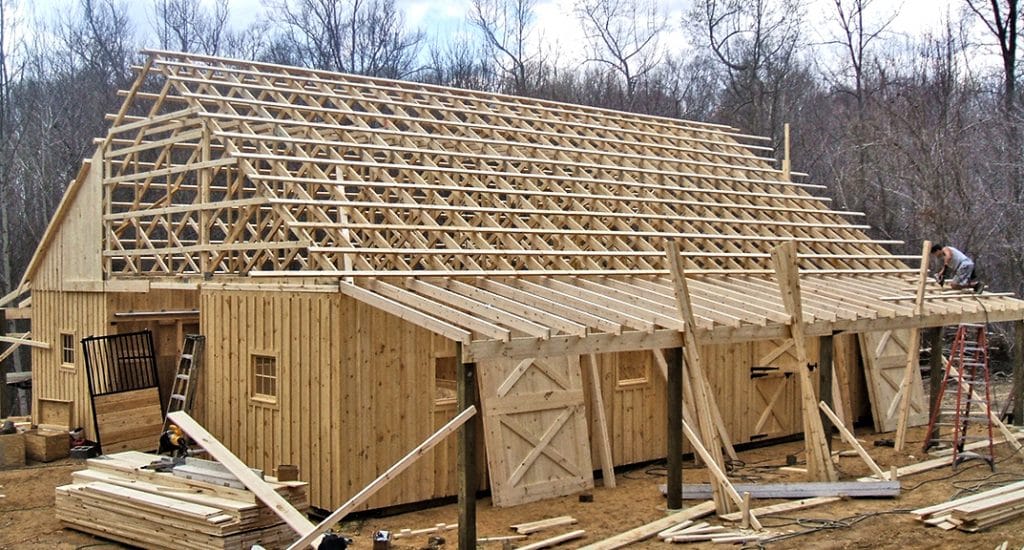 In less than a week, using a forklift or crane, they add the trusses, shingle the roof and complete the finishing touches. Compare this to an 8-10+ man crew working on your property for several weeks building barns from the ground up!
We're proud of the outstanding work ethic of our crew and our customers are impressed as well. Weather permitting, they typically work from dawn to dusk to finish the job. Your modular barn will be finished with the same high quality of workmanship and attention to detail as the prefab horse barn sections.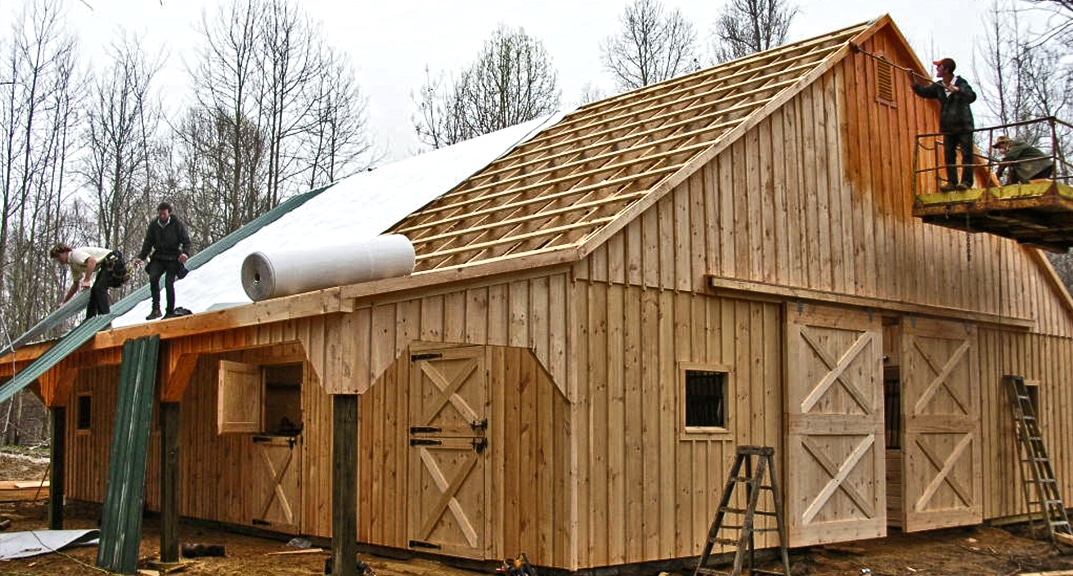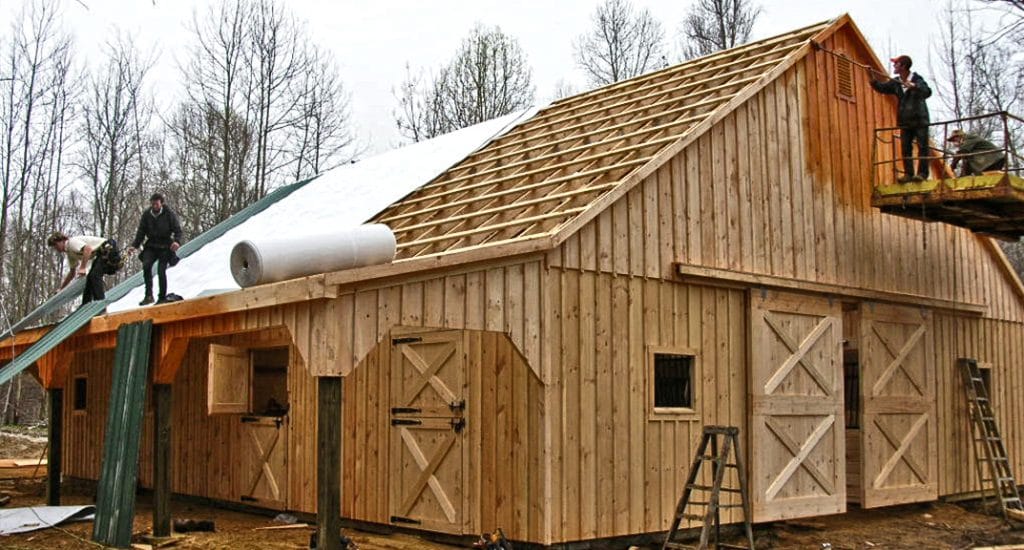 Our carpenters take pride and satisfaction in their work and will leave your property as clean as before they arrived – You'll hardly even know they were there!