Throughout this Covid19 pandemic social media postings from horses owners who proudly announced that isolation and quarantine procedures were nothing new to them were prevalent.
Commercial horse farm owners and managers dread the introduction of transmittable diseases such as Strangles, Equine Influenza, Eastern Equine Encephalitis or the Equine Herpes Virus, which can infect horses at their facilities and shut down their businesses. Bio-security concerns should be a factor in the design and operation of all horse farms.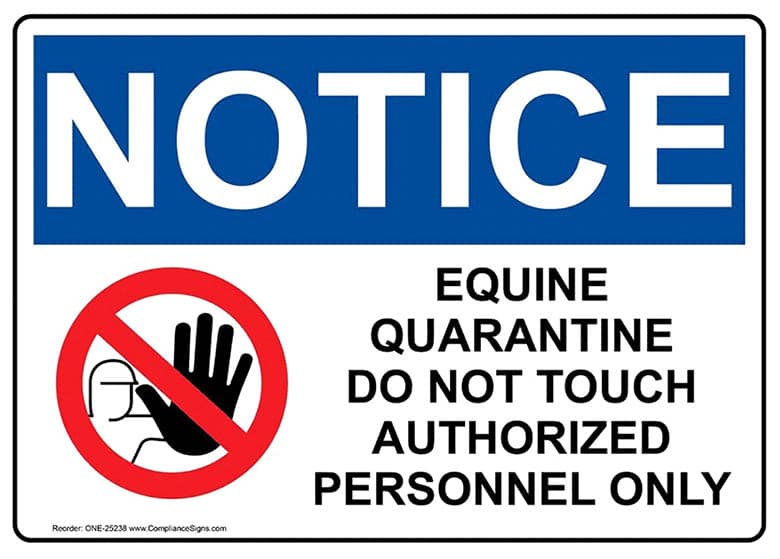 Some folks very wisely take serious measures to prevent such an occurrence.
But, unfortunately, not everyone takes quarantine needs seriously.
Even inadvertently, horse barn owners regularly make poor choices when it comes to vaccination protocols and introductions of new horses to the barn family…
High hoof traffic at the equestrian facility
Clinic participants and lesson visitors bringing their horses on site for training and handling
Competition and breeding horses that travel and can become stressed and easily pick up an infection and bring it home
All pose sincere risk when it comes to the spread of infectious disease. Sadly, disease outbreaks occur more frequently than you might think.
A horse sanctuary that was started in good faith by a neophyte horse person in my neighborhood, bought home horses from a local auction every week without maintaining any 'social distancing' for the newcomer from her existing herd. A bout of Strangles ensued, that caused much distress for horses and humans alike. This was an expensive mistake that could easily have been avoided. Her horse owning neighbors were aghast and upset at her lack of knowledge and the introduction of the disease in their area. Needless to say, a new quarantine horse barn was quickly built for future use once the outbreak was resolved.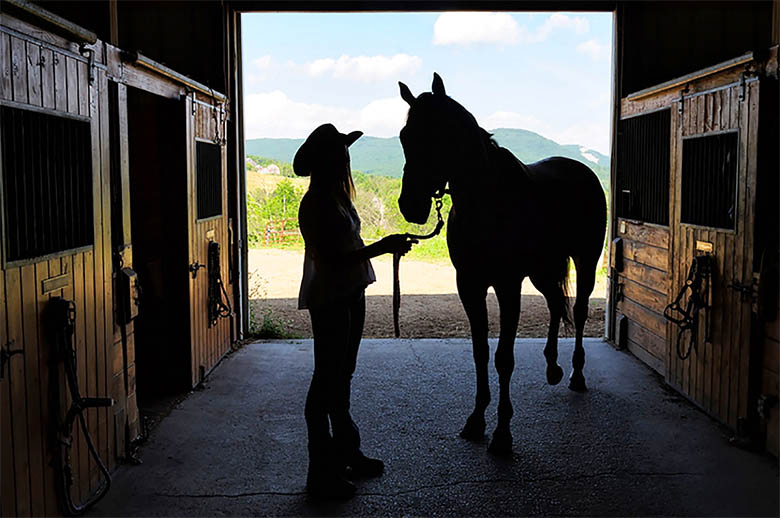 A few years later a major German horse breeding/sales facility that I regularly attended, was hosting one of their many elite auctions when Strangles reared its ugly ahead, and washed through the barn of over 120 horses with abandon.
It is imperative that barn owners realize the need to 'iso' incoming horses and utilize the wide array of vaccinations and fast testing options available in the marketplace. Requirement of full vaccination history and also importantly, diligent review of vaccination records and health certificates, is a must for event organizers but is also imperative for safe barn management.
One of the best ways to address the quarantine issue for an existing horse operation is the provision of an isolation/quarantine barn on site. Located separately to the main barn(s), this structure can provide housing and have its own turn out paddock for incoming equines, and facilitate a 30-day lockdown period to prevent the spread of disease or illness to other horses on the property.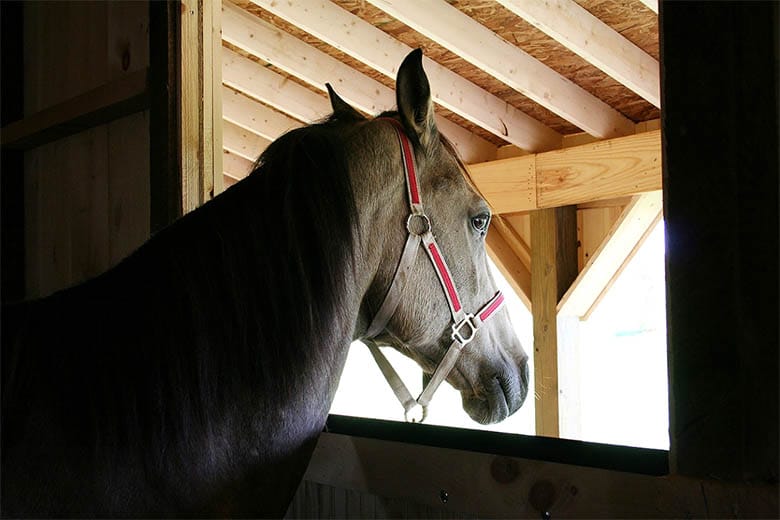 Separate storage of hay/bedding and feed and stall cleaning equipment can be kept on hand for use at the quarantine barn to avoid the chance of cross-contamination between the isolation building and the main barn(s).
The 'quarantine barn' can serve many uses:
A place to relax (while waiting for their ride time) for horses that are trailered onto the property for training/instruction for clinics/shows/lessons.
A separate area for rescue and sales horses to be isolated.
USDA certification for sales barns selling horses for export.  This enables them to provide services as a licensed export facility. Certification entails strict protocols and distance requirements for site selection for the barns and ensures they meet requirements such as vector proof stalls.
Competition horses can have their own barn keeping them separate from breeding stock or other resident horses on the property
Horses already on site can be isolated if it is suspected of they harbor or have symptoms of a disease.
Many of my fellow competitors keep their string of performance horses housed all year round in a designated building that is away from other horses housed on the property. Allocation of pastures is similarly divided between the 'stay home' and 'away' horses. However, even in this situation, another building may be needed to segregate a horse in complete isolation. Infectious diseases are often unwittingly transmitted before a horse shows symptoms that raise the alarm.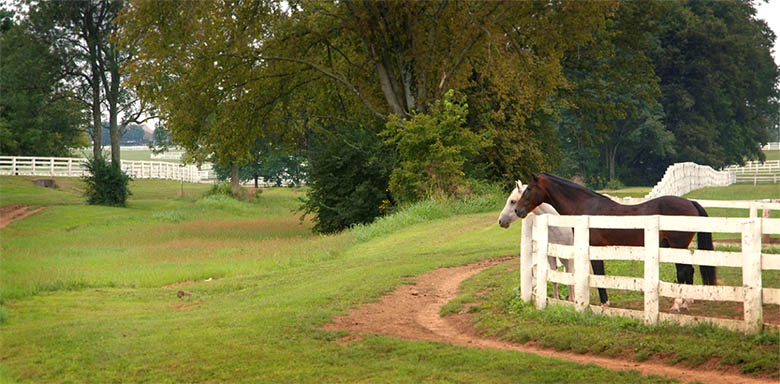 Provision of a quarantine barn for the average farm owner's needs, does not have to be expensive or hard to enact quickly. A modular or prefab structure such as a shedrow or budget-friendly low profile barn can provide the perfect housing to service isolation needs. Many larger modular building companies have discount options of stock on their lot and can provide an almost 'instant' barn on site with no mess or fuss. Ask about their finance options if you need it in a hurry and need help making it happen.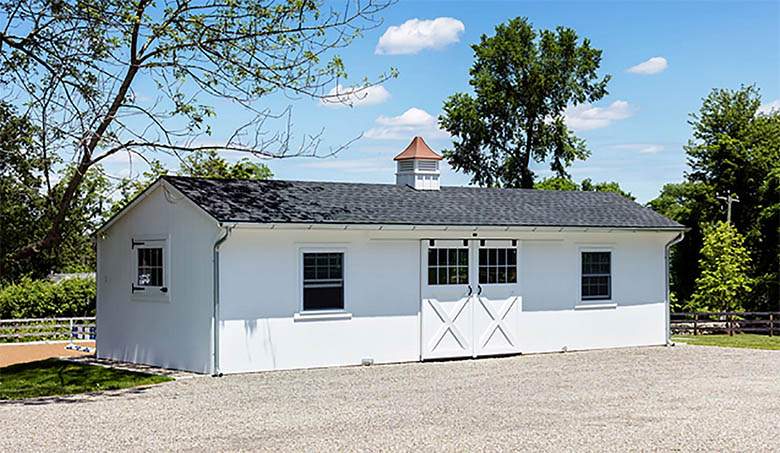 Bear in mind due to the present Covid19 pandemic, many modular construction companies have seen a huge rise in demand for barns as horse owners seek to bring their equines home thus seek housing for that need. If you have plans for an additional barn whether for quarantine needs or to house an overflow of boarders, it's wise to act promptly as it can take 8-10 weeks for delivery from purchase date during busy construction times for custom builds.
Other factors to consider for bio-security in your barn build, is how to keep it sanitized. Interior walls should be coated/sealed so they can be easily power-washed and disinfected with a broad spectrum product that kills both gram negative and gram positive bacteria. Ask your vet for recommendations for the best products that can be used safely and are not toxic to horses.
Stall floors can be matted over a concrete base with drains laid for each stall so that there is no standing water issue and the floor can be hosed clean as needed.
While vector proofing every stall is an onerous ask, and not one most folks can easily afford in barn construction, there are a few extra precautions that can be taken in the barn design to try and mitigate exposure and contact between horses.
Solid dividing stall walls rather than partially grilled walls prevent equine nose-to-nose contact. Similarly, grilled front stalls with full doors prevent horses from sticking their noses out to chat with horses passing in the aisleway. Dutch doors on stalls can allow more fresh air and keep horses happier and healthier as they recover and are no longer infectious.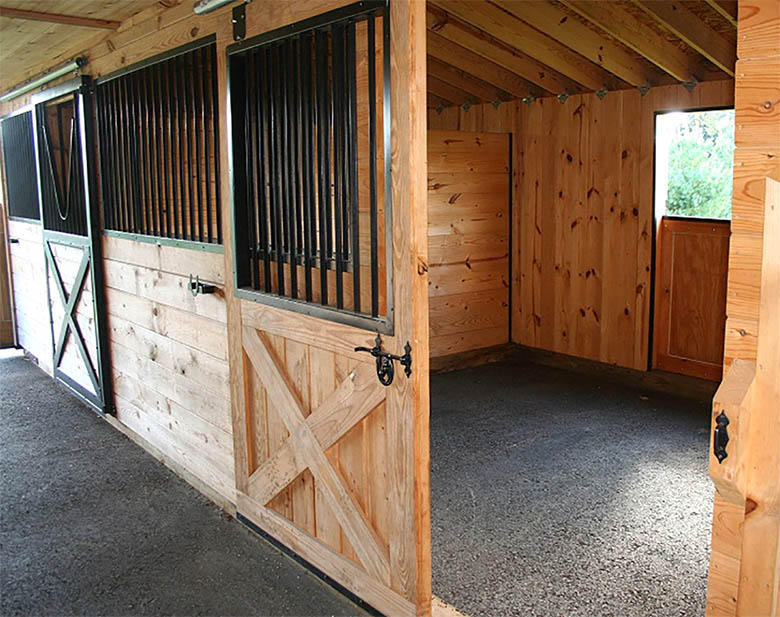 It is less expensive and certainly less worrying to take the extra precautions of quarantine when a new horse arrives on the grounds than it is to try and resolve a serious disease that may cause permanent health damage to the existing equine population on site or even result in equine death. It can add an extra layer of security and peace of mind for the barn owner and for boarding clients at the facility.
It is important to stay smart in any business and the horse world is no different. Consult your vet about how to quarantine your horses and for advice on vaccination programs and healthcare protocols that are simple to enact to minimize the risks of the spread of disease.
Sadly, we all know what terms like asymptomatic and quarantine mean now, and how isolation can help. A horse can't self-quarantine because it's feeling poorly, that is up to you!