The choice of playsets is vast and varied and figuring out the best one to select for your family as a parent or grandparent can be a difficult task.
Considerations of available space, site and setting for the new playset, construction materials and design, price and of course, the ages and interests of the lucky children that will enjoy the healthy benefits of utilizing the playset all play into making the perfect decision.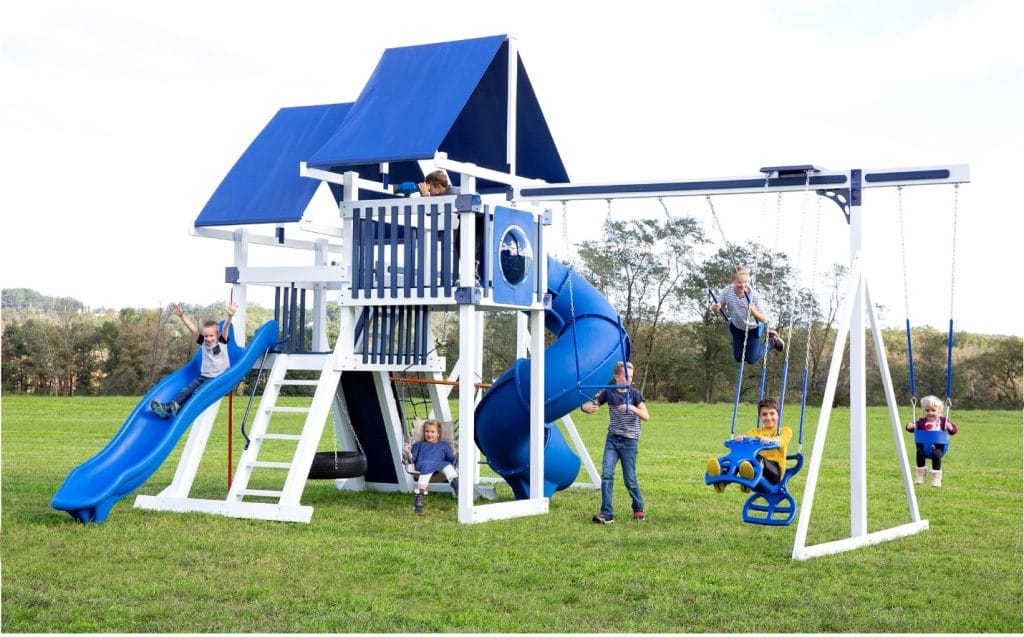 Here's some help to give you confidence in making the right swing set and playset choice for your individual needs.
Space, Siting and Setting
Everyone has a different scale of backyard and space to layout a playset. Variances in grade and type of terrain, sun and shade aspects, drainage concerns, distance from neighbors and the view from the house will determine the location of exactly where to place the new playset to a large degree.
Points to consider:
Choose a level area to avoid extra costs for regrading the garden and avoid the associated extra costs and hassle such actions would incur. Don't place the playset in an area prone to flooding or a site that offers poor drainage as this will necessarily increase the amount of possible contamination of the soil on site and the amount of pesky bugs including mosquitoes in the immediate vicinity.
Access for delivery of materials such as sand, wood or rubber mulch, artificial turf and the playset itself. Concrete should never be used as a base for a playset for obvious reasons.
It's a good idea to select a site in partial sun/shade especially if you live in a hot climate. Also bear in mind falling leaves and clean up needs in Fall if you designate a shady spot under a large tree and the likelihood of damage to the playset from falling branches in high winds.
Placement of playset should be away from obstacles such as tree trunks, fences, sheds and other hard surfaces such as concrete driveways.
A site that is within easy view of the house will add another level of safety and playset should not be close to public access such as roads to ensure privacy and security of the children.
Fencing in your backyard from intruders, roaming neighborhood dogs or wildlife in rural areas will help keep the playset area free of animal feces, though cats' innate attraction to digging in sand to use as a bathroom may always be a problem.
Setting the playset against a backdrop of a hedge or garden area will nestle the playset into the landscape if you don't want it to stand out. Traditional wood playsets treated with eco-friendly stains can provide longevity of product if brighter vinyl 'kid pleasing' colors are not wanted.
Neighbors may not appreciate the noise your children will inevitably make enjoying themselves playing on the set. Try not to 'plant' the playset right next to a neighbor's pool/patio or outside living area if this might be an issue.
Check if a build permit is needed. While this is unlikely different restrictions apply in different regions especially for larger builds.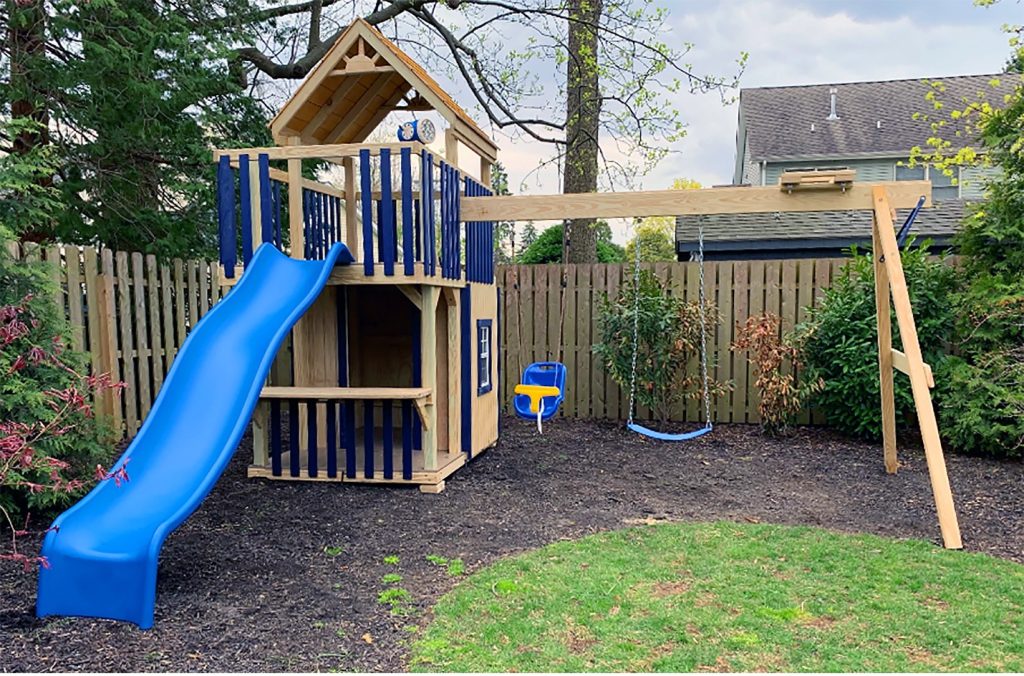 Wood Versus Vinyl and Don't Forget Quality 
Most people have a very strong preference for one over the other. Be particularly sensitive to the preferences of the actual property owners if you are buying a playset for someone else, especially when buying for grandkids and setting up in their parents' backyard.
Here is a super reference on the pros and cons of wood and vinyl options.
Whether you choose wood or vinyl, the most important criteria for any swing set and playset you buy is that of good quality. Safety and durability of the playset are both significantly impacted by exactly how the playset is constructed and the materials that are used and how they are engineered.
Key components to look for are:
No rust and no splinter components throughout the playset.
Through-bolting of all major construction points.
Heavy duty swing bearings.
Use of pressure treated lumber, including where wood is encased in vinyl.
Capped edges with no sharp protrusions.
Durable floorboards that are barefoot friendly and rock walls.
Finances, Warranties and Capital Costs
Who you choose to partner with to make your playset purchase is of the utmost importance. Choose a company that stands behind its product with simple to access and easy to understand warranties.
To fund the spend on a new playset consider working with a company that offers financing so that the initial expense can be spread over an extended period, especially if the Spring or Summer season is already here and you want to get maximum use out of the playset right away.
When choosing a playset be aware that many options exist to 'add as you go.' This is a great idea if the children are just toddlers. As the kids grow you can make additions to the playset jigsaw puzzle that best serve their athletic abilities and size. Remember playsets have a 2nd life after the kids are all grown and out of the house, either for future generations or can be successfully sold to other families in the secondhand marketplace.
Mountains or Molehills, Swings or Slides?
Our children often surprise us with their abundance of curiosity and interest in finding something new to do and the innate courage and ability to do it.
While 'Little Jill' may show interest in swings, you may also find that when presented with a tunnel or climbing frame she loves to engage in make believe.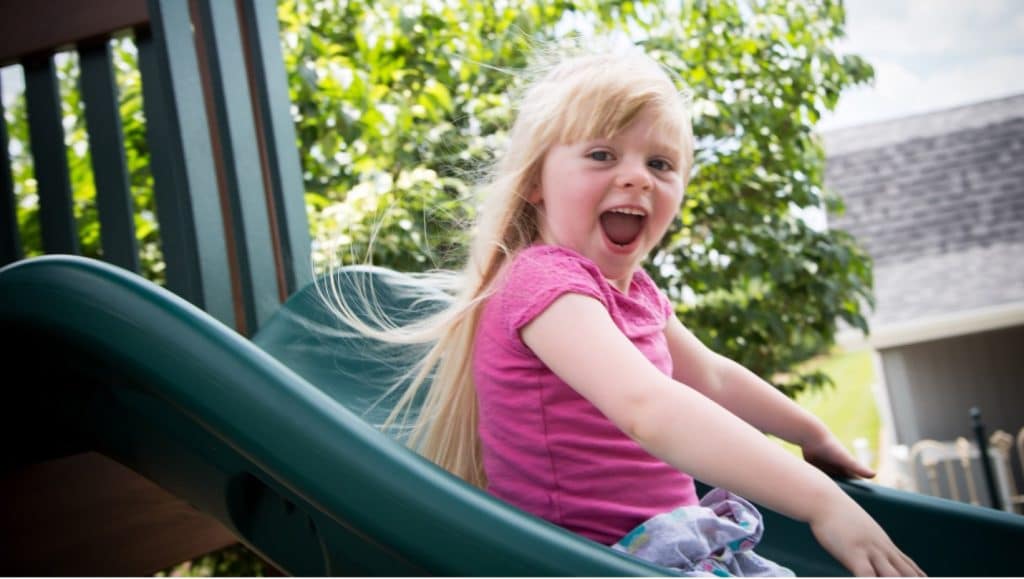 'Little Johnny,' may seem timid to scale anything off the ground and yet climbing a small set of stairs in front of an older sibling may inspire him to take delight in sliding downhill at speed.
Kids always surprise us. One of the best ways to find what your kids like is simply to watch them play on a public playground and see how they navigate and explore the playground. If you want to encourage your kids out of their comfort zone, then adding a variety of options to the playset will offer more activities and build a different set of strengths both mental and physical.
Also consider that other children of friends and family will periodically enjoy the playset. The benefit of having a minimum of 2/3 different activities on the playset, especially those that can be completed alongside will limit arguments over who gets to do what, when!
Whatever You Choose
Remember that whatever playset you choose the kids are going to love it. Freedom to play without the need for a taxi service to friends' houses or events will give you more free time too.
Being active and outside and away from the 'screen plague' is an easy sell to children, and it tiring them out and depleting their seemingly endless energy means a good night's sleep for everyone.
Watching children at play can be both informative and entertaining. And the best benefit of all is knowing where your kids are, who they are with and what they are 'up to'.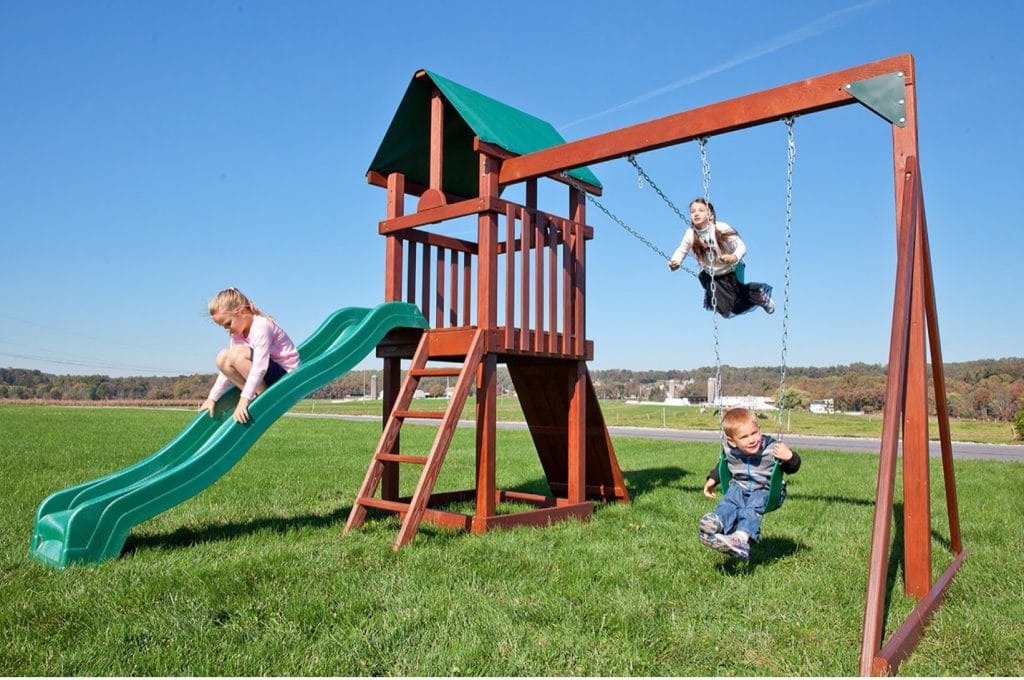 Obviously, there are a litany of health and developmental benefits that go alongside social play and even just swinging. These discoveries will be made as you go along. Have fun!