Perfect for the backyard chicken hobbyist, this 4×8 Dutch style chicken coop houses 15-20 chickens. Purchase one for your hens from Horizon Structures!
This little country barn style coop is just too cute to resist. Your hens are comfortable in the large interior with generous light and ventilation. Our "Dutch" style chicken coop design is different from the other coops in our product line but the principle is the same.
This 4×8 chicken coop for sale is the perfect size for the backyard chicken hobbyist. It also makes gathering eggs from outside the coop easy-as-pie and it's well-built with an intelligent design that's affordable. This Dutch barn chicken coop is everything you've been dreaming of! Place one of our hanging chicken feeders inside!
~ The Dutch 4×8 Chicken Coop is Perfect for 16 – 18 chickens ~
Request FREE Coop Buyer's Guide | View Coop Options/Upgrades
8 Nest Boxes
Hinged Nest Box Lid 
Hinged Chicken Door with Latch
Detachable Wooden Chicken Ramp (painted or stained to match coop)
2×3 Wooden Roost Bar
19″w x 50″h (Lockable) Access Door
Window with Screen & Vinyl Coated Mesh
Hinged Drop Vent with Latch and Vinyl Coated Mesh
Your Choice Wood Siding: Pine Board & Batten or Tongue & Groove (stained) OR LP Smartside (painted)
Gambrel Style Roof
2×4 Floor Joist 16″ On Center
5/8″ Pressure-Treated Plywood Floor
2×3 Rafters with 7/16″ Techshield Sheathing
30 Year Architectural Shingles
Collecting the Eggs isn't a chore... takes just minutes a day!
The 4 x 8 Dutch coop, with its easily accessible nest boxes, works on the same principle as all our other coops.
You don't have to go into the coop to get the eggs… Simply lift the panel and reach inside.
8 roomy nest boxes are easily accessible from outside the coop. Chickens will naturally share the boxes.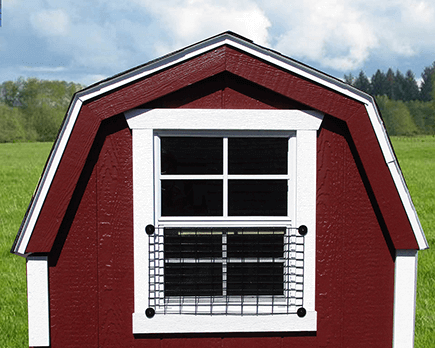 Ventilation
The large window on the front of this 15-20 chicken coop includes glass panes both top and bottom. Raise the lower pane from inside the coop to take advantage of the screen and allow fresh air inside.
Vinyl coated wire mesh
, fastened securely on the coop exterior, covers the screened portion of the window.  Any predator would be hard pressed to chew through this barrier.  Chickens stay safe!
A generous 54″ w x 7″ h cut-out on the side of the coop allows in even more light and fresh air. Vinyl coated mesh covers the opening and protects the chickens inside the coop from would-be predators.  A hinged wood panel with twist latch allows you to close it tightly when the weather turns bad.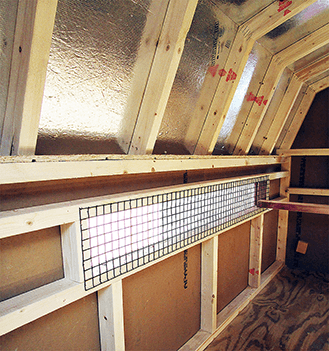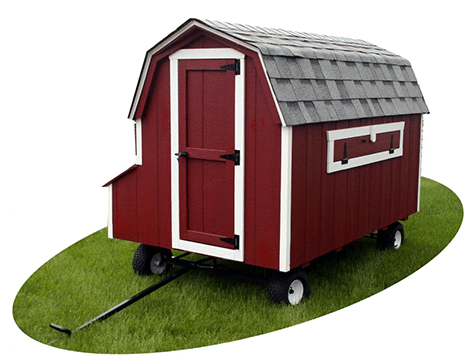 Add Wheels
Adding wheels to any chicken coop is a very popular upgrade.  The wheel chassis is bolted securely to the bottom of the coop and takes the place of the pressure-treated wood legs and base.
The coop wheel option for this model consists of 4 heavy-duty pneumatic tires, powder-coated steel wheel chassis with built-in steering mechanism and a sturdy powder-coated steel handle.
Making your coop mobile allows you to move it to a sheltered location to avoid extreme bad weather, gale force winds or floods.  Or, move it closer to your home to reduce the risk of a fox breaking in.  
This is not a kit or just chicken coop plans…
DELIVERED FULLY ASSEMBLED and ready for Same Day Use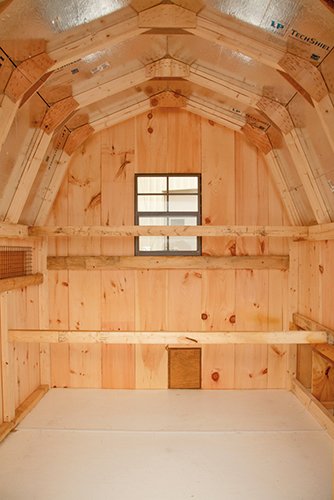 Coop Interior
Wooden roosting bars are included with all coops.  Horizon Structures Dutch 4×8 Chicken Coop includes 2.
The upper roost bar is about 33″ from the floor and 7″ from the wall.  The lower roost bar is about 21″ from the floor and about 20″ from the wall.  There is approximately 12″ between the roost bars.
This Dutch chicken coop has pine board & batten siding as well as a Glasbord floor upgrade.
Did you notice the silver finish on the ceiling?  It's LP Techshield – a radiant barrier that helps keep your coop cooler inside.  Comes Standard on ALL Horizon Structures chicken coops!
Did you know we offer a heated roost barn?  Check our all our chicken coop options HERE!
In order to provide coast-to-coast delivery of our chicken coops, we MAY require the services of a commercial carrier. This means that your coop MAY arrive via a large tractor trailer truck.
Please call us at 888-447-4337 if you have concerns about the truck accessing your property. We will work with you to the best of our ability to make the delivery; however, your assistance may be needed in some instances.