The advent of the sawmill in the 1830's changed how homes and barns were built and sided forever. The common and garden 'barn siding', board and batten, has seen a huge increase in popularity in the home market in the past few years, with its rural appeal and legacy look.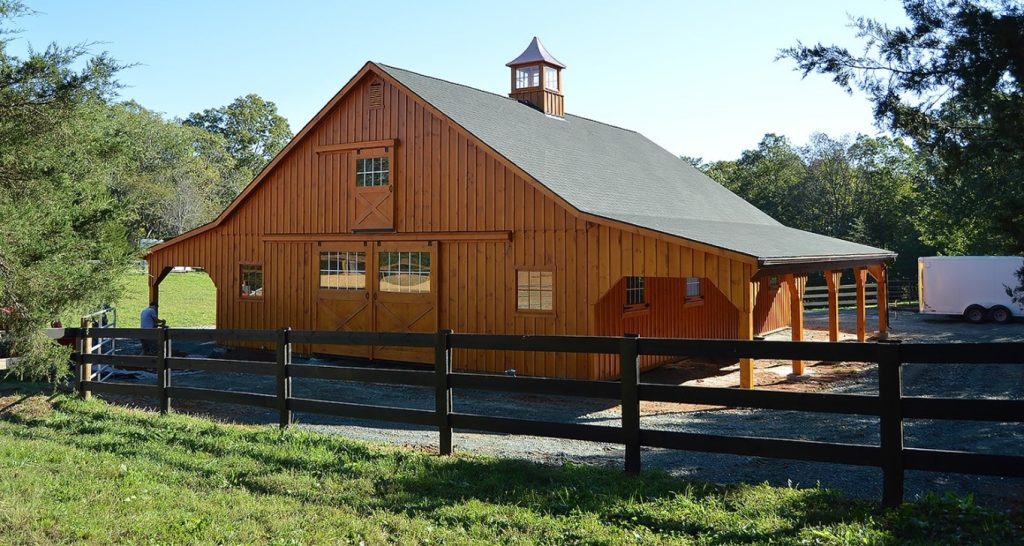 Board and batten traditionally consisted of wide boards of wood placed side by side, with narrow battens (thins trips of wood) placed over the seams.
The thin flexible wooden strip of wood is named after the batten of similar nature that was used to flatten out sails on a ship and is also credited to the expression 'batten down the hatches' from its use at sea where it was placed across door handles to secure them from flapping open.
The use of traditional board and batten siding began in the Gothic Revival period of architecture as a new style of vertical lapping of thin 'baton' strips of wood placed over wider boards to seal out moisture and drafts. As trees grow vertically their timber was milled the same direction and it was simple to use the long planks of wood in the same direction and gave the advantage that rain and snow would not collect on each projecting batten.
Sawmills were able to churn out vast quantities of lumber in these thin strips and when added to fill the gaps between wider boards they vastly improved the seal of the siding of a building.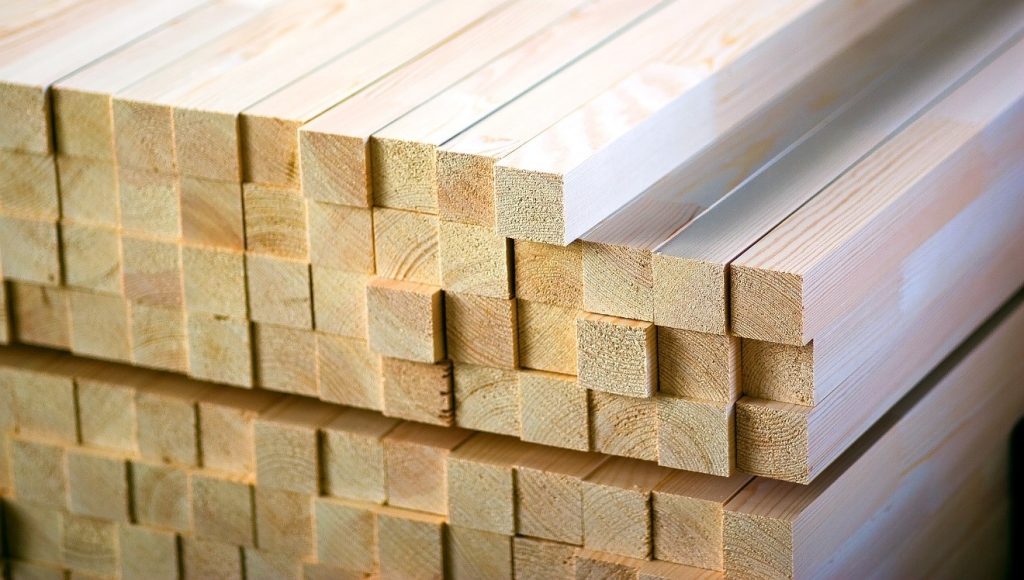 The use of board and batten in barn and house construction was easy to install and offered a user-friendly alternative to building a log cabin. The addition of the batten made the interior of the barns and homes warmer than a log-built structure.
Originally, log homes were not energy efficient having multiple gaps and crevices that allowed heat out and cold air in during winter months. Additionally logs often harbored insects and creepy crawlies of many species and allowed vermin access to the interior space. While the gaps in logs were commonly stuffed with moss or lichen, clay or dirt, the inevitable dampness and stickiness that emanated from their surfaces as they aged provided a less than perfect environment in which to live.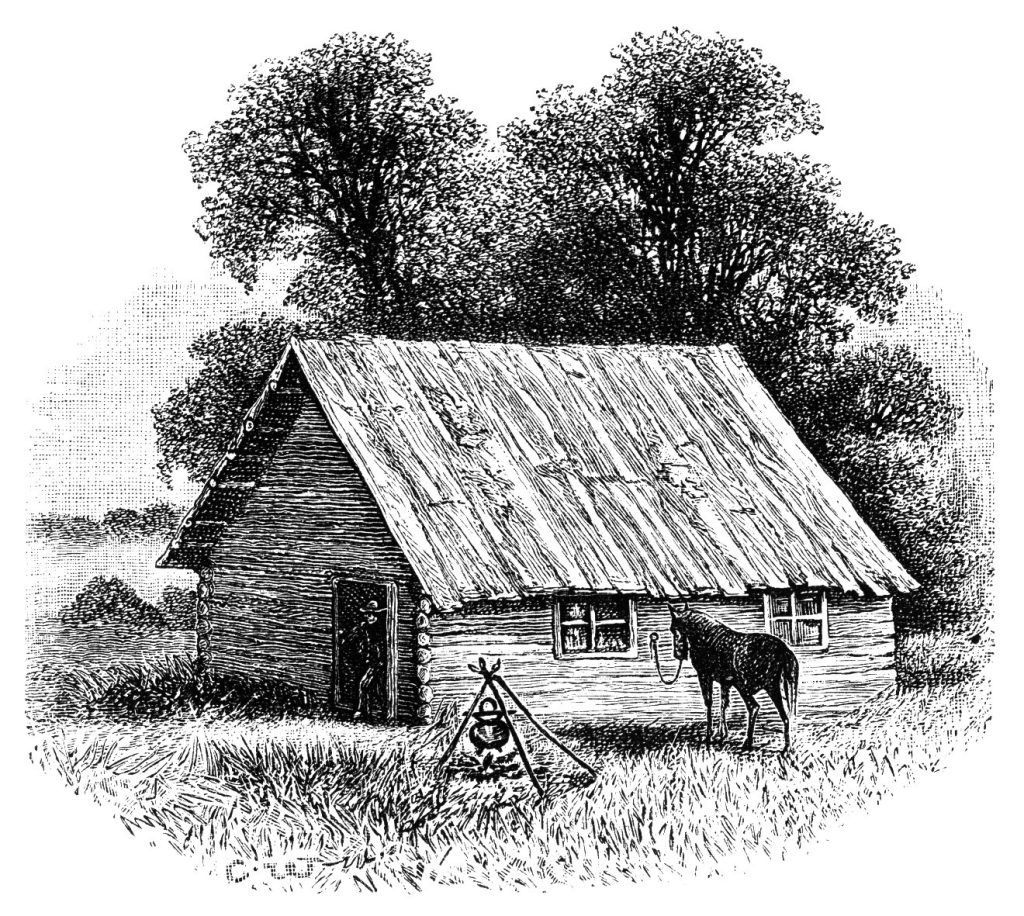 Farmers quickly embraced the board and batten because it was less expensive than a log built, less arduous to construct and more efficient. It also offered the amazing ability to construct buildings taller than before, as log homes were commonly only built to a man's height, as that was as far as he could reach!
Today modern board and batten home siding is designed for effect and there is no addition of battens after the boards are placed across stud walls. There is a tremendous variety in colors, materials available (wood, vinyl, steel and fiber cement), and size of boards. It is an aesthetic architectural choice that offers the appeal rural and traditional characters.
When it comes to building a horse barn, the pros and cons of board and batten siding are similar to those in days gone by, but not the same. Amish craftsman in the barn building industry have long used board and batten installed in the traditional manner as separate pieces of wood, and the rustic quality of the finished result is hard to equal when it comes to mirroring and honoring past traditions.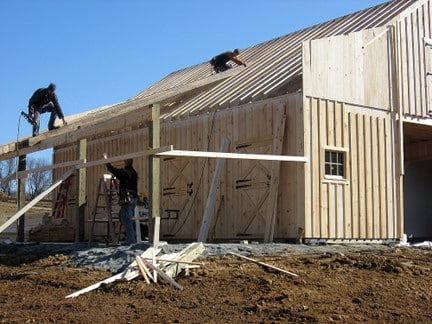 The Pros of Board and Batten
Easy install
Effective for making an airtight seal
Varietal materials can be used, including wood with its natural insulation properties, steel, fiber cement and vinyl
Battens used in certain modern-day products are purely decorative offering versatility in design
Wood can be stained with long lasting products to offer protection from insect damage and water damage
Siding can be painted or produced in a range of colors
Traditional, rustic appeal when wood is used
Flexibility in creative design – the closer together the battens are spaces the more textural/3 dimensional the finished appearance
Boards and battens can be installed horizontally or vertically
The Cons of Board and Batten
Installation can be a lengthy process increasing labor costs
Bottom of unprotected/sealed boards and battens may rot with ground contact
Requires due care and attention to install with specific spacing for girts/studs or framing support members
Steel and fiber cement materials can be more expensive than vinyl and wood options
When resourcing the best siding option for your horse barn consider products such as low maintenance LP Smartside and Duratemp ( a manufactured wood siding), as well as traditional board and batten wood products. All offer pros and cons and with research the barn building budget can be 'brought into line' with clever use of the right siding option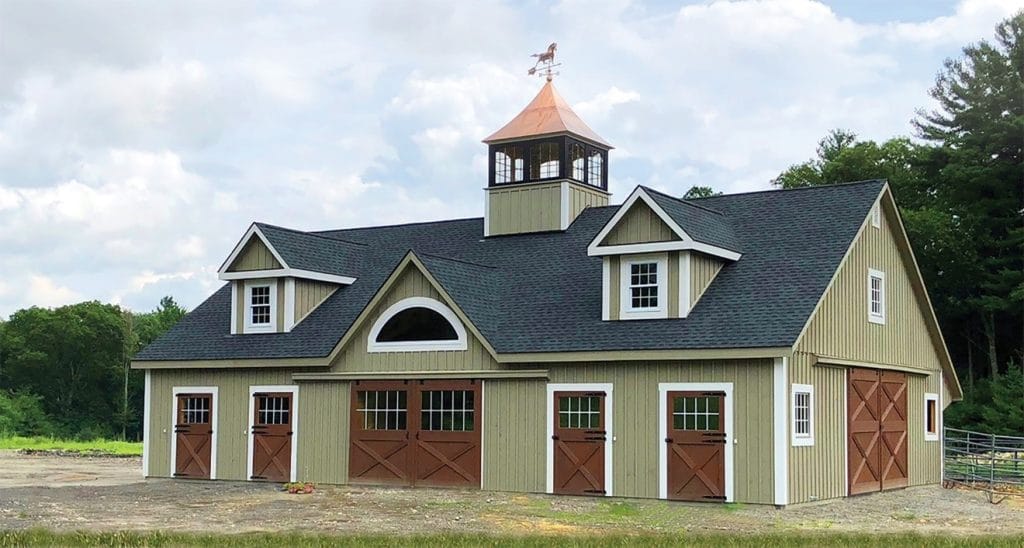 Consider however the long-term costs of implementing a siding that will require repainting, re-staining or other maintenance. Stains today are available with a 15-year warranty. Also bear in mind that factory applied stains and paints will necessarily last longer than those applied on site, as moisture and humidity is controlled in the factory environment for optimal temperature and conditions during application.
The type of wood used, and its grade also significantly affect its longevity. While a Grade 1 (less knots) or top of the line wood such as cedar is not necessary, products such as Southern Yellow Pine or Cypress can make fine siding choices. When housing animals there are many safety advantages of opting for wood over metal siding too.
Placing the boards vertically will increase the appearance of height of the building while placing them horizontally will promote an appearance of a wider building with a larger footprint.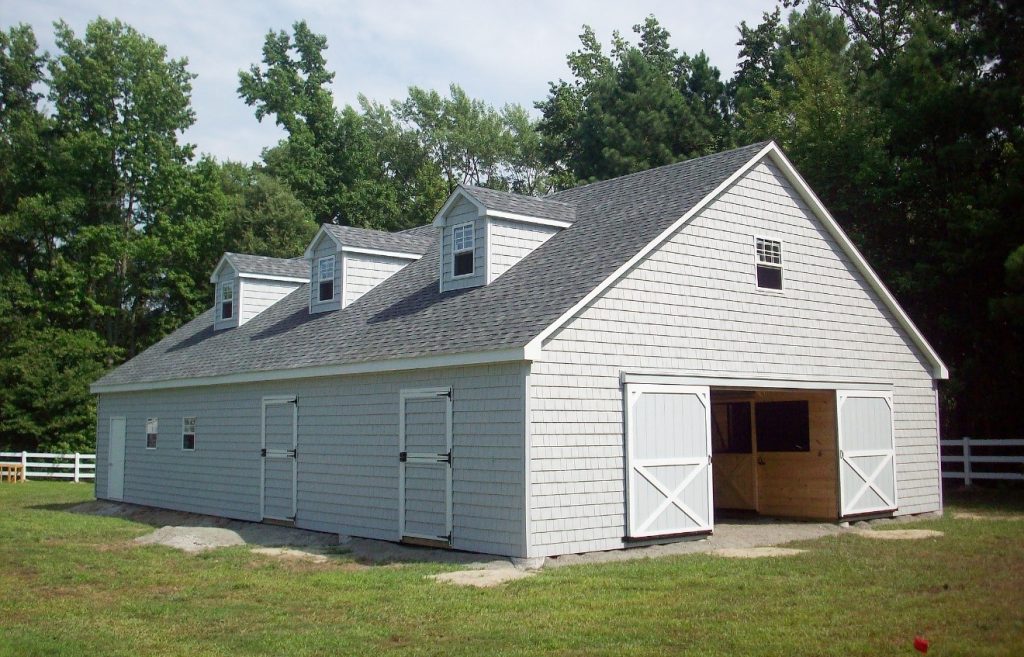 The closer together you place the battens the more each effect will be impacted.
Vertical placement offers better water shedding capability and offers less opportunity for small insects such as hornets to nest.
Color considerations are also important to factor into your selection of traditional board and batten siding, as the color of the side of the building dramatically influences the overall aesthetic of the structure. Barn color choice does matter! And not just for appearance, it also directly affects how hot or cool the building will be to use during extreme temperatures.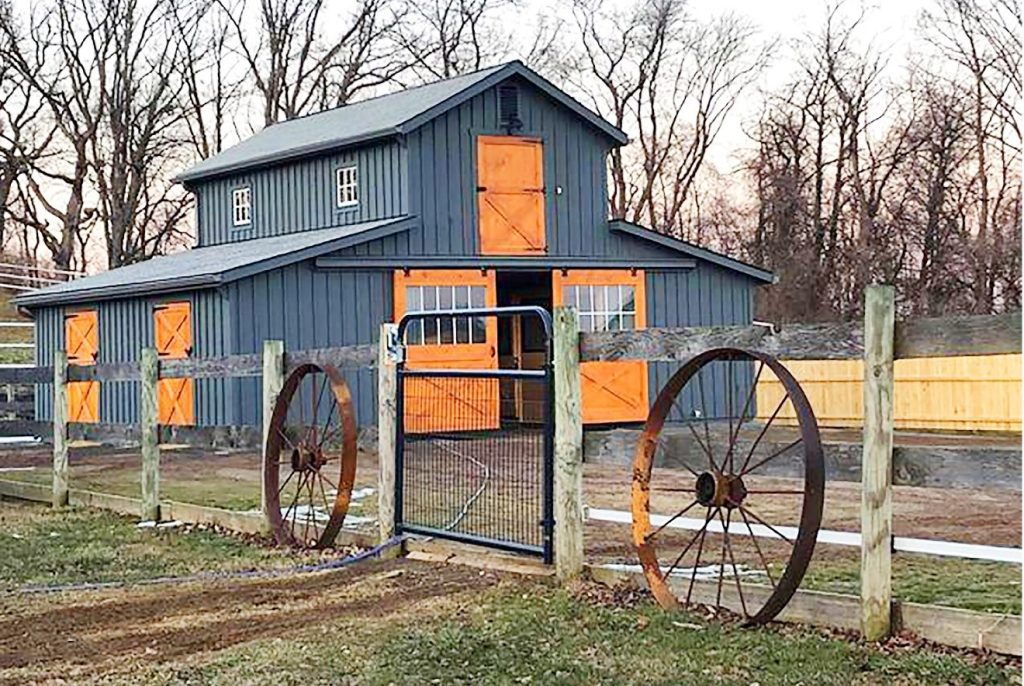 Try to locate a horse barn building company that can offer multiple options in the siding style and materials used to give you a complete choice to enable you to make the perfect selection for your needs and wants that also offers warranty protections for products utilized.