Shopping for a new horse barn is such fun. When you choose to make your new horse barn dream a reality, the buying process should be straightforward and the experience pleasurable. Naturally there are lots of things to think about when you design a horse barn, and every factor is important. At first glance the choice of siding materials may appear a mundane task. But siding selection matters more than you might think.
To determine which material is the best for your horse barn, consider cost and maintenance, performance and appearance. Here are some tips to help you select the best siding option:
Aesthetic Appeal
The sides of the horse barn obviously have a huge visual impact that is defined by their size and color. Traditional materials such as board and batten are a popular choice for siding. Metal, vinyl and modern composite siding offer a stylish appearance with minimal maintenance.
In order to make the best choice for your particular situation and preferences, it is best to start with a full selection.
It is wise to consider how the type of siding utilized will complement existing structures such as your home, that are already sited on the property. It is not necessary to match the exact design building to building. That would be a difficult task given the variance in materials used in house construction, especially if the home is an older structure. But consideration should be given to the siding on the barn to ensure it is complementary and doesn't 'jar' or totally contradict the style of the existing structures, especially if it is near the house. Character of the barn can be matched in architecture such as roofline styles, to add a cohesive aesthetic appeal.
One way around mixing modern and traditional materials at one location, is the use of similar or matching colors. A great resource on the topic of color is covered in depth here.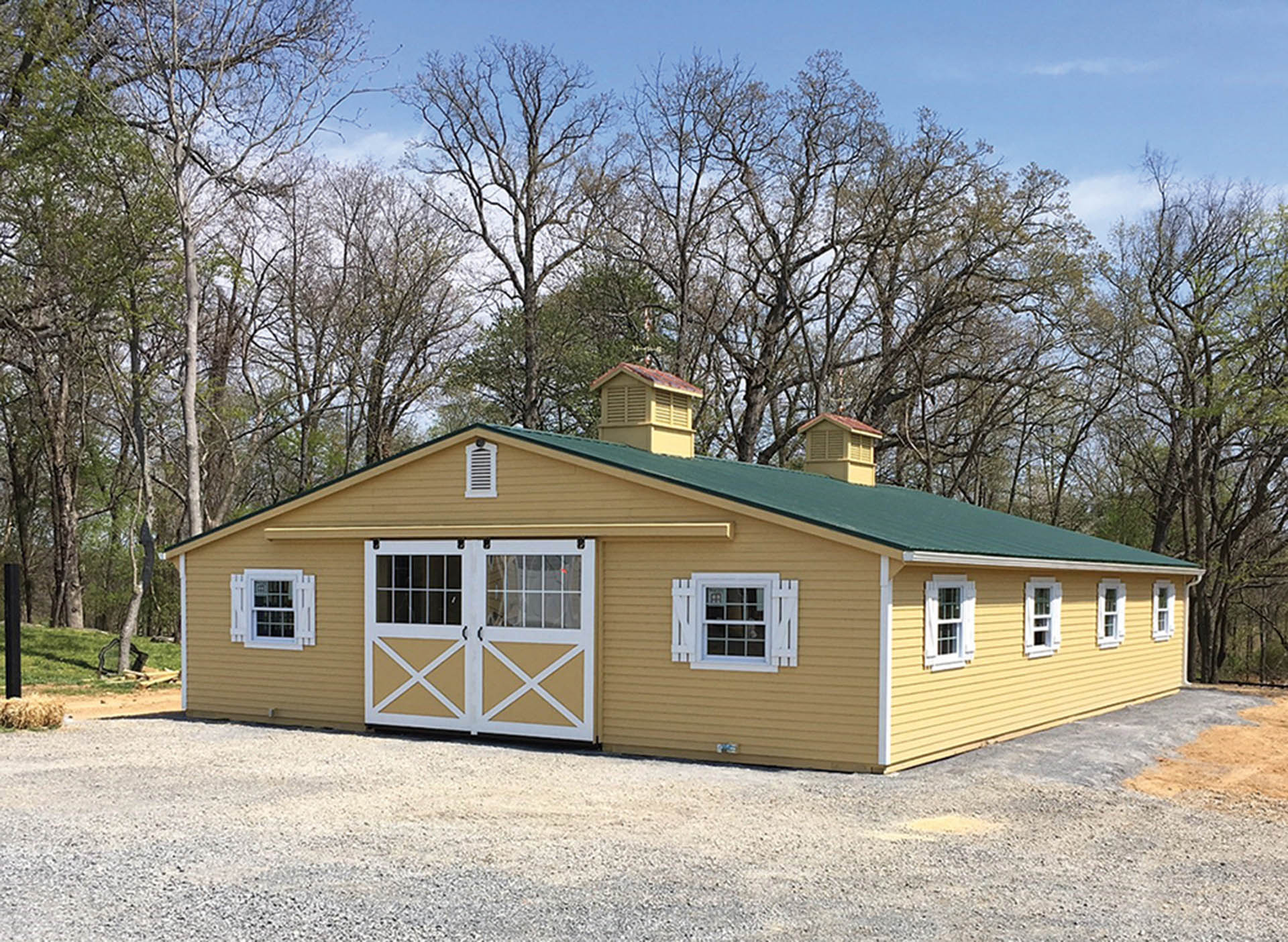 Another factor to consider when choosing siding is whether the material will need to be applied horizontally or vertically. For drainage purposes vertical is the most effective. Vertical lines will give the structure the appearance of more height, whereas a horizontal siding will give the appearance of more width.
The Dress You Choose
Siding your horse barn can be considered adding the dress to the perfect figure of the barn (the framing and design) that you have created. The type of siding you select can be compared to the dress you choose for a particular occasion. For example, if you are off to a wedding your dress might be a designer piece that is perfect for a one off event, but won't hold up over time to repeated wear and laundering, as sadly as a rule ladies high fashions are simply not that well sewn together and the integrity of the materials does not withstand much wear and tear. Similarly, with a barn, siding that is not designed for the task at hand may not hold up to the mud, sun, sleet and snow, horse abuse and parking snafus that can occur on a horse property.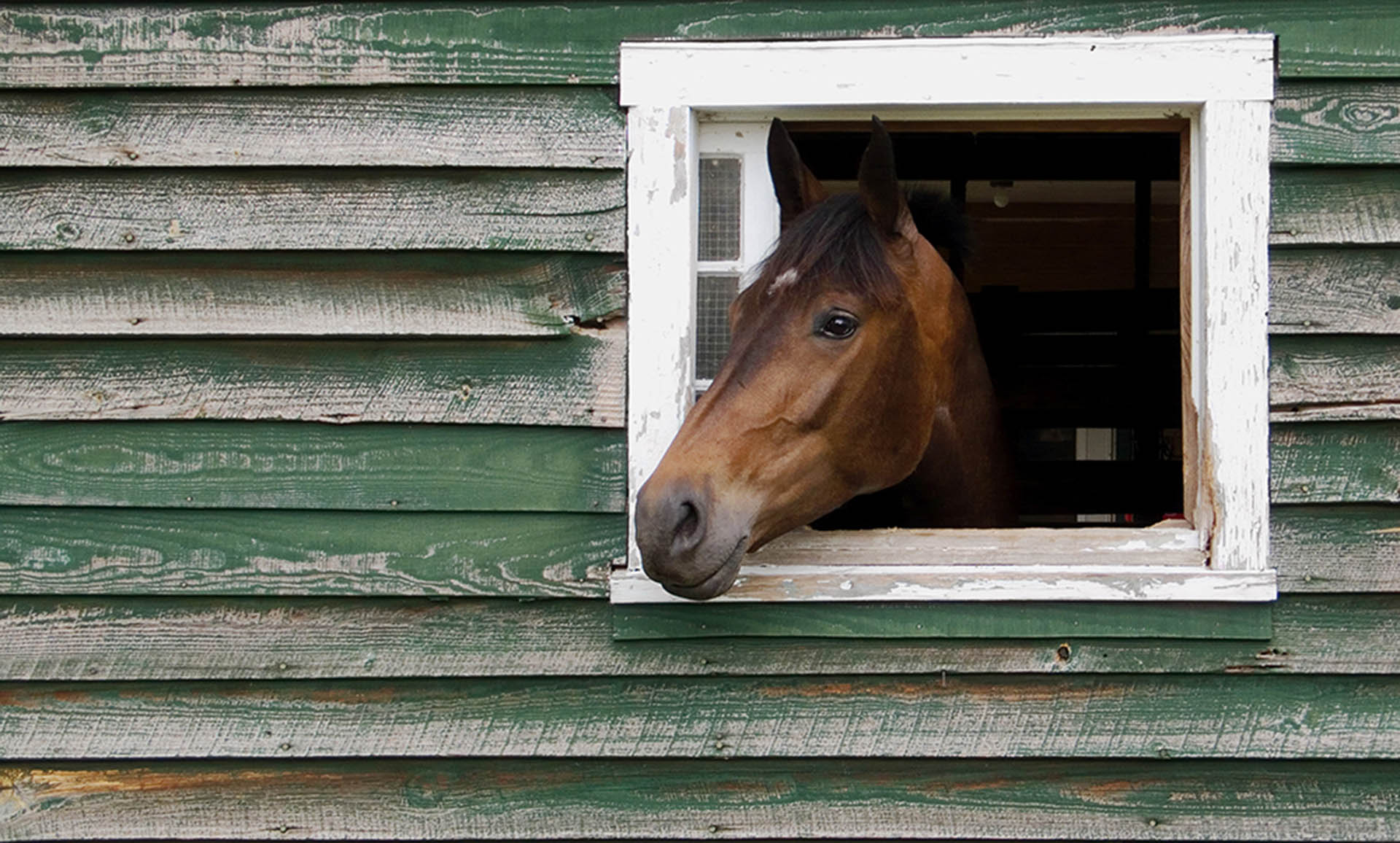 This not to say that your barn needs to be dressed in a flannel shirt and denim jeans, but it is important that the decision regarding the type of materials used is carefully chosen, and additionally that quality of the materials is considered. For example, hardwoods are preferable to softwoods for use as wood siding as they offer more structural integrity and are more resistant to damage thus oak or cedar is favored over pine. Higher grade lumber without many wood knots is stronger than lower grade lumber riddled with knots.
Sheathing type siding can provide additional structural support to a building.
There are an array of modern material manufacturers offering everything from cheap vinyl or metal to products like 'LP Smartside' that is fully warranted and requires little to no maintenance. Be aware that metal and vinyl can ping and dent and there are many varietal styles available. Metal siding comes in different gauges, the higher the number the thinner the metal.
Once the material is chosen, the application of that material to the frame of the building must conform to the manufacturer's standards (where applicable), and the 'seamstress' you choose is just as important as the material. It's not much good selecting a beautiful maintenance free siding and then the carpenters doing a botch job implementing its construction. The right nails, their correct placement, the proper joining of seams and where those seams occur all matter to ensure the siding performs well and is a weather worthy adversary to Mother Nature.
Practical Versus Price
It is true that traditional siding such as board and batten is cheaper than more modern materials such as LP Smartside or LP Techshield. Metal materials can be galvanized or treated coatings to extend their lifespan. Galvalume is an example of a commonly used metal for siding and roofing. It is a steel sheet that has an electrolytically applied coating of a combination of zinc and aluminum.
The invention of stains that are warranted to last 15 years, diminishes the need for repeated re-staining. Similarly, the paint industry has improved the longevity of their products and spray tools used for application of sealants are simple to rent, even if they do require a steep learning curve to use properly.
Consideration of where the building is sited is important, as metal siding options are not favored in areas where horses are grazing due to the risk of injury to the horse that may result from an errant kick or from rolling too close to the building.
This necessarily also means if metal siding is utilized kickboards should be constructed within the building, to protect the horse from the same issue when he is stabled. Regardless of the siding material chosen, the addition of kickboards to the structure is a prudent decision.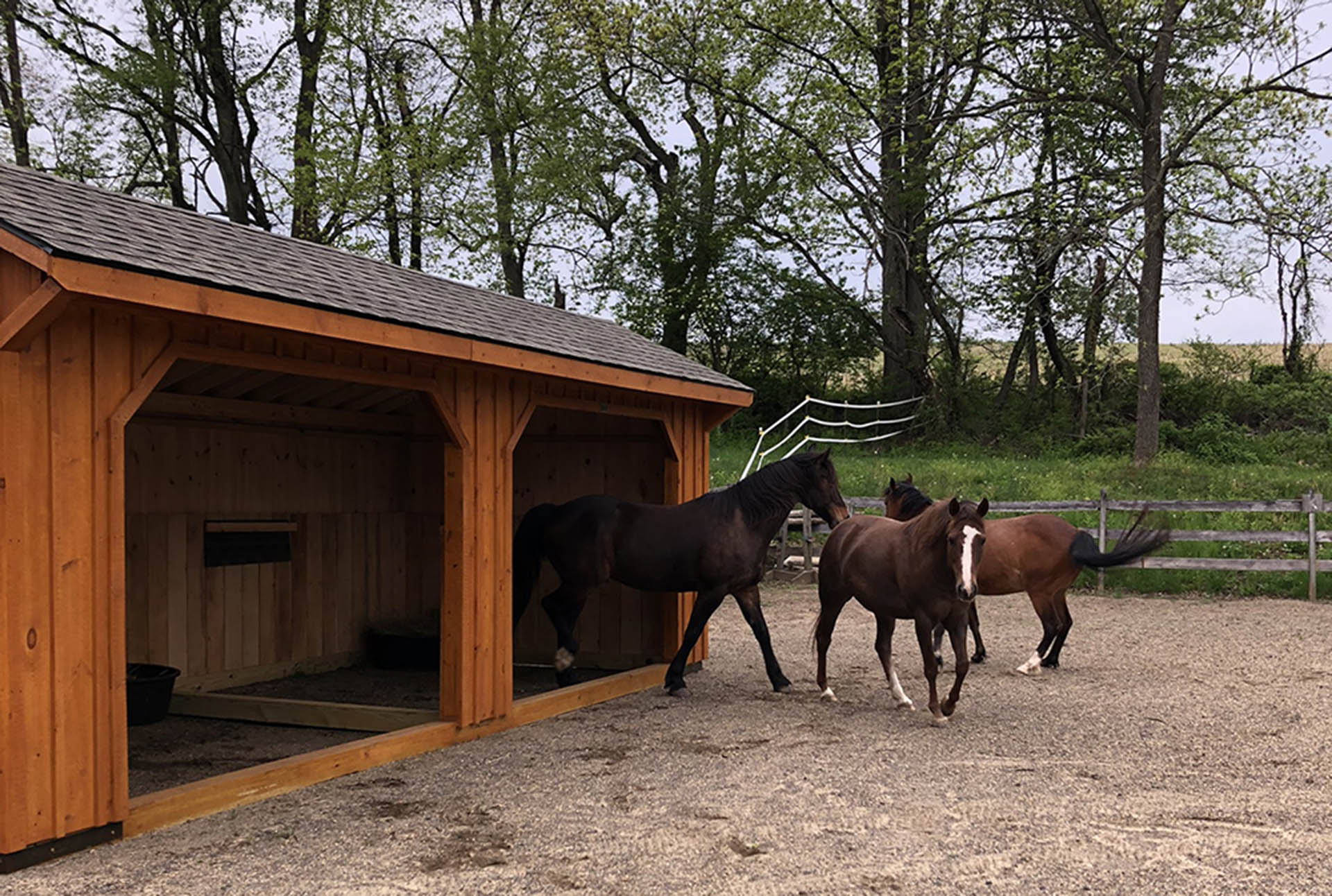 Wood has better insulation properties than metal or other materials, and in climates of extreme cold or hot weather, wood is often preferred for this reason.
However, wood is not as tolerant of vermin and insect damage and is obviously is more flammable than other materials. Galvalume steel is resistant to fire and reflects heat from the sun, saving both insurance and utility costs.
The pros and cons of each siding material must be carefully weighed when looking at the price. The longevity and integrity of the structure can be severely compromised by poor craftsmanship or shoddy materials and when looking at price always consider both in the final equation.
Making Repairs
Repairs will be necessary at some juncture and working with wood is often easier for the do-it-yourselfer than working with metal. The required tools for making repairs to wood are more commonly available to the handy horse owner and easier to use. Crimping metal requires snaplock punches and lapping and locking metal siding has to be correctly executed which can be hard to do when replacing just one piece.
Wherever flashing is installed it is important to replace it whenever a repair is made to a piece of sheathing or other material where it was previously attached, to avoid water damage.
While a woodpecker can do a significant amount of damage to old wood (often when they are hunting down the dreaded carpenter bee), a metal-sided building can be dented quite badly before it will rust or lose its impervious nature. Metal that is painted will resist damage longer than metal that is not regularly coated, and similarly wood requires painting or staining to maintain its appearance and integrity.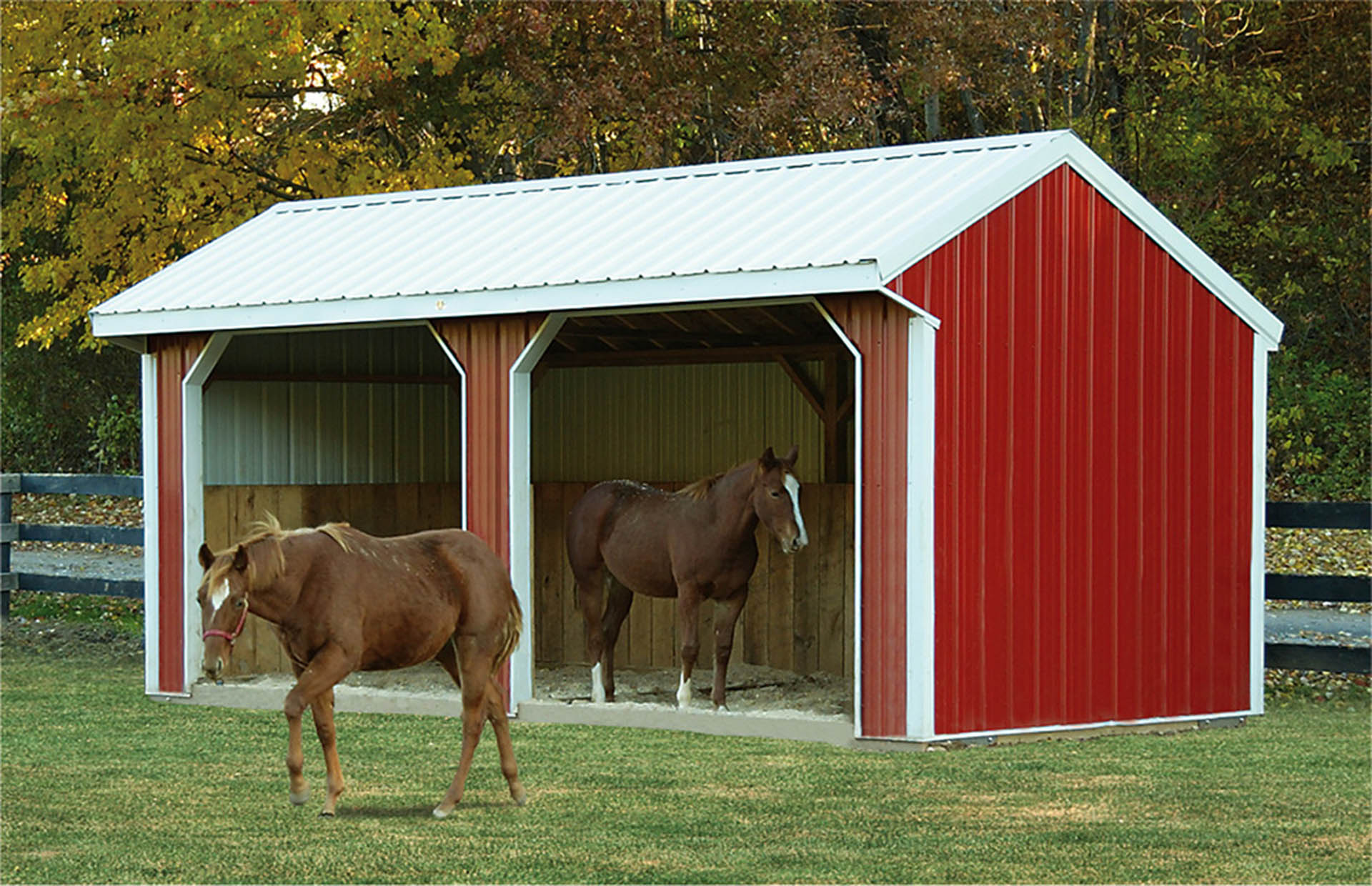 Deciding on siding does warrant serious thought and it is wise to seek the advice of professional construction companies that are well-versed in proper application techniques and ideally have a controlled factory environment in which to apply sealants, stains and paints without being subject to temperature variants and moisture caused by poor weather.