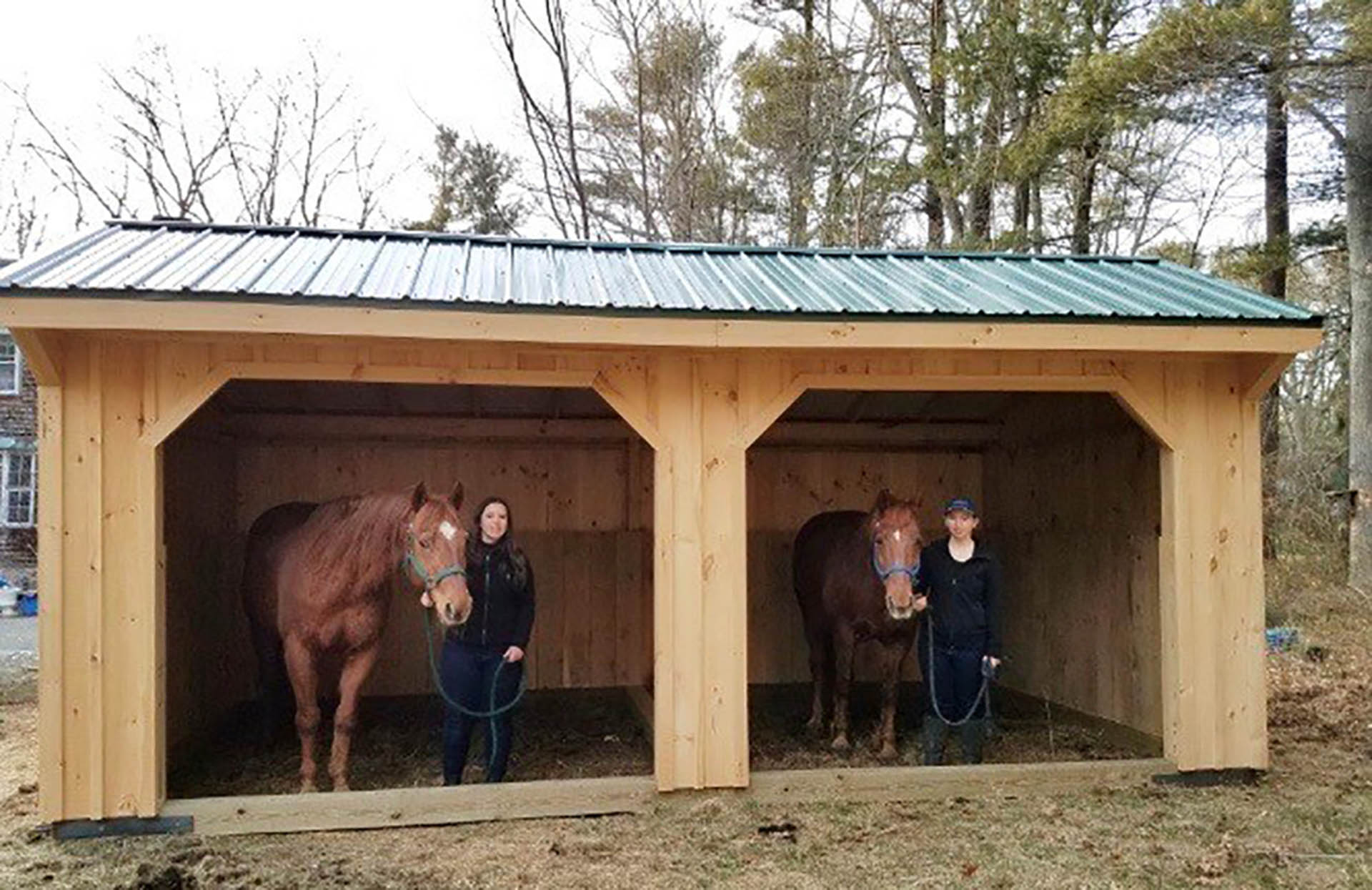 It's not everyday you win something quite as special as a run-in shed. The Horizon Structures Run-In Shed Sweepstakes Contest ended in December 2019, and Kathy DeNicola was the lucky winner drawn at random from a Christmas stocking full of apples by Olympic Eventer Boyd Martin. While the run-in shed was ready for immediate delivery, DeNicola decided to wait until Spring to take delivery at her home in Middleboro, MA.
"Wow, the run-in shed is so beautiful. We can't get over the quality. The man who delivered it was such a nice person. We just can't thank all of you enough. Please tell everyone there [at Horizon Structures] how much we appreciate it. We will spread the word that this is the place to go. The quality is amazing," said an ecstatic DeNicola, following delivery of the shed.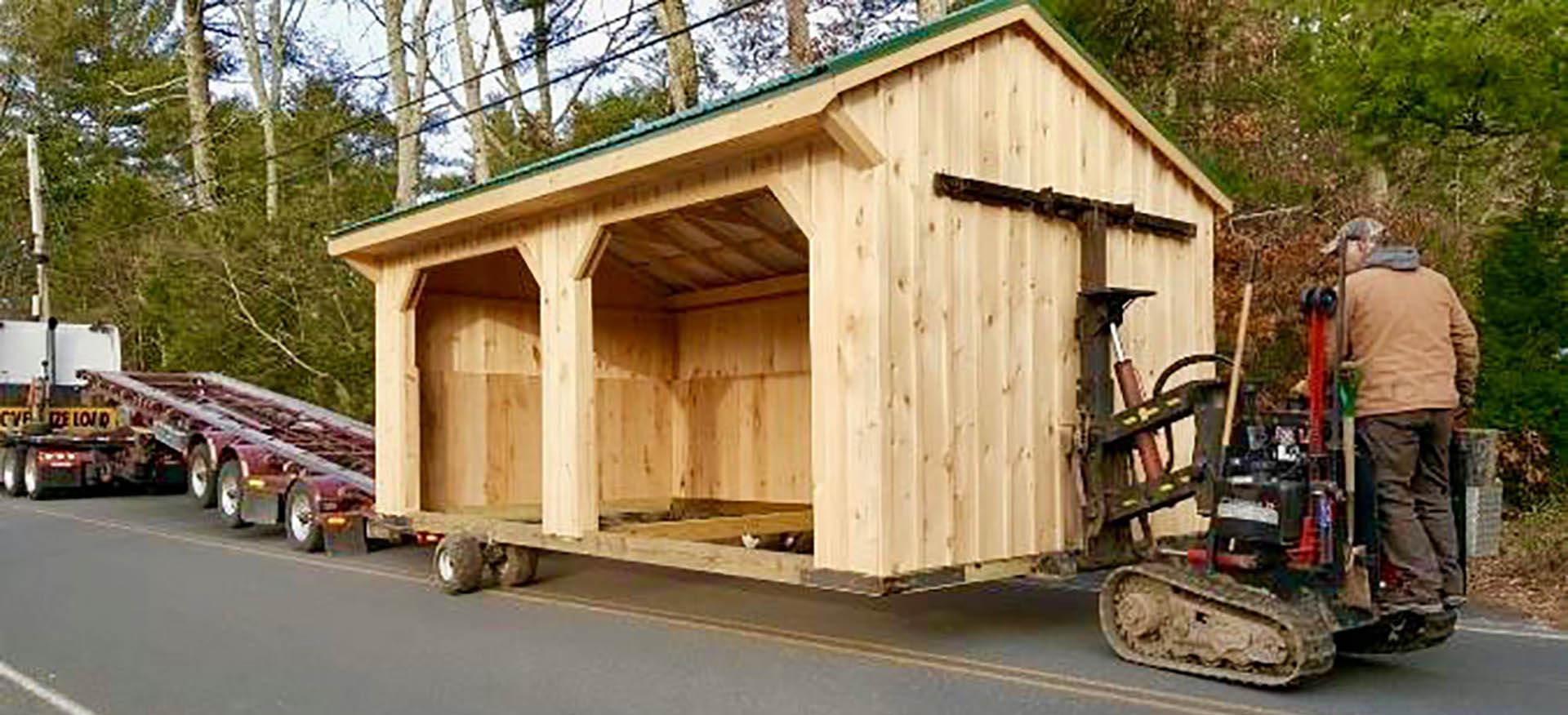 The run-in shed isn't the first horse building on their 4 acre smallholding, but DeNicola explained that the quality is far superior to the two horse barn she bought for the property two years ago to house her two horses Skippy and Ziggy. Skippy is a 20 year old Quarterhorse and Ziggy is a 16 year old rescue horse, DNA tested as an interesting combination of half Paso Fino and part Highland pony and Saddlebred.
"My husband Mark and I purchased a barn from a company in Maine and the whole experience was very unprofessional. Not at all like working with Horizon. We had issues with the Maine company barn. It's a two stall 'mini barn', like the run-in shed but with Dutch doors on the front and back and a 4′ x 10′ tack room. It was delivered fully assembled. They said we didn't need to level the space, they would take care of it. Their plan was to level it with concrete blocks, which would have meant that on one stall, the horses would have to jump over the bottom part of the frame. The doors opened fine, but they put them on backwards. They sent someone down to fix it a few weeks later, but overall we had a lot of issues and they were really unprofessional. On top of that the company gave us a loan, and when we came to make payments we found they were charging us a 100% interest rate. Thankfully my brother-in-law was kind enough to lend us the money so we could pay it off. It was an awful experience," explained DeNicola.
"Our experience with Horizon Structures was completely the opposite. The office staff were great about coordinating the delivery when we wanted it and handling our requests regarding color and roofing. We were all in awe yesterday when Horizon Structures came with the run-in shed. My whole family was here. Our neighbors came over to watch and were also impressed by how easy the whole delivery and set-up process was from start to finish. I had concerns about access, as the driveway is quite narrow and the driver had to navigate awkward turns due to the trees and fence line. He moved the shed using a mule and did it remotely. It was amazing to watch the precision.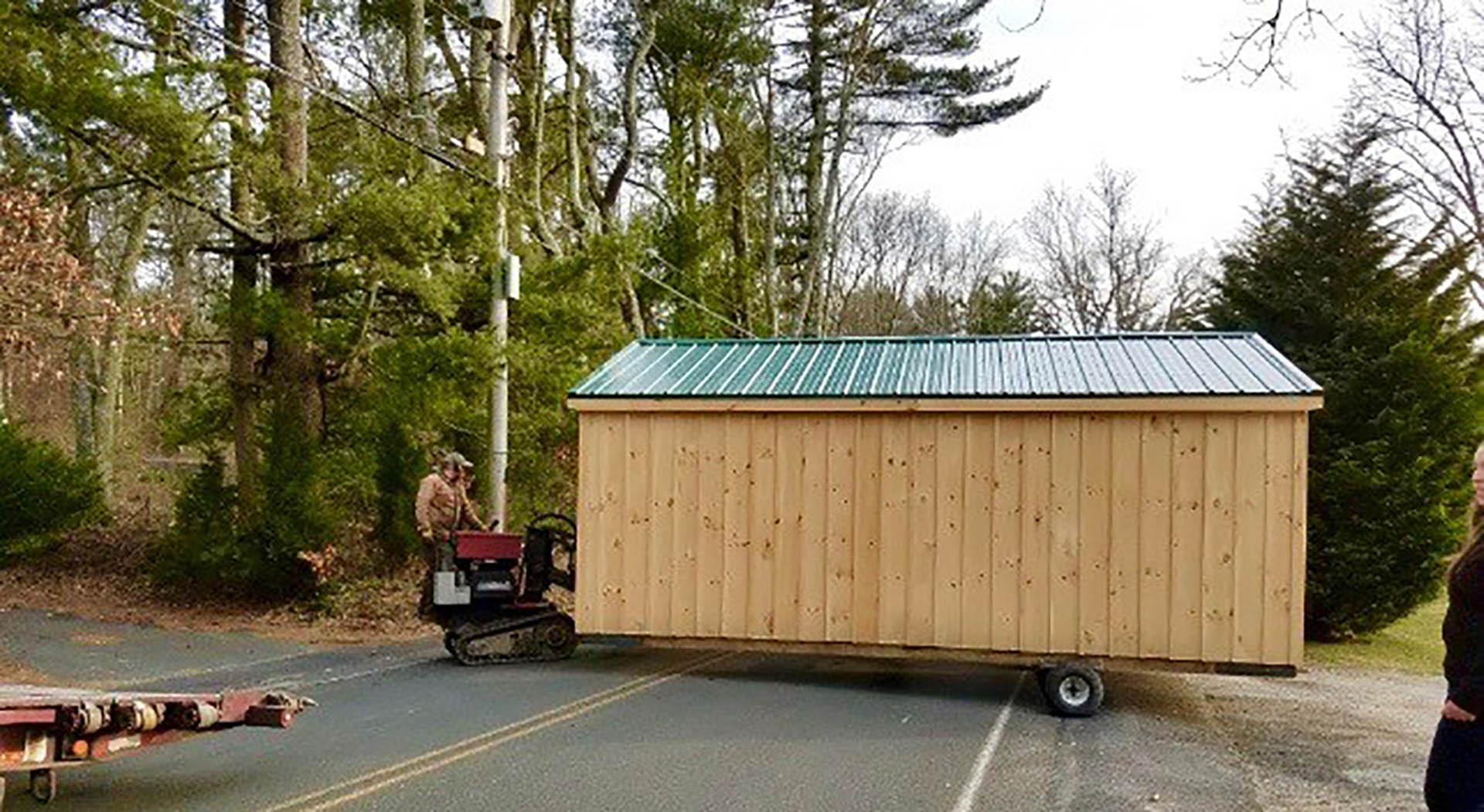 He set it up perfectly, just where we wanted it with no problems at all. We've put the run-in shed behind our house for now and we are using it partly for hay storage and barn tools, but we may move it later and maybe someday even use it for a third horse. We are so grateful. I have never won anything before! If we need another building later we will definitely buy from Horizon Structures. We are impressed with the quality and how wonderful they were to work with."
Horses are a family affair for Kathy DeNicola, with three children, daughters 18 year old Laura and 15 year old Becca and 22 year old son Kevin.
"The girls are much keener on riding than my son, who now only rides occasionally when he has friends over that want to take a turn in the saddle. I grew up riding in Pony Club, and my Mom knew I desperately wanted a horse. We lived near the city and couldn't keep a horse at home but when I was 12 or 13 my parents bought me a horse and I boarded it at a nearby stable. His name was Bittersweet, and he was a bay Morgan crossed with a Quarterhorse I think, a grade horse. He was a bit of a rascal. He was green and so was I so we learned a lot together. I had an eventing instructor and of course as any kid does I loved to jump. We did three-phase eventing in Pony Club so I also did some dressage. When I went off to college we donated Bittersweet to the MA State Police. I used to stop by on my way to and from college to ride him between his duties with the officers. He was a great horse and taught me a lot."
DeNicola's current abode in Middleboro, MA was a lucky find that has allowed her to keep horses at home.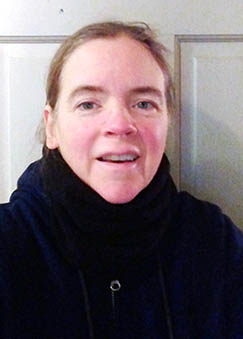 "When Mark and I first drove down the street to see the house I took an instant like to the area. We hadn't even seen the house yet and I told him this was the place I wanted to be. He told me, "Don't say that in front of the realtor!" When we arrived at the house it was a disaster. It needed a LOT of work and he was glaring at me when I said I didn't care and on impulse said let's buy it. Despite the work I am so glad we did. There are trails adjoining the property and the kids and I love being able to keep horses and get out and enjoy them on the trails."
DeNicola's likes to work on dressage with her horses when out on the trail.
"I love dressage. Someone donated two Lippizans, a stallion and a gelding to the Metro Police Department and I was given an opportunity to ride them. They were schoolmasters and I was able to ride them and the feeling was awesome. I have read all the Alois Podjasky books [former Director at the Spanish Riding School] and just love them. There is so much great information in them."
When asked what future plans DeNicola has for her life as her kids grow and age out of needing schooling, DeNicola is keen to extend her interest in teaching, inspired by her experiences helping out her legally blind cousin.
" I am amazed at how horse-riding has helped my cousin. She is legally blind and struggles with balance and depth perception as a result. Her movement when walking is choppy and she often feels that she is going to fall over. We put her on our 16.1hh Skippy who is such a gentle soul. My daughters help out, one of us leading the horse and then someone on either side of her. She is absolutely thrilled to ride. It gives her a freedom she doesn't usually have and the smoothness of the movement helps her feel very secure. In the future I think I'd like to work with a therapeutic riding program and perhaps become PATH certified to teach. It is so rewarding to see how much horses can help heal people and develop their confidence and happiness."
We wish DeNicola and her family all the best with their future plans and much enjoyment with their new run-in shed. Stay tuned. We may be running another Sweepstakes this year!