Here are a few tips on how to map out your farm and the location of the various buildings, to provide the best usability of your horse farm.
Clean Slate
If you haven't purchased the land and you have the means to pick an ideal site, then hunt down a square or rectangular piece of property, with a decent amount of road frontage for visibility if you plan a business. Look at soil types. Soil that is well drained and tillable land that is mostly open is ideal.
If you are in an area where you enjoy four distinct seasons, then look for South facing, gently rolling land that will ensure longer growing seasons for grass and protect you from the dastardly cold North wind in winter.
If there is a pond on the property, fence it off. Horses can drown in ponds in winter months when they ice over. It also provides a risk for drowning of children as well as a perfect environment for critters that harbor disease carrying ticks and mosquitoes. If there is an option to drain the water or to keep it flowing, consider making those construction choices now, while the land is free of buildings, and buried power, water and sewer lines.
Position the Barn
In days gone by farm houses and livestock buildings were placed close to the road for accessibility, especially in areas of snowy winters. With the modern snow plowing equipment available today, you can place your barn in the ideal spot with little worry for the accessibility in bad weather. That spot is toward the center of the property. Why? If you place the horse barn in the center you can design your pastures and paddocks around the structure. This makes turn out quick and easy. Plus gives you a good visual on your horses when you are around the barn.
Consider how you are going to bring in electric and water to the barn, and if you are adding a bathroom (take my advice, you should if you can!) think about how you are going to take sewage away either to a septic tank or town system. Obviously when you lay in these services they will necessarily be more expensive the further the distance from the source.
Indoor Arenas
While you might not add an indoor arena at the start of your building project due to budget constraints, always allow space that is convenient to the barn to construct one later. Many people place an outdoor arena close to the barn, and then enclose this space later as an indoor.
If you are fortunate enough to have the funds to build both the indoor and barn at the same time, you may consider placing the buildings adjacent, so that horses can be walked directly in the arena from the barn without travel outside. This is especially useful for cold weather climates where snow and ice may be a problem.
Storage of Hay and Bedding Supplies
While a lockable feed room and tack room in the horse barn is a great idea, think carefully about where you want to store your hay.
If you use small square bales then a hayloft is an option, and a conveyor can be purchased for easy access to the loft area when it comes time to stock up with hay. Which as we all know, is often.
On the other hand, a separate storage building reduces the risk of fire in your barn and can provide quick access with a tractor or other equipment. If you use round bales then obviously a loft is not an option, so map out a readily accessible spot for your hay and bedding storage. Remember, hay and bedding delivery equipment can be as large as a tractor trailer and as awkward to move around as a hay wagon, so pick a spot with good access and provide space for vehicles to turn around.
Run-in Sheds
Each pasture should have a run-in shed. It should be placed with its back to the prevailing winds. If the land is rolling or hilly, try and place it in a higher spot so water doesn't run into it and make sure the run-in shed is wider rather than deeper for shelter. This helps prevent horses becoming trapped by a bullying equine compatriot.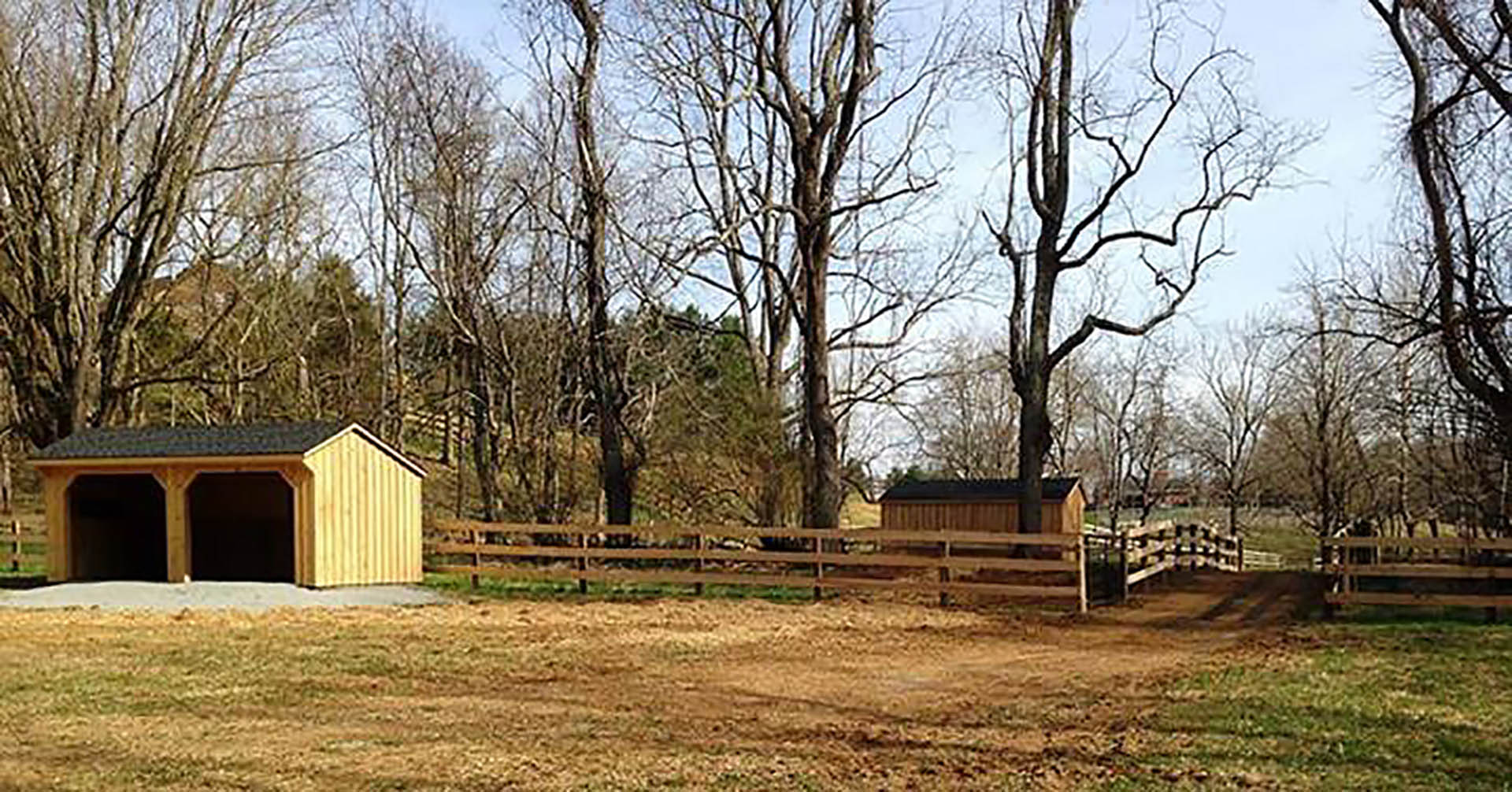 If you purchase a run-in shed that is a movable design that can be pulled around with a tractor, you can move it to rest areas of the pasture that have become overworked with horse hoof traffic.
Equipment Needs A Home Too!
A purpose-built equipment building should be easy access for hitching up mower decks, arena harrows, haying equipment or trailers. A shallow depth building where each piece of machinery can have its own bay, makes perfect sense. The addition of a lockable shed area on one end of the structure will be useful to secure tools to make repairs, and place keys out of the access of children or other inquiring minds.
When you have a place to park machinery, it also keeps it away from prancing horses and minimizes the risk of injury. Plus, the shelter from the elements will increase the longevity of the equipment.
As equipment can also pose a fire risk, it makes sense to store it separately from the barn. It is a good idea to keep your equipment within easy access of your barn and arena.
Outdoor Arenas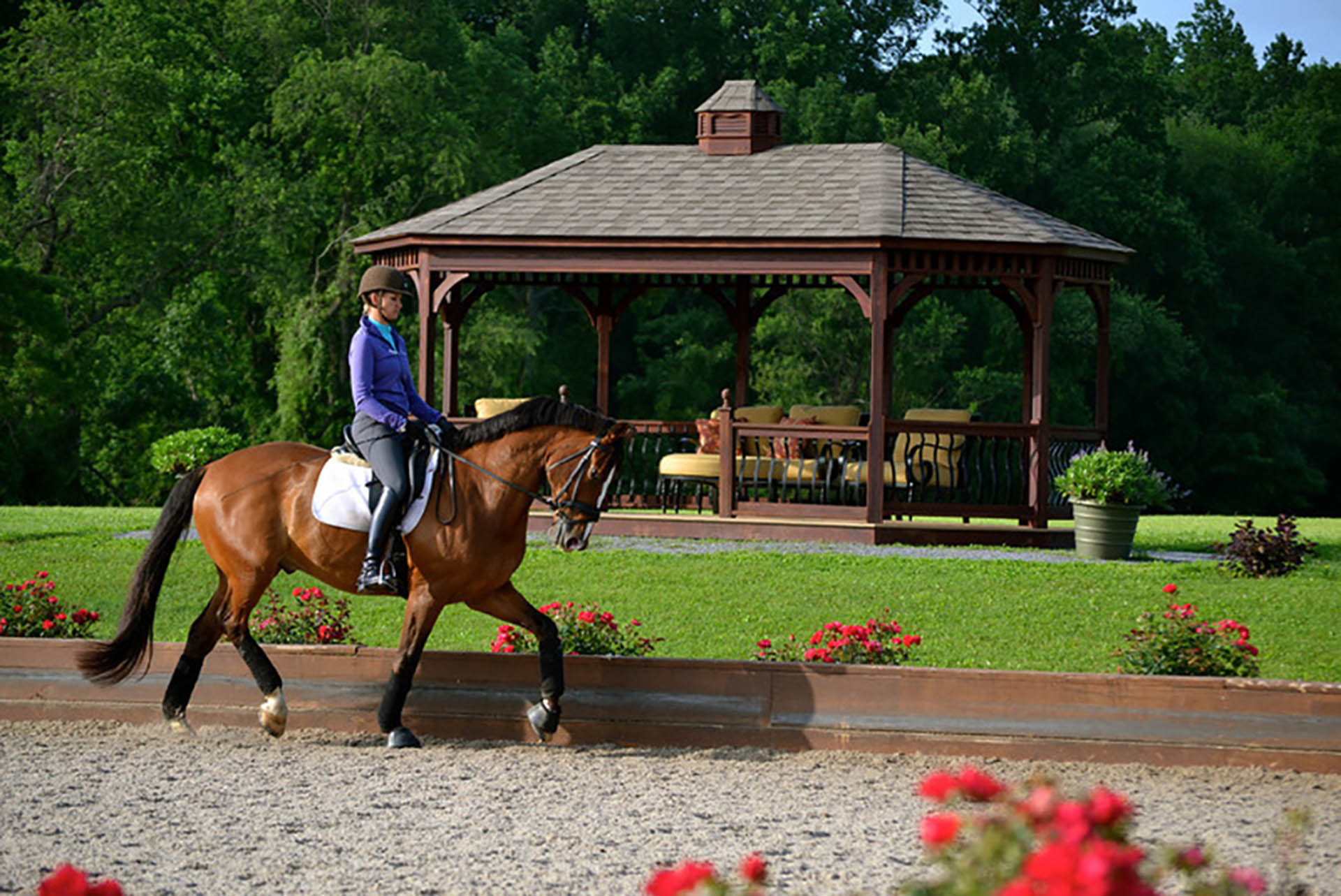 When the sun shines your outdoor arena will become a hot space with no respite from those glaring rays that reflect immense heat from the arena surface. Think about providing a gazebo or outdoor structure to provide a shady spot where the instructor, students and family can shelter from the sun.
Where Are the Dogs?
If you live a busy outdoor life around horses then your family pets don't need to be cooped up inside all day, playing with your furniture or jumping through screens at the sight of a rabbit. You can also save yourself the worry of your dogs being kicked or stepped on by a horse, eating something disgusting that have found around the barn that they shouldn't eat and becoming ill, or worrying visitors by installing a kennel with a run on your property.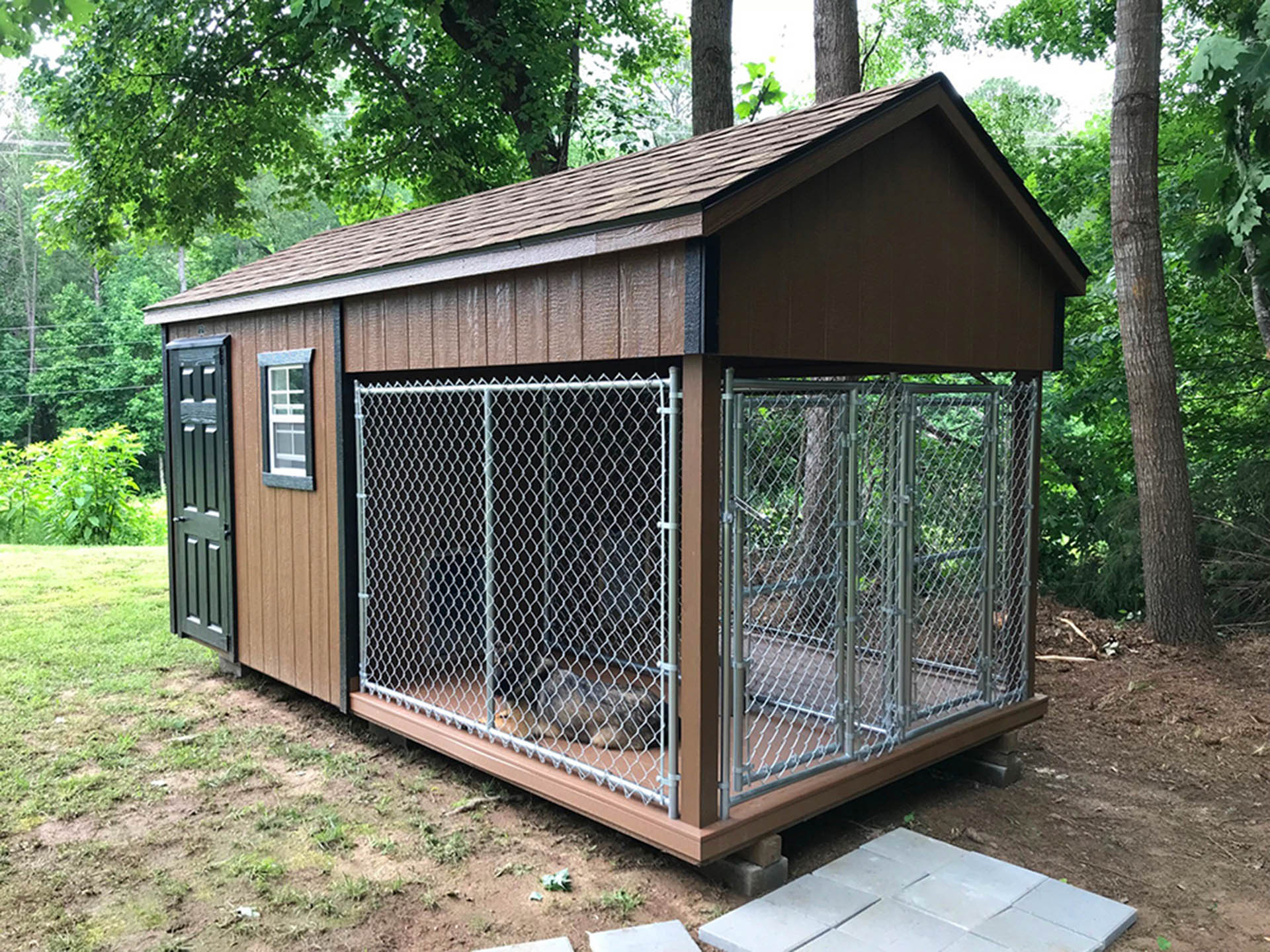 If you place the kennel in view of the entrance to your barn, your canine companions will also provide a great early warning system of visitors without the risk of being run over by a car or fighting with a visitor's dog.
Where Are the Children?
It is important to provide a safe, outside space for your children to play and a well-fenced yard that is in sight of your barn is a great place to start. You can add playsets or swingsets to keep the kids busy, and when a boarder needs to bring their partner and kids to the barn while they take a lesson, there will be fun things to keep the children occupied. That's better and healthier for them than sitting in car and may translate into more weekend lessons.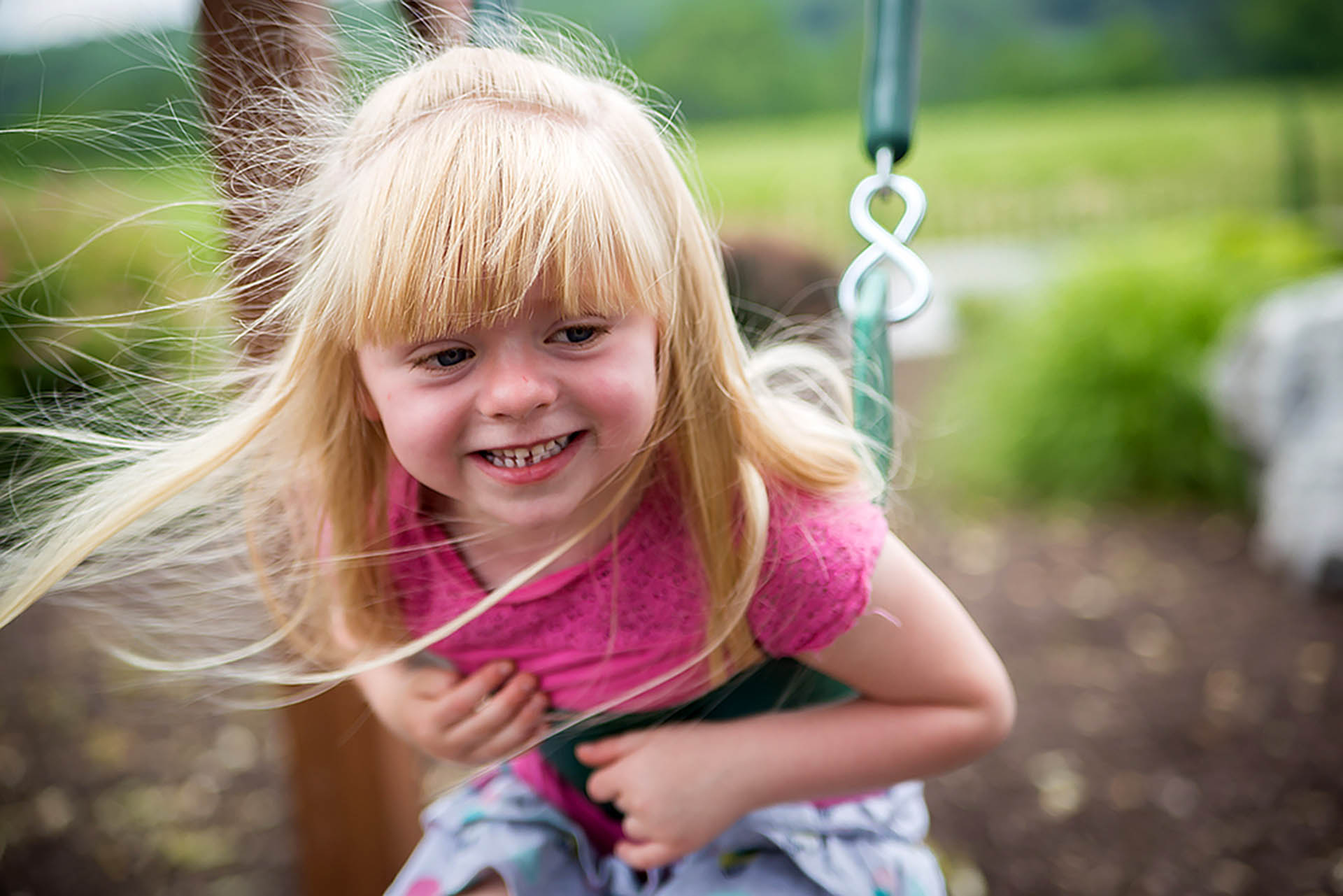 Additionally, it keeps children safe from being stepped on or kicked by a horse, or causing mayhem running around the barn. While your children may be well taught how to behave around horses, visitors' children may not. When you are busy training it is hard to keep track of where the kids are and playing in the hayloft or clambering up the haystack, toying with equipment or using horse stalls for hide and seek may be fun for them until it suddenly is not, and you don't need to worry about a visit to the ER.
Forgot the House?
Just kidding! Where you will place the house will depend on how much privacy you want from the barn. This is something to consider if you will use the property as a public facility or hold events on the property.
Whether you choose to be close to the barn or farther away, a view of the barn from the house is ideal for both security and safety. Plus, who doesn't like to look at nodding heads out of the Dutch doors when enjoying a morning cuppa. You can see at a glance that all the horses are O.K. before you trudge out in your pjs to water and hay them up.
Your Vehicles
A garage will keep your car cool in summer and in winter months you won't be wasting time removing snow and ice from the windshield and lights. A car or truck represents a significant financial investment, so a garage is a smart idea. Additionally, it keeps your vehicles out of harm's way when hay, bedding and grain are delivered and boarders come and go. If you are holding events, horse trailers can be difficult to turn around so make sure your cars are safely tucked away!
In conclusion mapping out your new property is going to take a lot of planning and require many different structures. When sourcing a building company for your needs, Horizon Structures is an experienced horse barn manufacturing company that knows horses and is not just a general contractor who puts barns up as a segment of their business. Always compare apples to apples when pricing your project, and if you source all these buildings from one company, you can expect to garner some good discounts.
Modular buildings are quick and easy to set up on site, and their construction in factory can save significant time on your project, as weather does not delay the progression of the build. With the availability of low maintenance siding, custom designs and easy add-on options, your horse barn can be ready to use within a few days of delivery.
We also offer great warranties, has a stellar reputation, provides friendly expert help and has financing options.