There are many good reasons why the Low Profile modular barn is so popular for horse housing needs. Whether you are realizing your dream of bringing your horse home to live in the backyard or expanding your existing boarding and training operation, the Low Profile modular barn ticks lots of boxes.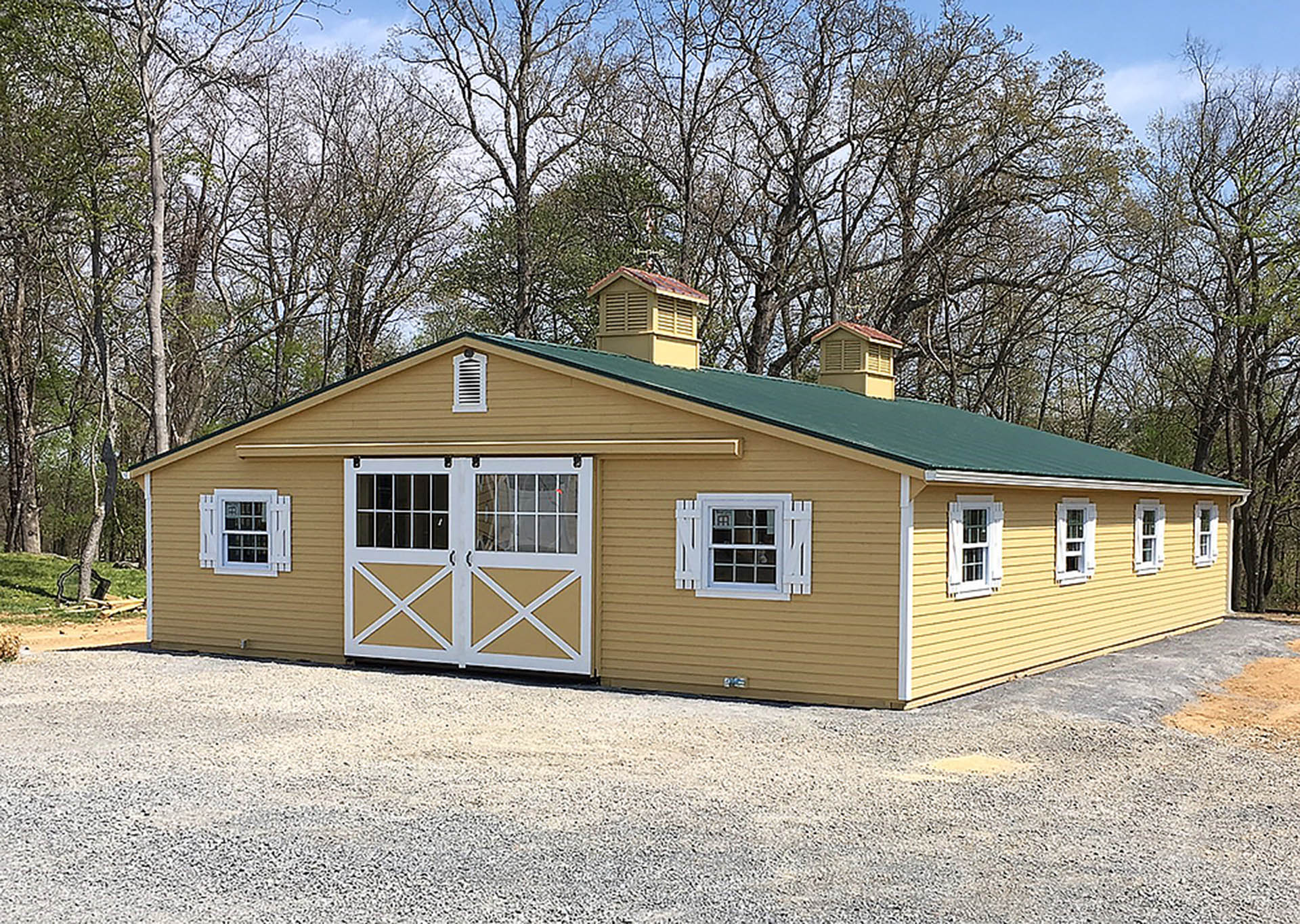 Budget Friendly
A Horizon Structures Low Profile modular barn is a budget-friendly option that offers a comprehensive list of standard features as well as an array of neat options and upgrades.   In addition, you can choose your stall size, door and window styles (and placement), stall fronts, partitions, and rooms for hay/feed/tack storage.  Plan the layout however you wish! You don't need to compromise on the features you want and can add pretty cupolas and lots of extra touches to personalize your choice of barn.
A great benefit of Low Profile modular barn construction is that you can add to it later.
Set-up costs are cheaper than a larger two-story structure, and the site preparation is very straightforward. You can even take the barn with you if you move.  Set up is fast and you can literally have your new barn in place and ready to use in less a week – typically only a day or 2. Horizon Structures not only offers prompt delivery but will also send a carpenter crew to make any final touches needed at time of delivery/set-up.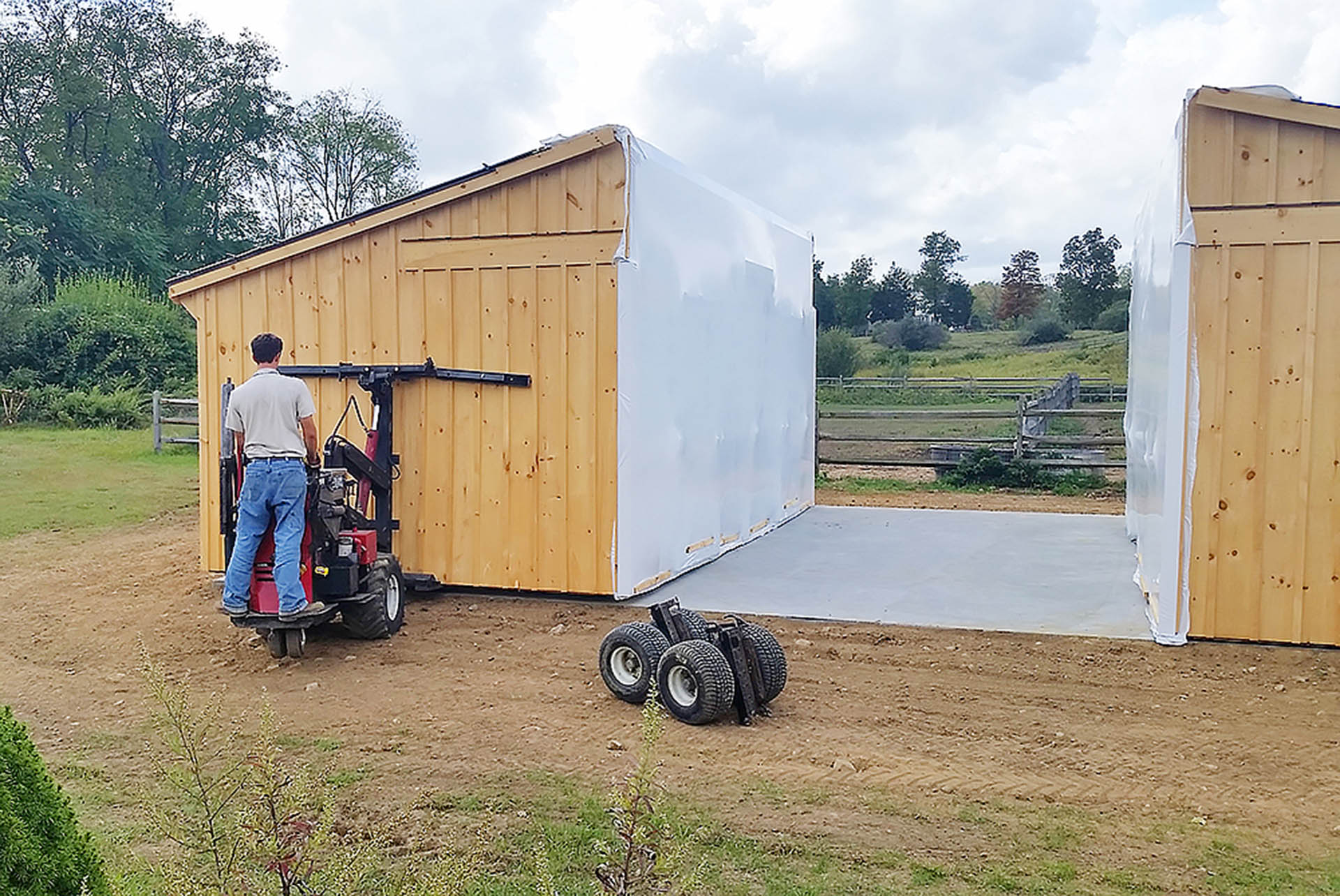 When Horizon Structures builds a barn, we take into consideration where that barn is going to be located.  As such, you can rest assured that your barn is built to meet, or exceed, your local requirements for wind rating and snow load.  Hurricane upgrades and anchoring are also available.
At Horizon, we also have the capability to create elevation drawings and a floor plan in-house and are happy to send those to you at no charge when you order your barn.
Some municipalities may require stamped/architectural plans of your horse barn prior to granting a building permit.  No worries!  There is a fee for these more detailed, engineered drawings, but we can obtain them for you as well if needed.
Another benefit to the Low Profile modular build is that access to your site and site selection itself will be simplified. Low hanging tree limbs or other site access issues will be minimized.  And, because the roofline is approximately 13' high (versus 22' for a High Profile barn with loft) proximity of the barn to the neighbor's property lines will not obstruct their light or view.
The Horizon Structures team has successfully delivered thousands of buildings of all shapes and sizes to a variety of terrains and locations, some with very challenging access issues.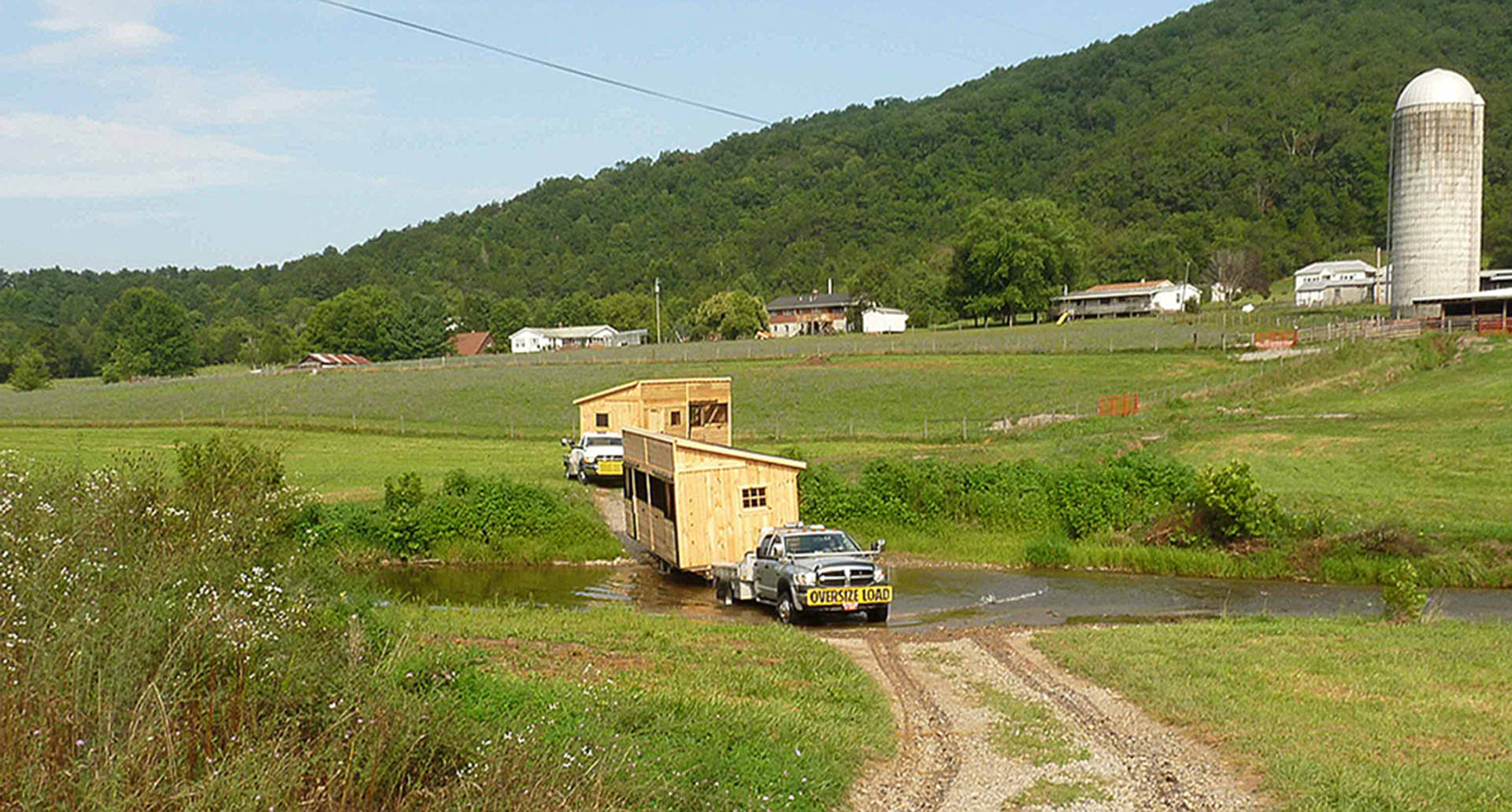 Rest assured, whatever your property and site location, we can help you navigate the issue to ensure a happy outcome for the placement of your barn.
User Friendly
As a horse owner you have probably done your share of hay stacking, moved a few forty-pound bags of grain and hefted bales of shavings from truck to barn. If you have used a horse barn with a loft, you know that 40-50 pound bales of hay take some effort to store above the stable floor and that whenever you need to feed the hay you have to either lug the bales back downstairs or throw the flakes through floor hatches, which can cause wastage of hay in the stall and spread seeds and dust everywhere.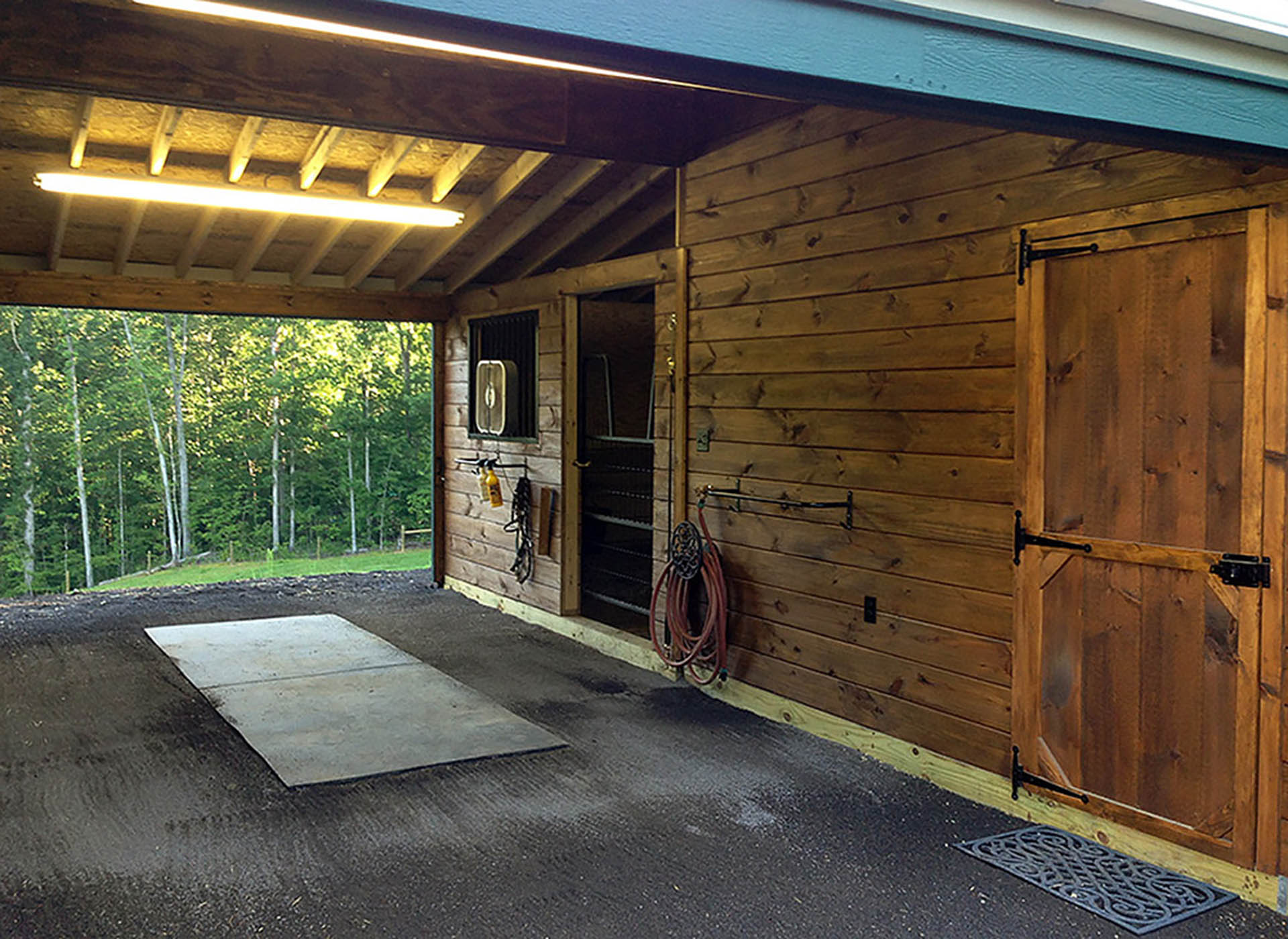 With a Low Profile modular barn, all feed and provisions are conveniently stored on one level and you're able to save yourself some serious labor.
Property Prospective
It is wise to consider how the barn will complement your existing structures such as house and garage. You don't want the barn to overshadow the house and look outsized next to your home. You probably don't want the barn to dominate the landscape that you have already created either. A Low Profile modular barn will blend into the existing landscape and can be placed closer to the house. Its adaptive size will make site selection a lot easier.
As a leading modular building company, Horizon Structures offers an array of customization options that will include siding and roofing material – and color – choices guaranteed to complement your existing buildings.  If we don't have what you want, we can color match or custom order to your specifications.
Think Outside the Stable Box
As a Grand Prix dressage competitor and horse breeder I follow the guidelines my mentors taught me in regard to quarantine of my show horses away from horse breeding stock. The Low Profile modular barn offers professionals a neat option to house their competition horses away from the rest of the herd during show season.
If you run a boarding operation it is also savvy to keep your own stock separate from incoming and outgoing horses. Many professionals like myself, prefer to place the 'quarantine' barn closer to the house where it can be easily viewed for both security and peace of mind.
The Low Profile barn can also be used as a breeding shed, or a 'pony palace' for the children's equines keeping them safer as they are away from larger horses and won't bother boarders.
So, if you are considering a new barn check with a reputable building company about all the available options. There are many great choices to be enjoyed. When shopping always be certain to compare 'apples to apples' in terms of materials used, size and scope of the build. It is imperative that trusses/rafters are properly placed and that the building meets local building code for the safety of your horses, even if – as an agricultural building – your neighborhood is exempt from the need to file plans or permits.
For ease of affordability and cash flow, Horizon Structures also offers easy, quick financing options, so you don't need to wait. Build it now, use it now and earn income from it now if you run a horse boarding or training business.
Be sure to visit our Barn Finder page!  Click on the burgundy pins to see Low Profile modular barns in YOUR neighborhood!