Erecting a garage on one's property is no small task. Today's consumer has many choices. From stick-built to prefab modular garages to canopy carports – all have aspects requiring planning and decision making.

From a 1 car prefab garage to garages with living quarters, Horizon Structures is a recognized leader in the sale of prefab and modular garages. We've compiled this list of Insider Tips to make sure you avoid some common pitfalls in the garage buying process AND get the BEST GARAGE possible!
10 insider tips if you're looking to buy a garage:
1. Investigate the prefab garage option.
Superior quality, lower cost and quicker build time all add up to money in your pocket and time saved… Superior Quality: 80% to 100% of a prefab garage's construction is done in the controlled environment of our workshop. Pre-built structures are stronger and more rugged than stick-built. They have to be to withstand transportation and delivery. We store all our raw materials and build your garage inside our facility. That means you don't have to worry about a pre-soaked, warped and potentially moldy site-built garage that sat out in the weather for a few weeks before completion. Quicker Building and Set Up Time: Our carpenters and materials are on hand and ready to go at all times. As a result, delays due to bad weather or poor contractor planning are eliminated! With everything we need right at our fingertips we get the job done! Usually, it's only a matter of weeks – not months – from time of order until your prefab garage is delivered and ready to use. Fixed Costs: No cost overruns halfway through the garage project or surprise hidden expenses. When you place your order, we'll tell you exactly what the final figure will be. In fact, we'll put it in writing. Because you know exactly what you'll be spending UP FRONT, you'll be able to get more for your money. No need to hold money in reserve in case the contractor goes over budget. Instead, invest that money to upgrade – we've got tons of options on our custom storage sheds. Many of our customers ask if we can build a garage with an apartment. Our reply: "Yes! For only a small percentage more, we are able to customize our garages and barns with apartment space."
2. Buy the right size garage.
Lot size, zoning regulations and budget. Make sure you check these things out first. Only after you know what you can have are you ready to determine what's the best size garage for you.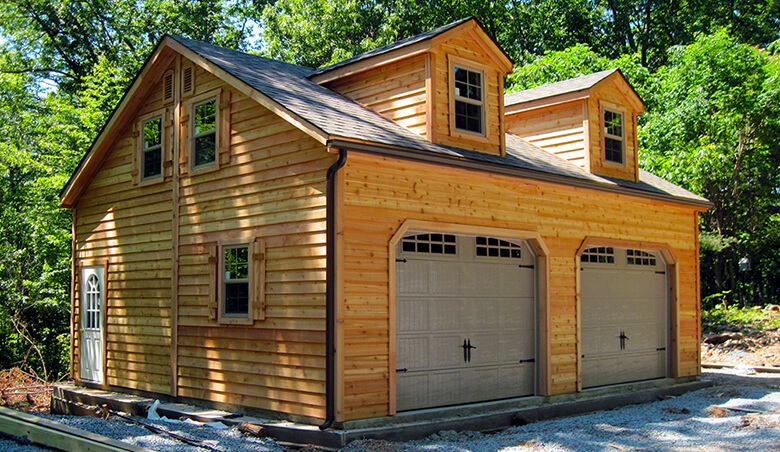 3. Buy as much space as you can afford.
You'll never regret it. You can never have too much space! Think outside the box. Think UP.  Who wouldn't want to double their storage space? A full second floor is more than just a place to store stuff.   Consider home office space, guest quarters or a craft room.  Your imagination is your only limitation.
Double your garage storage space? You bet! Some FREE ADVICE on floor plans for garages with apartments: Never underestimate the time and money it will cost to build from garage apartment kits. We've heard horror stories from customers who were excited about cheap garage plans but became angry when they learned the plans were incomplete and in one case – downright wrong! Our garage apartment kits for sale are cheaper than traditional stick built but more expensive than just a prefab garage apartment plan.
4. Permits.
Laws regarding building permits vary from state to state. Make sure to learn more about permits before you buy a garage.
5. Everything depends on a properly prepared site.
The long-term success or failure of your garage depends on a properly prepared site. And a garage "failure" can be a whopper! We build a lot of garages and our years of experience enables us to give you accurate and reliable information. If you already have a set of garage apartment plans and don't see anything on our site that matches, call us at 1-888-447-4337. We've built hundreds of customized buildings over the years. And our experience with garage apartments kits continues to grow. We'll be happy to talk to you or your site contractor. However, at the end of the day, we advise everyone to solicit the expertise of a professional contractor who is familiar with local conditions and requirements to ensure you get the best foundation possible for your garage.
6. Determine your flooring. Wood or cement?
Local zoning laws or your budget may dictate what your garage floor needs to be. However, if you're able to choose, make sure you are informed about your garage flooring options.
7. Understand your siding options.
Evaluate your budget, maintenance requirements and the look you're after to choose the siding that's perfect for you.
8. Use color to make a statement.
The statement your colors create can make your garage blend seamlessly with your home or stand out on its own—Will your garage be a Frank Sinatra or a Michael Jackson? Whether you want a prebuilt garage with a quiet or a bold look consider the following as you choose…
Check the roof on your house: Even with different siding colors, matching the roof on your home and garage draws the eye.
Use color for size and effect: We all know black is slimming, right? Dark colors make a two car garage appear smaller, and lighter colors make it look larger. In addition, how you "accessorize" with the trim and accent colors can lend it either a pop of color or a subdued façade.
Borrow from nature: Mirror the landscape around your property on your prefab garage. Serene browns and greens may look just right on a forested lot.  Crisp whites, grays, and blues may fit the bill for a seaside house.
Check out our Color Selector to try on all our colors and find the perfect combination.
9. Options are your friends.
At Horizon, customization is what we do. Our one car and two car garages come with everything you need, but whoever stopped at needs without moving onto wants? Your modular garage is just begging to be tricked out with extra stuff, so carpe diem and don't deny it! (Your wife will thank you too.)
Our options let you customize your garage.
Overhead doors: insulate, add windows, choose a color other than white.
Walk-in doors: add windows here too, include double doors in the back for your mower, or even upgrade to fancy hinges.
Windows: add more, upgrade the size, and accent with shutters or flower boxes while you're at it.
More: shelving, cupolas, vents, oh my! Just check out our list of available options.
Got something else in mind? Just ask us! Our Garage Gallery can give you some ideas about how past customers have optimized their prebuilt garages.
And don't worry, if you want to keep your prefab garage a Plain Jane, we'll still love you.
10. Don't let your garage get stuck in the street.
This rule is not to scare you, but rather to get you planning ahead. No matter what your situation, we have a delivery solution to get garages wherever our customers want them!
We want to work with you to make sure delivery of your modular garage goes smoothly. We typically need 14′ clearance in width and height for our truck and trailer. If a sharp turn or other feature makes you uneasy, don't hesitate to fax us or email info@horizonstructures.com with a picture (or sketch) of your property.
3 Delivery Methods
What is it?
How does it work
What does it
look like?
Truck
Our traditional method of delivering modular garages, we back up our truck and trailer right to your site and unload it with the trailer's special hydraulic system. View our delivery page for more details!
Mule
If you need your prebuilt garage in a tight spot inaccessible by the full truck and trailer, we can use a maneuverable forklift-type machine called a Mule. We unload your modular garage from the trailer onto the four-wheeled Mule and drive it anywhere it needs to go. Watch The Mule in action.
Build
On-Site
If there's no way to get an assembled modular garage into your desired location, we can build on site for you. We cut and prepare as much as possible ahead of time, so even large two car garages go up in just a few days. Have an Amish barn raising in your own backyard! Learn More.