Lightning strikes, hurricanes, fire, and flood all happen. Mother Nature can dish out all sorts of weather and building your structure to withstand the test of time comes down to making smart choices in materials and craftsmanship.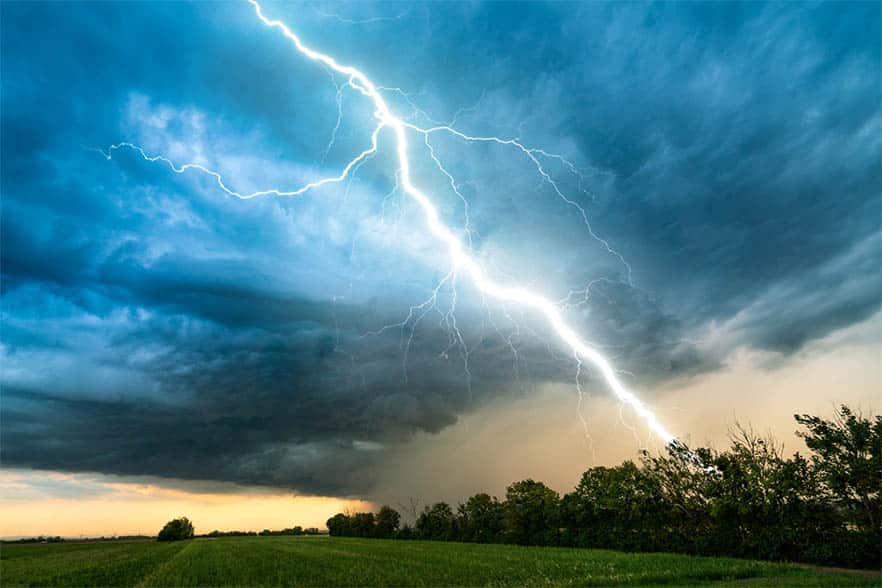 When it comes to the vagaries of the weather anything can happen anytime. It can be a slow assault as time passages. Buildings age due to regular weather and environmental issues. Trim can be torn or worn, paint and stains can fade, roofs wear thin and leak. Or it can be a major assault of weather extremes that pose a huge threat level and at times like those, how well built the barn or structure and the nature of the materials it is crafted from, may make all the difference in whether the building is left standing.
For example, when Hurricane Ian hit Iris Beaugrand's animal rescue farm, she had this to say about a Horizon Structures barn that withstood the barrage that Hurricane Ian threw down:
"We already have one of Horizon structures on our Farm Animal Rescue. It is the only building that made it through hurricane Ian without any damage. The farm, buildings, fences, house got badly damaged. The Horizon chicken coop still looks like new. Incredible craftsmanship."
You just never know what the future holds. But you can help mitigate the likelihood of major damage and of possible loss of life or injury to human and animals by doing your due diligence when it comes to the integrity of the structure you select.
Of course, there is some element of luck involved when it comes to surviving highly unpredictable weather events like lightning strikes but starting off with a superior structure can help minimize the level of damage sustained from a devastating disaster.
Take the case of the lightning incident that founder and CEO Jason Johnson at Project K9 Hero and his team of dedicated caregivers and trainers experienced after a traumatic lightning strike on one of the kennels where retiree K9's were housed.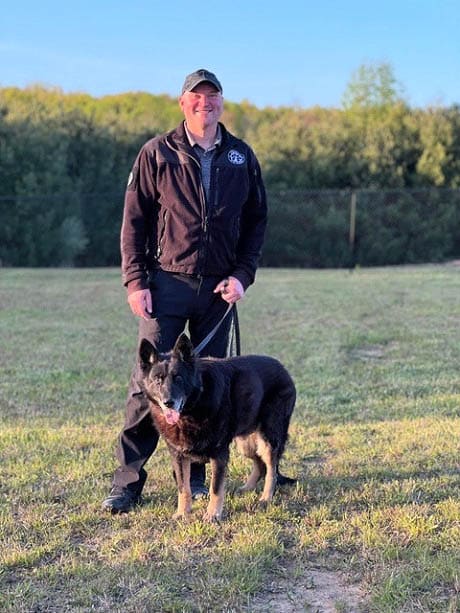 Thankfully no personnel or animals suffered physical injury during the catastrophe, in which some of our canine heroes were involved including Military Working Dog (MWD) Rosso who protected both President Trump and President Obama during this K9's stellar career. The sturdiness and quality of the kennel build and how it handled the lightning strike were one of the reasons Johnson gave for the decision to rebuild with the same modular kennel from Horizon Structures:
"We love the quality and versatility of the duplex models for our retired heroes. We decided to replace it with the exact same model because of how well they have performed for us and our specific need,".
You can read about what happened here and how Jason Johnson and Project K9 Hero has developed.
Worry free daily living is well worth working toward and in this regard price doesn't always translate into the best buy. Here are some important aspects of construction to review before you decide to purchase any structure, whether it is a barn, a kennel, or a coop for commercial or residential use.
Not Just a Pretty Face
Stylish barns and fancy coops are all well and good, but it is essential that the materials used are of good quality and that the design factors in fit, form and functionality.
The structure should be designed for the environment where it is sited. For example, roof pitch, roof materials (metal versus shingle), and the framing and substructure of the building will need to support heavy snow fall loads at an elevation in Colorado. Whereas, a horse barn in Florida will need to be designed with special considerations for possible hurricane hits because it is an area where, "hurricanes hardly ever happen," does not apply.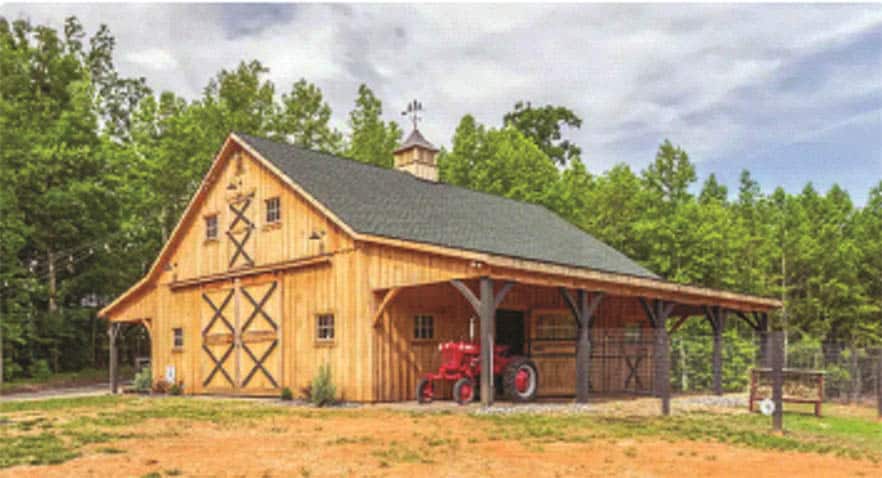 It is also wise to consider the materials used not just from their sturdiness and methods that framing members are attached together, but from the standpoint of maintenance. For example, while the mortise and tenon joinery utilized in a timber frame build is still the strongest type of joinery known to carpenters today (and also offers a prestige aesthetic style along with the highest grade/strength of lumber with no center cut box used for main members of framing), wood siding may not be the best method to clad it if you are looking for low maintenance. In that case, vinyl or metal siding may be a better option for a complete hands-off maintenance experience.
Durable metal and vinyl siding are both maintenance free options and can be purchased in a myriad of colors.
False Economies
Beware of being taken in by the lowest price option in the purchase of your structure.
Questions to ask yourself include:
Are the material components the same species, grade, and dimensional size of wood on each quote?
These distinctions make all the difference in the inherent strength and durability of the lumber.
Are the siding materials warrantied brand names?
Knock offs are generally cheaper for a reason and it's often not because of a brand's advertising spend.
Will the company you choose for the construction stand behind its product if there are issues down the road?
You don't want to be left out in the cold with an expensive repair bill or unhappy with the finished product.
Is going local always the best option?
The advent and popularity (and hence availability nationwide) of modular construction has made using the local builder an obsolete notion in many cases. Why limit your choice?
It is a false economy to bring in a local builder to project an on-site construction such as a stick build or pole barn design, if at the end of the day the total price of the structure is elevated by cost overruns and material substitutions to off-brand products.
It is also important to assess how weather delays or construction completed in poor weather can undermine the ultimate quality and longevity of the build. Examples: if humid or cold conditions occur when it comes time for stain and paint applications the negative knock-on effect may not be realized until a few years later; plywood roof underlays soaked by torrential rain before final roofing layer is instituted when not left to thoroughly dry out due to the contractor's rushed time schedule will fail.
Any downtime caused by failures of the building to withstand the test of time, will result in additional headaches and expenses managing without its use.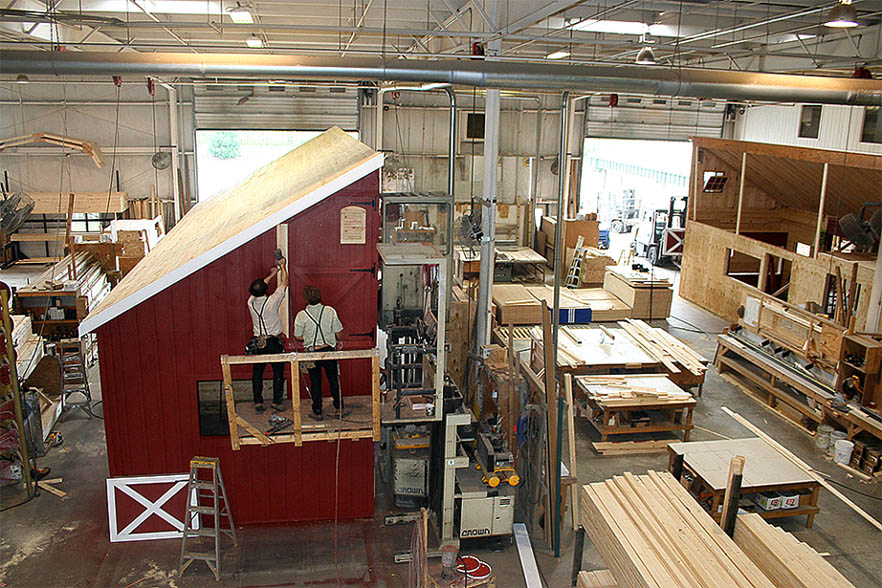 Modular build options allow not only materials to be kept inside and protected from adverse weather that can cause warping, cracking and negatively affect the integrity of the product, but also there are no weather delays to worry about and the price is a 'to the penny, delivered and set up ready to go price".
Also consider the accuracy of the predicted timeline for completion of the project and any detrimental effects it can have on getting a commercial enterprise up and running. A known timeline will make business planning much easier to navigate whereas an unknown weather entity creeping into the equation at the last minute can wreak havoc on business plans to open.
A Lot to Think About – Plan It Out
While even the best laid plans can go awry, taking the time to make good plans with the help of an experienced construction partner with whom you can collaborate on everything from price to customized designs and garner ideas and inspiration for your building project makes sense.
Take the time to educate yourself about all your options and formulate the best plan for your individual needs. These may include locating financial help if necessary and talking to other customers of companies you consider working with about their purchasing experience and happiness with the final product.
When you don't take the time necessary to know about your building partner, things can get ugly and expensive very fast. You may have to deal with crews that don't show up on the schedule promised or low standards of craftsmanship.
Even worse the negative experience may be enhanced by execution of poor documentation at the outset that does not define the details of the materials to be used and thorough construction plans. This may result in your hearing yourself say," That's not what you quoted," to the end payment shake down the contractor presents (which may or may not be a truthful account of cost overruns). Lack of experience does cost money. It will cost you money.
Most structures do require a considerable capital outlay and you want to build something that will stand the test of time. Not just for the pleasure of your daily use and ownership, but also down the road when it comes to resale of your property or legacy to those that inherit your estate.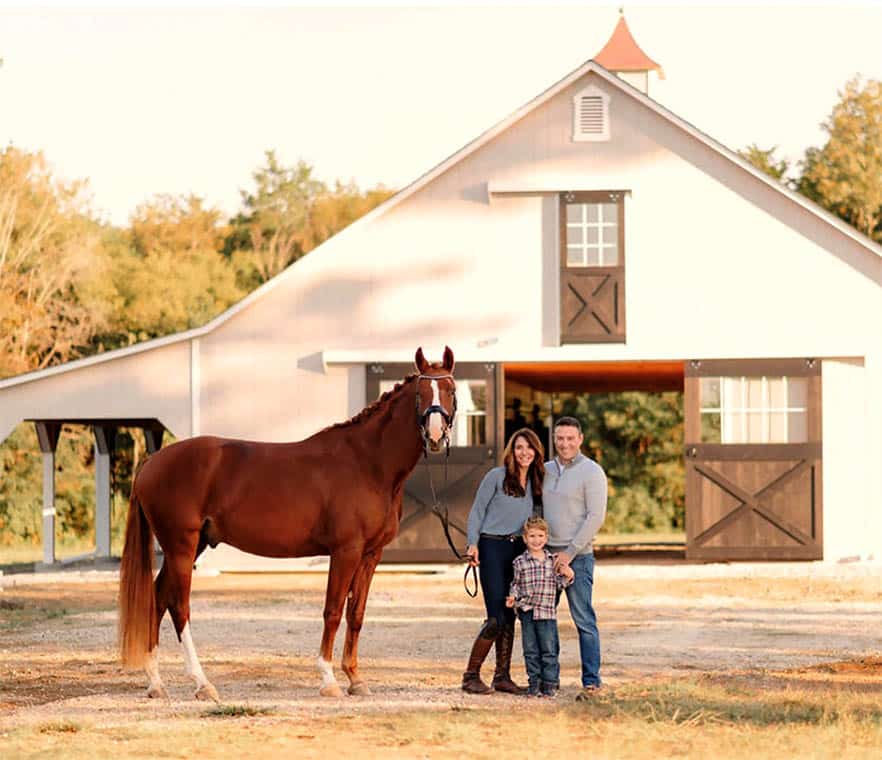 Remember being frugal doesn't equate to just saving money it equates to spending your money wisely. This is an especially important strategy when it comes to long-term purchases.
"Buy the best you can afford," is a mantra often heard and is good advice.